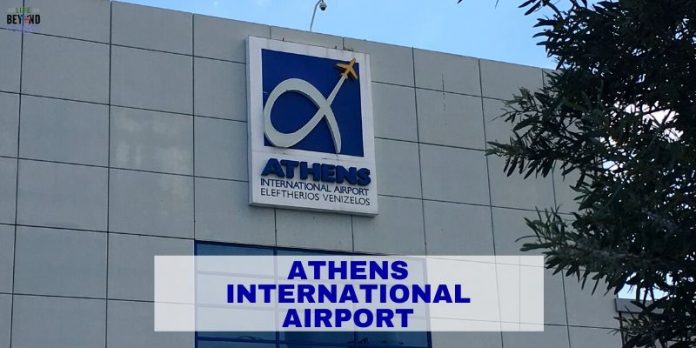 Having travelled a fair bit, I've seen my fair share of the inside of airports.  Back in the 1990's, I even worked for about half a decade (that makes me sound old) at one of the world's busiest airports: London Heathrow.  So whilst I am no connoisseur, I like to consider myself a little knowledgable about airports.
**This post includes affiliate links.  For more info, see here.**
For a start, I am a firm believer that aesthetics and space plays a big role in helping to calm the traveller down. When I used to work in LHR Terminal Two back in the 90s, it was an old multi-story car park that had been converted – horrible for aesthetics and stress levels; low ceilings exacerbating noise, awful strip lighting.  I was so pleased when it received a well-deserved upgrade and is now known as The Queen's Terminal and is now one of my favourite terminals to fly into/out of – all that light emanating from the tall windows.

But by far my favourite airport in Europe is Athens International.  I may sound biased because I love Greece and spend a lot of my time here, and you may disagree with me – but allow me to show you why.
Spacious Departures Hall at Athens International Airport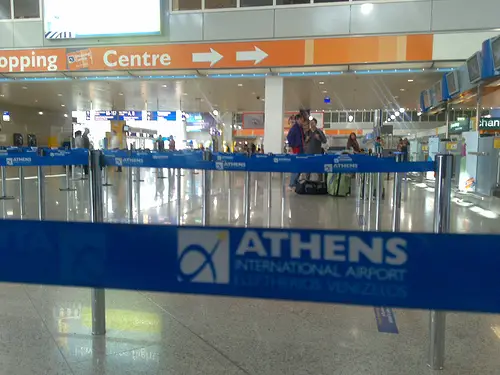 Remember, for me it's all about the aesthetics.  Athens International Airport offers a huge departures hall/check in area with high ceilings and floor to ceiling windows, offering a lot of light.  Even though there's a buzz in the airport, it's strangely quiet.
Good range of eateries at Athens International Airport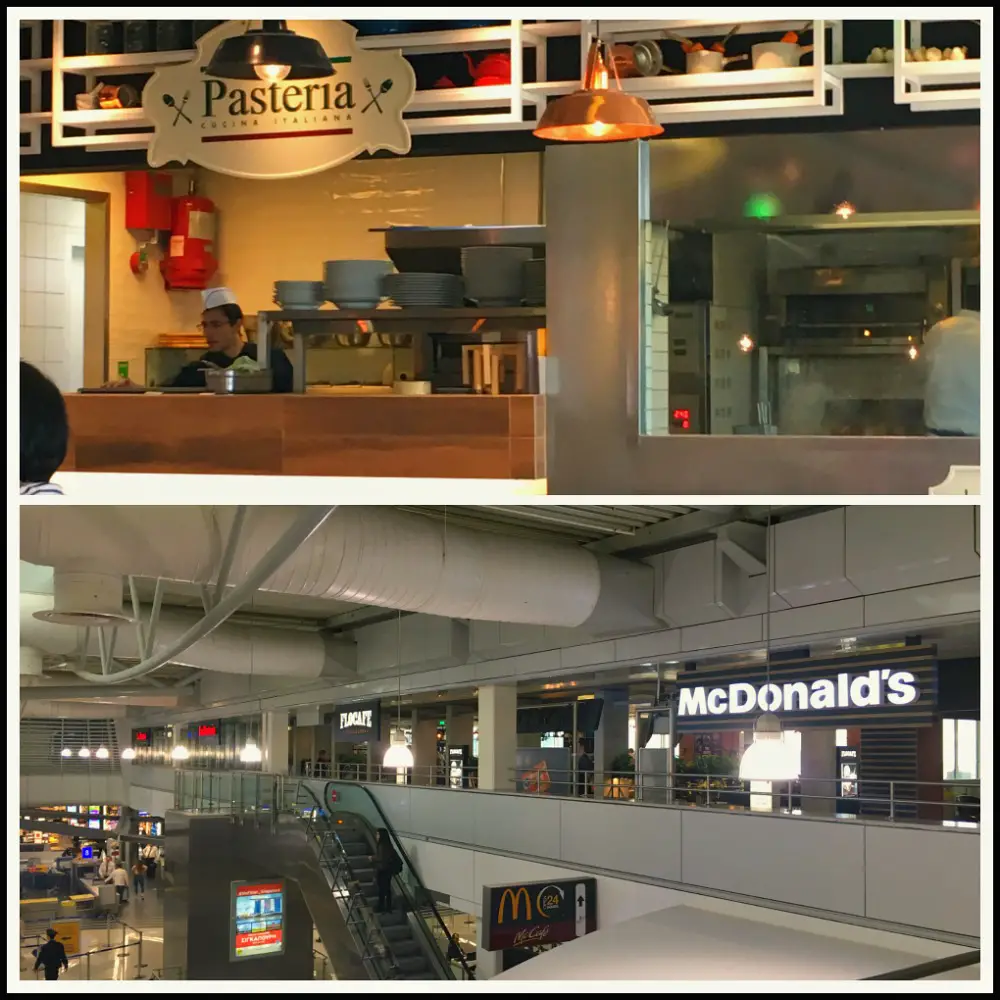 Athens International Airport offers a range of places to eat, even before you've cleared Passport control to go to Airside.  The ubiquitous McDonalds restaurant is on the first floor (about the only time I 'treat' myself to a cheeseburger), and the highlight is that you can eat it with a great view of the runway.
Next to this is more of a sit down restaurant place- La Pasteria – offering Italian pasta with a good selection of wine.  A nice way to start your journey, although not cheap (but what do you expect? No sit down places really are in an airport).
Airside – towards International Departures – you have the Heineken Star Bar which, as you've probably guessed, is a beer bar (soft drinks too) and snacks such as sandwiches, right in the heart of the Non-Schengen departure gate area.
Culture at Athens International Airport
Your cultural experience starts (and finishes) as soon as you enter the airport.  Located in the Departures Hall on the first level, just before the eateries – you'll find housed the Permanent Exhibitions of Archaeological Findings containing artifacts dating from the Neolithic and Early Helladic to the Post-Byzantine period.  It's open from 06:00 – 23:00 daily. (Note: A BIG sign stating no photography allowed was displayed, so I can't post any photos, sorry!)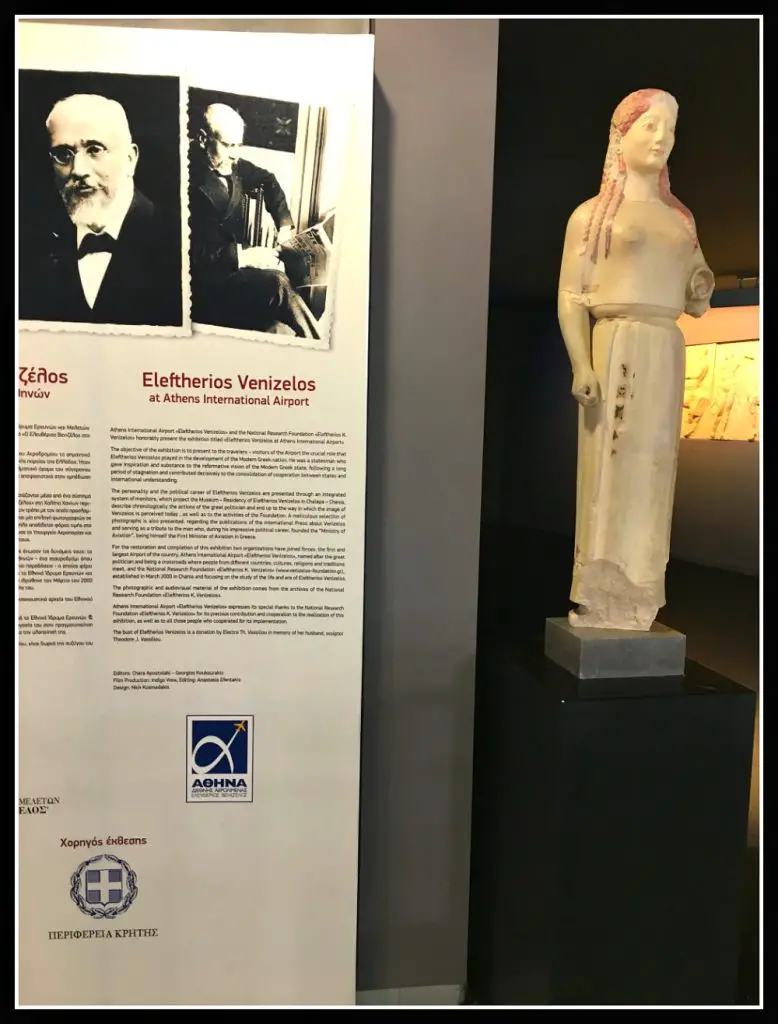 There's also an exhibition that pays homage to Eleftherios Venizelos, the 32nd Prime Minister of Greece and an eminent leader of the Greek National Liberation Movement, pushing for liberal democratic policies, and who the airport is named after.  This exhibition shows his personal and political life documented through photographs.  He is regarded as one of the key figures in Greek Modern History, so it's quite an honour to see this exhibition.
Art & Culture Photography exhibits: There are periodic photography exhibitions on this level too – here is one example of 'Greek Forests, Greek Destinations' highlighting some of the greener parts of the country, and rich biodiversity…whetting your appetite for more.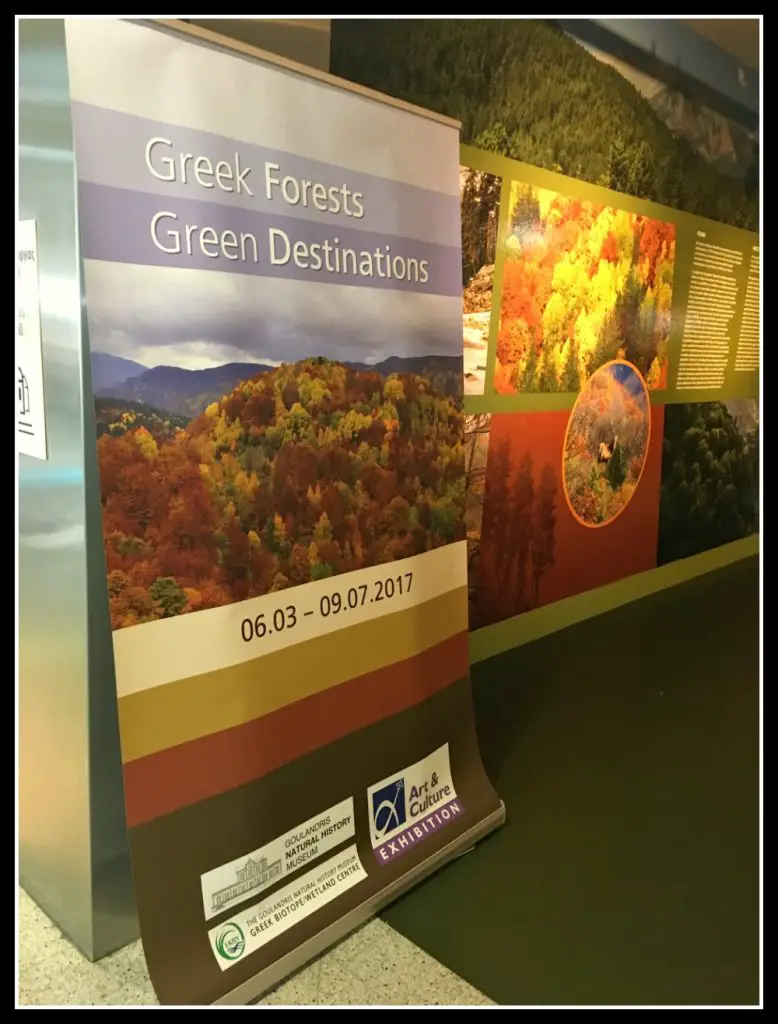 There are also periodic events that take place, such as live bands and tango.  Take a further look at the exhibitions and events at Athens Airport here.
Children's Play Area at Athens International Airport – Greece
I like this cute Children's Play Area on the second floor of Departures.  Operated by local NGO 'The Smile Of A Child', it's free, open Daily from 09:00 – 21:00 and so long as any child between 1.5yrs and 7yrs is accompanied by at least one adult, it's a great place to take your kid to play, to read stories, to meet other kids, to draw.  Maybe burn off some energy before that long flight.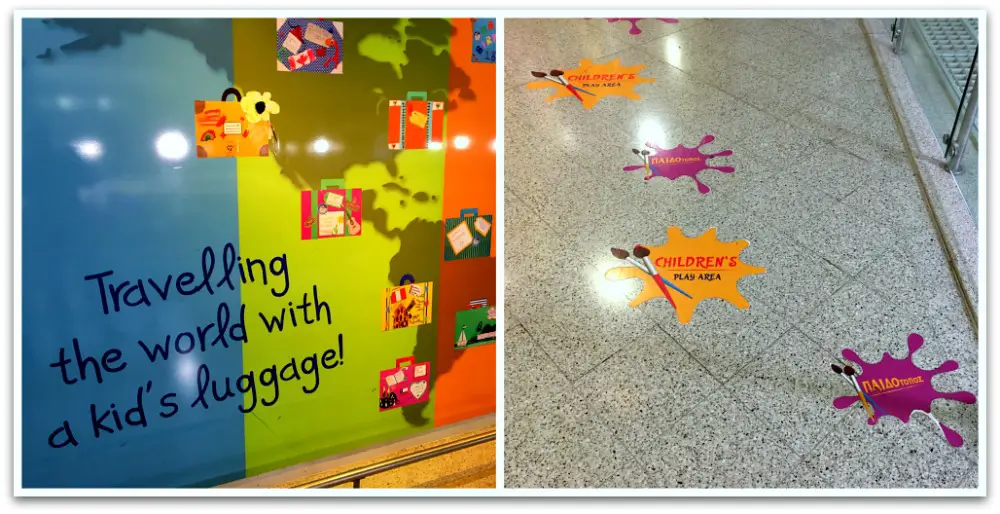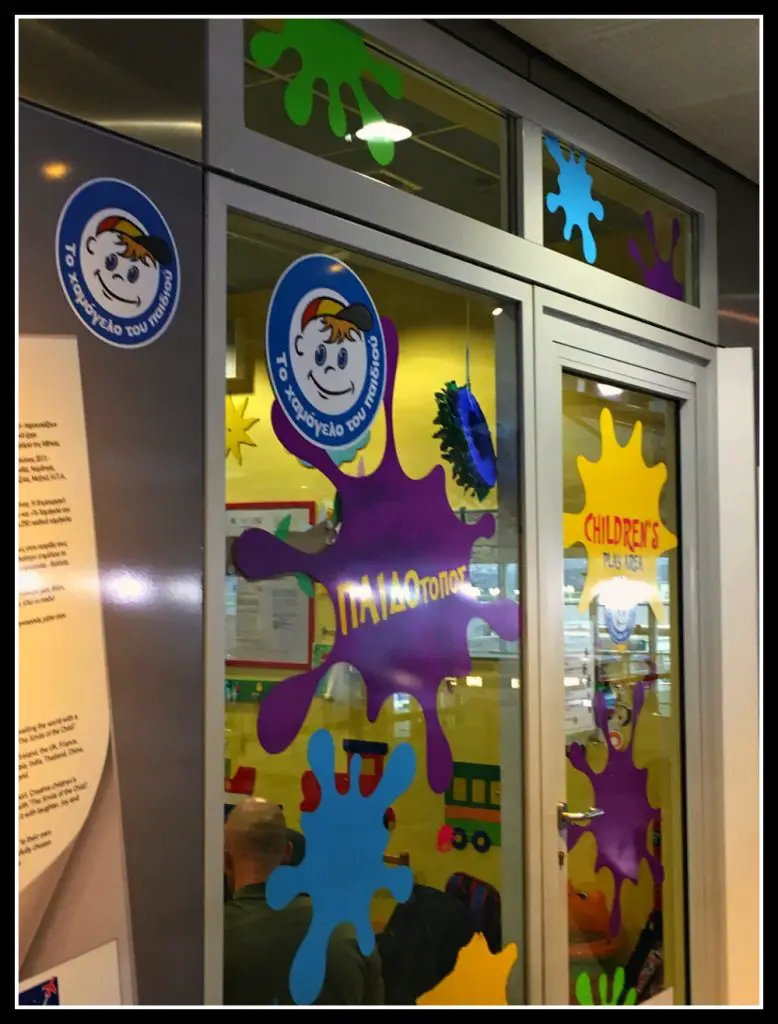 Shopping at Athens International Airport – Greek Products and airside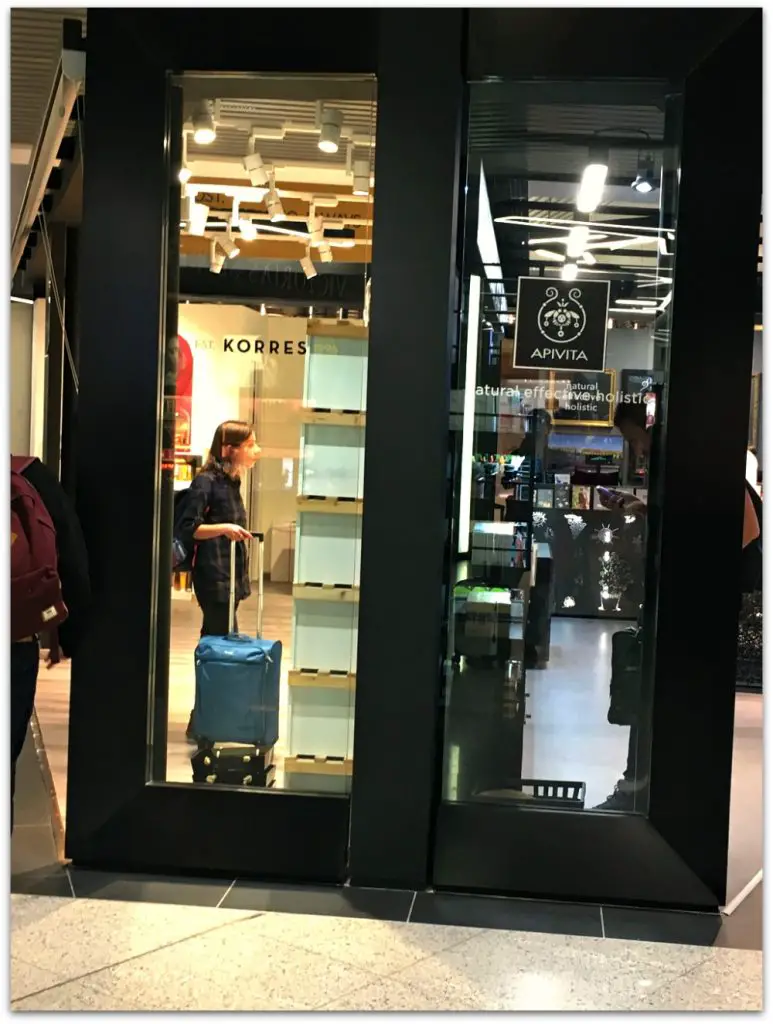 As I say, I know it's no Singapore Changi or Dubai, but I do like the traditionally Greek products on sale at Athens International Airport, such as Korres and Apiveta skincare and beauty products – using only natural ingredients such as olive oil and different herbs and plants. The perfect opportunity for you to buy that last minute gift, or treat for yourself before you're whisked off.
And don't forget the Duty Free!  Yes, it's not a huge airport, as I keep acknowledging…but there's something about too much choice that's overwhelming at times.  I know I always wait until I fly to buy my Mac products at the airport, not to mention the traditional Greek foods like olive oil and olives to take back.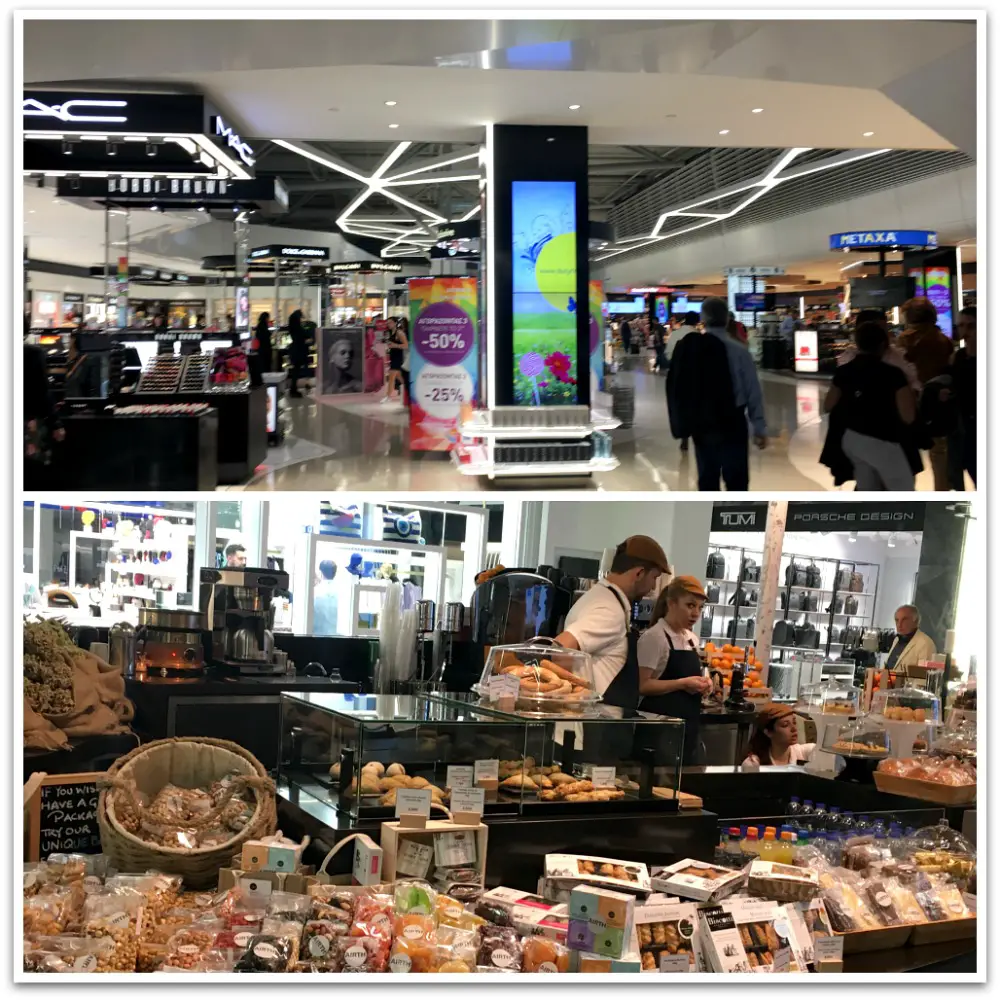 So there you have it.  A run down as to why, although not huge and necessarily glamorous, I find Athens International Airport a pleasure to fly from.
Find out ways to get to and from the airport in this great blog write up Athens Airport to City.
Places to Stay near Athens International Airport Greece
Holiday Inn Athens Attica Av. Airport West This family-friendly Spata-Artemida hotel is located near the airport, within 3 mi (5 km) of McArthurGlen Designer Outlet and Attica Zoological Park. American College of Greece and Expo Athens are also within 6 mi (10 km).  It has High-speed Internet, plus Swimming pool. Or:
Looking for Hotels? Get them all in 1 simple search
And if you're looking for somewhere to stay near the airport other than an expensive hotel, I would highly recommend St. Thomas's B&B…situated two stops from the airport by metro, the owners will meet you there or even an airport pick up/drop off and have an outdoor pool!
Whilst staying in Athens, read my Insider's Guide to Visiting Athens to get the lowdown on alternative things to see and do.
Enjoy your time flying into or out of Athens!
PIN for later