Bed and Breakfast Accommodation near Athens Airport
Athens, Greece is not really popular for Bed and Breakfasts.  Hotels, yes – cozy boutique places, of course…but the concept of having a stranger pay to stay in one of your spare rooms in your home is a little strange to the Greek culture.
However, St. Thomas's B&B is a bed and breakfast in Athens, Greece located in a gorgeous rural location about a 10 minute drive or metro ride from Athens International Airport and run by English lady Janet Wilkinson, Greek husband Aris and her daughter Elizabeth.  This English influence is probably what encouraged the family to turn their beautiful home into a Bed and Breakfast near Athens airport, convenient for arriving or departing guests or even just to be in a rural location a train ride away from the city.
I didn't really know what to expect when I was offered the opportunity to stay at St. Thomas's Bed and Breakfast.
Check out my Greek island all round packing guide for tips on what to bring on your Greek holiday.
The Best Carry On Backpack is great for weekend breaks
Bed and Breakfast Accommodation near Athens airport – meet and greet
Janet kindly met me – as she does all her guests if they need it…whether from the airport or the metro station (Peania/Kantza on the blue metro line).
St. Thomas's Bed and Breakfast Athens – A personal feel
The first thing to make very clear – and what I immediately noted: if you're looking for an impersonal hotel stay, don't come to Janet and her husband Aris's bed and breakfast in Athens.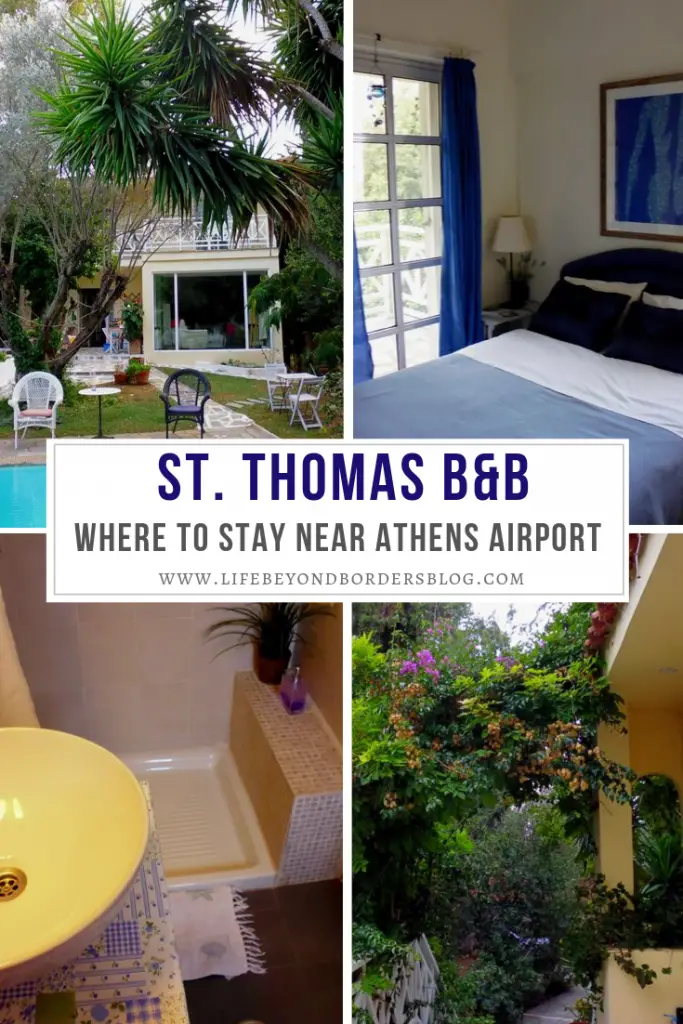 St. Thomas's has four (delightful) rooms; you'll eat breakfast in their kitchen with them in the morning, sit together in the evening around the wood burning stove and chat.  In fact, the family run business very proudly has a bevy of return guests from around the globe.
The world's come to me – I don't need to go and see the world!
Bed and Breakfast in Athens – St Thomas's Rooms
All four rooms are named after plants or flowers.
Olive Room with two single beds; private bathroom just literally outside the door
Wisteria Room downstairs with en-suite and double iron bed with sofa chaise – enough to accommodate a child
The Garden Suite downstairs in the basement is perfect for families as it offers two adjoining rooms: double bed and two singles, with en-suite
I was placed in the Lavender Room on the first floor with gorgeous balcony and view of the back garden with large pool.  Yes, there is even a pool!
Alas, Athens in October isn't always kind and the night I was hosted by them, the weather wasn't so kind.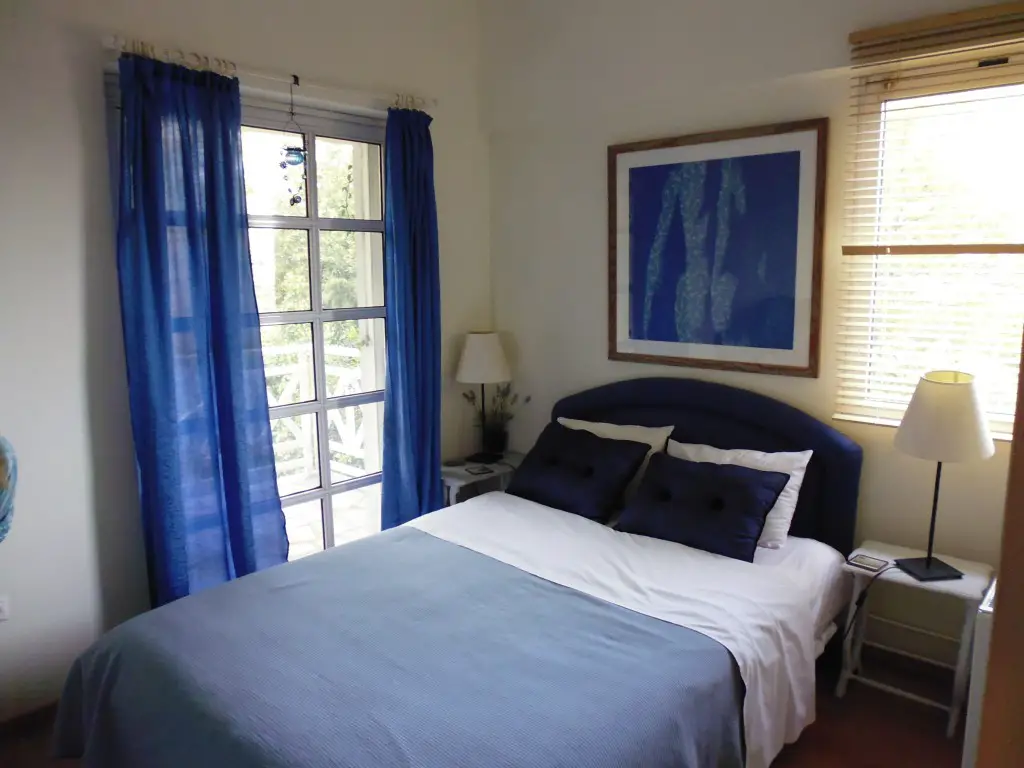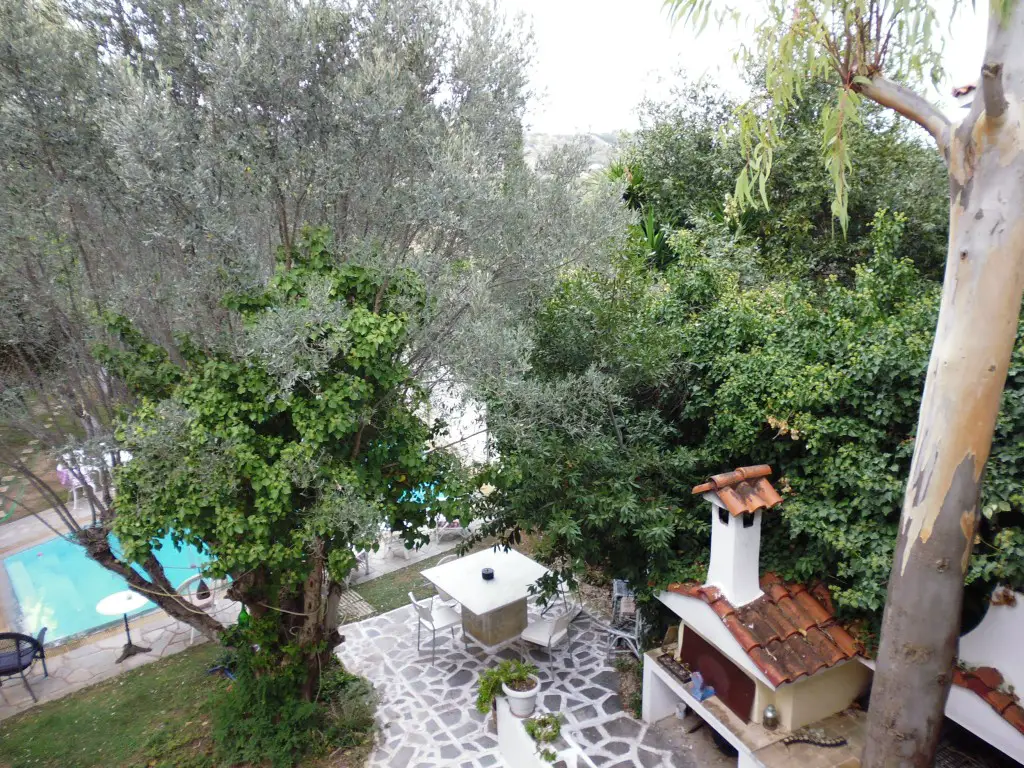 Bed and Breakfast, accommodation near Athens airport – the area of Peania
Mainly agricultural, it's a good place to base yourself for two or three days being only a 30 min metro ride straight into the centre.  It's near Mount Imitos (great hiking trails that Janet can point out), has a GREAT taverna/ouzeri nearby and the Vorres Museum should NOT be missed.  The family are happy to either take you places or arrange for you.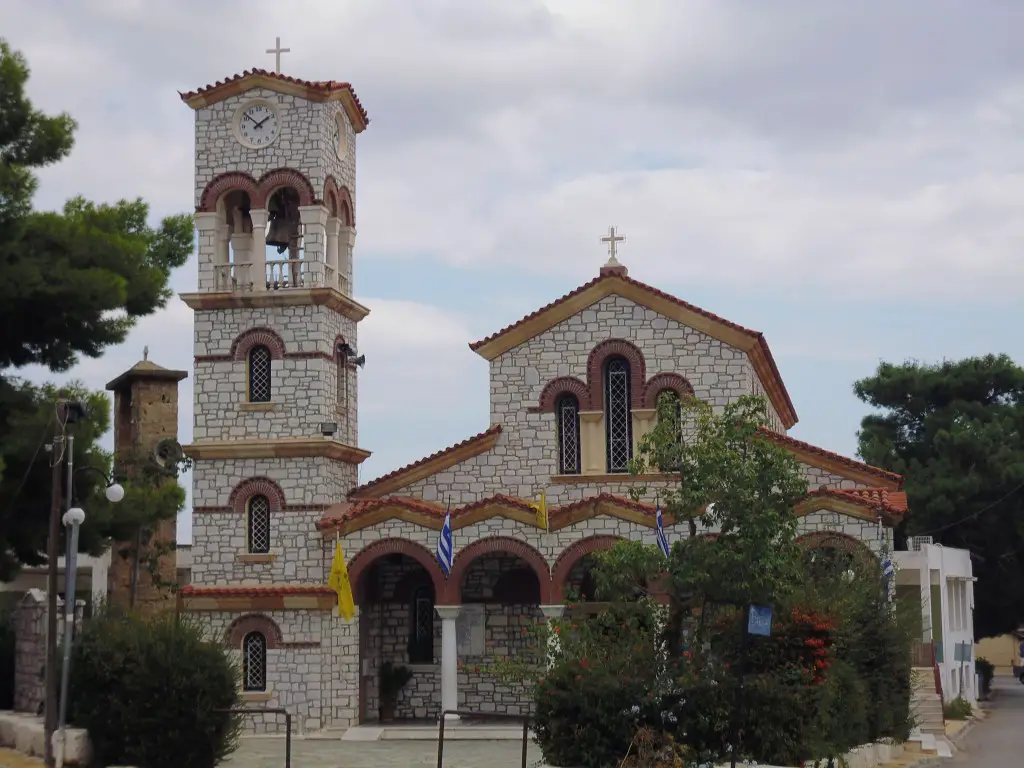 Facts about Accommodation near Athens Airport – St. Thomas's Bed and Breakfast
St. Thomas' is located in Peania – the metro on the blue line stops here, about 30 mins from the centre.  One of the family will come and collect you.
They can also collect you from the airport, unless your flight arrives at stupid o'clock – ask for info.
They can drop you off at the metro or airport too – again unless your flight is at stupid o'clock, then a taxi is arranged to collect you from their front door.
Don't stay at St. Thomas' if you're looking for an impersonal style place – Janet really opens up her home to you and makes you feel welcome.  BBQs in the summer by the pool are not unheard of.
Rooms from €65 a night depending on season/size of room – check their website for prices.
I would like to extend my thanks to the Wilkinson family for their hospitality and warmth, and for helping me discover another side of Athens I didn't know about.  St. Thomas' makes a great alternative to hotel accommodation when going to the airport.  I will be back!
PIN for later