I originally wrote this article back in 2012 when there was a lot of negative press about Athens on the news.  The Greek economic crisis was really starting to bite and rioting wasn't an infrequent occurrence.  In the midst of all this, Riot Dog – as he was affectionately known, became an 'Athens Institution'.
Originally written in 2012 – completely revised and updated in OCT19
Who was Riot Dog in Athens?
Greece is renowned for its stray dog population.
As mentioned, Athens was frequently the subject of negative headlines around the time that riots erupted in response to the IMF and government-imposed austerity measures from 2010 onward.
One constant throughout this time of unrest was the presence of fearless stray dogs that appeared to be on the side of the rioters as they barked at battened, helmeted and booted riot police. Riot Dog was always there and seemed to be respected by the rioters.
Two Riot Dogs Athens
There were actually two Dogs: Kanellos (meaning "Cinnamon" in Greek) and Loukaniko ("Sausage" in Greek).
Since 2008, both dogs were present at any riot taking place – although Kanellos passed away in 2008, developing arthritis. An Athenian college student donated money to allow him to live with a 'doggy' wheelchair inside instead of out on the streets until he drifted peacefully away.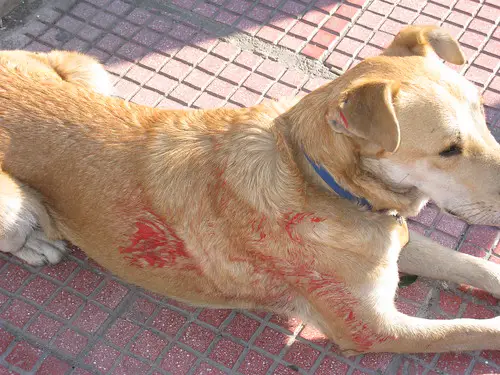 (No, it's not blood in the above picture but red dye).
Athens Riot Dog Loukanikos, a mutt that looked like an Alsatian cross whose name means sausage in Greek became a darling of the media – Time Magazine featured him in a piece in 2011.
Alas, the continued exposure to tear gas was bound to adversely affect him, and Loukanikos retired in 2012 to pass his remaining days peacefully with a carer, dying in 2014.
To honor this incredible animal, street artists Smart, N_Grams, and Martinez painted this mural in October 2014. The tagline reads, "All dogs go to Heaven." Even today, locals pay their respects.
Loukanikos Riot Dog seen in Athens before his demise
McDonalds in Syntagma Square turned a blind eye to him sleeping in the stairwell, as you can see from my image (I popped in for a quick cheeseburger – not an every day occurrence, living amongst delicious Greek food!)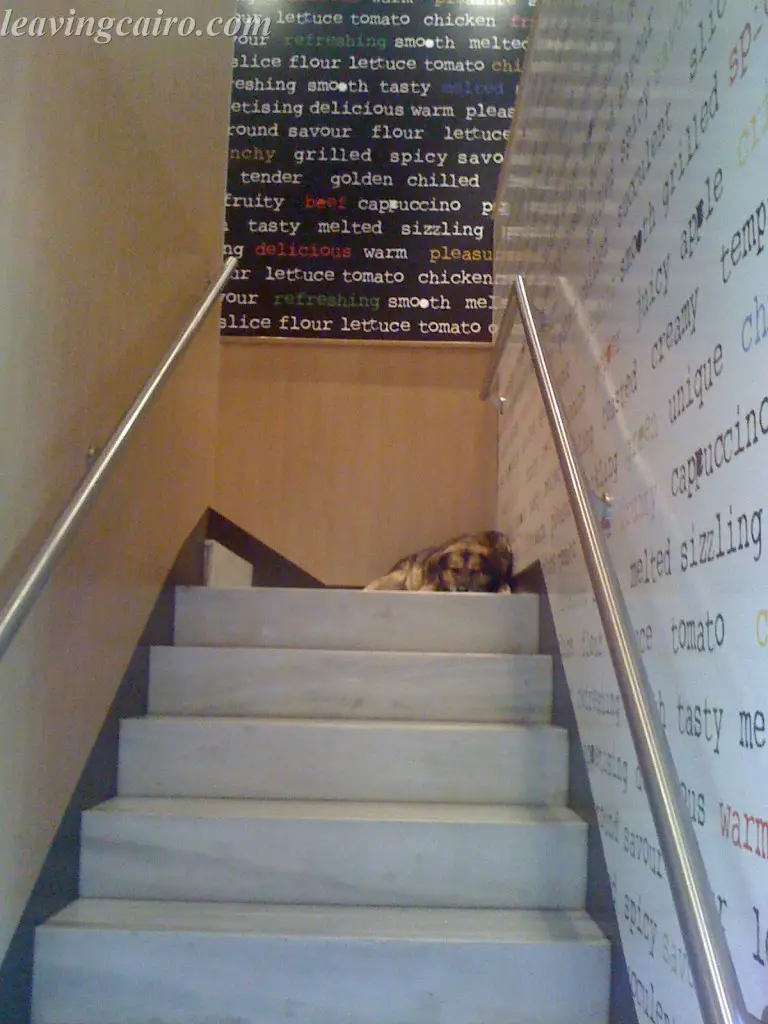 Long Live Loukaniko!  See here a great video tribute to his partner in crime, Kanellos by Athens Living:
PIN for later