People who know me and, indeed, those who don't but are familiar with my social media know I am a huge cat fan – HUGE!   In fact, I have an Instagram Account dedicated to my two Greek rescue cats.  Imagine my delight in finding out about a cat cafe in London – Lady Dinah's.
Cat Cafe in London – What is Lady Dinah's?
The brainchild of Lauren Pears – senior project manager at Sony Playstation – Lady Dinah's  Cat Cafe in London opened in March 2014, and never seems to not be busy!
It's important to make a reservation, you can't just walk in off the street because as I'm sure you've realised by now, Lady Dinah's is no ordinary cafe.  Aiming to create a peaceful environment for the resident cats (all ten of them), your 'session' is 90 minutes long and you book a time slot for £6 per person, then come at your allotted time and settle down at your table amongst the peaceful environment of cat toys and, of course, the cats themselves.
Think of it as a place where you come to relax amongst your favourite furry friends.  Hell, you don't even need to really like cats – after all:
You cannot look at a sleeping cat and feel tense
– Jane Pauley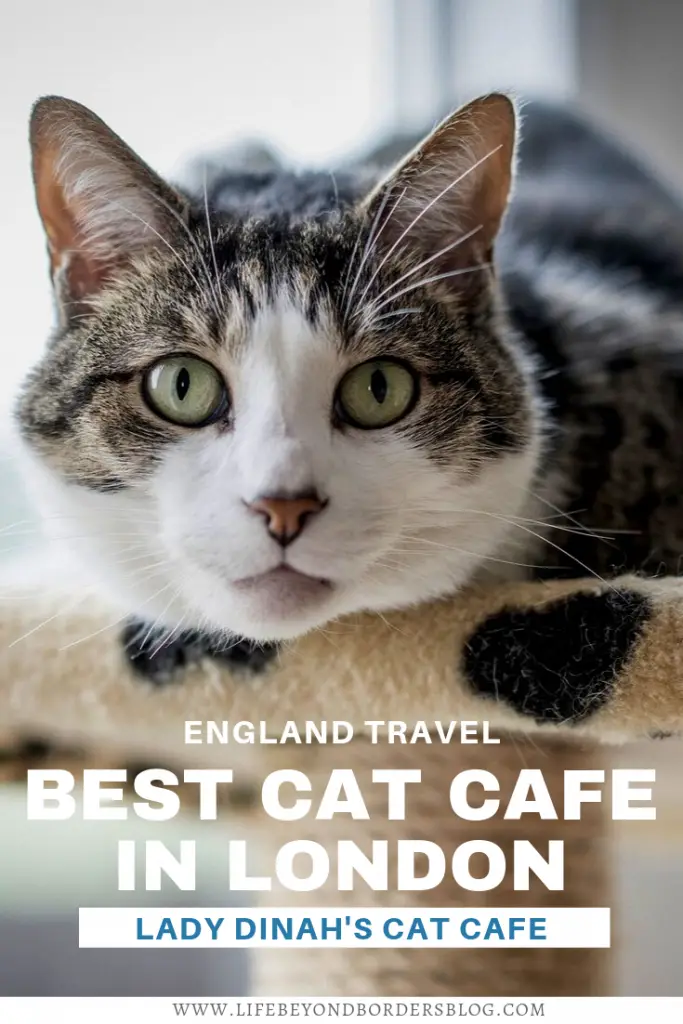 The Greeks are slightly bemused at the idea of a 'cat cafe.'  One friend of mine suggested I invite my British friends to her place for a coffee (for free) and she could point out all the strays around.
That defeats the object.  These cats are resident of Lady Dinah's and are rescue cats, well looked after and some are even adopted out, known as 'Lady Dinah's Graduates.'  Think of Lady Dinah's as a cafe version of the Cat's Protection.
Upon entering the 'outer sanctum' of the cafe, I waited at the cat cafe for my allotted time and bang on 6pm, a door opened into the inner sanctum.
Would you like to come through?
 A lovely young man explained the 'rules' of the cat cafe:
Approach the cats with respect
If they're sleeping, don't bother them
Let them sniff you first and if they like you – let them make the contact
Wash our hands before we go in, and when we leave
And through the secondary door we went, led to our tables.
Cat Cafe London – Lady Dinah's, where to sit
There are two seating areas, a small one upstairs that's rather hot – but downstairs is larger and has great air conditioning.   As well as tables and chairs, the area is decked out with various cat paraphernalia such as toys, exercise posts and cute sleeping areas – oh, and a cat exercise wheel!
Sleeping cats
The time of day I went, most of the cats were in various stages of sleep, the website is very good at telling you when you book your time slot what 'state' the cats might be in, either restful and sleepy (as when I was there) or more playful.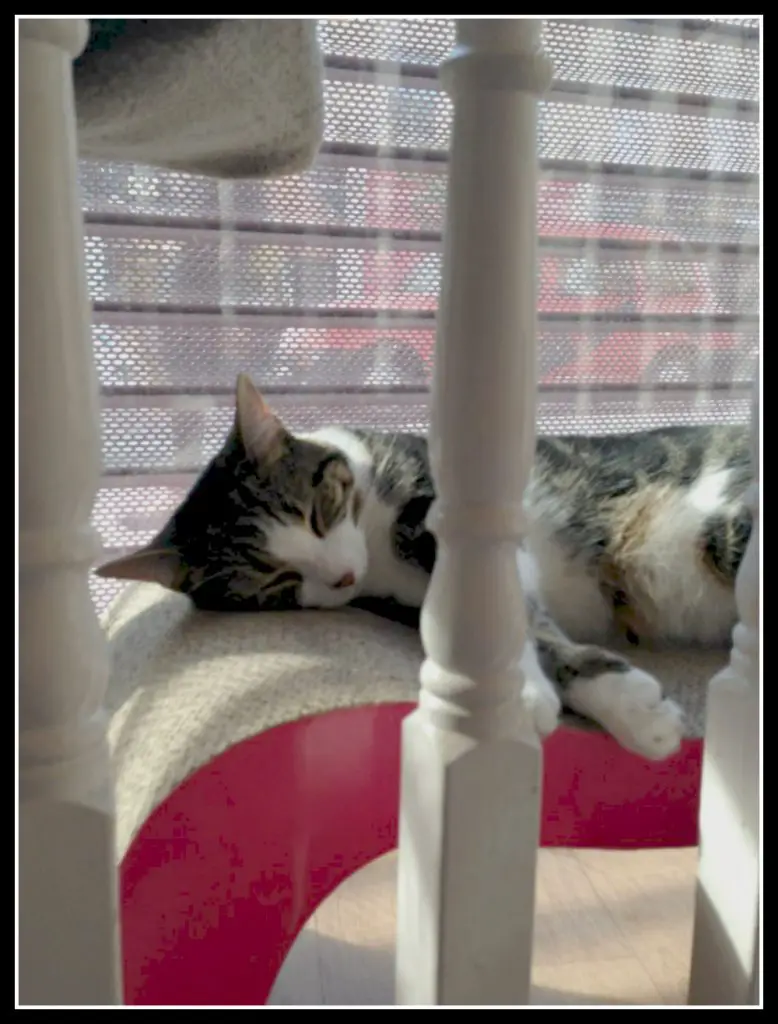 Even though they were sleepy, as you can see, it was a cute thing to see as I sat, enjoying my cream tea.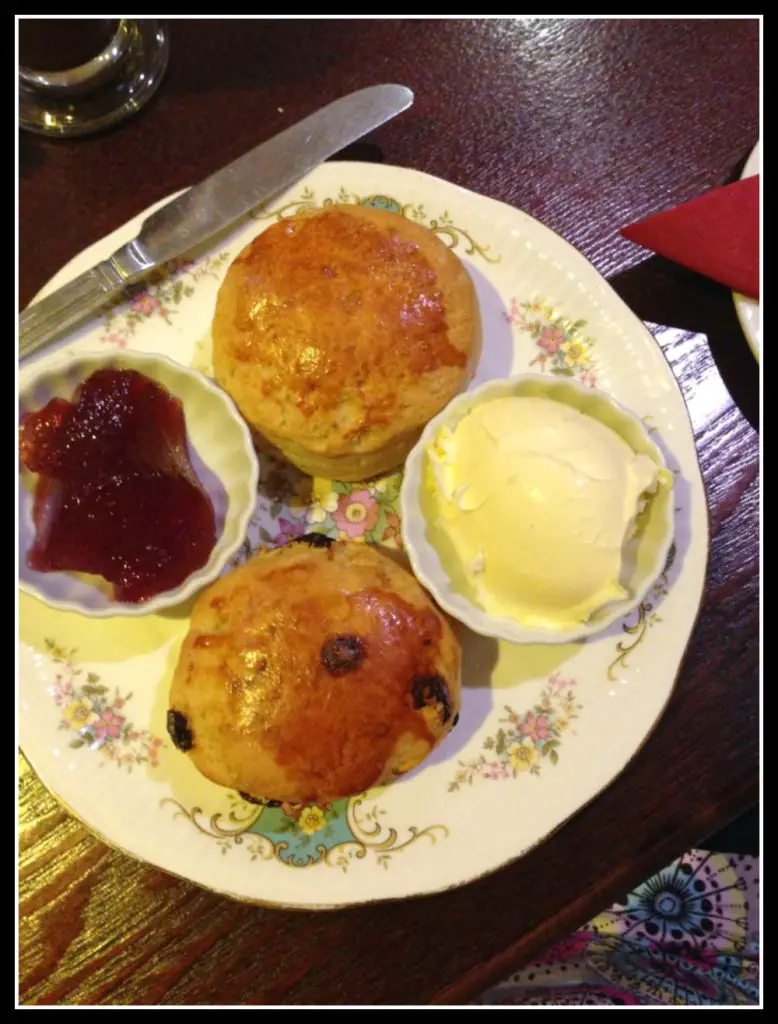 We didn't stay the whole hour and a half…not because we didn't enjoy ourselves, but because we had another appointment elsewhere.  I really enjoyed my time there, and yes, the saying is correct: How can anyone feel stressed looking at one or more sleeping cats?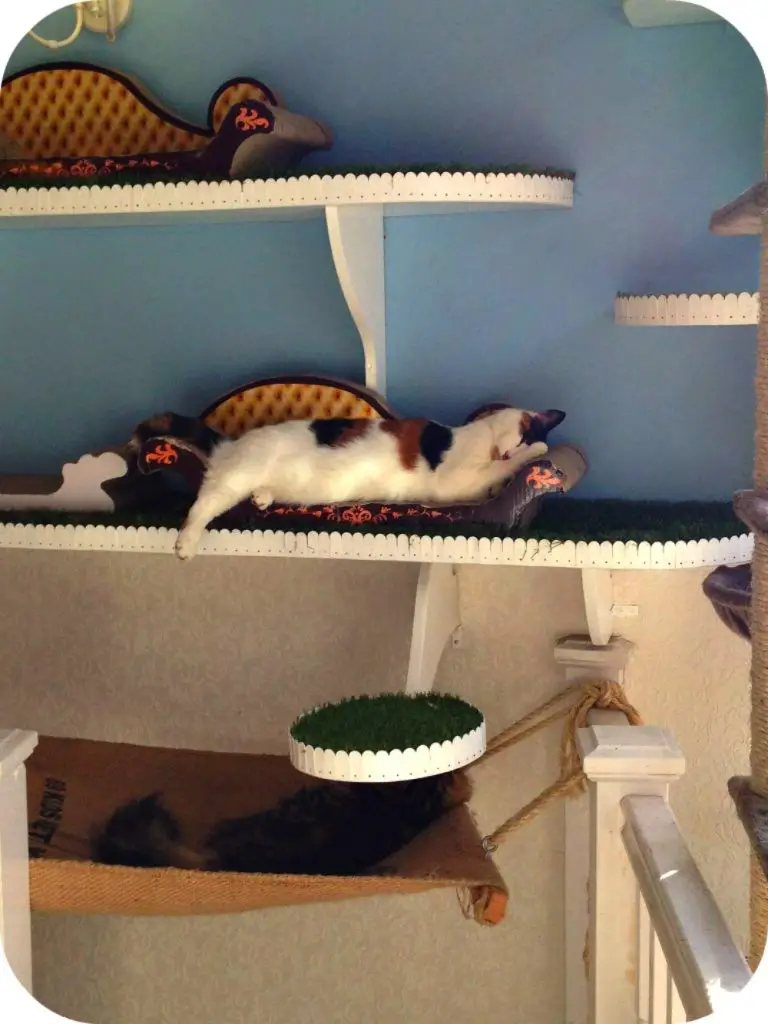 For Londoners who maybe aren't allowed to keep any pet in their rented apartments, it's a great place to go and unwind, to de-stress.  And in the past it's offered events such as 'cat yoga'.
Lady Dinah's Cat Cafe London Address:
152-154 Bethnal Green Road, Shoreditch, London, E2 6DG
Nearest Stations: Shoreditch on the Underground or National Rail, or London Liverpool Street (approx. 0.7  miles away)
Treat yourself when you're next in London – do something different: go and visit the cats!
And for more things to do in London, see my Best Food Tour with Eating London Food Tour.
Where should you stay when you come to London? How about Little Venice in a boutique canalboat? Read more.
PIN for later