In the UK, fish and chips is the takeaway of choice. In the US, Pizza reigns supreme. In Japan, sushi outlets are the norm. But if you're hungry for the food of the Greek Gods, souvlaki is the snack for you.
There are many top things to eat and drink in Athens, but here we're going to examine the best souvlaki in Athens and where to find it.
This guest post was provided by The Expat Hub – the number one online stop for expatriates looking for advice, support and information.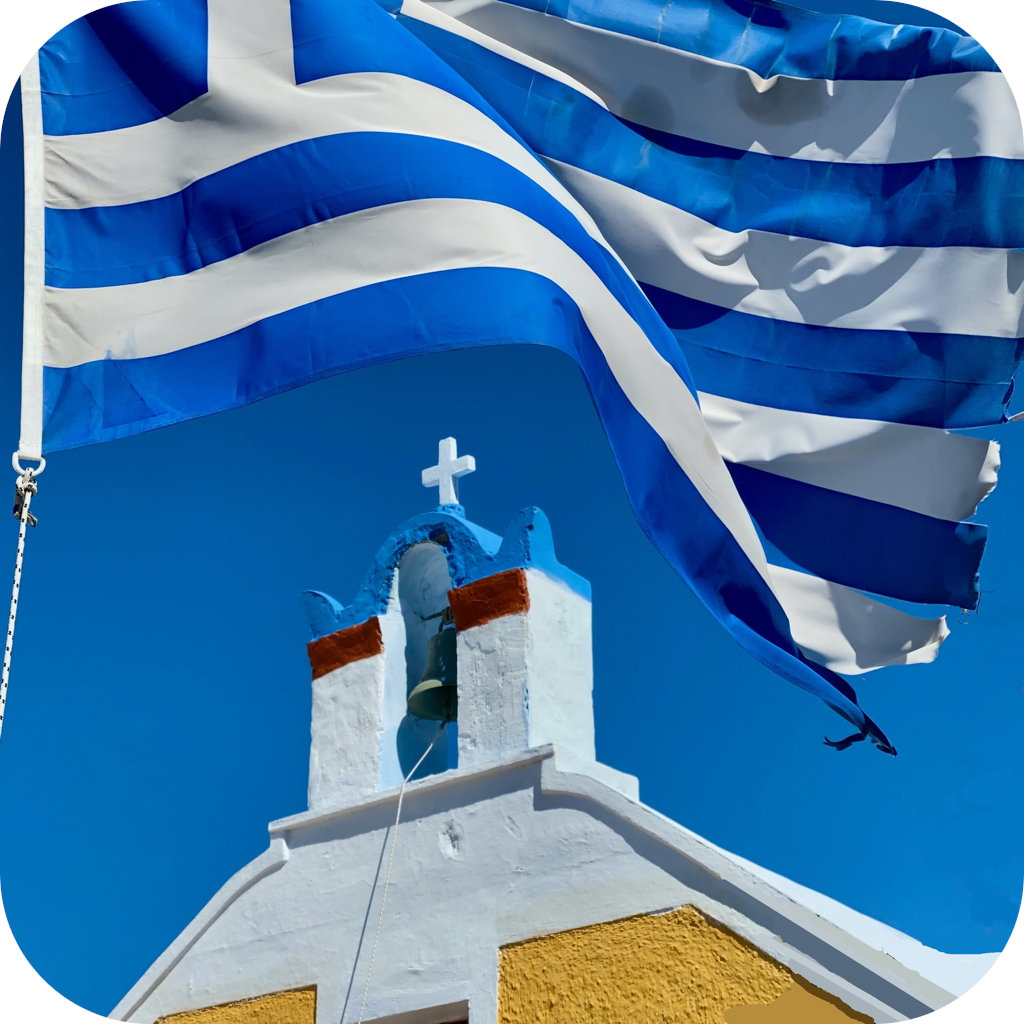 Download my Greece's Best Travel App to have a Greece guide in the palm of your hand for Android, iPhone or iPad.
The word derives from the Greek word souvla, meaning skewer and is a general term for a light meal based around grilled, skewered meat. The meat (usually pork, although chicken and lamb are becoming increasingly popular options) can be served in a variety of ways; on the skewer with pita/flatbread salad and sauces, or with sides like fried potatoes or chips.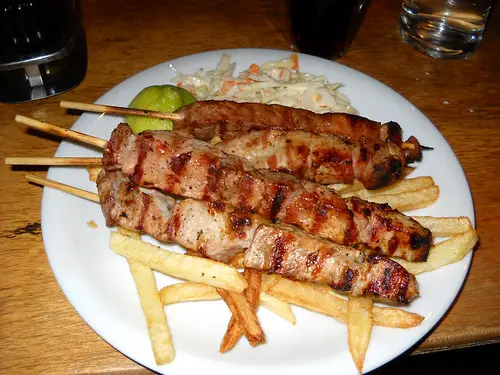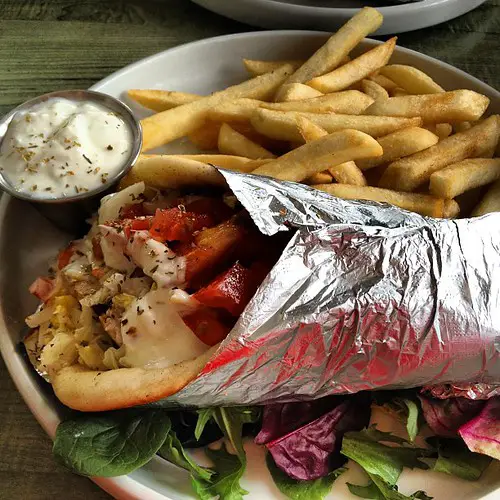 Souvlaki originated in Greece and after absorbing influences from the Middle East and Turkey over the decades, remains hugely popular across the nation with thousands of souvlatzidiko (souvlaki restaurants or takeaway outlets) to choose from.
Athens, the heartbeat of Greece, offers up a particularly daunting array of souvlatzidiko options. Many are family run businesses, some dating back 50 years or more, while others are swanky, upmarket eateries which specialise in modernising this traditional dish.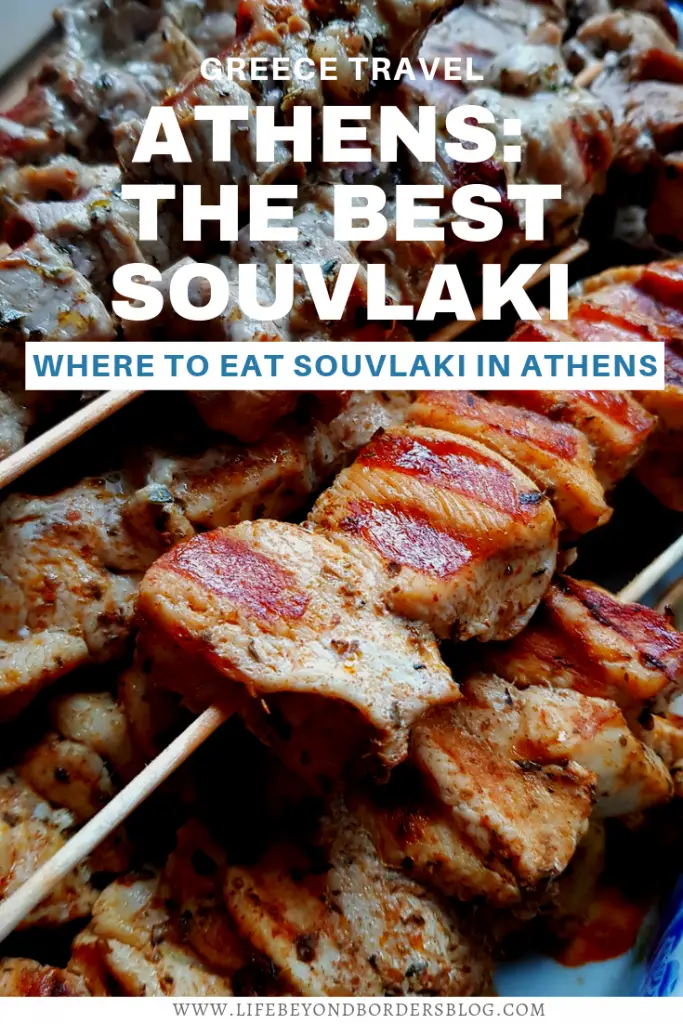 Now, there's nothing wrong with taking old-school foods and giving them a contemporary foodie twist, but in our hunt for the best souvlaki we went classic – tracking down the three places we felt best represented traditional Athenian cuisine for the best souvlaki in Athens.
---
Best Souvlaki in Athens – O Thanasis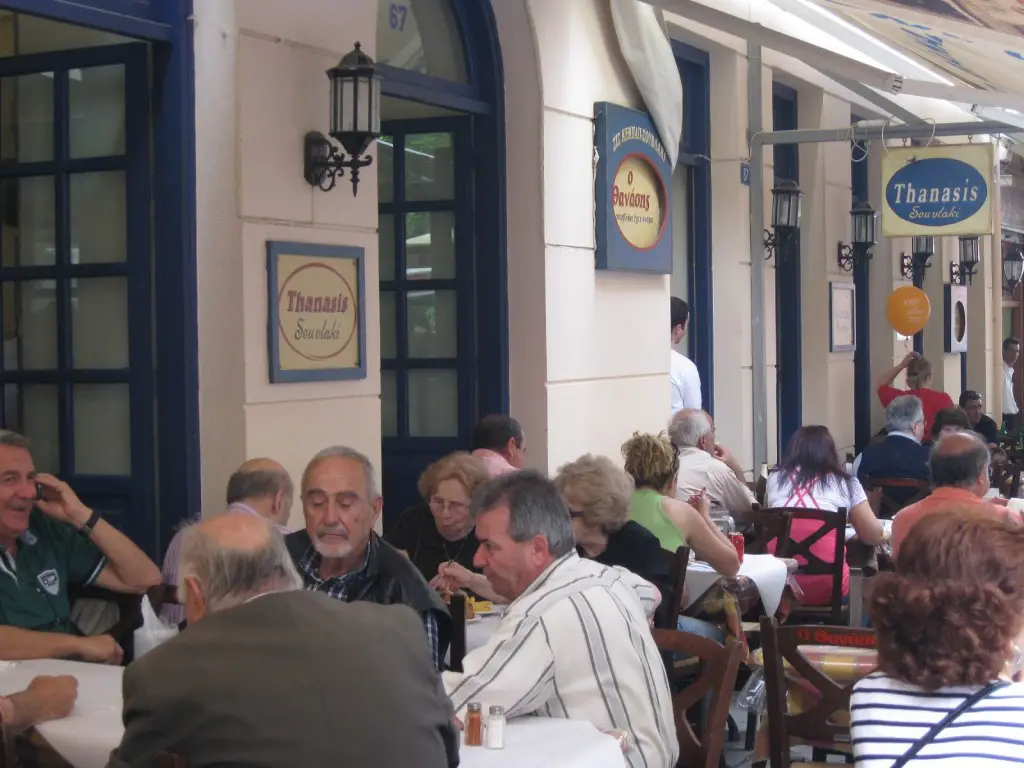 Veer off the northeast corner of Monastiraki Square and you'll find O Thanasis. The Rough Guide to Athens recommends it as the best place for souvlaki in Athens in the region and it has one of the highest ratings for a souvlatzidiko on Trip Advisor,  – for good reason. The Tzatzikihas a real garlic-y punch which complements the succulent pork and punchy salad, and as it's so manically busy, the turnover is rapid and the produce is always fresh. As well as fabulous souvlaki – O Thanasis dishes up to-die-for kebabs. In Athens the term 'kebab' refers to minced meat which is seasoned, fashioned into a cylindrical or oblong shape, grilled and served up with a whole host of accompaniments. The kebabs in O Thanasis are huge, flavourful and super scrummy!
Best souvlaki in Athens – Kostas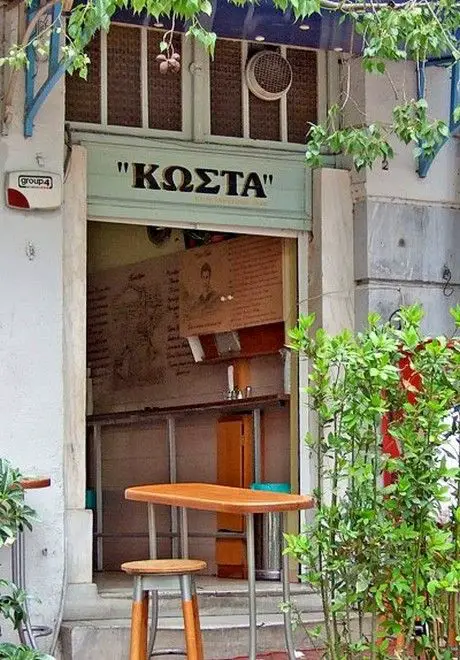 If you stopped ten Athens residents on the street and asked them to pick their best souvlaki in Athens, they'd probably all give a different answer, but if one name ws to consistently crop up, odds are it would be Kostas.
In Athens, there are two souvlatzidiko eateries called Kostas – both with roots stretching back over 60 years, both serving up celebrated souvlaki. The first Kostas can be found in the upmarket Agias Irinis Square. Although roughly the size and shape of a modest hallway, it puts out dozens of juicy, delectable souvlaki on a daily bases. The Souvlaki served here are the traditional pork, cooked on a hot griddle and served with pita, delicious homemade spicy sauce, a salad of tomato, onion and parsley, refreshing yogurt and chips. The other Kostas is off the beaten track, hidden on Pentelis Street, but also well worth a visit. Its location may have changed since the business began in 1950, but it's as popular as ever, particularly with the health conscious souvlaki lover. Some souvlaki are heavy, greasy and overly enriched with sauces, but not here. Fat-free pita is crammed with high-quality, tender pork, low fat yogurt and the iconic onion, parsley and tomato salad to form a snack so light and tasty you could probably manage two!
Best souvlaki in Athens – Nikitas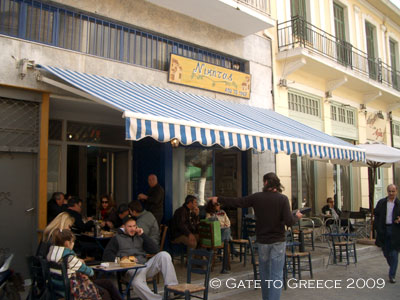 With so many eateries now industrialised and designed to cater to the masses, Nikitas taverna, with its old-fashioned charm and authentic atmosphere, has real appeal. Nikitas can be found at 19 Agion Anargyron, hidden behind the crowds of souvlaki-hungry fans. A friendly atmosphere, great value for money and fantastic food are the reasons why Nikitas has managed to hold on to a large and loyal clientele over the decades. Although the souvlaki is among the best in Athens, the meatballs with tomato sauce (listed as soutzoukakia) are real winners too. If you're lucky you may be able to enjoy the scrummy food on one of Nikitas' outside tables, but you'll have to get there early!
Nikitas is very popular with locals, so is a real authentic Athenian experience.
Where have your eaten your best souvlaki in Athens? Share in the comments.
PIN for later