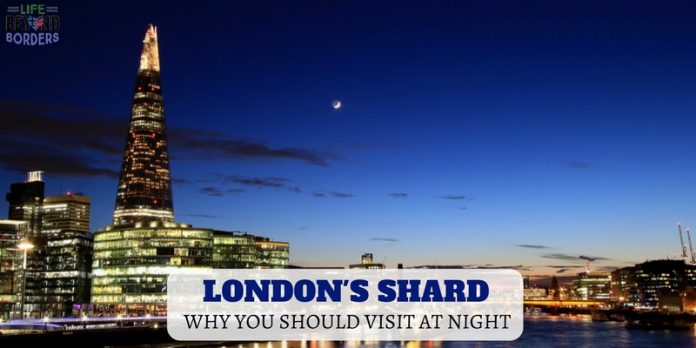 I've visited the Shard in London before, but during the day.  This 95 storey, 11,000 glass panelled skyscraper located in Southwark, a district of London near London Bridge station on the south side of the River Thames, looms stately-like at 309m (1,016ft) over all who hustle and bustle beneath her.  She (I like to give it a gender as 'she's' so majestic, in my opinion) comprises of the following:
72 habitable floors including:
Shangri-La Hotel Reception on the Ground Floor
Retail shop and Observation Deck entrance on floors 1 and 2
Office space on floors 3-28 (companies include Al-Jazeera English & UK, Gallup, Warwick Business School and South Hook Gas
Restaurants on floors 31-33
The Shangri-La Hotel on floors 34-52
Residences (i.e.: homes) on floors 53-65
An 'ultimate penthouse': 224 meters high over two floors, the equivalent of a 7 bedroomed mansion.  Reported price tag is GBP£50 million (USD$77 million)
The View from The Shard (observation deck) on floors 68-72
The Glass Spire spreads up the remaining floors from 73-95
The View from London's Shard at night is great to see London sparkle.  Open from 10am to 10pm allows plenty of opportunity to appreciate different views of the city – and it's possible to extend an add-on to your ticket price to visit at both times of the day.
NOTE: These are 2016 prices, so do be sure to check.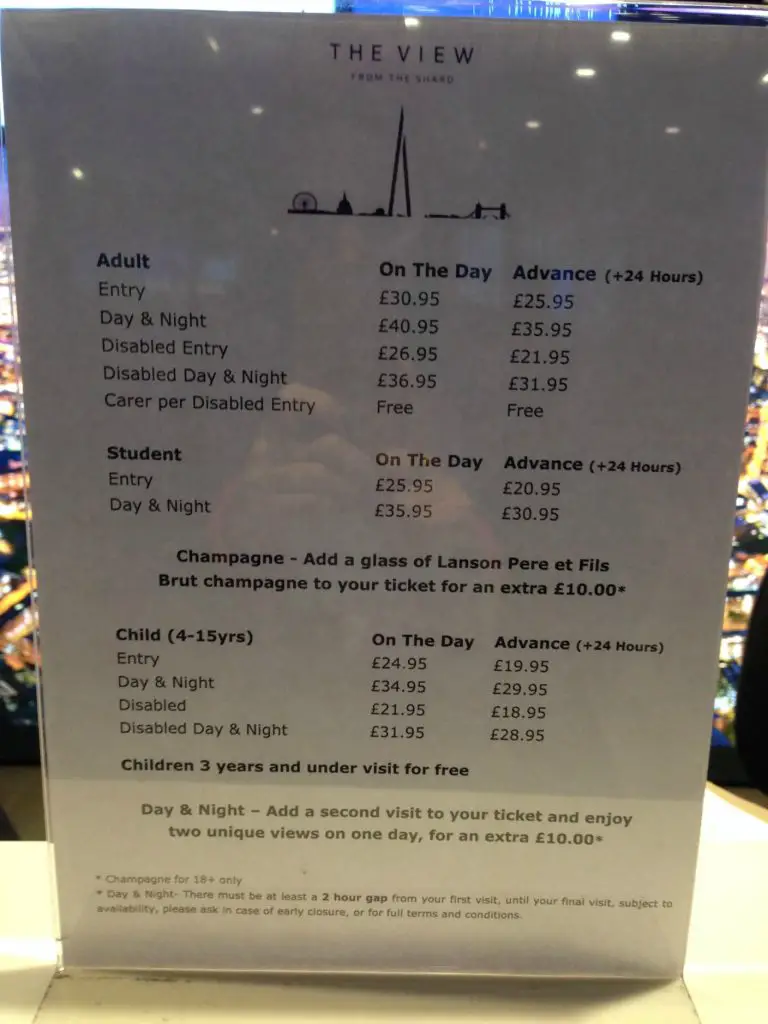 Note: You choose a time when you want to visit and can turn up within half an hour of the allotted time.  This is to prevent too  many people turning up at once and overcrowding.
**Disclosure: I was offered the opportunity to visit The Shard View at night by Visit London and presented with a Press Pass. All opinions remain my own**
A View from The Shard at Night
Having already been blown away by the Shard during daytime, I couldn't wait to see it at night.  I arrived after 6pm on a mid-week night – actually I'd highly recommend this kind of time.  Aside from the crowds rushing to London Bridge at peak rush hour, I didn't find many people around at this time.
I whizzed through the security and into the lifts.  In fact, I had a lift all to myself!  I felt a little disorientated as I hurtled up to the 68th floor first of all, at a speed of 6 meters per second!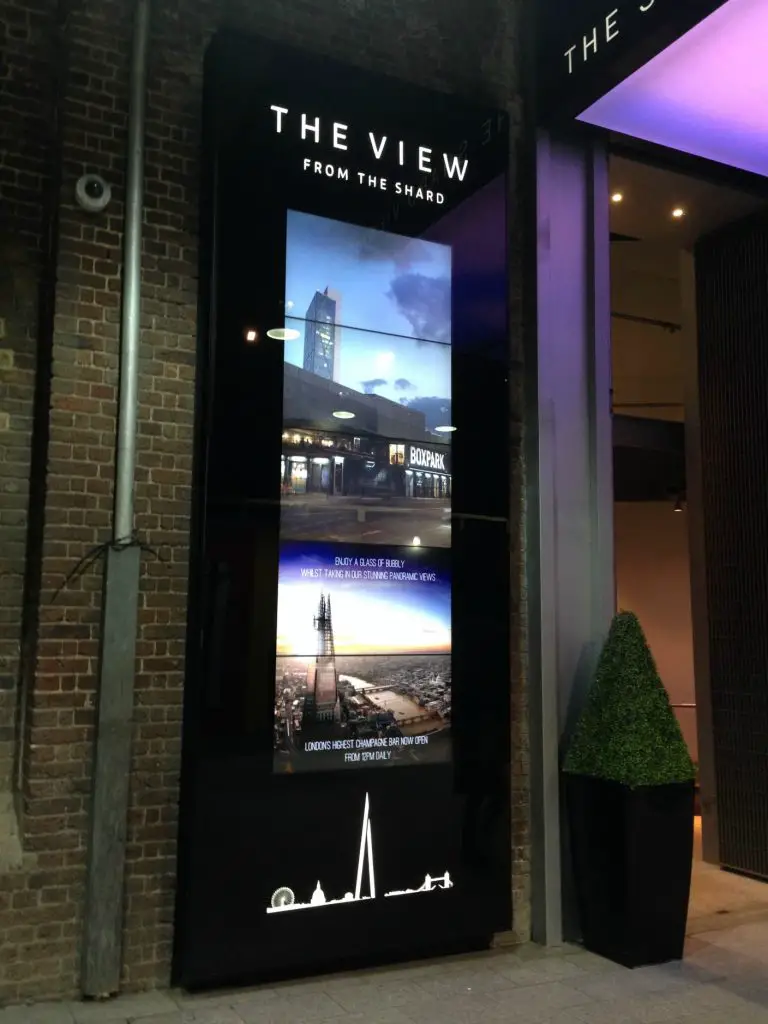 Shard View on three floors
68th floor = Cloudspace where you can learn about all the different sorts of clouds above London
69th floor = Walk around with telescopes scattered around at intervals, for you to enjoy a close up of your favourite view
72nd floor = Open to the elements!  (Well, kind of).
I took in all three floors – the 72nd floor as to be walked up to, but it's not far.  I didn't stay long at the top…it got kinda chilly on a November night!
I have to say though, as I wandered around all three viewing floors, seeing London all lit up at night offered a beautiful perspective of the city I'd never seen before – so high up.
Take a look: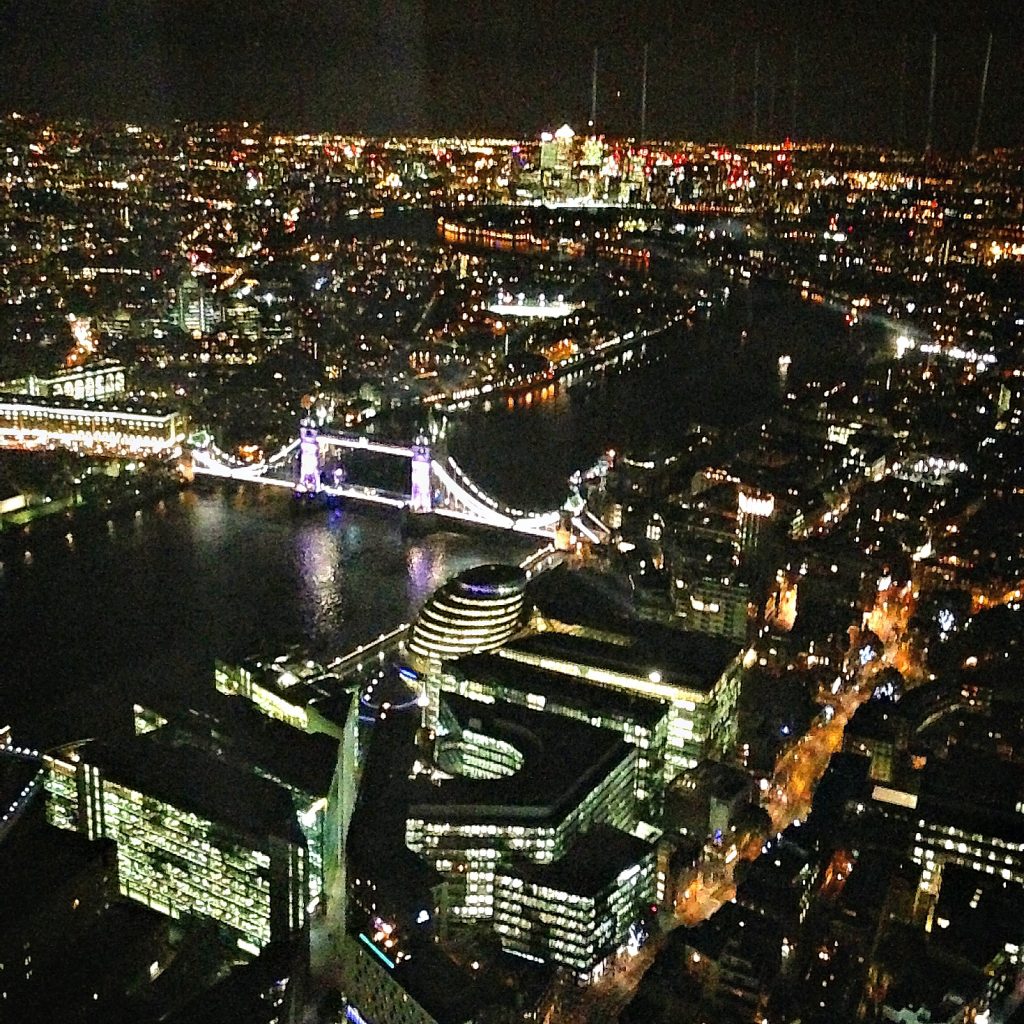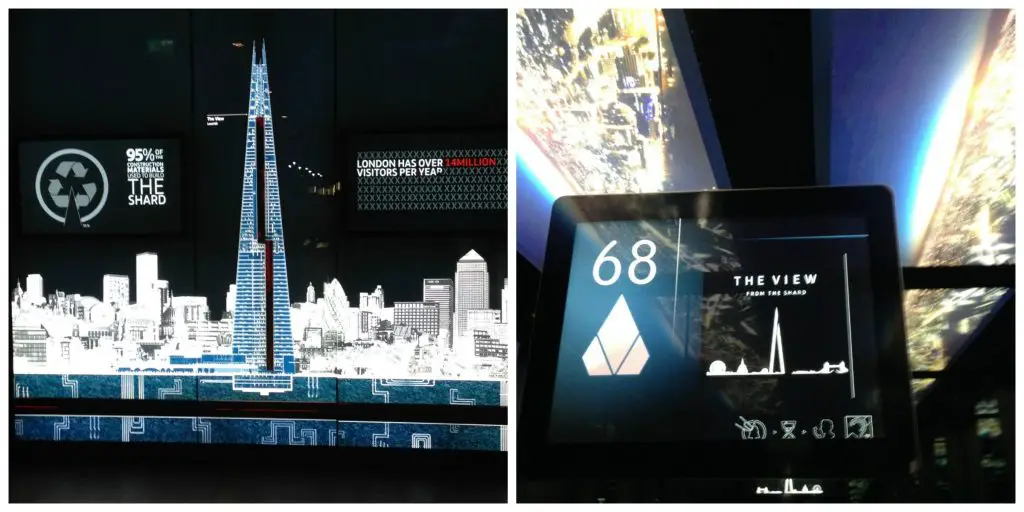 The Shard is one of many tourist attractions in London.  For example, you can:
PIN for later