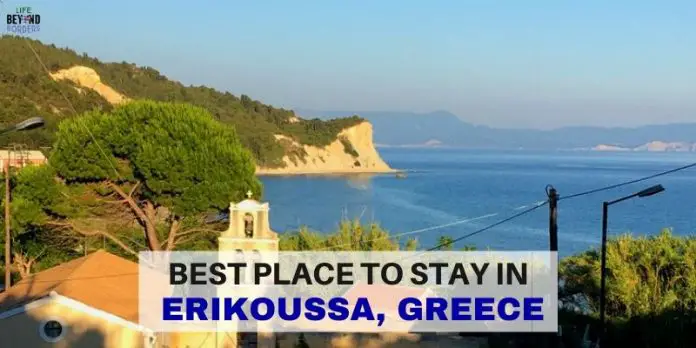 Have you heard of the Diapontia islands in Greece? Not very likely as Greece has so many islands and islets.   Many people think of Santorini, Mykonos or Rhodes – these are the most well known islands but alas, attract a package tourism crowd due to the fact they have an airport.
Disclosure: I was a guest on Erikoussa and at the Acantha Boutique Hotel. This in no way reflects my writing
For the 'real' Greece you need to discover one of the best kept secrets in Greece – and for this you need to travel a little further afield, yet still surprisingly easy.  Let's take a look at the best kept secrets in Greece, more specifically the Diapontian Island of Erikoussa and the Acantha Boutique Hotel.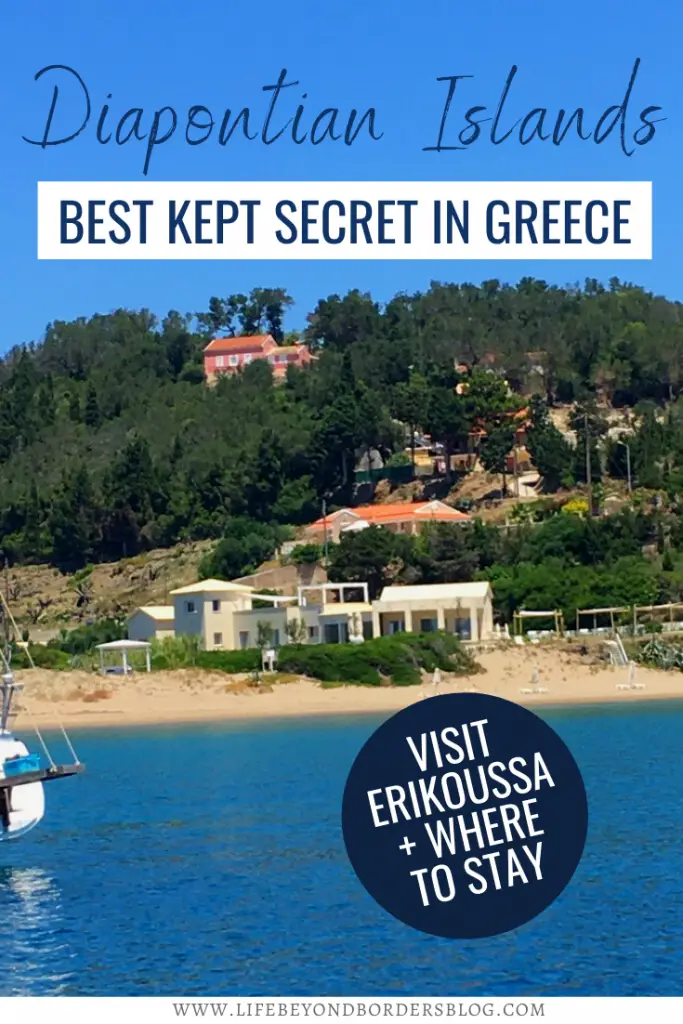 More on Greece:
Best Kept Secrets in Greece: Diapontian Islands – where are they?
The Diapontian islands are made up of three bigger islands that have a very small population; Othoni, Mathraki and Erikoussa – plus nine uninhabited islets, some even just rocks where wild goats may roam and the only way to 'visit' them is by yacht or catamaran, mooring up offshore to swim along their coastline.
They're in the Ionian sea at the north western most part of Greece, some 6 miles from the popular Greek island of Corfu.
It's possible to fly to Corfu from several European destinations, also from Athens and then catch a ferry either from Corfu Town harbour, or take a taxi to the northern little port of Sidari and hire a private motor boat to take you on a day trip around the islands. Corfu Holidays Direct can arrange such a trip and transfers, very professionally with air conditioned mini vans that seat up to 7 people, or taxis for up to 4 people.  From airport to motorboat, they have you covered.
Best Kept Secrets in Greece: Erikoussa island
Erikoussa is the most northern island in the Ionian chain and is only 8 nautical miles (a 40 minute boat ride) from the northern Corfu port of Sidari – a pretty place to stay in itself.
It's named after the gorse bush 'reiki' which flourishes from October through the autumn / fall season across the island, covering it in a purple haze.  At only 4.5 sq km (1.7 sq miles) it's tiny, but still manages to offer a lot in the way of golden beaches, mainly in the Port as this is where the people live and life goes on.
There's a population of only 30, with 2 children in the school.  It's like stepping back in time, except internet access is available.
You can walk into the inner part of the island covered in wildflowers, cypress and olive groves.
The north west of Erikoussa is covered in steep, cliffy beaches – it's best to take a boat trip around it and explore.
Best Kept Secrets in Greece: Hotel Acantha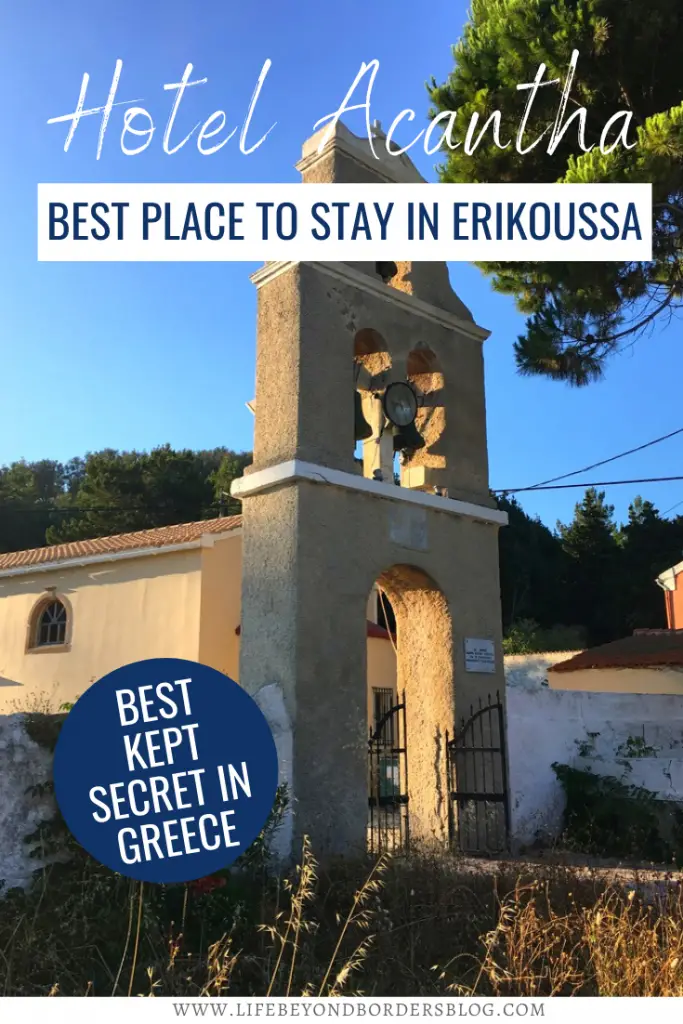 As you've seen, Erikoussa is like stepping back in time and, thankfully, lacks the crowds that mass tourism tends to bring.
I'd recommend spending at least two nights on Erikoussa purely to relax, or base yourself here for longer to tour the other Diapontian islands.
Acantha Boutique Hotel is the only 'boutique' style hotel on the island that offers unparalleled relaxation with only 5 suites, the top suite with huge balcony offering stunning sea views, the rest with garden seating on the ground floor.
It's possible to eat breakfast, lunch and dinner here – lunch ranging from a simple salad (personally that's all I needed in the heat) and dinner very fish based using the catch of the day from local fishermen.  Speak to the hotel about your dietary needs.
Be prepared to relax and go with the flow.  They have a section of the beach at the front of the hotel just for their own guests.  It's wonderful; roll out of bed, eat a healthy breakfast of fresh bread and jams then a 2 minute walk and you're at the beach.
Although it's officially an 'Adults Only' hotel, as with all things Mediterranean the love of children flows through, and as the restaurant is also open to non guests, you may see families frequent the venue too.
Secret Greece Conclusion
Clearly there is so much more to the country than mass tourism shows us. I enjoyed my time on the Diapontian island of Erikoussa and do hope to go back in less stressful times.  Alas the Covid 19 situation meant many in the tourism sector were suffering in various ways…I hope better times for everyone and to re-visit.
To book your luxury Secret Greece experience, including yachting around the Diapontian islands, contact Fly Me To The Moon travel – specialists in showcasing authentic Greece to the discerning traveller.
PIN for later