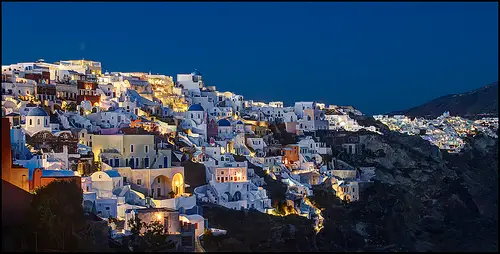 This article is provided by First Choice Holidays
Oia is perhaps the most famous village on the idyllic Greek island of Santorini. Famed for its stunning sunsets and picturesque villas and vistas, this charming spot is one of Greece's most alluring islands. Perched atop a staggering cliff, the views from Oia stretch out over the Aegean all the way to the volcanos of Palia and Nea Kameni on neighbouring island Thirassia. With many holiday companies like First Choice flying out to Greece every day, this little oasis might be closer than you think.
The village is home to the iconic whitewashed buildings and bright blue domes that make the Cyclades islands popular throughout the world. Visitors can shop, eat, swim, rest and play at any number of destinations in town catering to all variety of styles and (most) budgets. The village is quieter than neighbouring Fira and is ideal for visitors looking to get away from the hustle and bustle of Santorini crowds, which can become quite large during the high season. Here are just a few reasons why Oia is so incredible.
Have a Fresh Fish Dinner in Ammoudi
Just a short trip down 300 stairs will land visitors in the charming and compact port of Ammoudi. From here visitors can take a lovely boat trip to nearby Thirassia, take a quick dip in the crystal clear waters or sample some of the finest fresh fish you will ever taste in any one of the delicious fish taverns that surround the port. For those unable (or unwilling) to face the 300 stair return journey back up to Oia proper, there are cars and donkeys at the ready to take visitors where they need to go after a delicious meal.
Embrace the Arts
Oia is home to a host of diverse and delightful art galleries thanks in large part to its outstanding and inspiring landscapes. AK Art Gallery is the oldest on the island and you will find the contemporary work of Yorgos Kypris at the Mati Art Gallery. While the village itself isn't very big, and certainly doesn't take too much time to wander through, perusing the works of art in these local galleries can take hours, if not an entire afternoon.
Walk and Wander
One of the best- and cheapest- things to do in Oia is to simply wander around. Walking through the village provides unparalleled views and the chance to stop and chat with the very friendly locals who may even teach you a Greek phrase or two. Walking along the village's main street is a charming excursion and culminates across the top of the cliff which is the perfect place to take in one of the Oia's world famous sunsets.
Hit the Beach
Visitors to Oia have a few great beaches to choose from. Amoudi beach is one of the best beaches in all of Santorini offering you the chance to swim in crystal clear waters surrounded by an idyllic Greek harbour with several quaint fish taverns and cafes- perfect for a late lunch or afternoon snack. Armeni beach is quite small and difficult to reach but well worth the adventure. For those willing to take another trip down 300 stairs, the beach is a lovely hideaway in which to swim in the deep blue waters, hire a lounge chair and relax under the gorgeous Greek sun.
Santorini has long been one of the most popular sunny hotspots in Greece thanks to its iconic colours, gorgeous sunsets and incredible people. Oia embodies everything that is so wonderful about Santorini in one quaint and quiet village, the perfect spot for any Greek getaway.