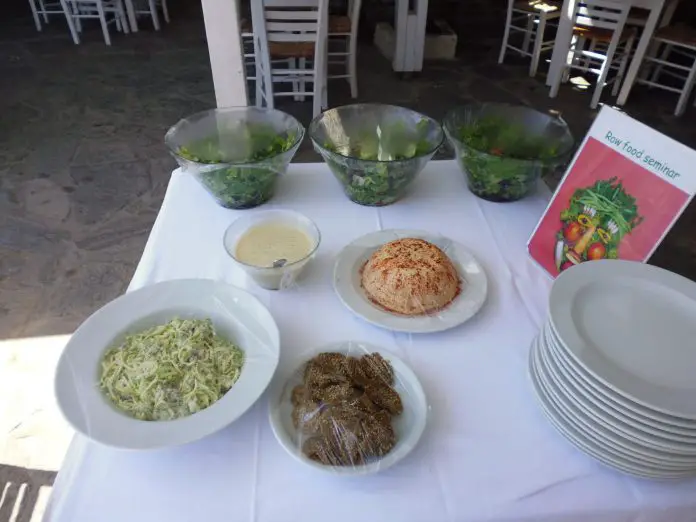 Not really knowing what to expect when I was invited to be hosted by Insight Holidays for their first Raw Food and Yoga Retreat, I happily and somewhat curiously accepted their invitation.
Hosted at the gorgeous Paros Philoxenia Hotel, located right on the sandy beach with windsurfing at your doorstep, I spent three days relaxing, cleansing and rejuvenating.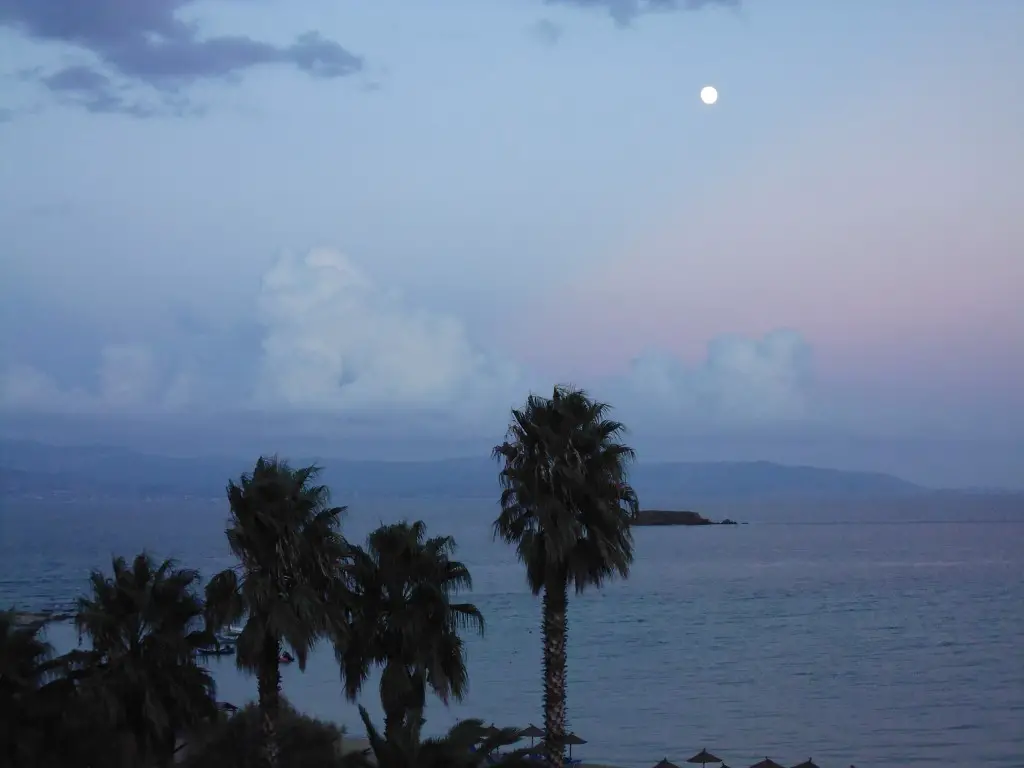 Raw Food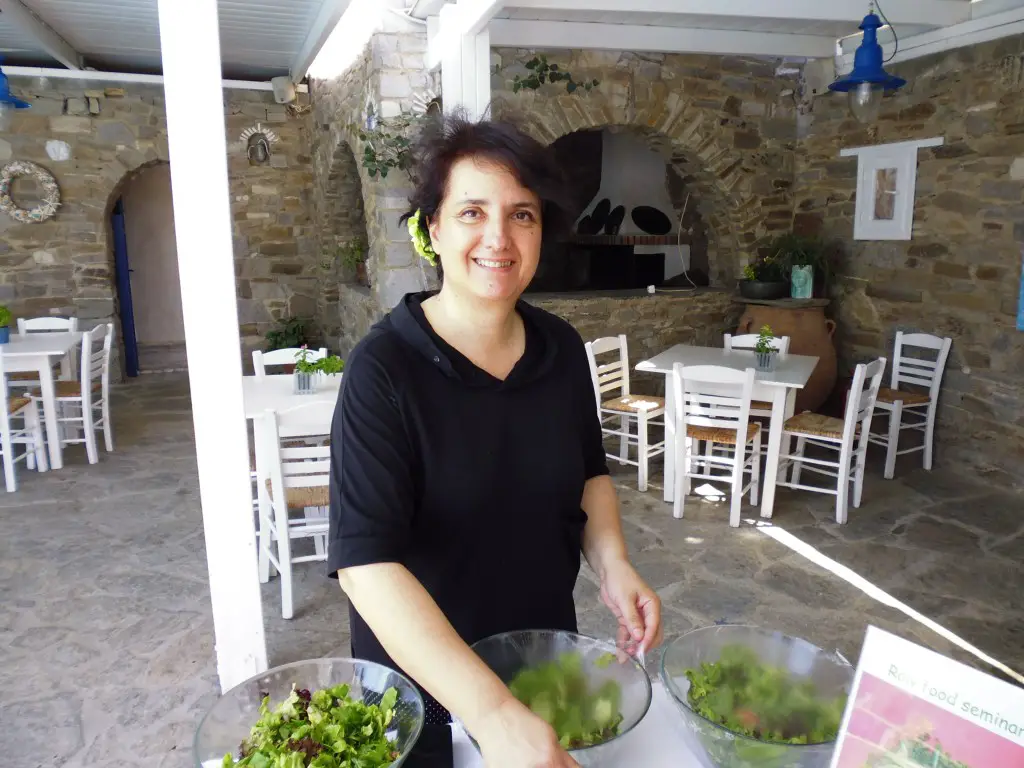 What does this conjure up for you?  Living off lettuce leaves, carrot sticks and nuts?  Well, not QUITE.  Flora G. Papadopoulou fed us a variety of 'everyday' dishes, but made in a raw way.  Think cheeses made from a nut base, cheesecake, milk from a nut base, pizza (yes, you guessed it, from a nut base too).  Listen, there is so much more to it than just nuts – and Flora took time to show us through a series of Workshops how to prepare the food.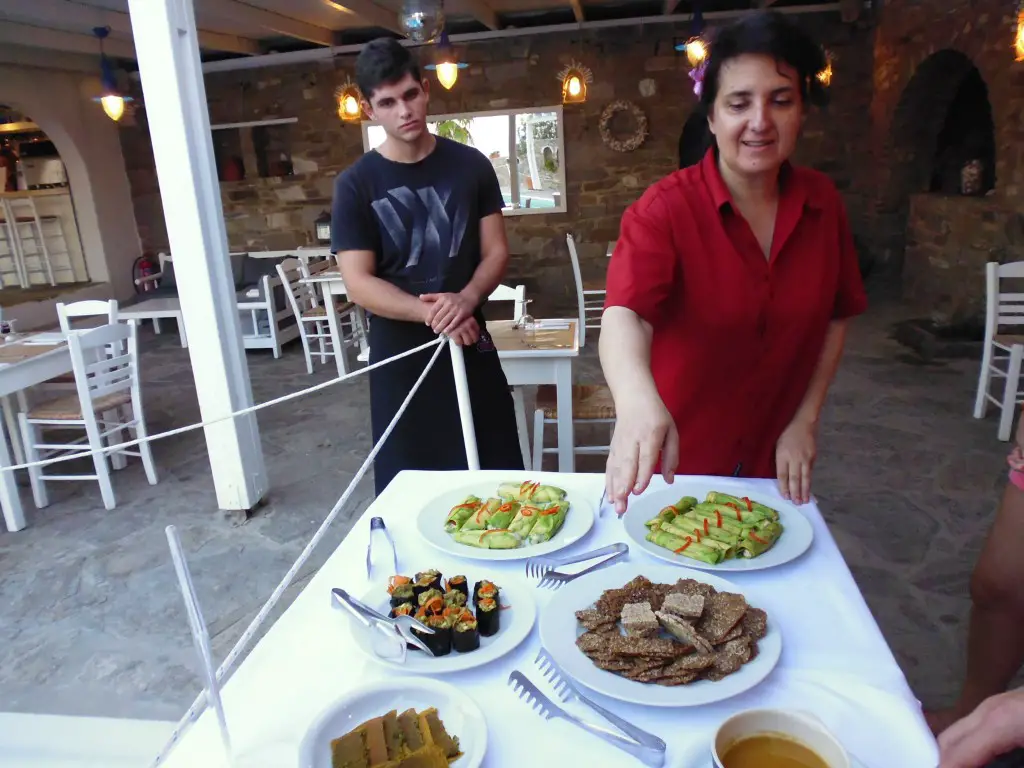 She's an interesting woman: she professes to have been 'born' vegetarian i.e.: 'abhorring the consumption of meat [and, in fact] other animal related foods.'  She says her childhood years were difficult, growing up in a post-war Greece int he 60s and 70s (Civil War) where meat and animal products were considered a necessity for diet.  And yet Flora never got sick.  Not 'rarely,' but NEVER.
Her further reasons for continuing down this path as an adult come from personal experiences of people with illnesses such as cancer and Flora's in depth research into the damage meat and dairy can ultimately do to our long term health.
More about Flora can be found on her website. (It might only be in Greek, but do feel free to use Google Translate).
Yoga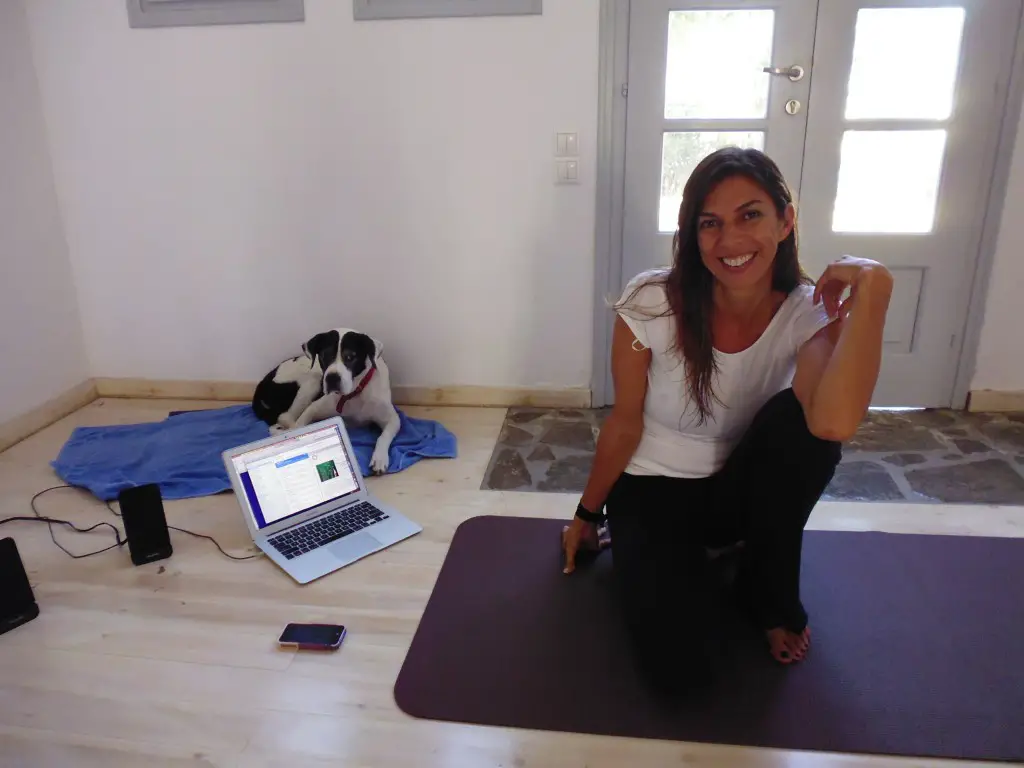 Now I've never been one to do yoga, but I have to say, these three days (albeit in a beautiful and peaceful location) helped me feel relaxed, and the yoga – with its focus on breathing and being centred – REALLY centred me.
Except for the time I had to leave the yoga room because I was in tears.  Luckily our nice American instructor – Lynn Roulo – informed me this is pretty usual for people who take up yoga: it releases a lot of 'stuff.' Although she DID say not usually in the first lesson (as in my case!) Hmm…
Big question: Will I keep it all up?
Well,  I wish I could say that I would continue with a raw food diet, but I will be quite happy to undergo a weekend retreat every few months or so to detoxify myself, and use soya milk instead of normal milk every day.  My busy lifestyle, alas, doesn't mean I have the time to spend making a lot of the base ingredients.
The yoga is a different thing.  I am lucky to have found Lynn – who now lives in Athens – as she runs Yoga classes weekly (I just hope I don't continue to cry every lesson).
I took this opportunity to find out more about Lynn and the Insight Holidays concept:
When did you first come to Greece?
For a vacation in 2007. I liked it but had no thought of moving to Greece at that time. Then many years later (around late 2010) the idea to move to Athens began to come into my mind–randomly but very clearly. I came in May 2011 for one month to see what Athens was like, in Sept-Oct 2011 for two months to make sure I really liked it and moved to Greece in Feb 2012.
How long have you been practising Kundaini Yoga?
I started in 2007 (around the same time I came to Greece, ironically) as a result of a difficult breakup. I found the practice made me feel better each time I took a class so I started taking more classes, workshops, etc. After I got through the difficult period, I wanted to explore Kundalini yoga more so I took teacher training in late 2008-2009. I started teaching in 2009 and have been teaching ever since.
What made you want to stay here?
It could probably best be described as a calling of sorts–I had no official reason to come to Greece: (no job, no man, no family heritage to explore). The thoughts started coming clearly into my head and it seemed harder to ignore them than to explore them. That said, moving here has hands down been the best decision of my life. I love Greece. I love the tempo of life here, the warmth of the people, the energy of Athens, the light, the food, the fact that 7:00 pm is still considered afternoon, many many things.
Why do you want to start Insight Holidays?
Primarily because I wanted to share the things that helped me initiate positive change in my life. 5 years ago, I was spending my time as a CPA/finance consultant in a relatively boring 9-5 job working in a sea of cubes. On the weekends I did the usual things (dining out, athletic activities, parties, etc.). I had a "good" life but it felt oddly flat. Now I teach yoga on my roof deck with a view of Acropolis. I get to travel. I'm learning Greek. I meet new and interesting people. And when I wake up, I feel really energized about life. Insight Holidays is a summary of the system that helped me move from my old life to my new life. And we have the retreats in holiday settings because having fun is a priority for me.
So there you have it everyone!  I do hope you'll look closely at Insight Holidays and the type of breaks they offer.