Cally's an intriguing lass. A young woman of mixed heritage living in Canada, upon her mother's death she feels that the answer to her mother's distant behavior lies in discovering more about her parent's background, so she takes herself off to Crete. As is the way with all things Greek, she discovers much more than she bargained for, and more about herself in the process.
Review copy provided free of charge by Jane Bow.
Cally's Way is a novel written by Jane Bow. I loved the book, especially the fact that I was learning about Greek history (from World War II) in the form of fiction, making it interesting reading. I am delighted to have the opportunity to interview Jane.
Jane, you're Canadian and as far as I know, with no connections to Greece. Is this correct and if so, what made you want to write a novel based in Crete/amongst Greek culture?
My connection to Crete goes back to 2001.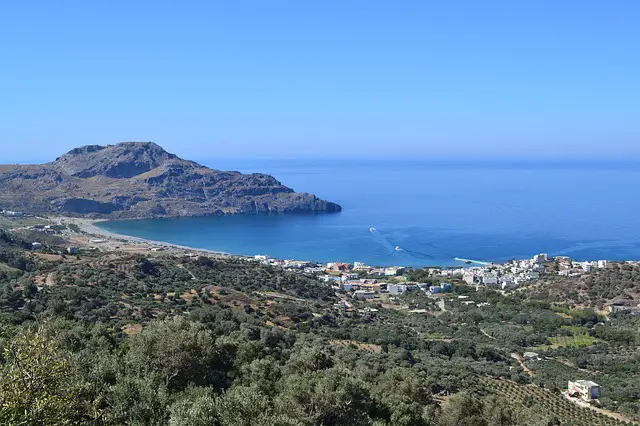 The ancient Minoan civilization fascinated me so when an uncle left me some money, I went to Crete with my teenaged daughter, to write for six weeks in the spring. I spoke not a word of Greek and had nothing in common with the women in our mountain village on the south coast, so was stunned to find myself feeling utterly, viscerally and completely at home there. Was it because I spent formative childhood years in Spain, on this same Mediterranean, playing and learning and living in Spanish? Crete's barren mountains and salt sea air, fishing boats and laden donkeys, its people's voices pulsing with animation returned me to the life I had lost at the age of ten.
Crucible for creativity
Also, this island, where so many of the Greek myths were born, is a crucible for creativity. You are so close to earth and rock and sea and sky, and to nature's ruthless elements. All you have to do is sit and wait and the imagination opens… Finally, I am a writer, my language and culture both founded on ideas such as democracy, psychology (Greek words) and justice, which took root here several thousand years ago.
We fell in love with Crete
We quickly fell in love with Crete, explored the island, and discovered its dramatic World War II resistance to a horrific German occupation. And one morning the plot of Cally's Way dropped into my head. I have returned nearly every year since then, gradually shaping, colouring and interweaving Cally's and her grandmother Callisto's stories.
Cally's Way is special because it provides a lot of historical facts (the evacuation of the allies from Crete, what happened to the Greeks during and after World War II at the hands of the Germans and British) yet in an interesting way.
How long did it take you to research the book and did you encounter any problems/resistance?
Cally's Way took me twelve years to write. While the characters are fictitious, events during and after World War II are drawn from factual records: books about the island's history, records in museum display cases, interviews. I was trying to reach behind battle facts, however, to imagine life during the war for Crete's women, who played such an active role. Most important were the stories told to me by my friends in Crete, whose families hold memories of that time.
Overcoming prejudice
My biggest problem, which also became a blessing, was overcoming my own prejudice. Reading about whole village populations being locked in their church and burned alive, or lined up and shot, gave me a poor view of Germans. But real life is never one-dimensional.
It was Cretans who taught me to see clearly. "These Germans are not those Germans"
German tourists now come to Crete in droves. "How do you feel about that?" I asked the elderly curator of a history museum who had fought with the Cretan Resistance as a teenager. His smile was gentle. "These Germans are not those Germans." Up on the Nida Plateau, above the village of Anogia, where the Germans shot every male, the women have laid stones out in the shape of a huge head to commemorate the young German paratroopers who died there. Why? Because these were just young boys, as lost to their mothers as were the Cretan boys.
Forgiveness allows vision. Through it I was able to create a nuanced story in which collaboration, betrayal are also part of the balance.
I loved the characters in the book, you have a knack of making them so real. An obvious question: was Cally based on any one person and where her experiences 'real'?
I am so glad they came alive for you, because my characters are as real to me as material people. Neither Cally nor Callisto is based on any one person. Their stories have their roots in what was happening in their moments in history, but their circumstances are uniquely their own. They do both share views and feelings — fear, love, confusion, disillusionment, sexual desire — that I have known in different contexts. I am a very determined woman, for example. Callisto's steely resolve probably came from my imagined rendering of how girls doing her job must have felt. I am also quick to leave the confining borders of everyday life, risking adventures that bring me close, sometimes, to the raw stuff of life. It was not hard to imagine Cally's decisions and where they took her.
Some of my characters' experiences came right out of mine.
As a girl I loved to run. So does Callisto. Another example: one day in Crete, after a visit to Preveli Monastery, a storm caught me on the headland overlooking Limni Beach, where pivotal action takes place. I watched a curtain of driving rain sweep down the mountainside, then felt its cold needle stings on my face. Giving Cally that very same moment was wonderful fun.
Where, in the end, is the line between fact and fiction? By the time my novels are finished, sometimes not even I am sure!
I hope you'll all take the chance to read Cally's Way. I'd highly recommend it and I hope—Jane—that you'll consider picking up your pen where we left Cally!
Thanks for this interview, Bex, for giving me the chance to share some of the truths behind the fiction that is Cally's Way.
Cally's Way can be purchased through Amazon (links above) or any online retailer.  Also if you find yourself in Crete, pop into Carol's Workshop, Myrthios, Crete.  She sells them too (an inspiration for a character in the book??).