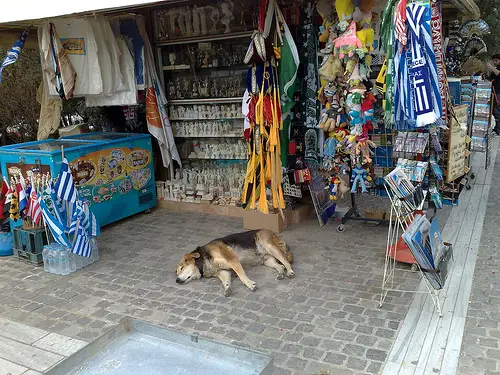 OK, what's a 'periptero?' I hear you ask.  It's a small kiosk, found in the streets throughout Greece where one can purchase cigarettes, newspapers, drinks and sweets – like a newsagents.
Why am I writing about Periptero's?  Well, I had an interesting 'experience' the other night at my local one:
It's half eleven at night – I need a Mars bar (well, I don't NEED it, I WANT it but those who know me also know about my relationship with chocolate).  So, off I trot up to the periptero in my PJ's and trainers.
As I draw close, I hear a lovely melodic sound of a clarinet playing.  "Damn!" I mutter.  "The coffee shop opposite clearly has some live music playing tonight – I should have got dressed and gone to sit there for half and hour or so."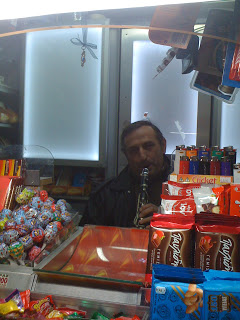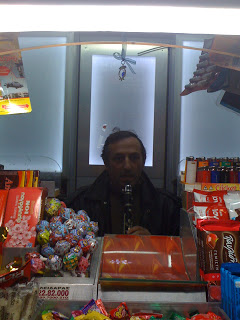 But no!  I get to the periptero, and it's the man inside – playing his clarinet!  I let him finish, give him a round of applause (as do two or three other customers) and I look at him questioningly (IE: "Why are you playing your clarinet in the periptero?")
"I'm from Ioannina" he shrugs, as if that's some sort of explanation.  And it's clearly all I'm going to get as he says no more, merely smiles and sits down.
"Ahhhhh" I suitably respond, acting like I understand EVERYTHING now!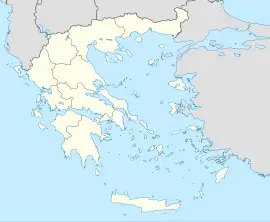 Source:
My friends later tell me Ioannina is in North Western Greece and they have a lot of mountain music.  I surmise he was playing a 'mountain' tune, hence his rather nonchalant, flippant reply (contrary to popular belief, Greeks are incredibly nonchalant at times, despite also being inflamed and passionate  too).
WHAT a nice surprise – I doubt many people could say that, in the middle of their capital city (say, London) they pop to their newsagents and have the owner playing a musical instrument.  I go there quite frequently now, just to hear him play – a free concert.
Oh!  As if my day can't get any better – I've just been told my friend is coming to pick me up and take me to the beach for a seafood lunch, so I better go and get dressed.  Bye!!
Featured Photo by KYRIAKOPOULOS