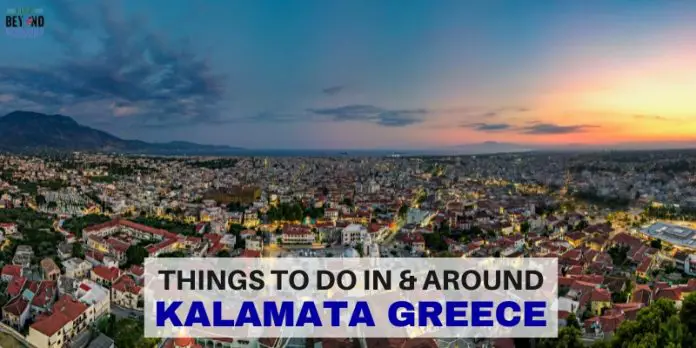 The Peloponnese is a region in Greece that's really considered an island within the mainland.  A peninsular of 8,320 sq miles, it's surrounded by water on all sides and connected to the Greek mainland by the famous Corinth Canal or the Rio-Antirio Bridge, one of the world's longest multi-span cabled bridges that connects to the pretty harbour town of Nafpaktos on the mainland.  The Peloponnese is also where you'll also find the seaside town of Kalamata.
The capital of the Peloponnese is Patras, really just a port city but comes alive during Apokries–carnival season starting 10 weeks before Greek Orthodox Easter, in January of each year. Forget Venice, Patras's carnival is considered to be the largest celebration in Europe!
if there's one place you really should put on your Peloponnese itinerary though, it's the quieter seaside town of Kalamata. Although relatively small, there's no shortage of sites to see and things to do.
Kalamata is a popular university town located in the Messinia region of the Peloponnese, about 2hrs 30 mins from Athens connected by a very good national highway. You may have heard of the famous Kalamata Olive–large and dark brown with a meaty texture and playing an important role in nutrition for 1000s of years.  It's where this olive originates–but more on that later.
Kalamata also suffered a catastrophic 5.9 earthquake in September 1986 where at least 20 people died and 300 were injured. Reconstructing the town took at least 5 years.  You can read more about the Kalamata earthquake here.
Let's explore some of the things to see and do in Kalamata and surrounds, and tempt you to visit this unique region of the Peloponnese.
Things to do in Kalamata
Food Tour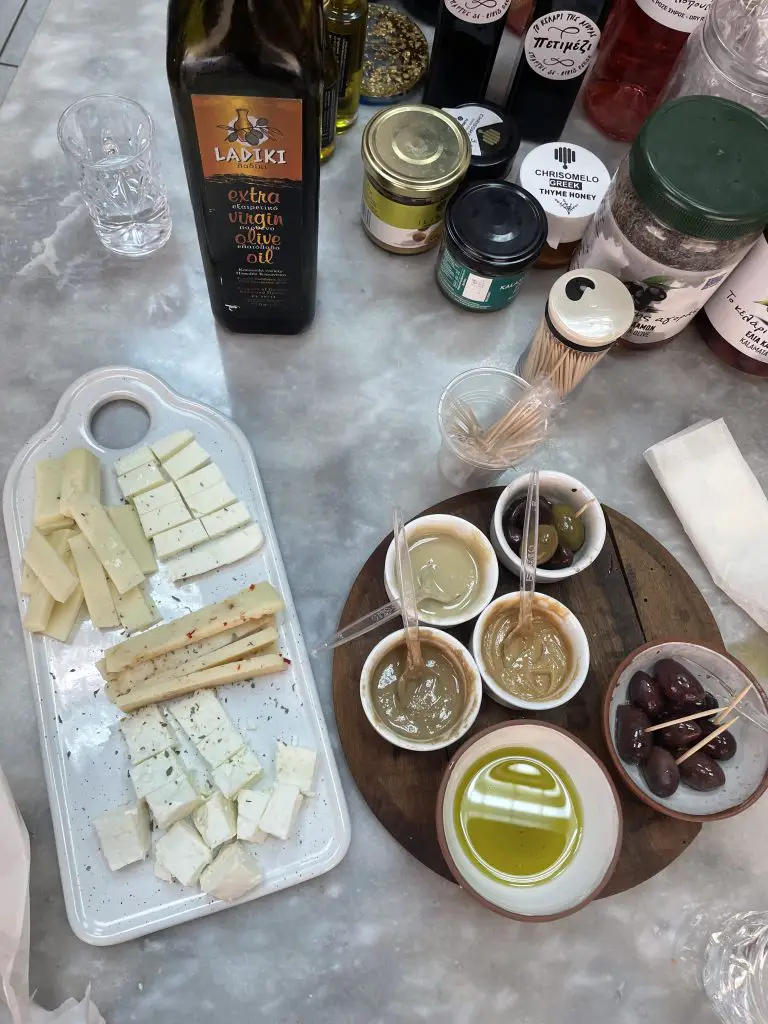 We all know that the best way to experience a culture is through its food.  One of the best things to do in Kalamata, for me, was to experience a Food and Walking tour of the town with Food Philosophy.  Not only will you have the chance to taste local delicacies, you'll wander through the Old and New Town and gain insight into Kalamata's unique history.
Their tour lasts about 5 hours, so be sure to bring comfortable walking shoes/trainers and bottles of water.  Their 'philosophy' is to support local family businesses, so during your tour expect to sample local treats and products such as:
koulourakia–biscuits made from olive oil from a family run bakery.  Tip: Dip the biscuits in milk or coffee, they're delicious!
a wander to the central market (see below) to purchase local cheeses such as graviera with red pepper and sfela–a cheese similar to feta but saltier and harder.  Tip: Good to accompany with the Greek tsipouro drink
a chance to buy the famous Kalamata green olives and olive oil
eat a souvlaki in the Old Town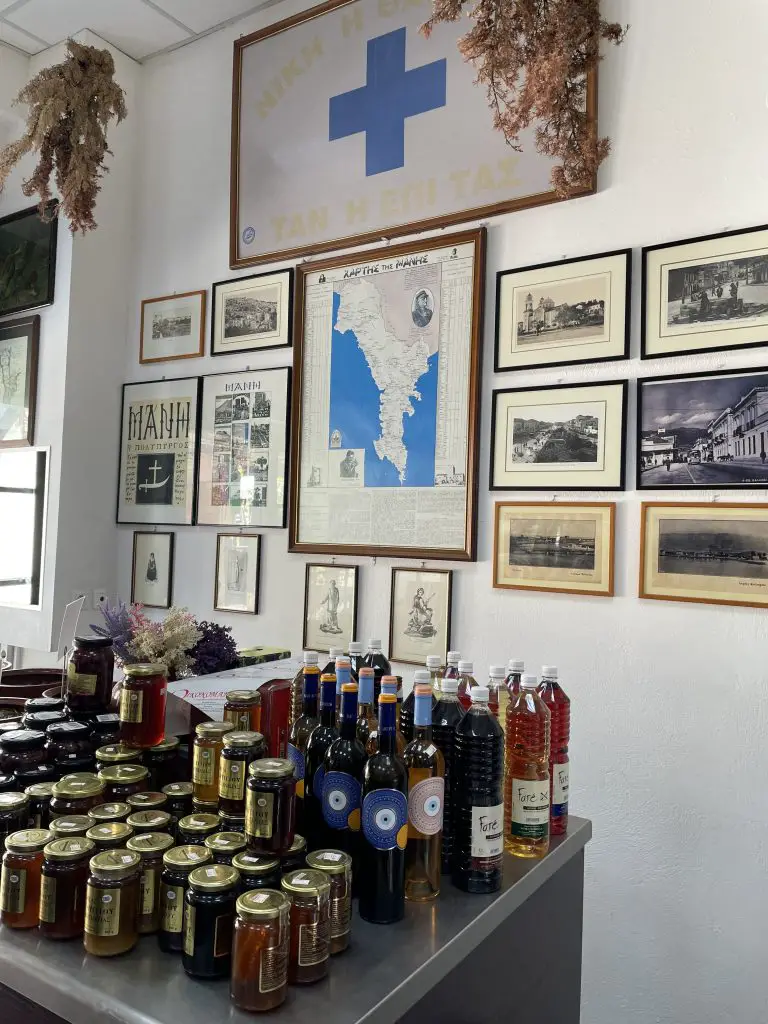 This is just a smattering of some of the delicious local products you'll taste. Contact Food Philosophy to find out more and book your tour.
Kalamata Market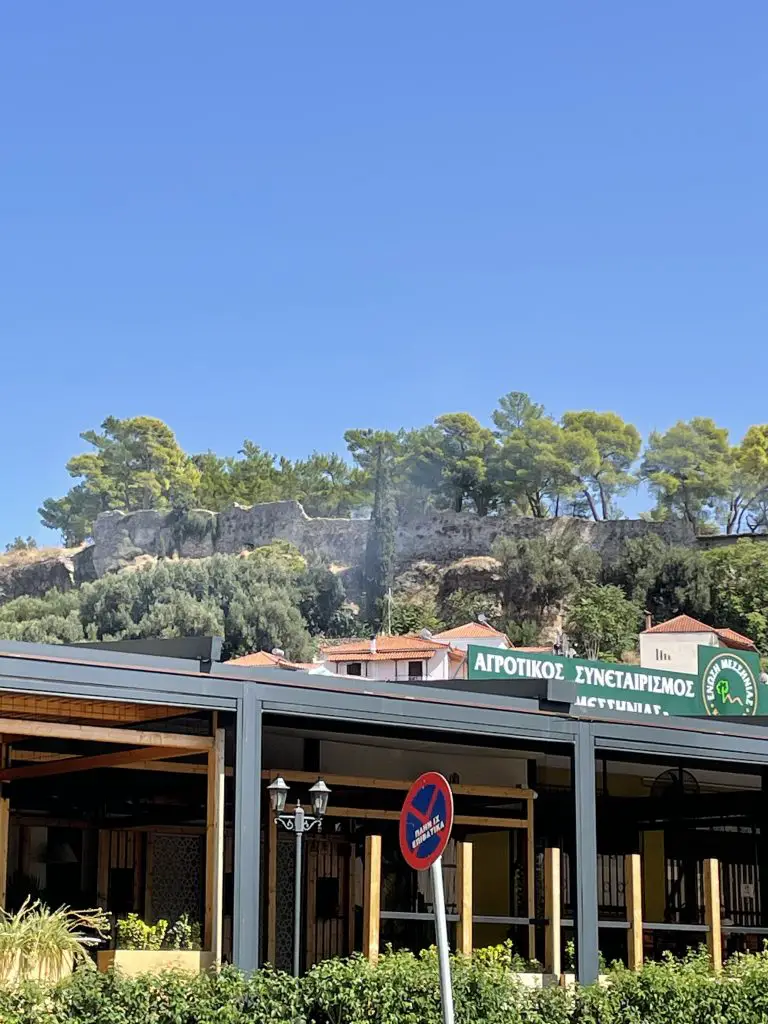 Most Greek towns have a central market–or Agora.  Kalamata is no exception. Another one of my favourite things to do in Kalamata was to wander around the stalls of Kalamata market, a place visited with the food tour (above).
Found at Spartis 31, Kalamata, it sits under the gaze of the castle on the hill. It is open every day of the week with permanent shops open until 2pm, but you'll want to visit on a Wednesday and Saturday as this is when the farmers and producers set up their stalls, both inside and out, to sell vegetables, fruits, meat, fish and yet more olives.
Kalamata Old Town, Agios Apostoli Church and start of the Greek Revolution
Kalamata has a rich history.  It was one of the first Greek towns to regain independence when on 23rd March 1821, Greek revolutionary forces regained control of the town after the Ottomans surrendered.   This happened at the Church of Agios Apostoloi in the Old Town–a medieval Byzantine church and after this victory, the local population gathered and held their first mass in over 360 years.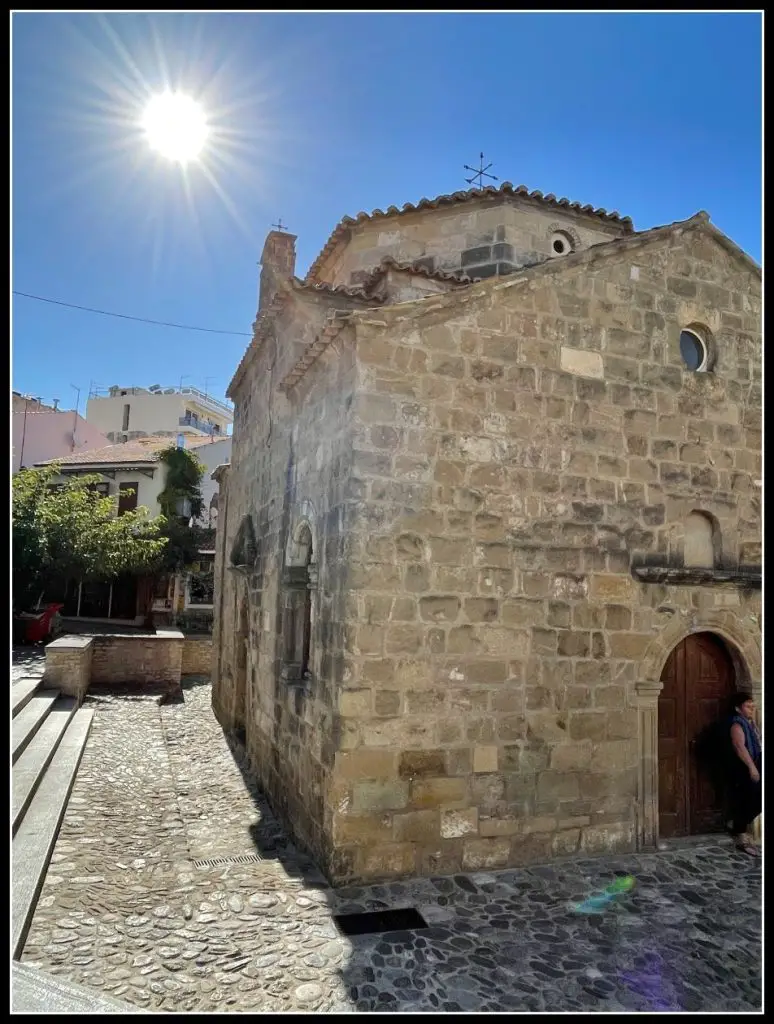 Nearby you'll find a fantastic mural, painted by artist Skitsofrenis, in celebration of the defeat in 1821.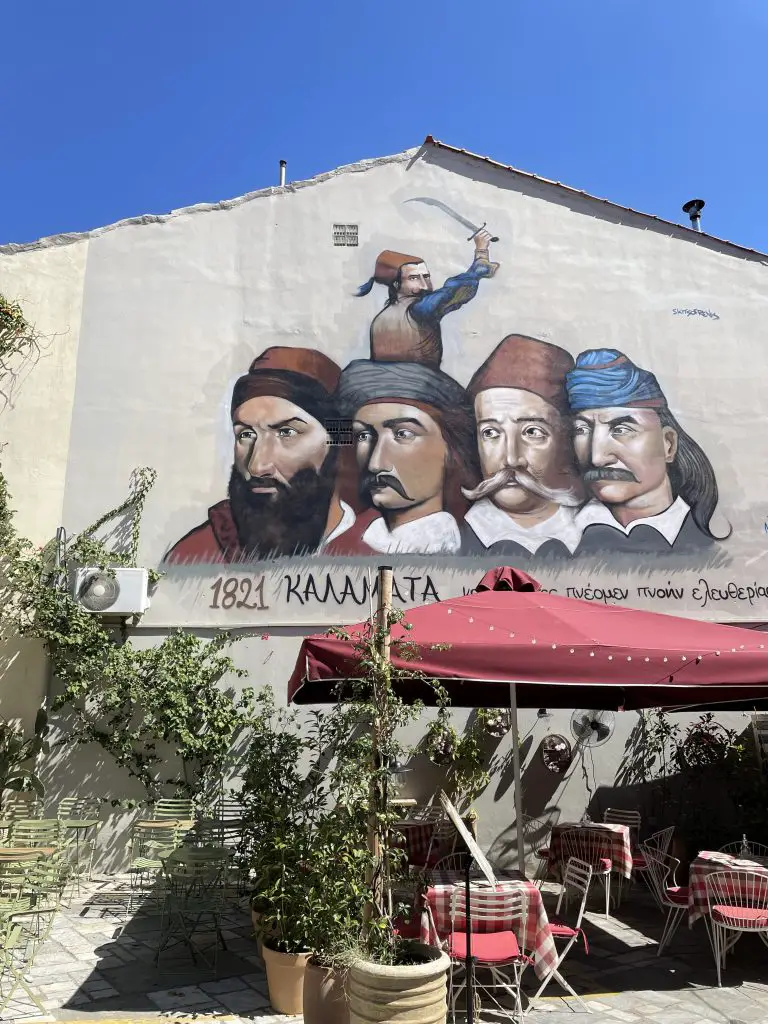 The streets of the Old Town are scattered artisanal shops such as places selling fabrics to bakeries, local tavernas and small bars all down its cobbled maze of streets.  One thing's for sure, to wander the Old Town will be one of your favourite things to do in Kalamata.
Kalamata Castle
One of the most popular tourist attractions in the town, the 13th century Kalamata Castle sits atop a hill and overlooks the Old Town, giving off spectacular views at sunset. During the revolution against the Ottomans in 1821 it was a perfect sanctuary for the locals, and luckily was one of the few buildings that survived the 1986 earthquake relatively in tact.
Kalamata is not a busy town but if you crave peace and quiet, a walk up to the castle is a must.
Don't miss the nunnery next to the castle, built in the 18th century where you can learn about the traditional weaving of silk on ancient looms.
Ypapaniti Cathedral
You don't necessarily have to be religious to appreciate the main church that dominates Kalamata. Ypapaniti Cathedral is a vast Byzantine designed temple built in 1873 and inside is the icon of Panagia Ypapaniti, the patron Saint of Kalamata and protectress.
Keep your camera handy as even from outside, the Cathedral makes for great photo opportunities.  And if you can visit on 1st and 2nd February, even better as annually on these dates there's a procession of the icon of the Panagia in the town centre.  Just one more thing to see and do in Kalamata.
Kalamata Beach
For sure one of the things you must do when visiting Kalamata is to pay the Blue Flag beach of the town a visit. It stretches for 2.5km and is walkable from the city centre, for example about 35 minutes from Kalamata Castle to Navarino 'Avenue' where the beach stretches along.
It's a pebbly beach and the east side is the best for swimming, so gets busy.  Spend the morning or afternoon at the beach and then choose from one of the many tavernas or coffee shops to have a light lunch.
Museums of Kalamata
There are a whole host of museums in the town–surprisingly many given Kalamata's size. They include, but are not limited, to:
The Museum of Traditional Greek Costumes which, as you've guessed, showcases the history of local folk dress from the mid-18th to early-20th century.
The Military Museum of Kalamata which was opened in 2006 to showcase military history from the 1821 uprising to modern day.  There's an interesting section on the Greece Macedonian struggles, the Balkan Wars, the Asia Minor Catastrophe and WWI and WWII struggles.  Anyone interested in what Greece has been through throughout the years would do well to visit.
Archaeological Museum which originally opened in 1971, was destroyed by the earthquake and then re-opened in 1995.  It showcases pre-historic finds from the surrounding Messinia region, of which Kalamata is the capital.
Things to do around Kalamata
It's not just in the immediate vicinity of Kalamata that there are great things to see and do.  Come and explore beyond the town, especially if you have a car, to gain an appreciation of the wider area.
Voidokilia beach
You'll need a car to reach this beautiful horseshoe shaped bay, guaranteed to get you posting on Instagram and mentioned in Homer's Odyssey, as it's 56km/35 miles from Kalamata.  But it's worth spending a day snorkelling its turquoise shallow waters and floating on your back, taking in the views of Paleokastro Castle, a 13th century castle built by the Franks that stand guard over this natural paradise.
Pack a picnic with produce bought from Kalamata's Central Market (above) and enjoy your day out.
Mikri Mantinia Beach
If you're looking for a beach nearer Kalamata, you can't go wrong with a visit to Mikri Mantinia.  At only 10km/6 miles away, this Blue Flag awarded beach nestles under the gaze of Mount Taygetos–the highest mountain in the Peloponnese in the range of the same name. It's a white pebble/shell beach which means it makes the water even more translucent–but at the same time can be sore on the feet, so bring bathing shoes.
Tavernas line the shore to provide you with that much needed Greek salad for lunch, and it's perfect for families as there's a water park–not the huge scale twisty slides but enough to keep the kids entertained.
Ancient Messene
For the culture and history buffs among you there are plenty of ancient sites to see, Ancient Messene being one such place.  35km/22 miles from Kalamata and built in 369 B.C. it is the ruins of a large classical city state where you'll find an ancient stadium, agora, ancient theatre with a capacity in its day for up to 10,000 spectators, a fountain house and museum next to the site with finds from the excavation.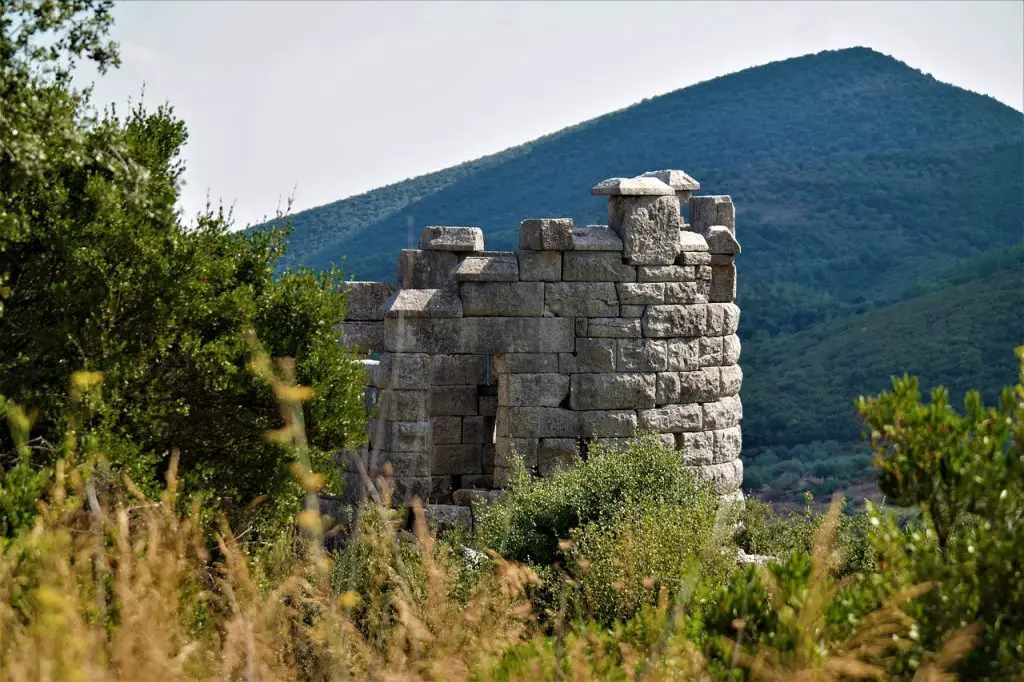 Interesting fact: It's slowly been excavated over the last 100 years, but only a third of the site has been discovered–there's still more to unearth!
Other ancient sites to see in the Peloponnese
Ancient Olympia–115km/71 miles
Ancient City of Mycenea–140km/87 miles
Nemea; Stadium and Site plus wine routes–133km/83 miles
Ancient Sparta–58km/36 miles
Byzantine castle town of Mystras–55km/34 miles
Methoni & Koroni Castles–63km/39 miles and 52km/32 miles respectively
Rock town of Monemvassia–186km/116 miles
Kardamyli in the Mani
For a picture postcard destination, head to the seaside village of Kardamyli.  Those of you who were fans of the 'Before Sunrise/Sunset' trilogy of films with Ethan Hawke may well recognise the small village as it was used in the filming of Before Midnight, the last one of the series.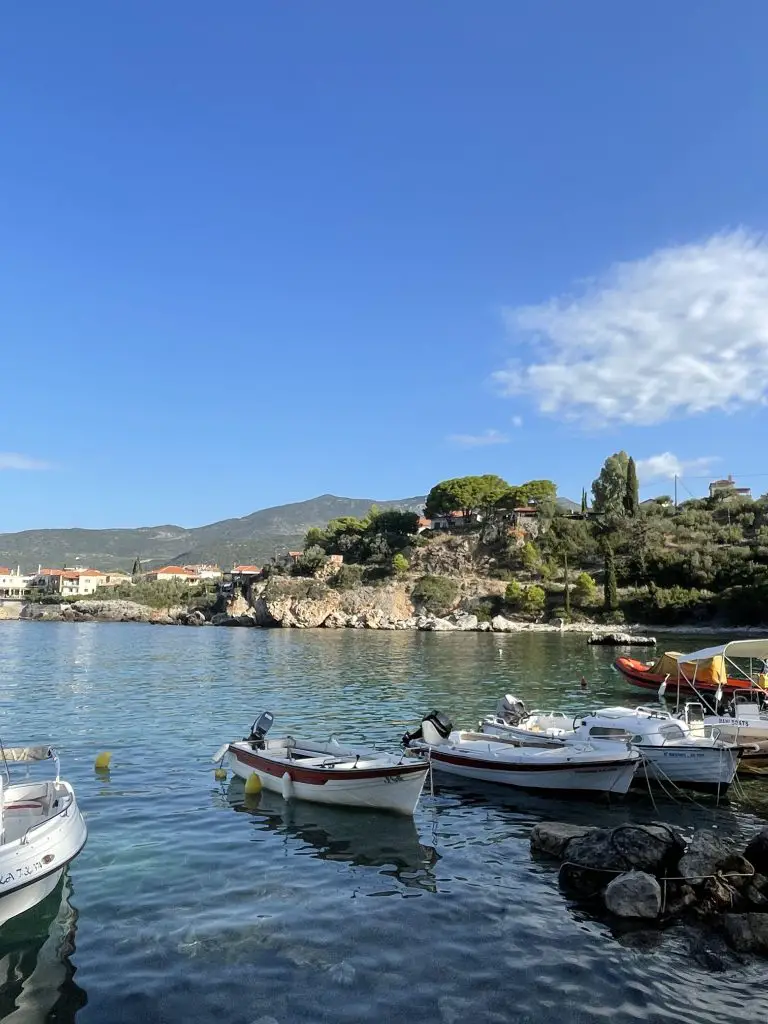 It's 36km/22 miles from Kalamata in the famous Mani region and the best way to explore Kardamyli is to drive there, have a wander around and sit at one of the tavernas, then take a kayaking tour with Messinia Kayak.  It's actually a 4 hour tour and well worth it as you a different perspective of the area, quite literally.  It's lovely viewing the Peloponnese from the sea.
You don't have to be an expert–all levels are catered to, just a reasonable level of fitness.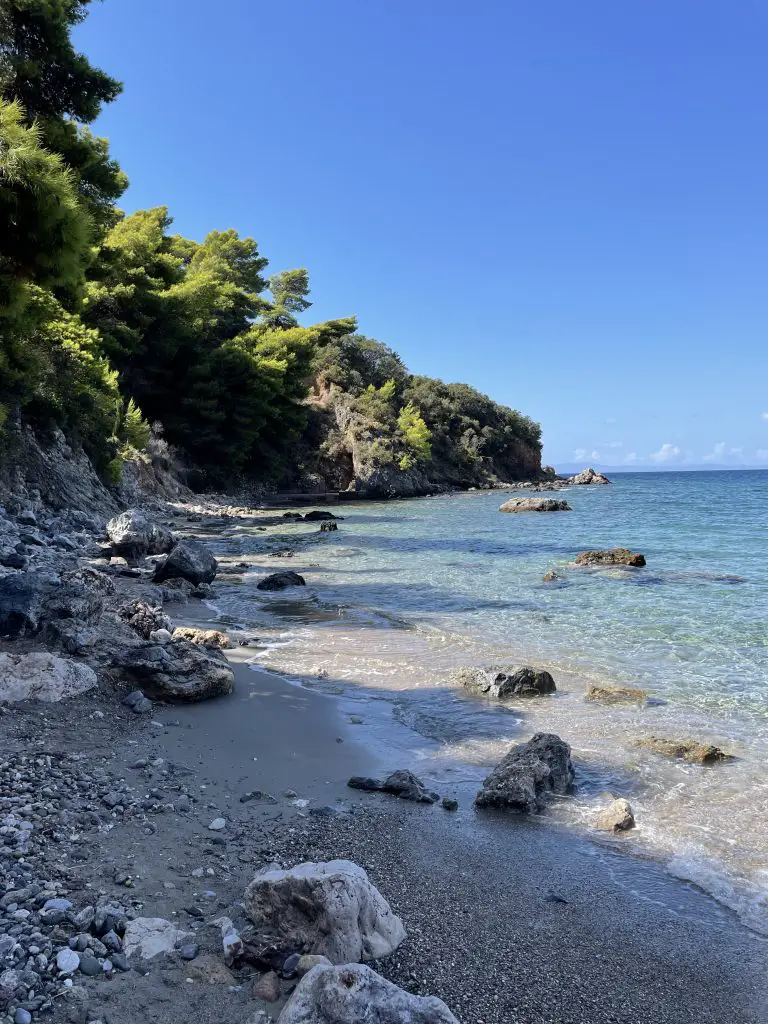 I don't particularly consider myself 'fit' but managed fine.  The kayaks are built for two people and as a solo traveller I had one of the instructors with me.
Not only do you get to see beautiful scenery, your guide will explain about the famous Mani vendettas, usually involving waring families and involved plots to wipe out the other family by murdering them.  The waring families would lock themselves in their towers and fight, where as other families would also lock themselves away to keep out of the way.
Long running vendettas were sometimes resolved by property exchanges, or marrying off younger members of the family–think of a Greek version of Romeo and Juliette.
Your Messinia Kayak guide will give you much more info about this fascinating culture of the Peloponnese.
How to travel to Kalamata
A bus from Athens takes approx. 3hrs 15 mins direct and goes from Kifissos Bus Station and runs roughly ever 2 hours on the hour, ie: 7am, 9am, 11am etc up until approx. 9.30pm.
Check the schedule and prices here.
From Athens airport you'd get the X93 bus to Kifissos bus station.  It runs every 30-40 minutes and takes about an hour to reach Kifissos bus station.
Exit the Airport Arrivals Hall, turn right, walk past the taxi rank to the little ticket kiosk where the buses wait.  Ticket price is approx. €6.
A taxi will take approx. 45 minutes to the bus station and they'll charge you about €44.
Kalamata does have a small airport located about 12km/7 miles outside the city. During the high season there are flights from several European cities in the Netherlands, UK, Germany, Finland, France, Switzerland and Italy, plus of course flights from Athens and the Greek city of Thessaloniki.
PIN for later