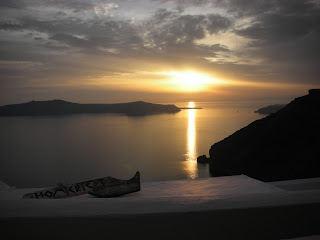 Sunset on Santorini – one of the reasons I choose Greece over the UK
One might say I am 'home' – the UK.  Well, by birth I am British (or English – WHATEVER).  But I tell you what, the more I stay in Greece and return 'home' to England, the more I am starting to feel Greece is home!  It would seem my adopted country has embraced and accepted me more than my place of birth!
This raises an interesting conundrum:  what is it that makes a place feel like home?  And am I being very un-nationalistic by not feeling 'at home in my home' (are you following all this?!)
Well – let's examine the reasons why I feel more at home in Greece:
1) Weather.
This is a huge issue. I mean, I have been in the UK for a week now and not seen a HINT of sunlight.  I don't mind the cold – I just want SUN!  I can't cope with the never ending greyness – it feels like it's pressing down on me.
2) I can shout to my heart's content.
I mean in Greece I can.  And actually, I have been told I have quite a gentile way of getting angry – yes, I am deemed a 'polite angry!'  But if I were to display the same amount of anger in the UK, I'd probably be locked up by now!  Ahhhhh, Greece is so good for the soul – for getting angry just the once, then it's all gone, not stored up for future grudges.
Conversely:
3) People call me all sorts of sweet things.
I get called "My doll" "My sweetheart" "My girl" and my favourite – "My beautiful love" (it all sounds so much better in Greek – see examples of the great Greek language here).    And this is from old ladies, whilst simultaneously rubbing my cheek and pinching it (and I'm a woman in my late 30's!)  Can you imagine this happening in the UK??
But most of all – Greece is a country that has embraced me, taken me into her warm bosom and engulfed me with love, protection and ACCEPTANCE.  Don't be put off by what you see and read in the news – come and experience her for herself and get some of that Greek love going.
Love you Greece – I'll be home soon.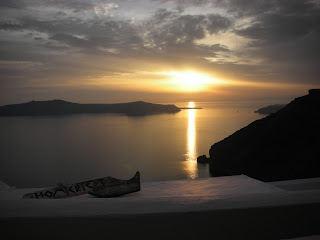 xx