Those of you familiar with Greece and her islands will know that the country is riddled with myths and legends.  Lefkada, in the Ionian chain of islands to the west of the country, is no exception – and even better is finding luxury accommodation in Lefkada that names itself after one of the famous myths, that of Sappho the poet – the Sappho Boutique Suites.
Let's dig a little deeper.
Disclosure: This post is as a result of a partnership with Sappho Boutique Suites.  All thoughts and opinions remain my own
Luxury accommodation in Lefkada – where is it?
240 miles (387km) from Athens, Lefkada – as mentioned – is located in the Ionian chain of islands.  Other more familiar islands you've probably heard of in this chain are Kefalonia and Zakynthos.  As you can see from the map, the journey from Athens can take you anywhere between five to seven hours by road.   Interestingly, the island is very near the mainland and no ferry is required to get here (but it's possible to take one from Kefalonia and Ithaca if you're already on these islands).  Lefkada is linked to the mainland by a long causeway through lagoons along a 30 metre pontoon bridge.

Luxury accommodation in Lefkada – Vasiliki village
There are plenty of things to do in Lefkada, but during your stay on this gorgeous island, where should you base yourself?
As a fan of the sea, I can never get enough of it and so to come across the newly established Sappho Boutique Suites in the harbour town of Vasiliki felt just right for me: sea views, tranquility, peace.
Vasiliki

Vasiliki itself is 20 miles (33km) from Lefkada Town, the capital, on the southernmost tip of the island – roughly a 50 min drive.  Its claim to fame is the fact that it's one of the top windsurfing spot in Europe – possibly one of the top in the world too.  With wind speeds from Force 1 – 7, it's popular for Beginners to Professionals.  It has small pebble coves and beaches on its periphery, and the main town offers many tavernas and the ubiquitous souvenir shops.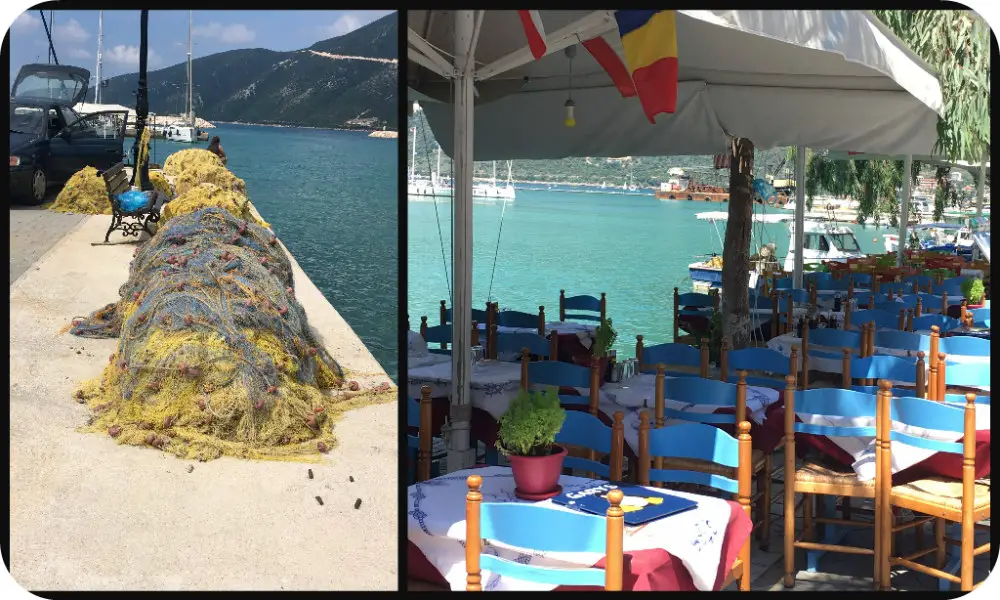 Luxury Accommodation in Lefkada – Sappho Boutique Suites
So now we come to the highlight of this article, the Sappho Boutique Suites.
Reputedly born on the Greek island of Lesvos in 630 B.C., Sappho was a legendary Greek poet who either was or wasn't a lesbian, depending on what you read.  Irrespective, her works of poetry influenced many writers and is a symbol of love and desire between women.  She is said to have leapt to her death from Cape Lefkas – the lighthouse at the tip of the island – when her lover spurned her.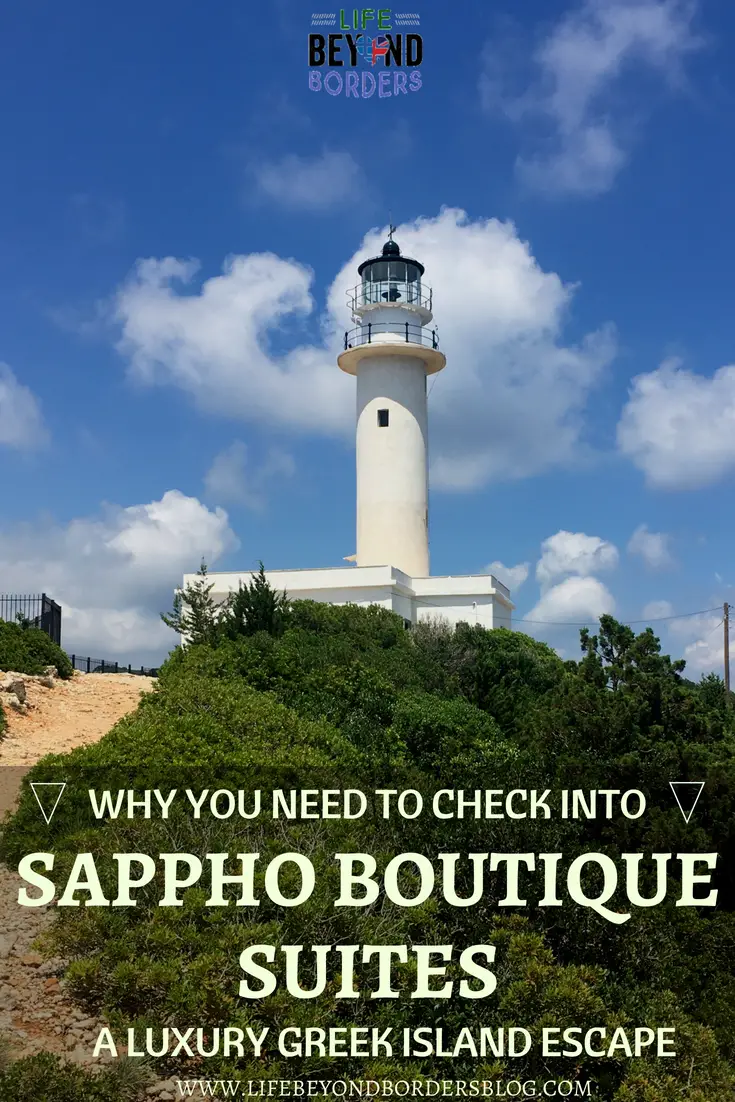 It is possible to see the lighthouse from Sappho Boutique Suites from its location on the road slightly out of the town of Vasiliki (about a 10 minute walk to the town), hence the appropriate name.
Sappho Boutique Suites – Background
This luxury accommodation in Lefkada island is the vision and dream of Israeli entrepreneur, Noam Yarimi who first came to the island in the winter of 2011.  From the minute he set foot on its green, fertile land, he fell in love with the place (those of you familiar with Greece will know that this country in general does this to you – it has an energy) and the people and to my mind, Lefkada was lucky that this forward-thinking individual wanted to create something that could enhance and encapsulate the essence of the energy and beauty that this island resonates.  Hence, after roughly five years of the usual Greek bureaucracy, Sappho Boutique Suites finally came into fruition.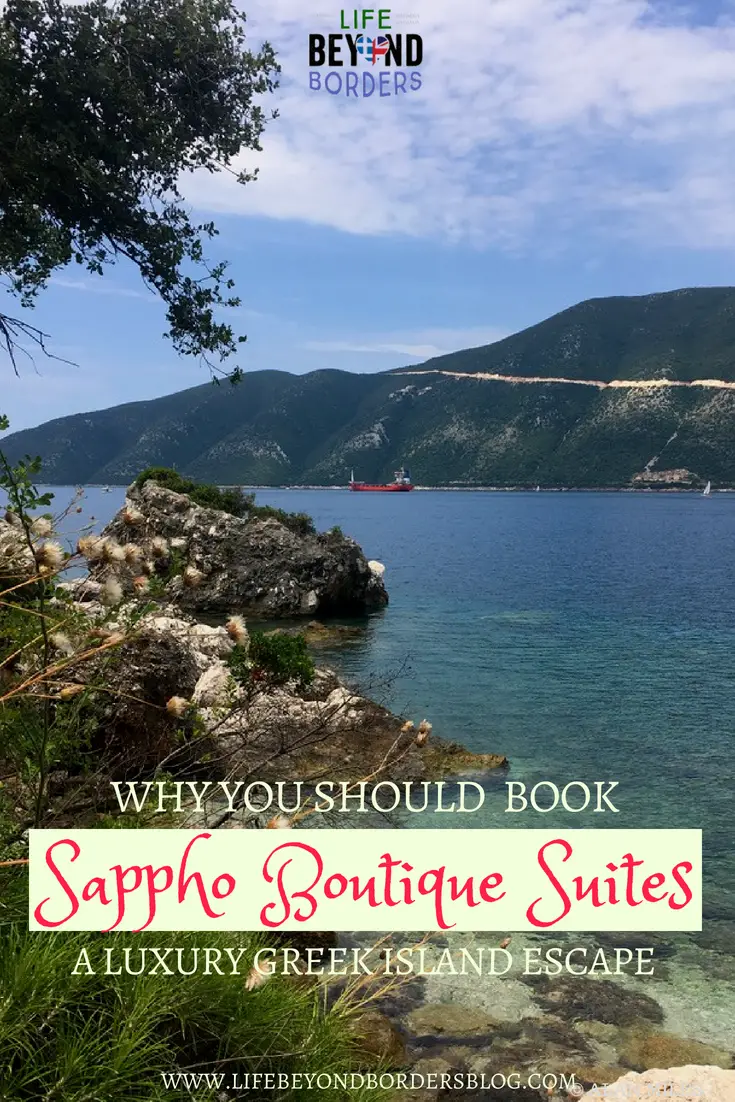 Sappho Boutique Suites – Facilities
Why should you stay in this luxury accommodation when in Lefkada?  Well, first of all, as mentioned, it's well located to the town and Bay of Vasiliki – a ten minute walk to the harbour past the sea, a small church and small coves.  Nothing screams out "Greece!" to you more than this.  And for me, luxury does not have to necessarily mean the actual accommodation.  Luxury encompasses so much more than that, and Sappho Boutique Suites gets that balance just right.
Suites
There are eight suites in total at the Sappho Boutique Suites, arranged across four individual 'houses'.  They are all deluxe and you have a choice of ground or first floor suite, all with either balcony (first floor) or private verandah with private plunge pool (ground floor suite).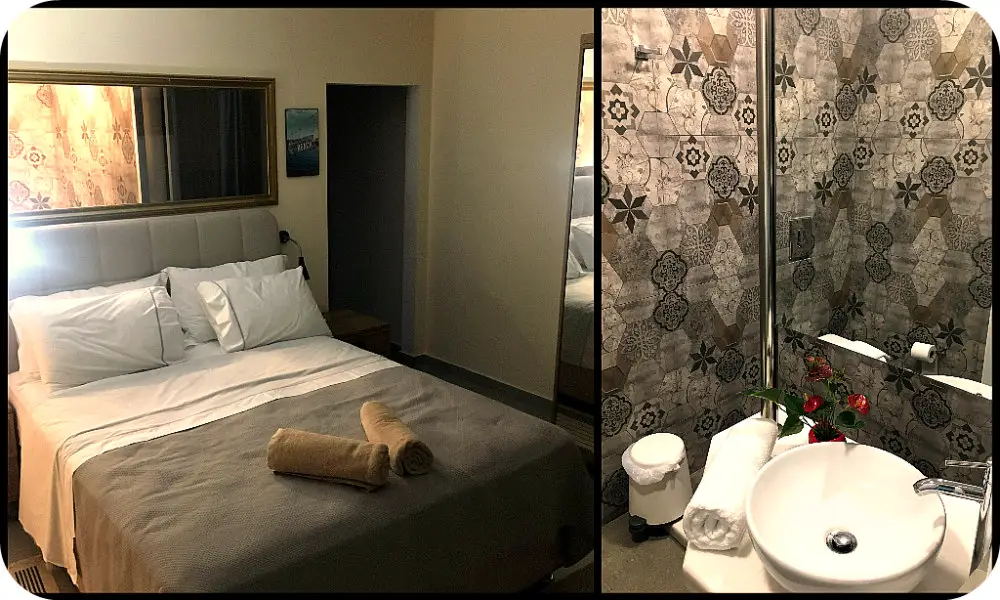 Irrespective of whether you choose a Deluxe suite with plunge pool or balcony, you are assured of the following:
Magnificent views out to the Ionian sea
Smart television with Netflix
A/C
Good Wi-Fi
Fully equipped private kitchen with stove, oven and refrigerator plus coffee machine
Free parking on site
Comfortable double bed with choice of mattress; hard or softer, depending on your preference (very comfortable, I might add)
En-suite bathroom with walk in monsoon shower and window, allowing one-way view out to sea as you shower, plus toiletries by Greek eco brand Apivita
The most enjoyable aspect of Sappho Boutique Suites is its 72 ft long (22 metres) infinity waterfall pool offering sublime views out to the Ionian sea.  With its glass walls, and views on the other side to the green hills surrounding the property, it makes you feel as if you're swimming amongst nature. Step out and lounge on a sun-bed slightly submerged in the top level of the pool, or splash amongst the fountain.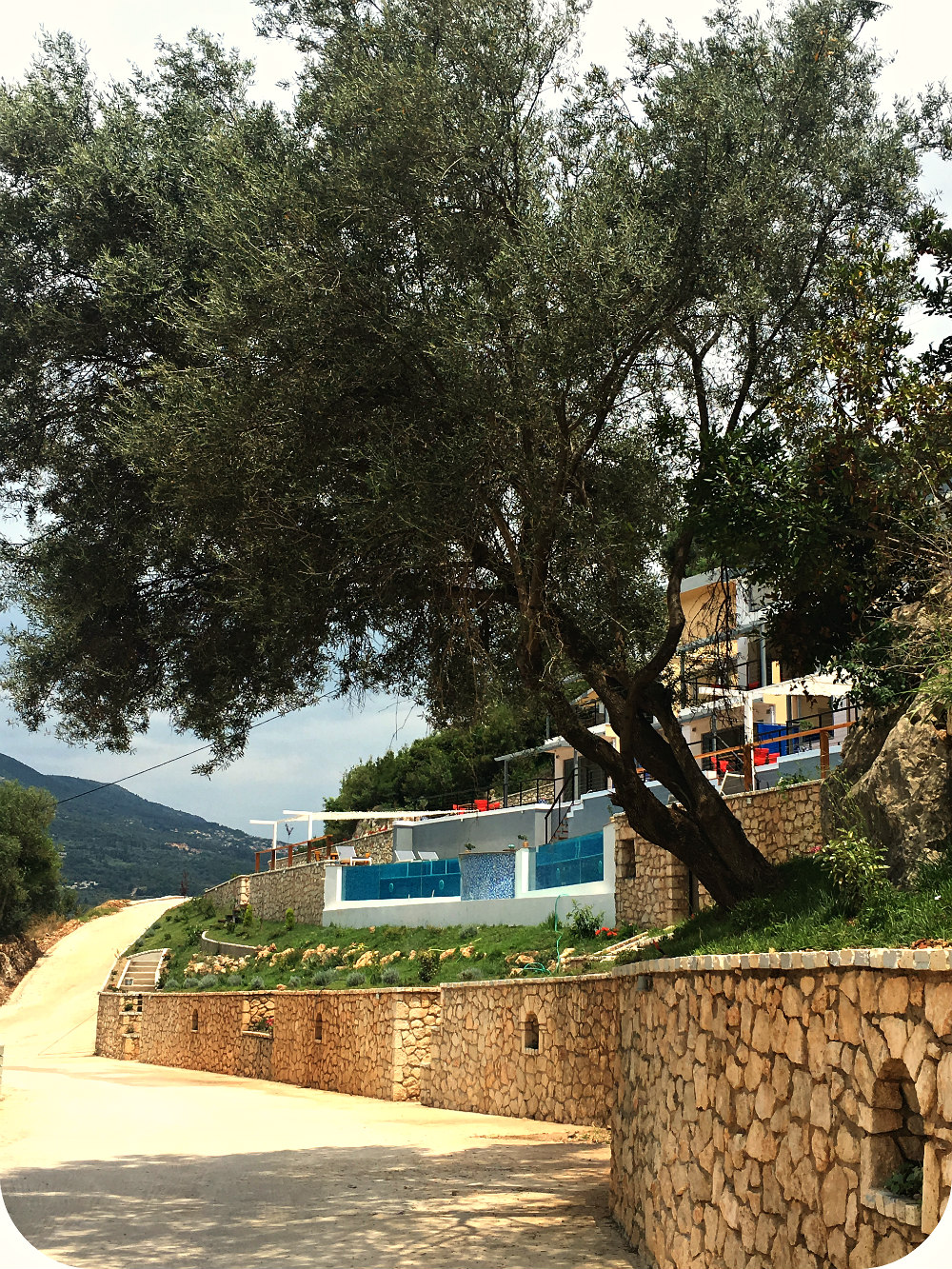 If you fancy taking a dip in the sea and don't fancy the (admittedly not arduous) walk to Vasiliki, then there is a small cove that's accessible from the suites.  Note: the walk down to it is slightly precarious and not really suitable for children or the elderly, so wear hardy trainers.  It's kept 'rough and ready' to preserve the area and not attract huge crowds.  Possibly better to reach by boat to be honest, but it's a cute pebbly cove and worth it as a place to relax.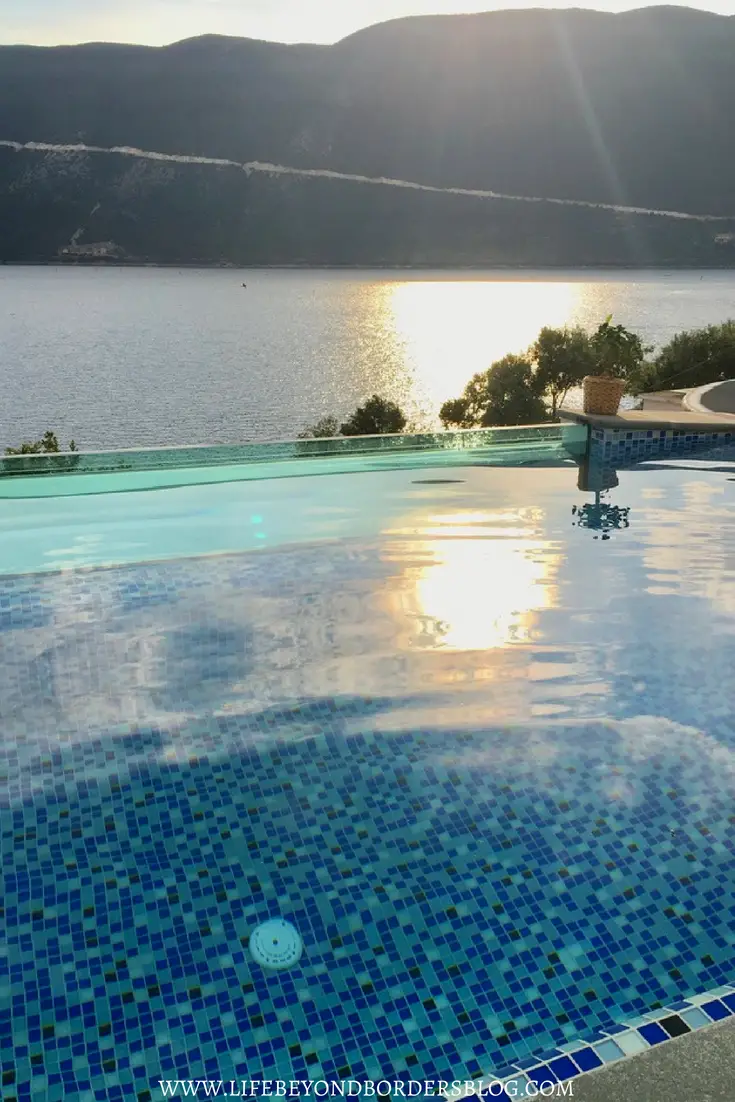 Private chef
Don't fancy cooking because you're so relaxed? Let Sappho Boutique Suites arrange a private chef to come to your suite to prepare breakfast, lunch or dinner for you.
From €50 you can have breakfast arranged for two people plus child – this includes ingredients.  It's one of the Exclusive Services offered by Sappho Boutique Suites.
Relax
Whilst there's no spa on site, let the management arrange a visit from a personal massage therapist.  Karen Bennett is a fully qualified and experienced yoga and massage therapist with more than 20 years experience and can also arrange private yoga instruction.  Her massage treatments range from Sports and remedial, Deep Tissue and Relaxation and come in the following price range:
30 minutes: €40
60 minutes: €60
90 minutes: €90
From personal experience of a massage from Karen – also a qualified nurse – her no nonsense approach means she gets right to the root of any issues and encourages you to share with her anything that might be affecting the body to enable her to work effectively on you. She brings her own equipment including massage table and relaxation music, and sets up inside your suite.   What more could you ask for: a massage or yoga instruction of your choice with the stunning views with total privacy?
The future
At the time of writing, Sappho Boutique Suites is finalising its foray into luxury accommodation on Lefkada island by constructing an amphitheatre with views out across the bay and Ionian sea.  The plan is to host weddings here, plus cultural events and personally, I can think of no better location.
As mentioned before, 'luxury' to me encompasses so much more than just good bath towels, a great mattress on the bed and well known toiletry brands (although of course, these do help).  'Luxury' to me is about the philoxenia of a place – the friendliness of the staff towards its guests.  Too many luxury brands have some sort of 'remoteness' about them when it comes to guest interaction.  Not Sappho Boutique Suites:  they have just the right level of interaction with guests – as much or as little as you want.  They can arrange any number of activities or exclusive services, or simply just relax by the pool.
Personal note
Thank you, Sappho Boutique Suites, for accommodating me and allowing me to sample your unique product.  I'm excited about the future as you grow and look forward to coming back.
Luxury accommodation on Lefkada – practical notes
Prices at Sappho Boutique Suites

 are from EUR€80 per night for the upper suite with balcony. The price for the lower suite with plunge pool is from EUR€100 per night.  These prices depend on the season you visit.  

Contact them

for more information.
It's possible to travel to Lefkada either by car or bus from Athens or private taxi.  It's €70 if you're sharing a taxi (maybe three or 4 other passengers, and the benefit of this is you're collected from your accommodation) or €250 if it's just you.  Sappho Boutique Suites can arrange this.
For those of you with money, you can fly by helicopter to the island – helicopter hire costs in the region of €5,000 though – so make sure you're in that bracket of wealth!

Aktion International Airport is on the mainland – approx. 1 hr from Vasiliki/ Sappho Boutique Suites and there are many flights to here from across Europe.  A taxi from here to the Suites costs approx. €80.  A better option is to hire a car from the airport: this way you'll be able to tour the island's sights such as its variety of beaches, mountain villages and out of the way spots.
PIN for later