Lefkada, a Greek island in the Ionian chain, is a beautiful and fertile land with lush mountains dropping away to magnificent seas.  As you'll see in my Things to do in Lefkada post, it's an island well worth visiting.  We've seen that Sappho Boutique Suites in the harbour town of Vasiliki is a place to consider basing yourself when visiting the island, find out more information about them and their special offers here.
Now let's look at the gastronomy as I take a look at the cuisine of Lefkada and some of the best spots to sample it.
Disclosure: This post is a result of a partnership with Sappho Boutique Suites. All thoughts and opinions remain my own
Best Cuisine of Lefkada – a brief overview
Much of the cuisine of Lefkada island is traditional.  Until the 1960's, connections with the rest of Greece hadn't always been easy, hence the local population relied on local produce for their nutrition.  Furthermore, this was divided up into 'town and country': The town folk were either fishermen or small business owners, so some of the ingredients were shopped for.  Villagers on the other hand had little, if any, shops to hand – hence subsisted on what was cultivated from the land and shared amongst themselves.
Although resources are much more sophisticated these days, we can still see the past reflected in local dishes prepared:
Fish – as with all of the Greek islands
Lentils – cultivated in the plateau of Englouvi on the island
Olive oil – a principle product of Lefkada, accounting for 50% of the agriculture
Sweet pies are readily available in cafes throughout the mountain villages and seaside towns.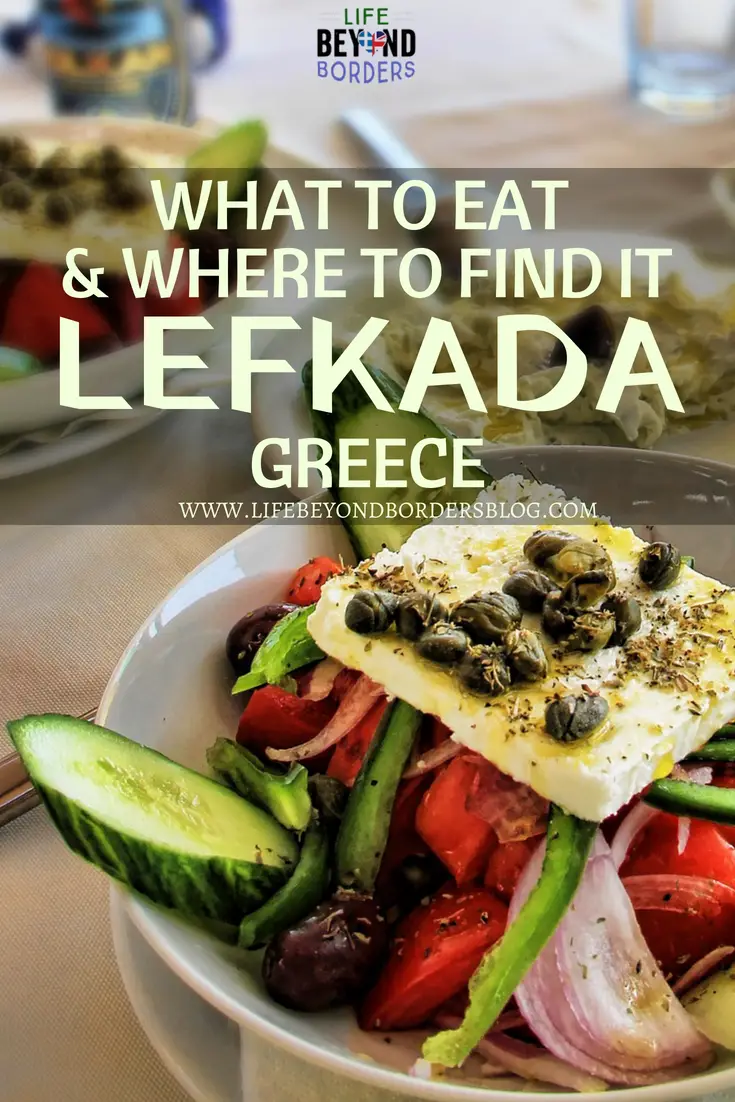 Best Cuisine – Lefkada Restaurants
Seafood
As mentioned, Lefkada is big on serving fish, as with most of coastline of the mainland and certainly the Greek islands.  There's fish to suit everyone's taste: calamari, octopus (grilled or marinaded in vinegar) are just some examples.
Ocean's Seafood restaurant is the place I was treated to dinner on my first night staying in Lefkada.  It's located in Vasiliki, a mere 10 minute walk from Sappho Boutique Suites and whilst it's not located on the seafront, the food is delicious and you can choose your own fish platter to share.  A family run business for 18 years, the owners make you feel at home and are very attentive.  Give it a go.
Moving to the south east coast and the seaside town of Sivota, you'll find a natural bay where many yachts of various sizes moor.  It's a great place to wander around, yacht gazing and seeing how the other half live.  It's also another great place for eating seafood.
Using local produce such as olive oil, feta cheese, tomatoes and honey, Taverna Stavros is located along the waterfront and has a whole host of fish, including lobster, on its menu, plus catch of the day. It's a place that's been serving locals and then tourists for over 40 years, since 1976, and has grown in popularity – offering garden and balcony seating, even with its own free private mooring floating pier right opposite, for those yachting the islands.  Find out more about them here.
I came here on my last night and loved the ambiance, people watching and the views as I ate my fish and large Greek salad.
Lentil salad
As mentioned above, lentils are cultivated in Lefkada and are a staple diet.  Taking a drive around the mountainous region of Lefkada and coming across the village of Athani was a treat.
The village has only 200 inhabitants, mainly working in the tourism and agricultural industry. Here we stopped for lunch at the Cape of Lefkata and I sampled my first lentil salad.  Served with crusty bread and juicy local tomatoes and fresh herbs, it's a delicious lunchtime dish and I'd highly recommend it.  The little town itself has a traditional church and sitting on the roadside balconied area for lunch gave views right down to the Ionian sea.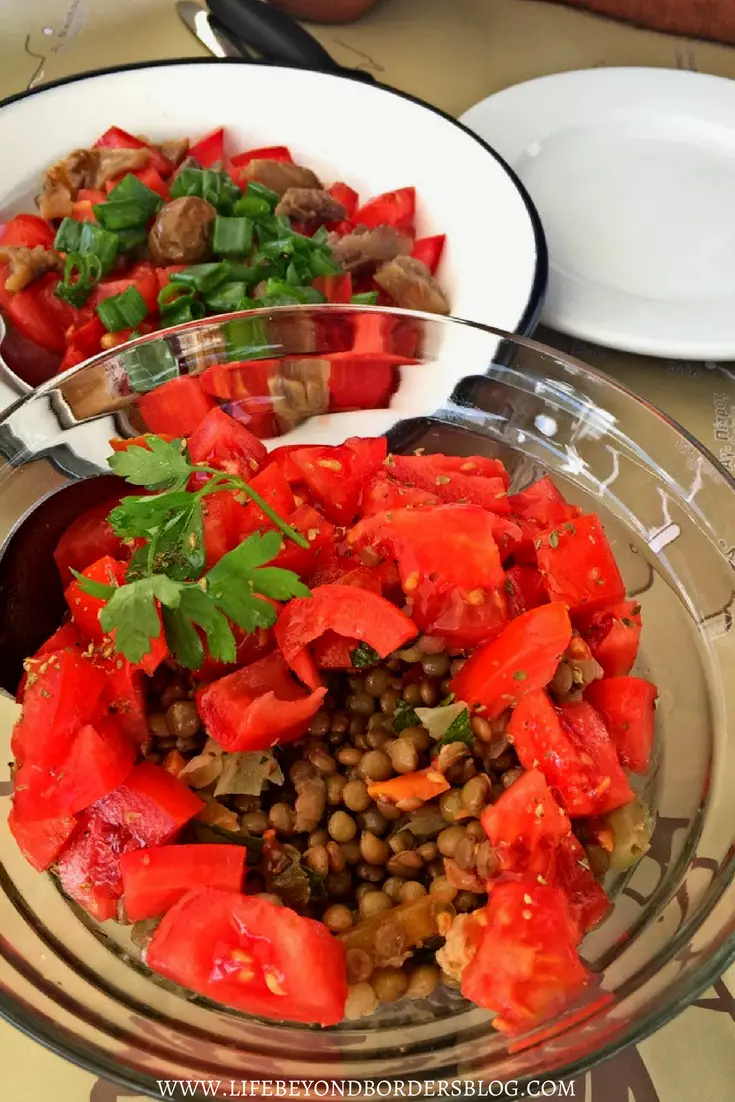 Desserts
Of course, it's possible to eat delicious Greek desserts such as orange pie – Portokali pita -, baklava and drink the ubiquitous freddo expresso and iced coffee, but the best place – possibly on the whole of the island – to eat and drink these is to take a drive up to the mountain village of Karya, as mentioned in my Things to do in Lefkada article (see above) and sit in the village square under the ancient plane trees and be served by Rania at Rania coffee and sweets. Not only are the pies and desserts delicious, but Rania can give you tips of where to go and what to see on the island as well.  She's a wealth of information.
The square itself has a range of traditional tavernas' around it.  On the day we visited, we ate at Pardalo Katsiki, a traditional taverna with square and indoor seating and age old recipes. It's a popular place and in high season, booking might be advisable.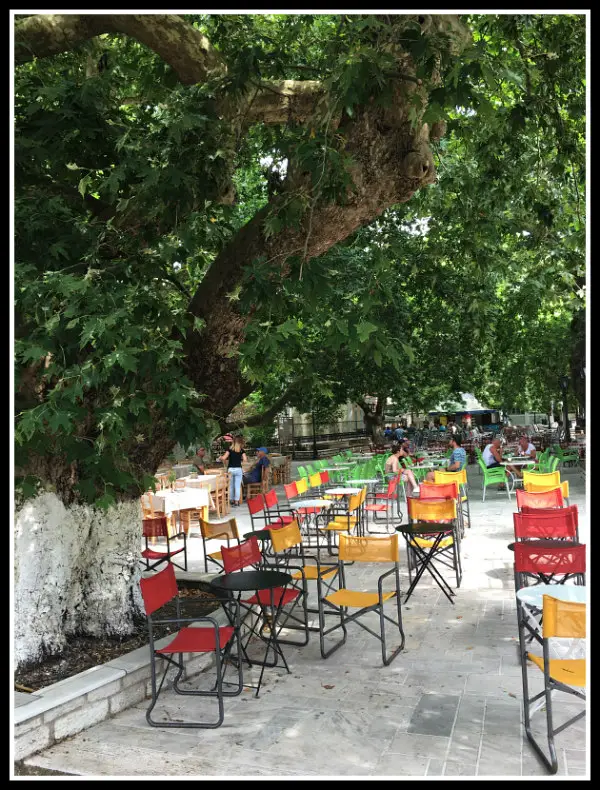 I enjoyed my moussaka and afterwards, to sit at Rania's to enjoy a dessert.  It's definitely a way to enjoy the gastronomy of Lefkada island and a change from the fish along the coast.
Have you visited Lefkada or a Greek island and experienced a dish that you particularly enjoyed? Do share in the comments.
Featured image © RitaE from Pixabay
PIN for later