As mentioned in my previous post about luxury accommodation in Lefkada island, Greece – although this Ionian island is less touristy than other Greek islands, it still has a lot to offer the visitor.  Let's take a look at the things you can do in Lefkada, Greece.
Disclosure: This post is as a result of a partnership with Sappho Boutique Suites.  All thoughts and opinions remain my own
For more information about luxury suite accommodation in Lefkada, be sure to check out Sappho Boutique Suites in Vasiliki, a town by the coast in the south of the island that offers great water sports opportunities – see further down in this post for things to do there.
Things to Do in Lefkada, Greece: Mountain villages
Like most of the Ionian islands, Lefkada is a very green and lush island due to its rainfall during the winter months (and occasionally during the summer too).  This makes for a beautiful green landscape with cliffs covered in trees, tumbling into the turquoise sea.
There's no-where better to experience this than by taking a drive from the coast up into the mountains to escape the heat of the day (as it's pleasantly cooler) and relax in the square of a mountain village.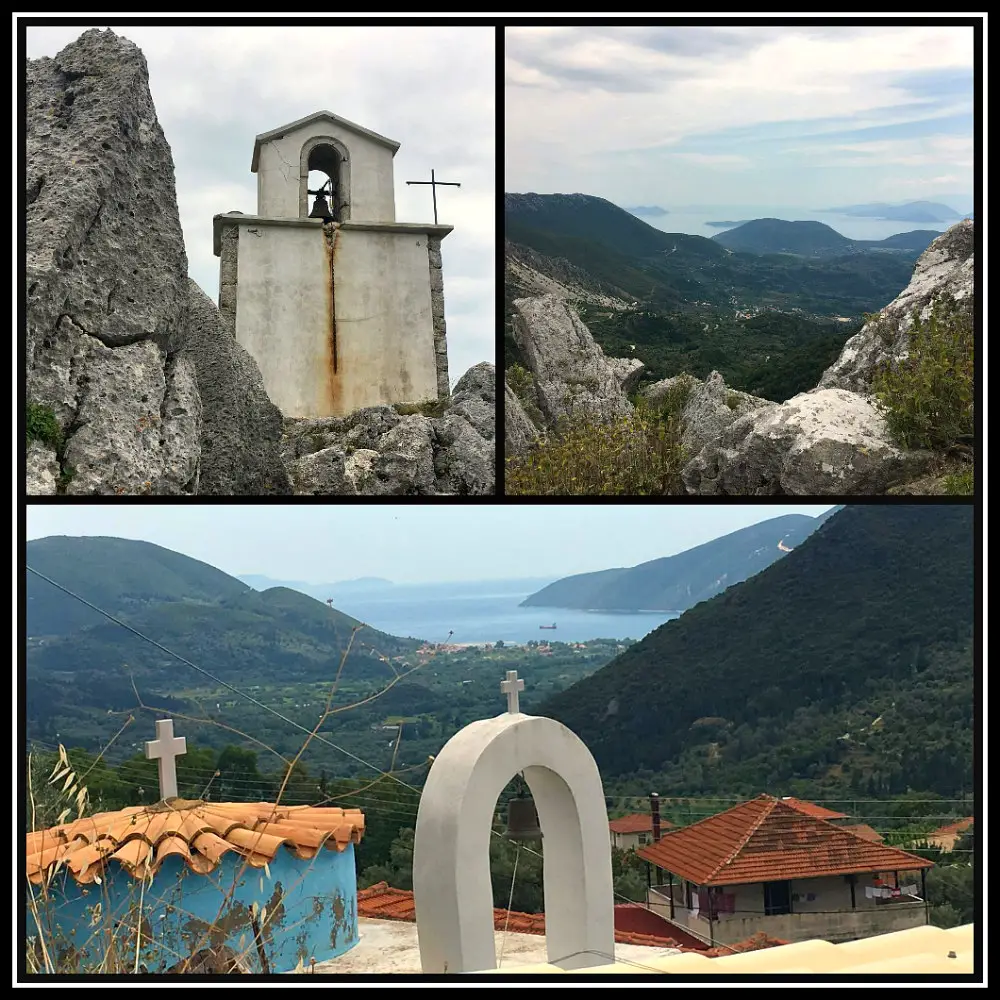 The Stavrota Mountains on the island peak at 1182m and as you drive, you'll be afforded sweeping views across the valleys below and out across to the Ionian Sea and surrounding islands such as Kefalonia and Ithaca.  One of the most popular mountain villages to visit is Karya (or sometimes known as Karia).
Karya

Famous for its fine embroidery and lace, you'll notice small shops selling these as you enter the village.  You can also view them in the small Folklore Museum.  Karya is approx. 1640ft (500 meters) above sea level in the mountains and its popular to take time sitting in the village square amongst the ancient plane trees, sipping a frappe, eating a meal from one of the many tavernas in the village or a dessert.
Natural springs flow into the village and on a hot day, it's great to wash your hands and cool yourself.
If you're visiting the island in August, be sure to head to Karya on 11th of the month as every year a replica traditional wedding takes place here using handmade dresses of times past.
In general, a drive through the Stavrota mountains is a special way to spend the day.  As mentioned, it's considerably cooler and offers fantastic views to the sea, not to mention the joy of coming across small churches here and there, lending the experience a real Greek feel.
Of course, it's not possible to visit any Greek island without spending time at the beaches, so let's look at Lefkada's beaches.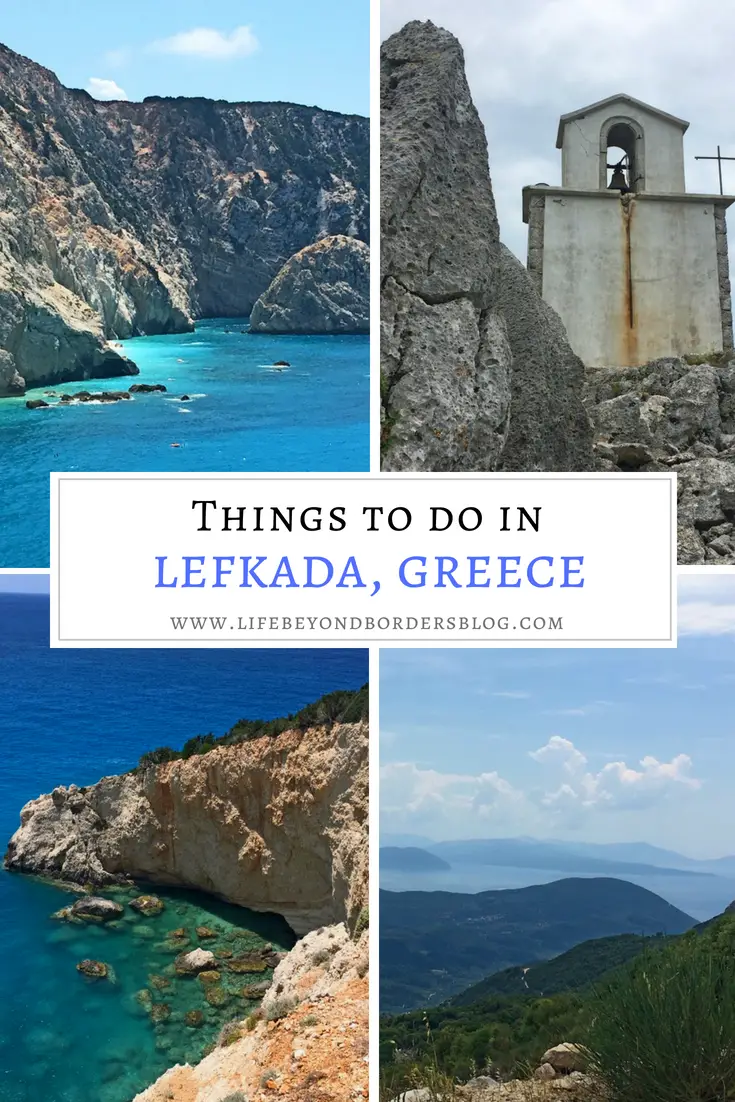 Looking for some ideas of what to pack for your trip to Greece? Head to my Greek island all round packing list for some ideas.
Things to do in Lekfada, Greece: Beaches
One of the lovely aspects of the Ionian islands is the blue, blue seas of its coastline.  This is due to the limestone cliffs tumbling into the water, giving off many turquoise hues to certainly rival that of the Caribbean or Indian Ocean islands.
Porto Katsiki

One of the main beaches of the island, indeed – it's one of the Top 10 Beaches in Greece and the Mediterranean.  When you see the stunning images of the dramatic white cliffs, sandy beach and turquoise waters, it's easy to see why. It's rugged beauty means it's a very popular place to visit.  There are sun beds, umbrellas and bars and a canteen to buy food.
It's accessible by steps from the car park down, others take a water taxi from the small towns of Vasiliki or Nidri and many private yachts can be seen anchored off the shores of Porto Katsiki.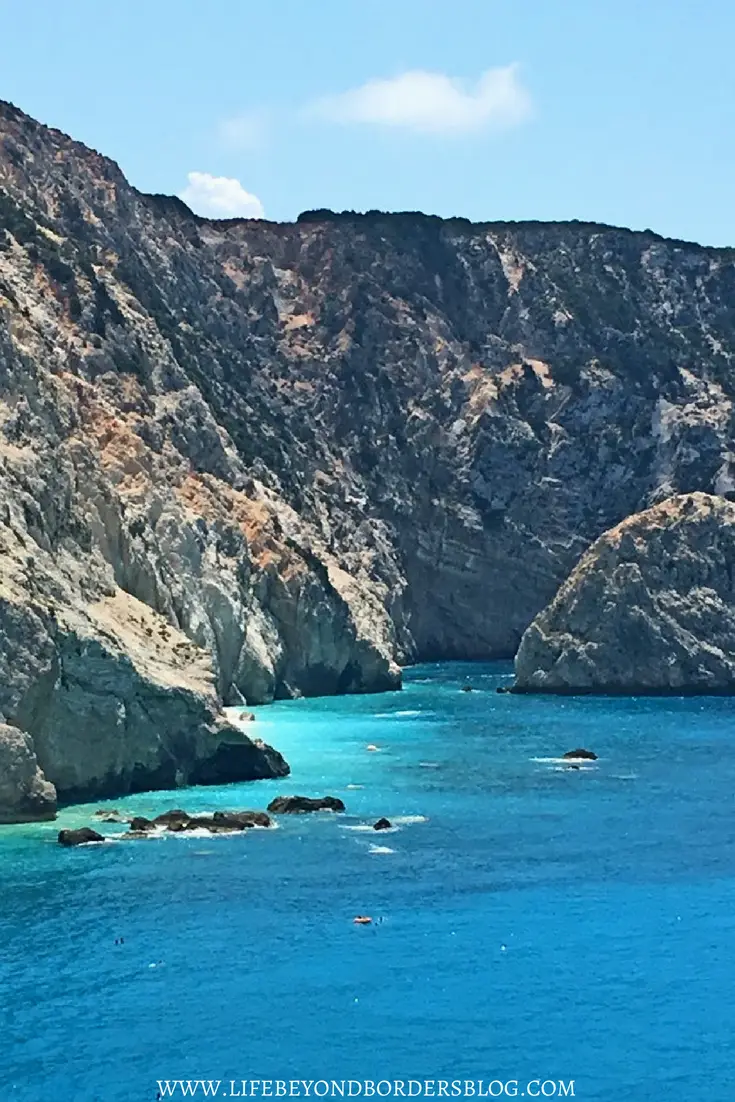 Whilst it's lovely, to be honest I preferred to stop here in the car park to take photographs and then move on to a quieter place.
Agiofili

Agiofili beach is 2 km from Sappho Boutique Suites and it's possible to either walk (only really for the hardy amongst you – especially in the heat of the summer) or take your car. There is an organised parking lot before the entrance.  For approx. €5 you can also take a boat from Vasiliki.  The beach is reputed to be one of the cleanest on the island and less busy and with its surroundings of white sand, those trademark white cliffs covered in vegetation and clear waters, Agiofili makes for a good beach alternative to the busy Porto Katsiki.
There are of course many other beaches to enjoy on the island, I have merely touched the surface here.
Cape Lefkadas
Another place well worth a visit when on the island of Lefkada is known as Cape Lefkadas.  It's the lighthouse at the southernmost tip of the island and is reputed to be where Sappho, the great Poet leapt to her death when she was rejected by her lover.
The lighthouse was built in 1913 and the area is stunning and offers great views across the Ionian sea. There's also great diving to be had here, with a depth of 40 meters and visibility down to 30 meters.  You'll see plenty of lobsters when diving here, and it's a place really for professionals as the currents are very strong.
Looking for some more Greek island inspiration? Get some by reading my Insider's Guide to the Greek islands.
Things to do in Lefkada, Greece: Water sports
This leads us nicely onto the water sports that you can expect to do when on the island.
Scuba diving
There are several interesting diving spots on Lefkada; underwater caves, reefs, old wrecks and as mentioned above, the area around Cape Lefkada, although with strong underwater currents has great visibility and lobsters can be seen hidden in the rocky crevices.
Nautilus Diving Club – located in Vasiiki – offers dives for certified divers and also PADI courses.  They also offer snorkelling safaris ranging from 2 – 4.5 hours or tailor made where they take you out on their RIBS to parts of the island only accessible by boat: caves, small coves and reefs.
Windsurfing
This is one of the most popular water sports on the island.  Vasiliki bay experiences strong winds and is known as one of the top windsurfing spots in Europe.  Wind speeds vary between Force 1 – 7, hence there's opportunities for beginners through to experiences windsurfers.  For more information about windsurfing in Lefkada, check out Club Vass and see the types of courses they offer.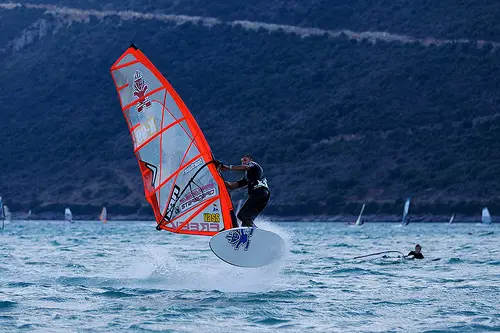 Things to do in Lefkada: Visit to the Monastery of St. Nicholas
Perhaps one of my favourite things to do in Lefkada was when I visited the Monastery of St. Nicholas.  Located near the lighthouse and Porto Katsiki beach, it's a working monastery that offers stunning views across the plains and out to sea.  Three nuns live there, in 2013 Sister Antonia and Sister Erasimi, then in 2014 one of the oldest nuns in Greece also came.
The place was like a ruin before they arrived and between them, they have developed a place that can only be described as tranquil.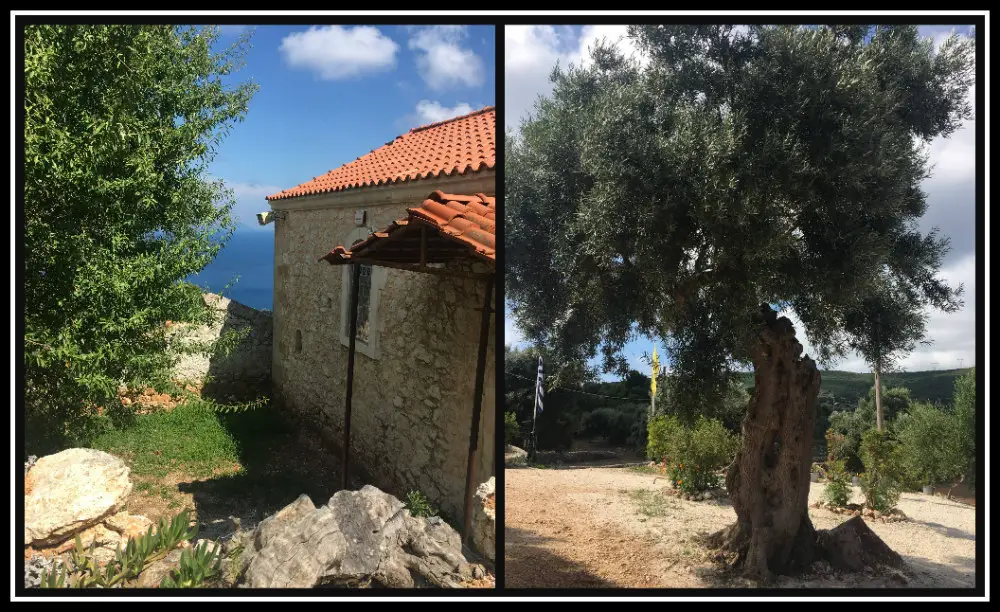 You don't have to be religious to enjoy your time here.  Sisters Erasimi and Antonia speak perfectly good English and have a delightful sense of humour, happy to have you sit with them in the courtyard whilst they bring you fresh lemonade.
Public services in the monastery are every Sunday between 7-10am but visitors can come and see inside the actual monastery any time they wish.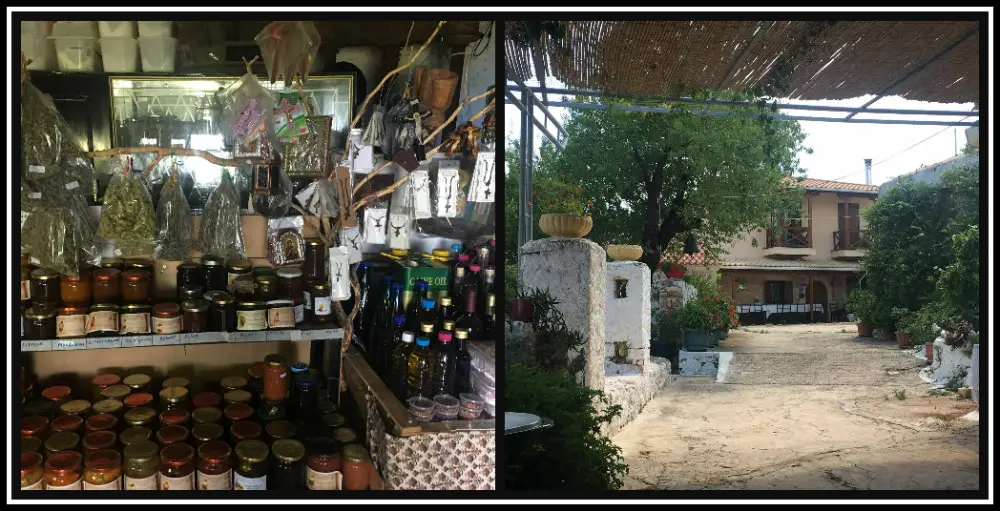 The monastery also has a shop selling goods made by the nuns on site: homemade preserves and honey from their bees, for example.
When exploring Lefkada, one thing's for sure: a car is definitely needed if you want to visit the out of the way places such as St. Nicholas Monastery and Cape Lefkadas.  If you stay at Sappho Boutique Suites, car hire can be arranged for you.
Don't forget you're going to need to eat! As you'd imagine, there's some gorgeous food on offer and I suggest you look at the Best of Lefkada Greece: Cuisine for some ideas.
I hope you've enjoyed my round up of things to do in Lefkada.  I really enjoyed my time there and certainly hope to go back.  Have you been? What were your favourite activities?
PIN for later