Anyone who's been to Athens in August will agree with me: it is bl**dy HOT!  That's why most Athenians leave the city, if not for the whole month, then at least part of it.  They normally go to their villages in the countryside or islands and stay with family or the family home (if I'm wrong, any Athenians who're reading this, then please correct me :0)   ).
I have to say, though – because Athens empties out pretty much in August, if you can stand the heat it makes it quite a pleasant place to be.  The Open Air cinemas are, well, 'open' and quite empty at nights, so that's always a pleasure.  Athens is also blessed, as a capital city, to being located on the coast and a 40 min tram ride from Syntagma Square will take you to a nice beach.
I undertook both these activities (outdoor cinema and beach) before joining the exodus myself and returning for a short visit to the UK, where I currently am.
So, what's it like being 'back'?  And especially after recent events in the UK?  Well, my dad luckily lives in the South West, so I wasn't affected.  Plus I arrived the day after it had all finished kicking off here.  I have to admit though, the bl**dy train from LHR – Paddington, then down to the West Country cost, in total, £68!  No WONDER people were rioting! I hadn't even been back home for 3 hrs and already spent nearly 70 quid!
I had the lovely opportunity to join a small school reunion and meet people I hadn't seen for 21 years.  These things are always a bit awkward eh?  I know from my part I was worried the conversation would descend into a competition of "I have 3 children and they all go to private school, what about you?" but I was lucky – most of the people I saw were of EXACTLY the same mindset as I;  no kids, love kids dearly but no desire to have them.  It was, after all, a pleasant evening and interesting to find out what others had/have been up to.
And of course, there're the country walks I get to go on and pub lunches – think Ploughman's lunch, cream tea, etc.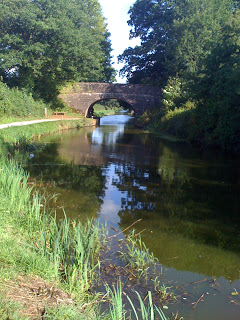 When the sun shines, a walk along the Canal is beautiful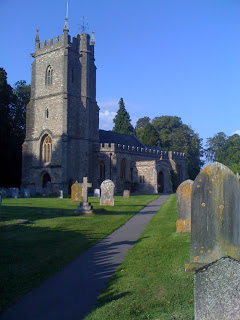 Lovely small villages with churches in the UK
A "Bridge over troubled Water" – cited as being where Simon & Garfunkel wrote their famous song
It's a lovely sight of nature: a swan with her cygnets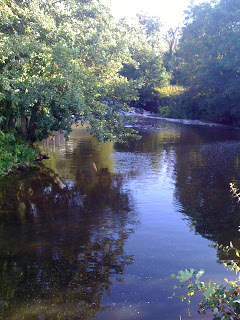 And a walk by the river is equally beautiful too