The ancient UNESCO island of Delos, located just 3.5 km from the party island of Mykonos and yet a world away in terms of things to see and do, is world famous – for those in the know and who love Greek mythology – for its ruins and as being the birthplace of twins Artemis and Apollo.
**This post includes affiliate links.  For more info, see here.**
As you wander the sites of the temples and sanctuaries dedicated to the Gods and explore the small museum – none of which'll take you long as the island is merely 3.43 sq km (1.32 sq miles) – you'll see little houses dotted around and may become intrigued, thinking about the opportunity to stay the night on Mykonos's quieter neighbour.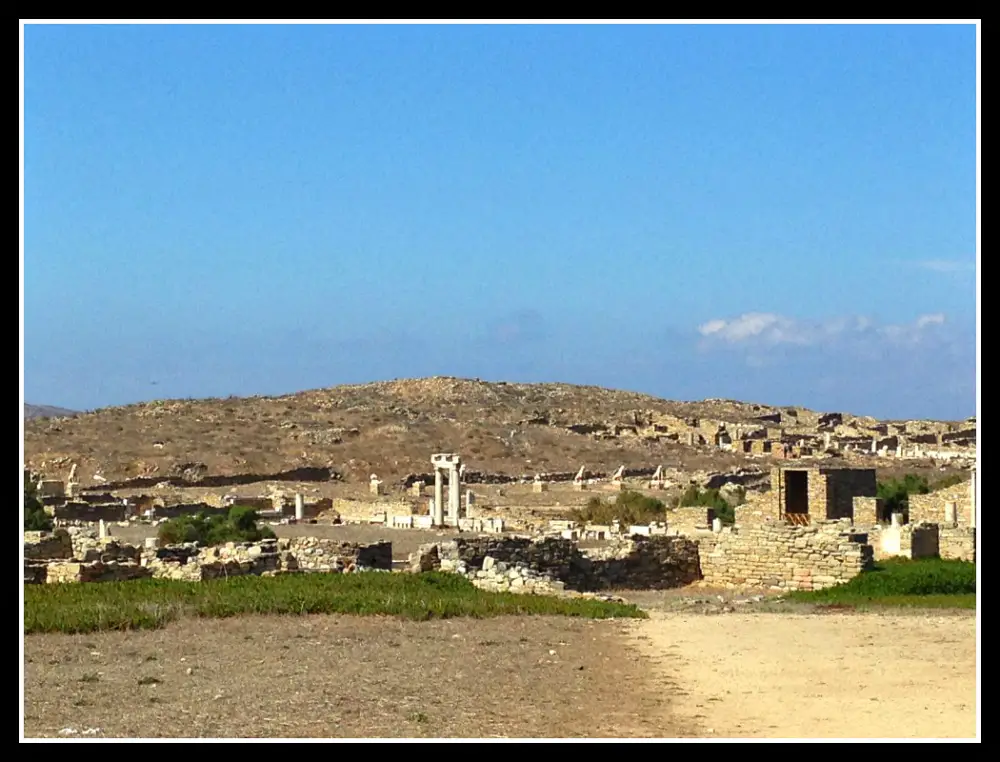 Don't be fooled.  Yes, there are houses – some with bright plants and flowers adorning the front…but these are not for staying in.  In fact, it's not permitted for any member of the public to stay on Delos – and there are Guards that protect Delos from this very occurrence.

I was lucky enough to meet Efthimis, a bear of a man yet with kind eyes and a gentle soul who met me when he'd been seconded to guard the new VANITY exhibition – focusing on adornments to the human form from 7000bc to the 2800's – at the Mykonos Archeological Museum during the autumn of 2016.  I refer to Efthimis as the 'Delos Guard' and found his insight fascinating.  I hope you will too.
---
Efthimis, the Delos Guard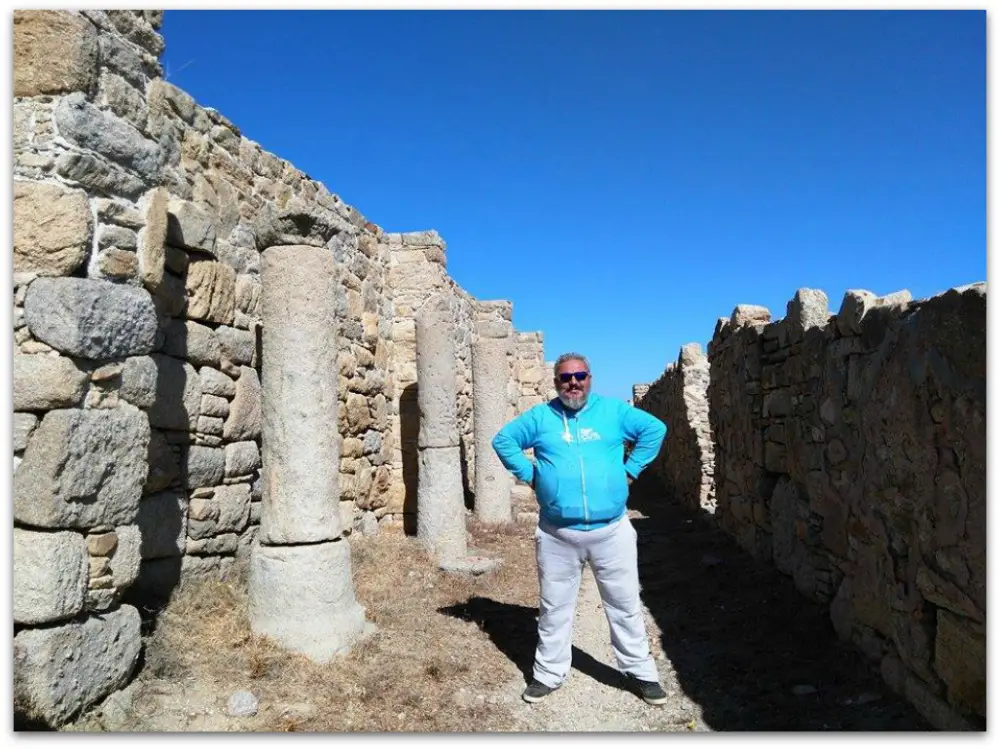 So what's it like to guard a UNESCO, mythical island and stay there at night amongst the ruins?  The sun is setting over Mykonos and the museum isn't busy – a perfect time to chat with the Delos Guard, and a magnificent setting.
Before coming to Delos, Efthimis was a guard at the Acropolis in Athens.  Then in 2011, the opportunity came for him to come to his home island of Mykonos to be 'stationed' at Delos.  He jumped at it.
Educated to a higher education level (one level above high school), the requirements of a Guard job of antiquities in Greece is two years in higher education which must have a history background.
Who stays on Delos?
There are as many as 40-50 guards on Delos in the summer months in those little houses, but during the winter, Efthimis is often alone – yes, alone on a remote island with no shops.
As previously mentioned, tourists cannot stay on the island, merely visit for day trips.  But The French Archaeological School  houses archeologists and students in their building during research trips.
And so you have the guards – or guard, depending on the time of year – in their house(s), and the steady stream of tourists during the day.
What's a Delos Guard's role?
So why the need to have guards staying on the island?  And if no-one really visits in the winter, why stay in the winter?
First of all, there could be potential health problems with the visiting students and archeologists.  Remember, this is an island with literally no facilities – and supplies shipped in!  Efthimis gave me the example of a young student who was bitten by a snake and had to be taken at 2am to the hospital on Syros island.
Then there're the people who feel they can just rock up with tent and try to pitch it and stay overnight.  Before the last boat is due to leave, Efthimis and his crew have to scour the island to ensure that no one's hiding out with romantic or adventurous notions of staying under the stars (as nice as that may sound).
But perhaps most importantly, the Delos Guard has to make sure no-one tries to steal any antiquities, no matter how small.  You'd be amazed at the amount of people who think it is quite OK to take something from a World Heritage site!
Efthimis cites another example of an American lady who came to Delos and managed to take a small piece of mosaic with her.  Three years later, Efthimis received a letter from the lady with the mosaic enclosed.  She felt guilty and returned it!  Not only this – and let this be a lesson to you all – the lady claimed she now believed in the 'Evil Eye' as she'd suffered badly from migraine headaches.  Since she'd returned the item, she swore that the migraines have disappeared.
And these are just the 'people' aspects of the Delos Guard's role.  During the winter months, Efthimis has to plough the fields, takes care of all the maintenance on the island; plumbing and electricity, for example – and he also cleans the marble and mosaics – keeping them maintained and not left to rot to the elements.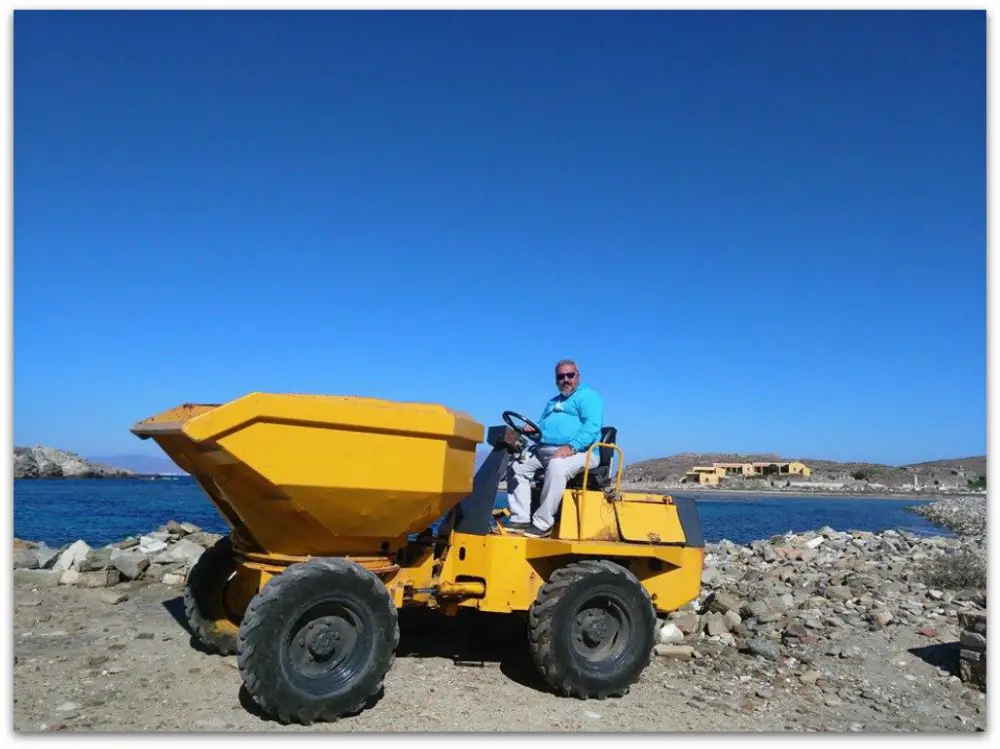 He really is a 'jack of all trades', and I am impressed by this man.
Delos Guard – the problems
But come on now – you can't spend most of the year on a remote island and not face some problems.  I am intrigued to find out what, and Efthimis is very open about them.
Electricity and Internet only came to the island in 1992!  But Efthimis seems a pretty self-reliant man and actually prefers his own company
Food is delivered twice a week by boat in the winter months.  But once, Efthemis didn't see a boat for 27 days due to bad weather! What's a man to do?  Well, he has a 'Survival Cupboard' and survived off tinned vegetables and macaroni.  Oh, and wild 'horta' (greens).
Long hours.  Officially Efthimis is paid for 7 hours, but in reality – and especially in the busy season, he can work anything up to 23 hours.  But his accommodation in the little house is free, except for food and the phone.
Loneliness.  This doesn't appear to have affected dear Efthimis, my Delos Guard.  But he lowers his voice at this point and looks almost pained, as if remembering colleagues and confiding:
You must be able to find things to do on the island, otherwise the remoteness and loneliness during the winter could drive one to drink, even psychological problems.
Hmm, is that the cries of Artemis and Apollo out there, or just the wind howling?
When I tentatively ask him if he's ever felt isolated or lonely, he smiles.
I love nature.  There's always something to appreciate in nature and this job appeals to people like me I think.  Also, I am very good at finding things to do.  I work March to October with no break (7 days a week) and, oddly, I miss it when I'm not there.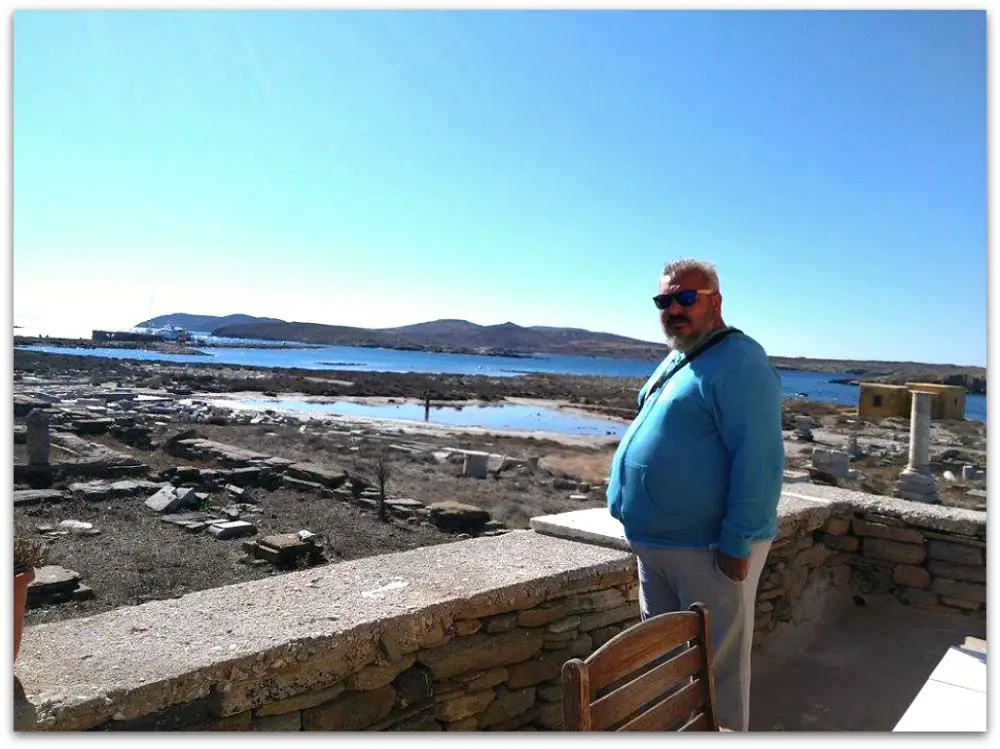 And so my time with the Delos Guard comes to a close.  I've enjoyed myself immensely in his company and feel sad to leave him.  One thing's for sure, he seems very happy and proud to guard the island.  And, probably because he loves nature so much, this is what makes him such a gentle man, and a gentleman.
One final word:
Guarding Delos is not just a job, it's a way of life.
PIN for later