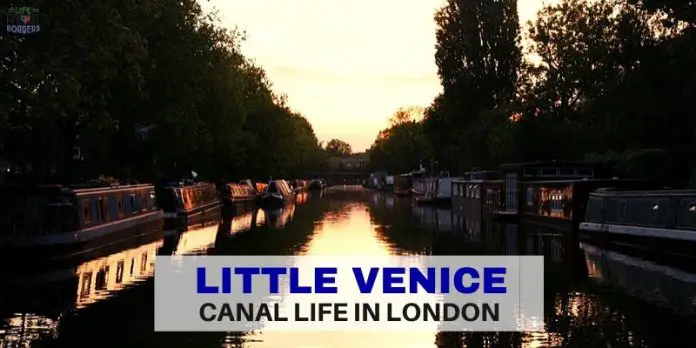 I recently wrote a post about luxury barge accommodation in London on London's canals, specifically Little Venice.  I was intrigued as to what drew the owner to restore canal boats –  it's certainly a different place to stay, and as my post showed, very enjoyable.
London canal life is a very specific way of life.  The owner – Sam Barbic kindly answered my questions.
Why such an interest in canal boats, Sam?
I've always been fascinated by narrow boats and wanted to live on one and experience canal life. Specifically, I've always been fascinated by smalls spaces and wanted to design for small spaces such as caravans, sheds, aeroplanes. Also to update spaces that are really quite dated (Sam was a set designer in a previous life).
So the idea came to me when I was designing
airbnb
flats for a friend and thought;  "I can do this." But one problem:  I couldn't afford to buy a flat, so I thought;
"How about a boat?"
My neighbour had moved on to a narrow boat and this fired up the idea:
What a great way to introduce people to this amazing, hidden world of canal life right in the centre of London!
Boutique Barges
offers two lovingly restored 57 foot narrow boats to rent along London's canals: Barbara and Velvet Morning. I asked Sam:
Why buy these two particular barges to renovate?
I looked at  hundreds of boats on the internet, nothing inspired me until I saw Velvet, which was at that time called Fern. She had so much character. I drove down to the city of Bath in Somerset to see her, and fell in love instantly. All practicality went out of the window.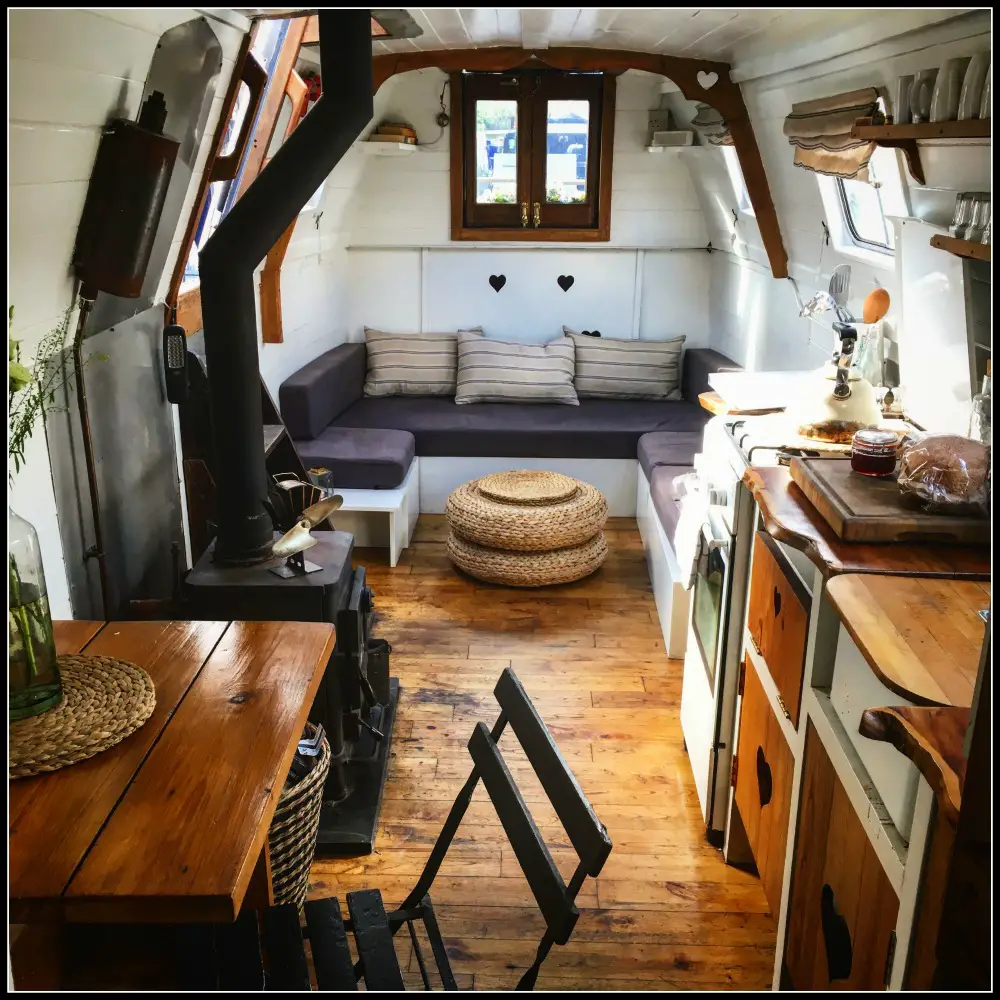 She is over 100 years and was set up for shore line marina mooring. I knew nothing about boats. We needed up putting her on a truck and having her delivered to Watford where we then drove her to London; a two day trip with many mishaps as I had no boating experience.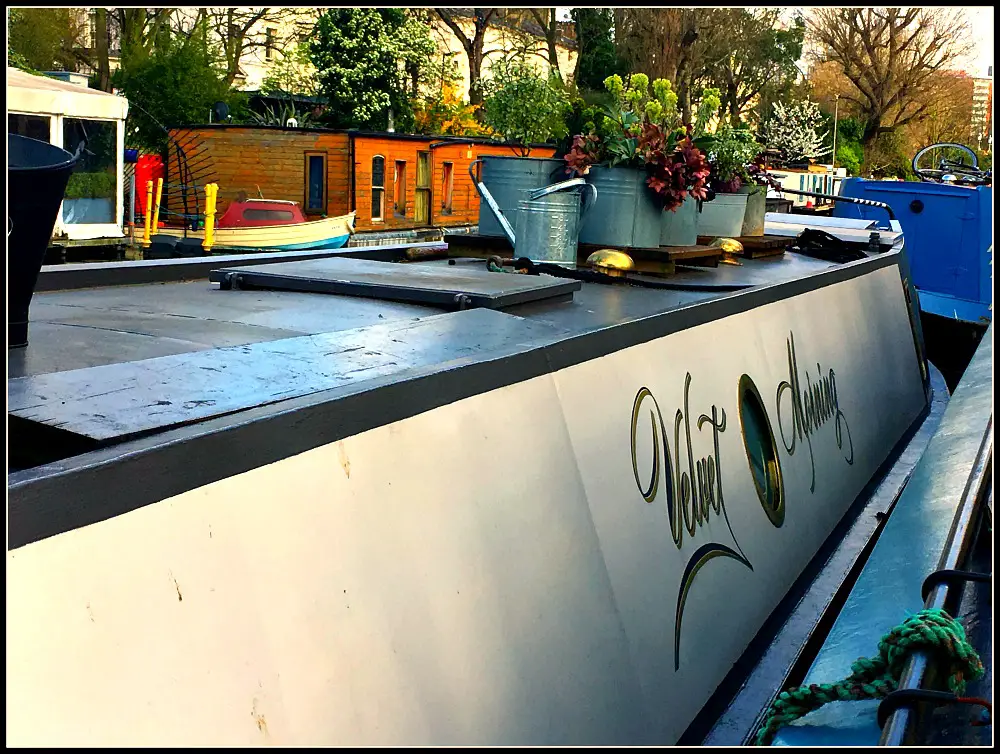 I bought Barbara from Reading [a town near London] and she was a colourful, character laden modern boat. The opposite of Velvet. We steered her back from Reading along the canals, which was the most incredible 5 day trip through the villages of Henley, Windsor and then on to the Thames. Quite beautiful.
How long did it take to do both barges up?
Velvet took about 3 months to do up. We really started from scratch on her and had a lot of basic work to do like electrics and plumbing. Barbara was much quicker and more aesthetic work such as a paint job and new, soft furnishings.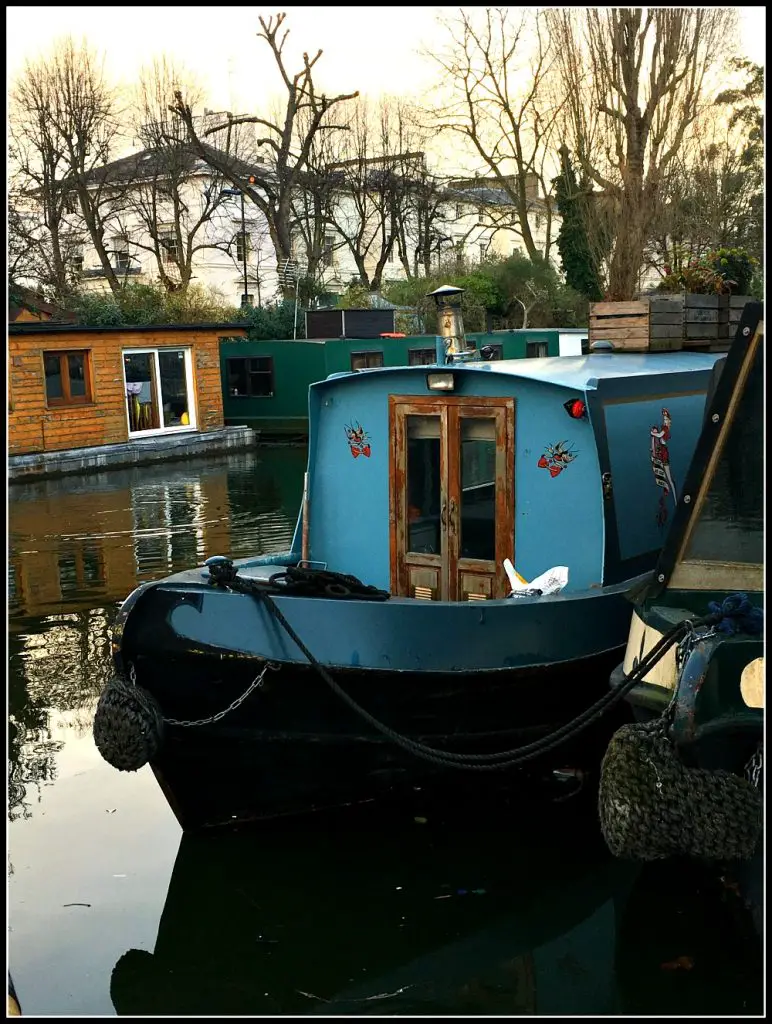 Both boats were re-named and had new exterior paint jobs and graphics. The overall 'ooh and character' of the boats has always been very important to me.
I have to say, having experienced canal life on both boats, the 'ohh and ahh' factor has definitely been maintained;  Velvet is more boutiquey; she even has a bath. Barbara is just as boutiquey, but more practical.  Both have wood burning stoves, making a stay in early spring very cosy and homely.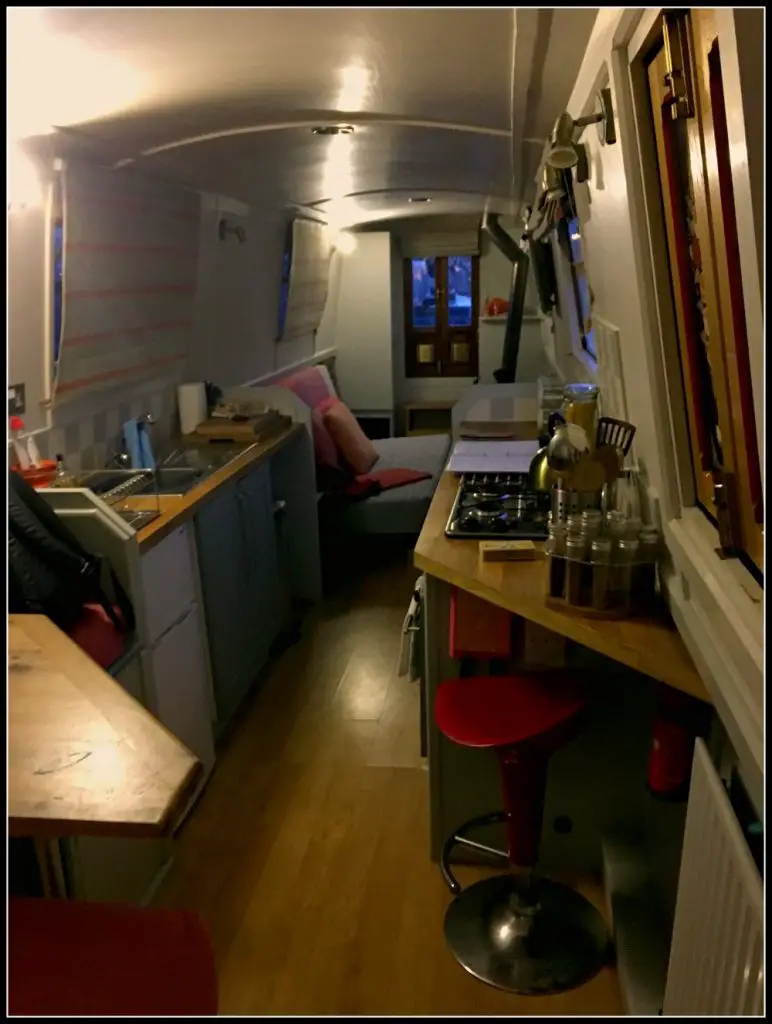 Canal life in London
In my short experience of it, I can comfortably say I enjoyed it…for a short break.  I think to maintain a boat properly must be incredibly hard work – and I commend Sam for the passion and love she indulges into both of them.
Pin for later