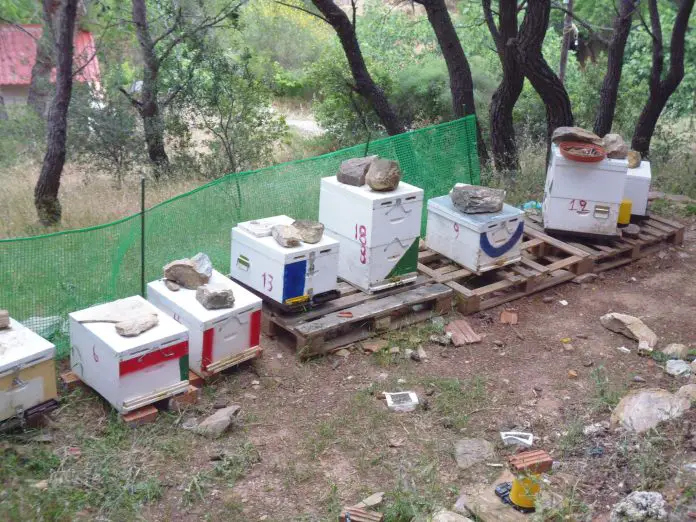 Would you like to come and see my bees?
a friend asked me.  No, it wasn't a pick-up line, my friend genuinally has bees on a small mountainside in Melissia, a suburb to the north of Athens.
So one rather temperamental  Sunday (weather wise), off we go.
Bees'll be a bit moody
Paul looks up at the constantly shifting and menacing clouds.  Hmm, do I need to worry about this? He must've seen my concern because he pats me on the back and says
Don't worry, you'll be suited up.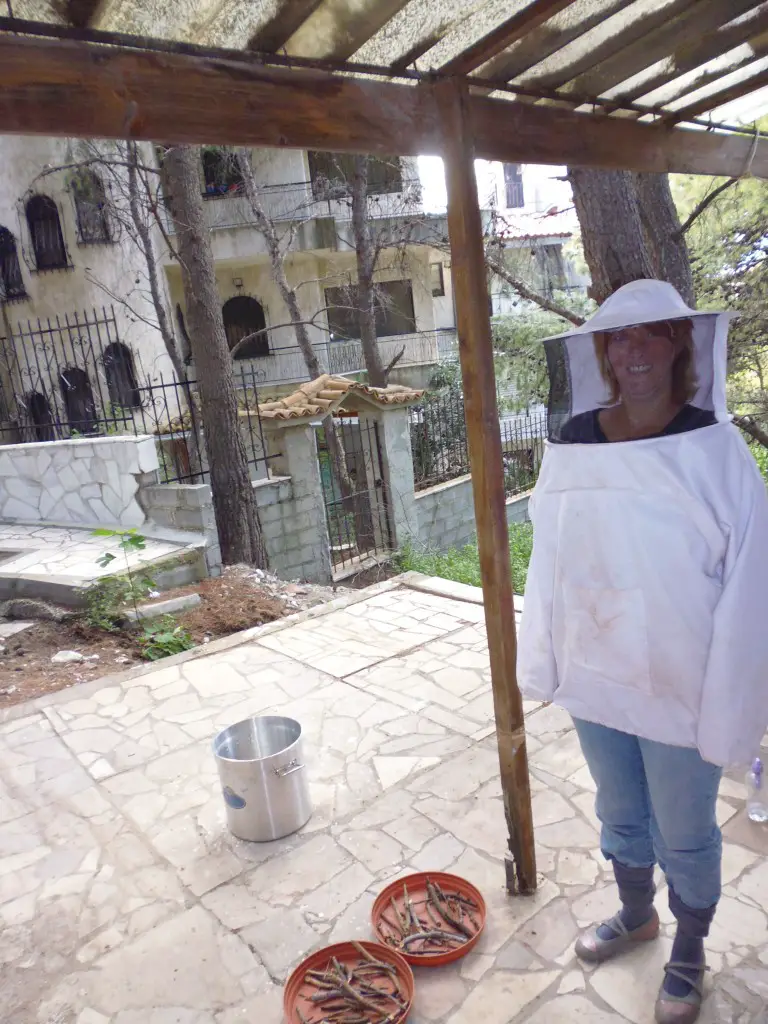 Paul and his friend have eight hives – four of them new – and have been keeping bees for about 3 years.
Have you ever had any honey?
According to Paul, "The last year or two hasn't seen a lot of honey produced, not just with us, but a lot of beekeepers in Greece say the same.  Bees are sensitive to environment, and some put it down to all the negativity around re: the financial crisis.  They just stop producing."
It's an interesting theory.  Paul and his friend also told me that bees definitely  have their own personality.  And I can believe it.  Let's face it, bees are what keeps us all going, with their pollination.  It was Einstein who famously said:
If the bee disappeared off the surface of the globe, then man would only have four years of life left. No more bees, no more pollination, no more plants, no more animals, no more man. Source: http://quoteinvestigator.com/2013/08/27/einstein-bees/
So, back to their personalities:  there's the Queen – who only mates once.  She leaves the hive to mate with the Drone bees outside and comes back to lay eggs in a cell in the hive.  A Queen has a lifespan of 3 years, the rest 3 months (see?  Females are stronger).
Then there's the Guard Bee – guards the hive – Maintenance Bees, who do exactly that. In fact, if you want a perfect example of Collectivism,  you should study bees more carefully!  We could learn a lot from them I think.
Get suited and booted before going near them, especially hive 12!
I am warned.
That's a difficult one.  So I suggest you stay back.
They're pointing at the infamous Hive 12.  By now, we've sat outside on the patio and had some juice and snacks, I'm suited up and we're in the hive. First, the hive is 'smoked' (think of something similar to what they use in churches when they wave around their incense).  This calms them down.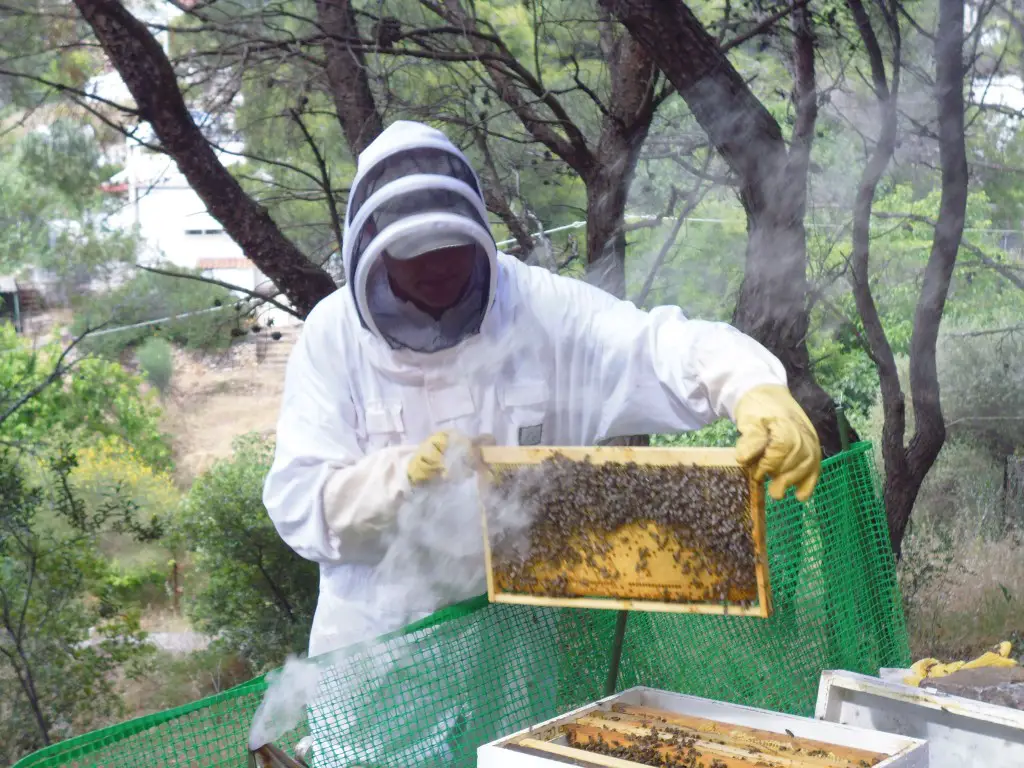 The lid comes off, the noise is pretty hard to describe!  I mean, just think of a bee, but a whole load of them.  We had to shout to be heard.
This is the first time Hive 12's not been aggressive!
"Probably because I'm here" I joke.  "They like a female presence."
But I forgot: bees are sensitive to the environment, and the two men are looking at each other and nodding.
"I think you may have a point.  They need a female to calm them down."
I am reminded of my time on the container ship when the Chief Officer told me the same thing.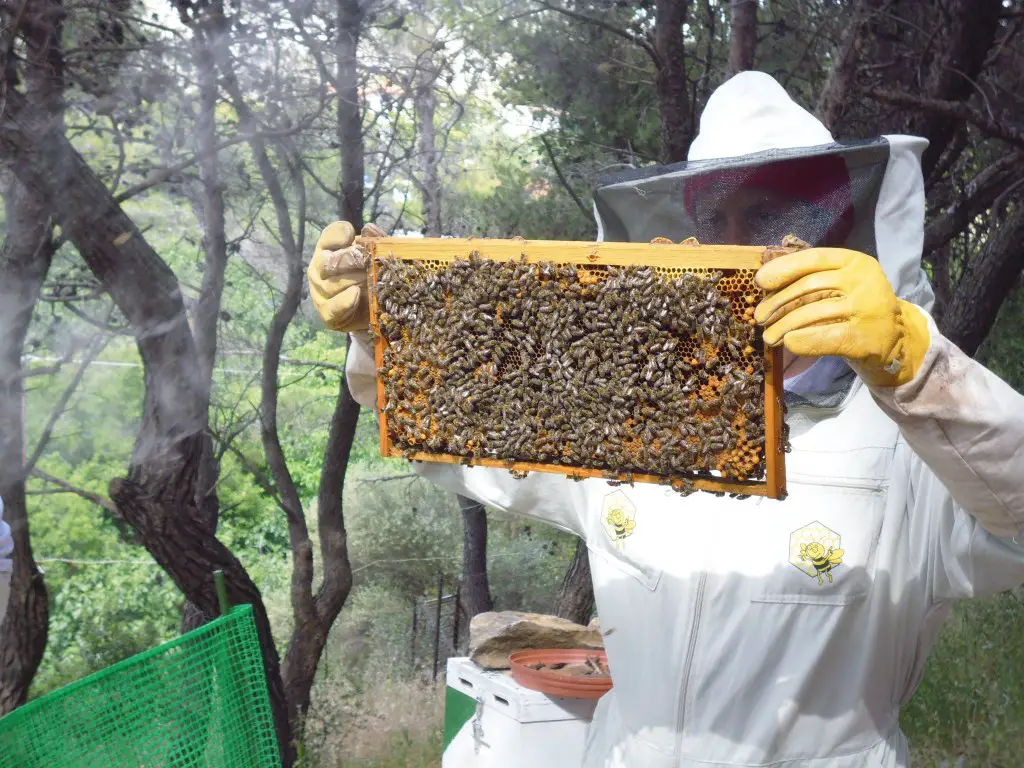 After checking the hives, making sure the pallets are stacked closely together (so that wax doesn't spread between them) and putting some wax in a jar for me to attempt to melt into a candle, we sit outside on the veranda again, where I learn about:
Swarming (some bees leaving to set up home elsewhere).
We don't want this to happen.  It happens roughly twice a year, if a hive gets too full .
To prevent it, they find the Queen's egg/cell and kill it off – or they lay an empty hive down to start a new home for the bees.  But the best solution is the first one…it's good to have a full to bursting hive so that the honey is produced.
What a different and pleasant way to spend a Sunday.  I hope that the environment changes enough for the bees to produce yummy honey.