I had a lovely evening last night.  Spurred on by summer in the city and the Athens Festival that runs throughout July & August, myself and 2 friends managed to book tickets to go to Epidaurus – about 2.5 hrs outside of Athens in the Peloponnese.
But we weren't going just for a visit, we had managed to grab probably the last 3 tkts for Saturday 30th July's Bridge Project's performance of Richard III with Kevin Spacey, directed by Sam Mendes.
Oh how honored we felt! Luckily the tickets were only 20 euros – but this meant sitting somewhere up at the back. 
Still, we boarded the special bus service from Athens (again only 20 euros) with excitement.  The journey, as mentioned, takes approximately 2.5 hrs as it entails mountainous windy roads and a pit stop at Corinth.  Yes, we crossed the Corinth Canal and I allowed myself some time to take a couple of pictures.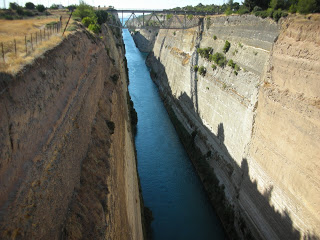 Corinth Canal
Upon arrival in Epidaurus, organised chaos awaited us!  To walk from the car park to the amphitheatre took at least 1 hr, through a sea and throng of people.  I quietly congratulated myself on not suffering from claustrophobia.
At last, we arrive at the Amphitheatre.  I'd feared that with all the people ahead of us, there'd be no room – but no, the place can hold up to 9,000 people I was reliably told.  So, we climb up yet again to about 4 rows from the top (my poor knees!) and plonk ourselves down – luckily my friend had the foresight to bring 3 garden cushions for us.
A little 'tussle' broke out when we sat down as a woman in front of us informed us in Greek "These seats are taken" to which my Greek friend shot back "Kirya, no they are not – seats are not reserved."
This went on for about 3 mins, toing and froing whilst I sat down anyway, pretending to be oblivious to the raised voices.  Anyway, the upshot was that we remained in our seats after all.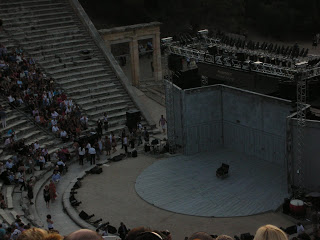 The stage
Looking happily at the sun setting behind the mountain that served as the backdrop – a flurry of excitement down below as Sakis arrived (I would sporadically look for big flashes of cameras and train my friend's binoculars down below – managed to catch a glimpse of him).
Then, (drum role) – the performance began.  And WHAT a performance!  Kevin Spacey at his level best, although I am sorry, I do have to say that the last hour of the performance – whilst still magnificent, did drag somewhat as my bum had frozen after 2 hours of already sitting still (despite the garden cushions).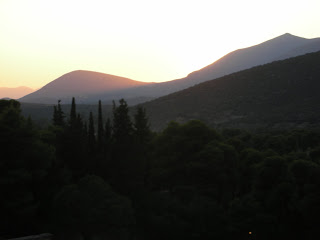 View from my seat
About 5 mins before the end, a dragonfly chooses to dive bomb a woman 2 rows in front – who promptly quite 'discretely' lets out a low yelp and flaps her arms for a short while.  That was quite funny actually – one of the 'joys' of being seated outside on a warm summers evening?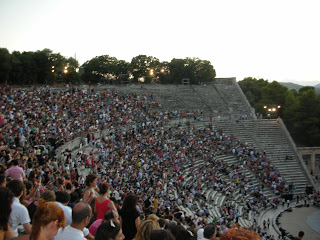 Starting to fill up
That and the endless stars!  Oh boy – they were incredible!  I saw one shooting star and made a wish, but of course cannot divulge it here.
Then the meandering trip back to Athens – but first we have to get back to the coach, in 30 mins, without breaking our legs or necks descending!  That was a feat in itself. And me, being stupid, had decided to wear platforms…still, I managed it, only slipping once onto a kindly Kryos (old man) to whom I apologised profusely, to which he picked me up, dusted me down and kept repeating "Never mind" in Greek.
And then, on arrival in Athens at 4am on Sunday morning, tired but happy – but NO TAXIS due to strike!  Ah, but this six degrees of separation kicks in (which Greece is so famous for) – my friend has a neighbour who has a car who's prepared to pick us up.  We have to wait for him (I think he had to get out of bed) – whilst doing so, we're admiring the shoes in the shoe shop (so that the police on the other side of the street don't accuse us of being prostitutes).
Whilst doing so, a car with about 3 youngish men (think in their 20's) drives up, stops at the traffic lights and shouts things to us.  Now, we ignore them – think in the UK that they'd probably be lewd and offensive, but no!  They are telling us (in Greek)
"Monday, the shoe shop opens on Monday.  Come back then!"  to which we have to laugh – they honk their horn and off they go, in high spirits.
And so I arrive home, after being picked up by my friend's friend's friend – and have just woken up to write this for you all – I hope you've enjoyed this piece.
:0)