Having travelled a fair bit around the Greek islands (and further afield), when having the opportunity to stay in luxury, I'd primarily stayed in small boutique hotels such as Kokkini Porta Rossa in Rhodes island and Sir Athens small boutique hotel in Athens.
I'd always been of the opinion that larger resort style places were impersonal and when one was inside, one could actually be anywhere in the world just so long as there was a pool and sunshine.  My opinion of larger resort luxury places changed when I stayed at the Lindian Village in Rhodes, and more recently, the Grecotel Kos Imperial Thalasso on the large Greek island of Kos.
**I was a guest of Grecotel Kos Imperial Thalasso – note that all thoughts and opinions remain my own**
The Greek island of Kos and Grecotel Kos
Kos is an island that's renowned for package holiday hotels – and to be honest, a lot of them are quite impersonal.  It is possible to find the occasional family run hotel, yet as lovely as they are, they don't necessarily have their own beach – which is one of the many benefits a larger package hotel can offer.
The Grecotel Kos Imperial Thalasso, however, is in a world and class of its own and breaks any preconceptions you may have had about large resort hotels (or, with my pre-conceptions already being challenged by the Lindian Village in Rhodes, a stay at the Grecotel Kos Imperial Thalasso helped to break down my opinions even further).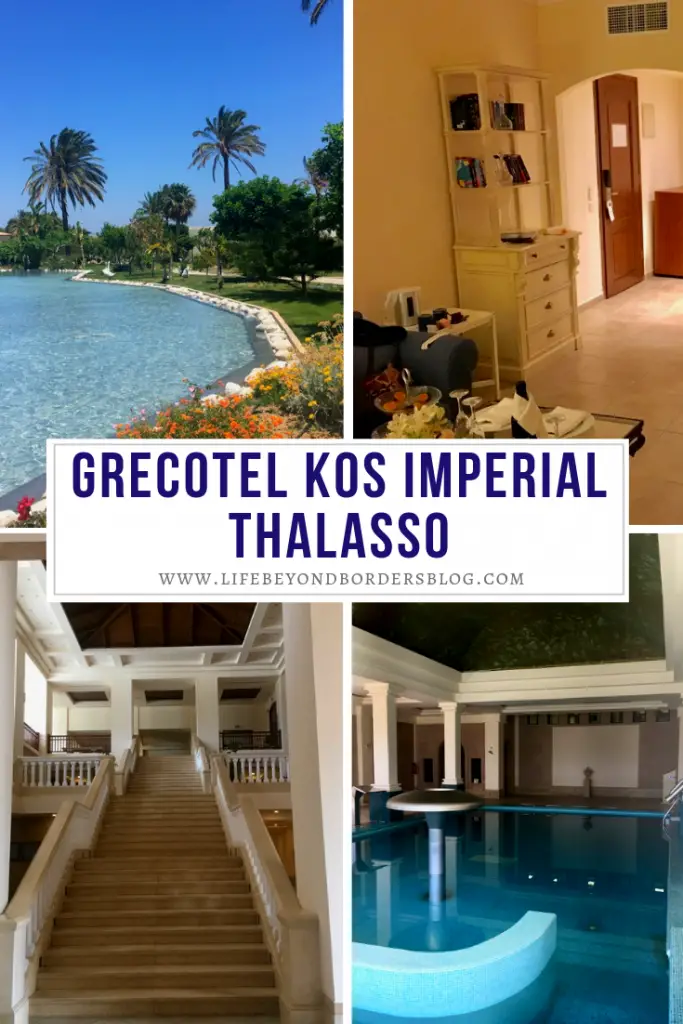 The Grecotel chain of hotels in a nutshell
What makes Grecotel special for me is that it's a Greek 'chain', actually originating from the island of Crete over 40 years ago.
Now Grecotel operates over 30 hotels in 11 destinations around the islands and mainland of Greece (including two on Kos, one on Rhodes and one on Mykonos, seven on Crete and then several spread across the mainland including Athens and the Peloponnese).
They also operate the Agreco Farm on Crete where a lot of the natural produce from there is used in some of their hotels in Crete.  They also sell their products in the Grecotel shop they have on site in all their hotels. So let's now have a look at the actual hotel, the 'Grecotel Experience' as I like to term it.
Grecotel Kos Imperial Thalasso
Your Grecotel Experience starts the minute you enter the doors.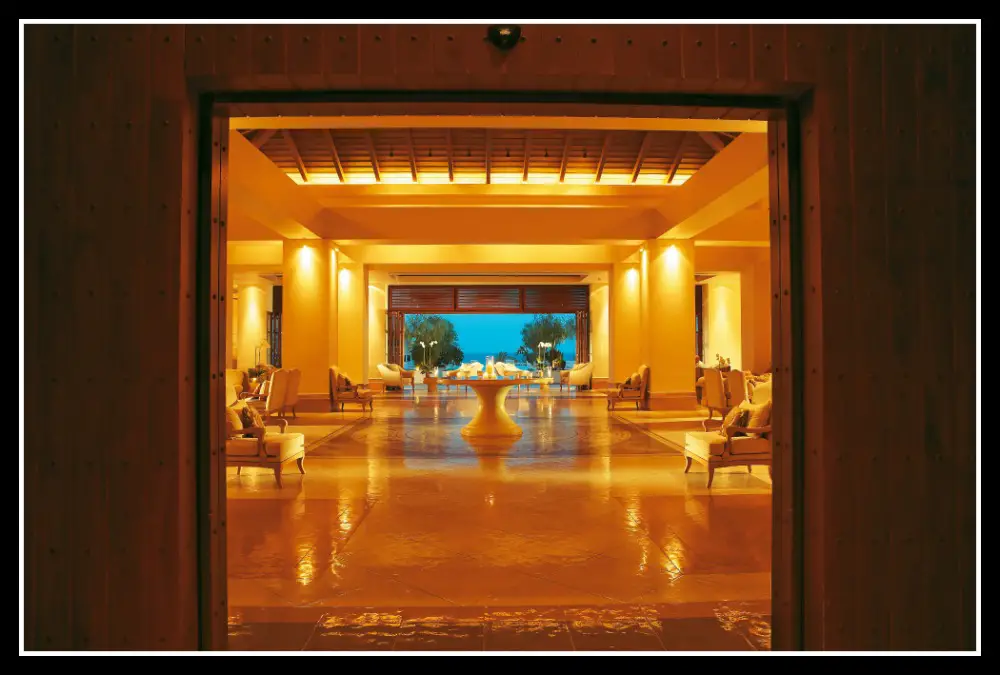 A refreshing hand towel and fresh juice is offered as you check-in.  Depending on the 'package' you've booked, you can be shown to your room or suite by management.  The hotel actually offers a range of accommodation to suit all:
Double Rooms – in the main building
Bungalow
Deluxe Bungalow Suite
Seafront Bungalow Suite
Petit Family Bungalow
Junior Bungalow Suite
Family Guestroom
Family Bungalow
Maisonette
All have their own individual style and quirks such as separate living room (not the double rooms), almost vintage like furnishings with four poster beds, sleeps 2-3 and some even have their own small pool.
I was placed in the Deluxe Seafront Bungalow suite – as you can see, it had its own living room and four poster bed.  Very comfortable, and excellent for a family of three or four – as the living room can double as an extra bedroom.  Gorgeous views across the lagoon pool to the beach and sea beyond.
Grecotel Kos Imperial Thalasso Facilities
Private beach, lagoon pools and waterfalls await, plus a choice of four restaurants to dine in, with lagoon pool views.  Various water sports on site such as windsurfing and water polo, two tennis courts, a PADI Diving Centre and various gymnastic activities such as morning yoga or aerobics will keep you busy.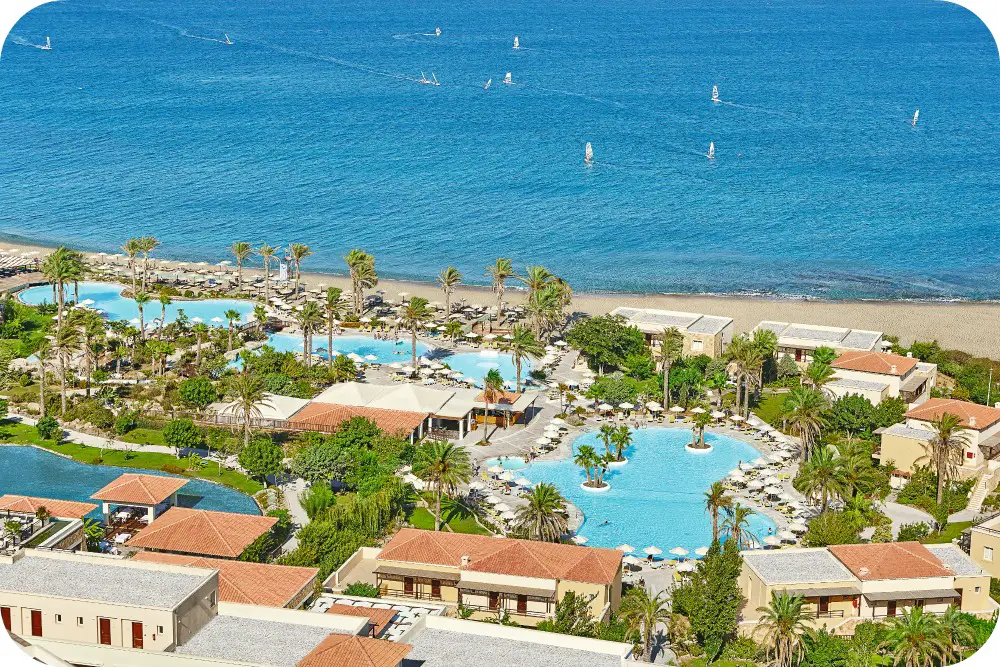 If that's not enough, the entertainment team can keep you busy with a traditional Greek folk dancing show, or live music.  There's enough to keep you busy here, trust me.
Grecotel Kos Imperial Thalasso Spa
Now we come to the highlight of my stay; an experience at the Elixir Thalasso Spa.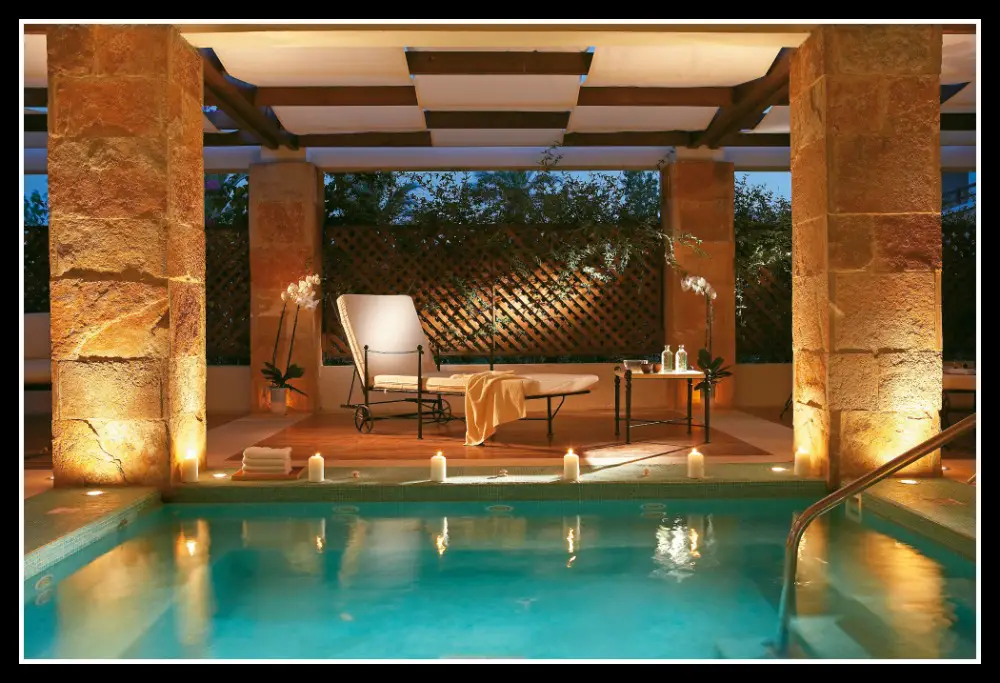 The Grecotel Thalasso Kos spa has a range of facilities:
• Aqua Elixir Thalasso Pool, mosaic-laid with wild-water corridor, cannons and shower jet
• Indoor Aerobic Pool
• Open-air Whirlpool
• Sauna & Steam Rooms
• Relaxation Area for after your treatment
• Fitness Room with state of-the-art cardio fitness equipment
• Changing Rooms
and offers a range of treatments; from massage, face treatments and salon such as manicure, pedicure etc to the Body and Soul Elixirs.  I was treated to the Ancient Spirit Elixir – or more commonly referred to as 'Cleopatra's Treatment'.
Why?  Well, you start with a body scrub, (although I started with a swim in the Thalasso Pool), then shower, then various yogurts smoothed over you and you're wrapped in what I can only describe as 'cling film' (I'm sure there's a more technical term for it) and allow the body to absorb the mixture…wash it off.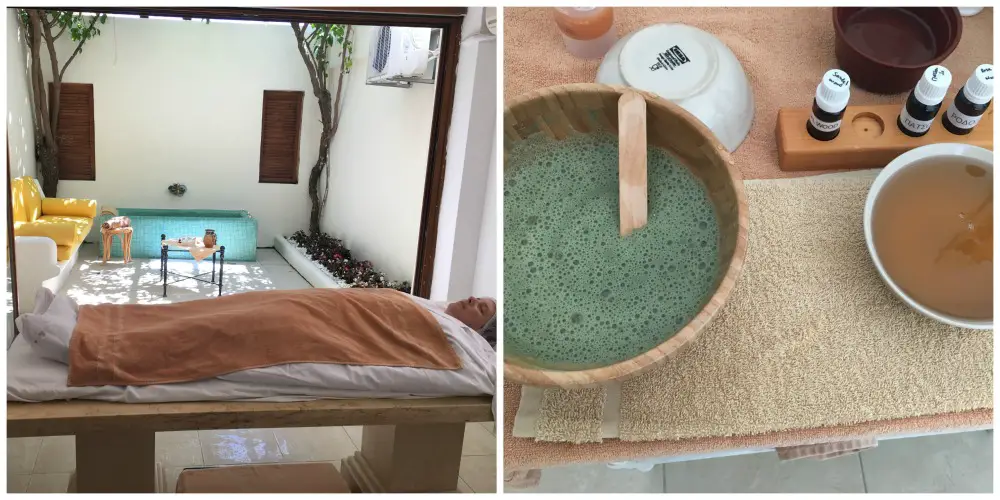 And the highlight: your own mosaic bath in the treatment room's garden that's filled with warm water, milk, honey, essential oils and rose petals!  Yes, I really did feel like Cleopatra.
Finally, a massage to totally relax you after all that body pampering.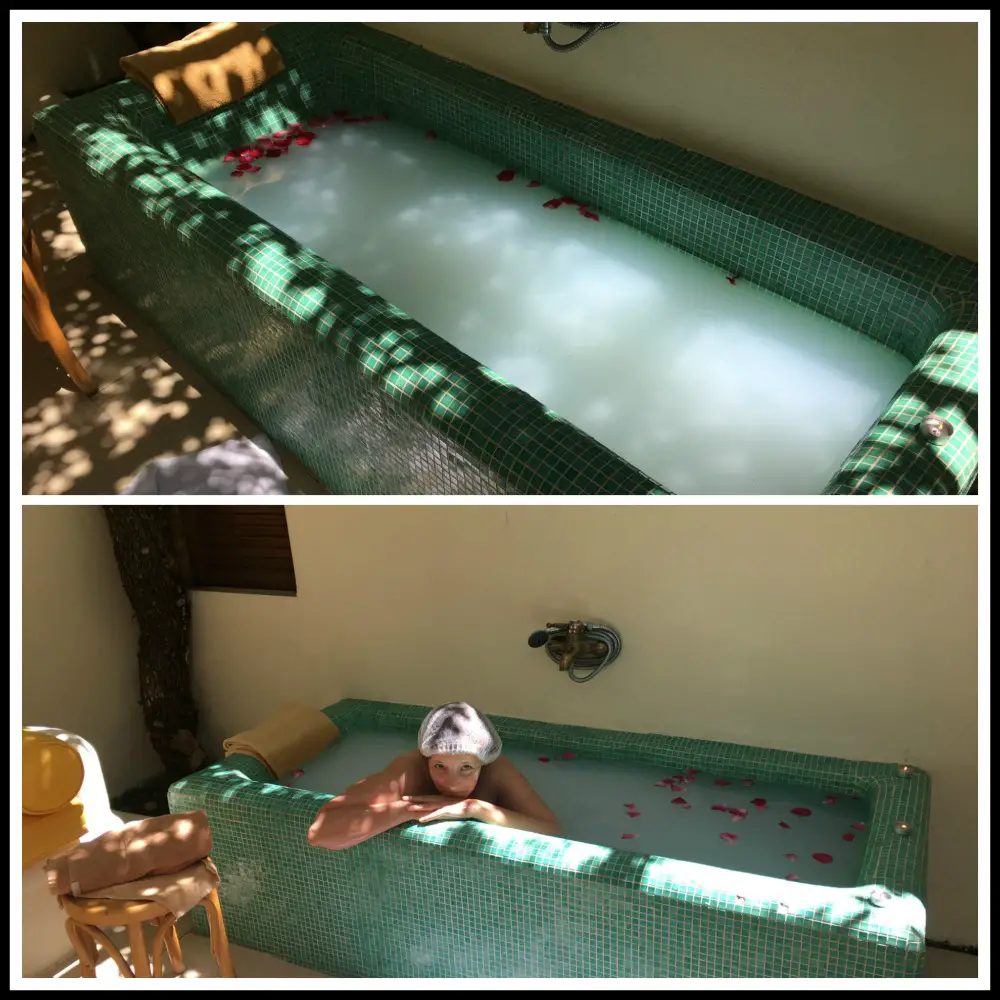 A 1hr 20 min treatment of this kind costs €120.
Grecotel Thalasso Kos – Conclusion
All in all, a stay at the Kos Imperial Thalasso is well worth it.  It's a tasteful and classy 'chain', not really worthy of the word 'chain' and the accompanying images that a chain package hotel throws up, to be honest.
It's perfect for families and couples – and even better for me, maintains its 'Greekness'. You'll receive a warm welcome from the attentive staff and for anyone looking to relax in luxury whilst also discovering more about the Greek culture and cuisine, you can't go wrong with booking a stay at a Grecotel hotel.
Word of advice: In high season it's possible the loud Greek music from the bar will waft in through your apartment window, so it can be noisy.  It's not necessarily a place to stay if you're looking for quiet. But then Kos, by the coast, isn't really an island that caters to that anyway.
Take a look for rates and bookings.
PIN for later