Kastellorizo – Greece: Where is it?
Kastellorizo is one of those incredibly remote Greek islands that people tend to visit for a completely real Greek island experience.  Its distance from other islands and the mainland, plus the fact it has no real package holiday appeal, means that it's a Greek island that appeals to those looking for relaxation and aesthetic beauty.
The 1991 Oscar-winning film Mediterraneo was filmed here, the island's Venetian architecture making it perfect for the film's storyline.
From the above map, you can see how near Turkey it is (only one nautical mile, actually) and a LONG way from Athens.
It's about three hours by ferry from the more mainstream island of Rhodes or Kos and also has a tiny, almost comical airport – more an airstrip that propeller planes can land, making travel from Athens easy – more a place where supplies can be dropped off for the locals (in the last census only a local year round population of 492 people was recorded).
Things to do on Kastellorizo Greece
As it's a remote island – it's only 41 sq km (110 sq miles) it's worth coming maybe for a couple of days to see, and most – if not all – of the activity is centred around the port of Megisti, as is the accommodation.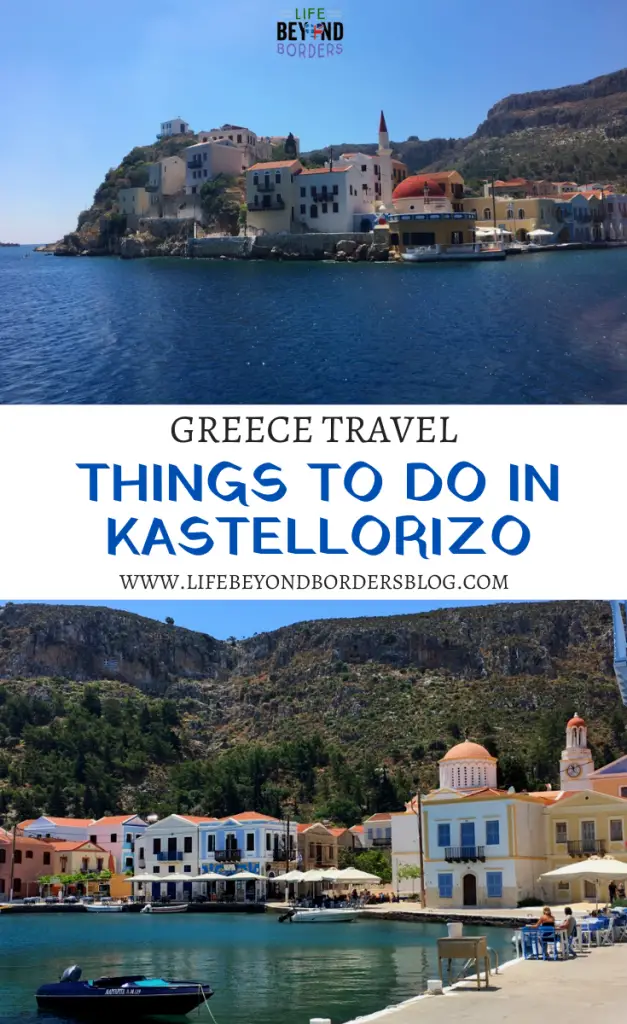 Alekos Zygouris – the sculptor of Kastellorizo
I bumped into Alekos Zygouris back in 2014 when I was on a ferry travelling from Rhodes to the island. We were both watching the sea go by and the occasional dolphin rear its head.  Sitting out on deck, we got chatting and he told me about his life on the island; in brief he's lived there for over 35 years – in the summer mainly – and lives amongst the limestone rocks at the harbour's edge.
He lives frugally off his occasional sales of sculpting work – but demands and expects no payment for this project he's undertaking. His aim is to sculpt the rocks into something magnificent so that future generations will have something to be proud of.  "Not a lot to be proud of in this day and age I'm afraid" he reflects. "Maybe I can help do something about that, at least visually."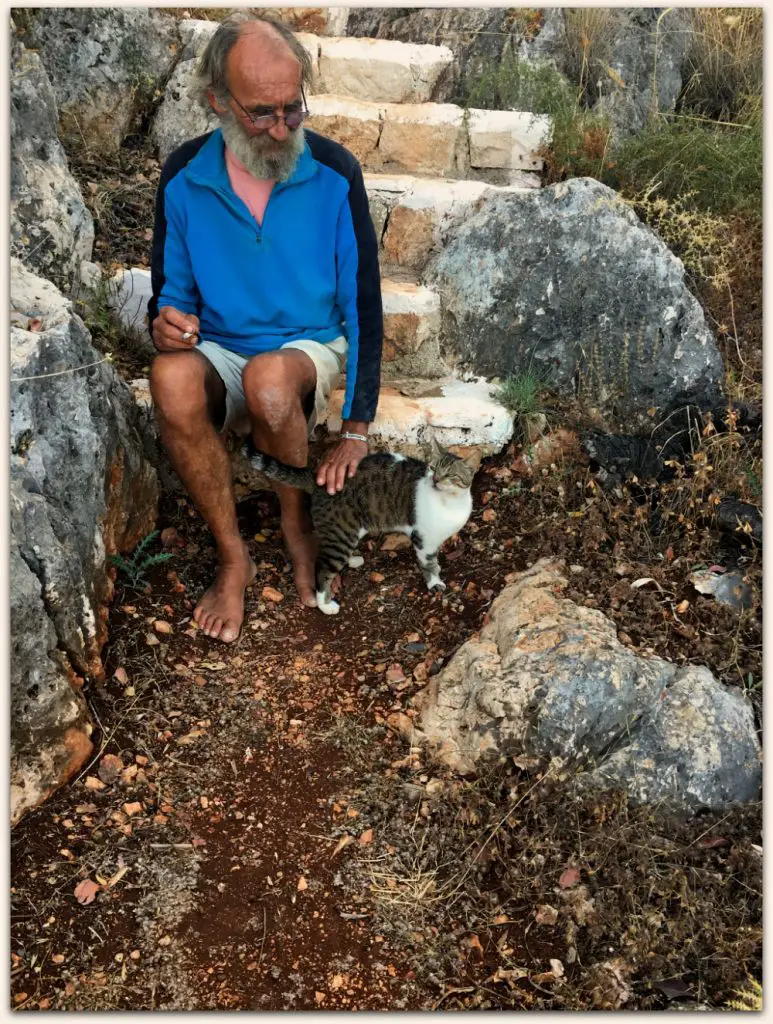 Fast forward to when I visit again and I pop into a local taverna to have some lunch at Alexandra's who, I have to say, are very friendly.  See here my photo with the mother of Alexandra.  Quite deaf, she was happy to have me sit with her and although we couldn't understand each other we nodded along, munching bread and taramasalata dip together.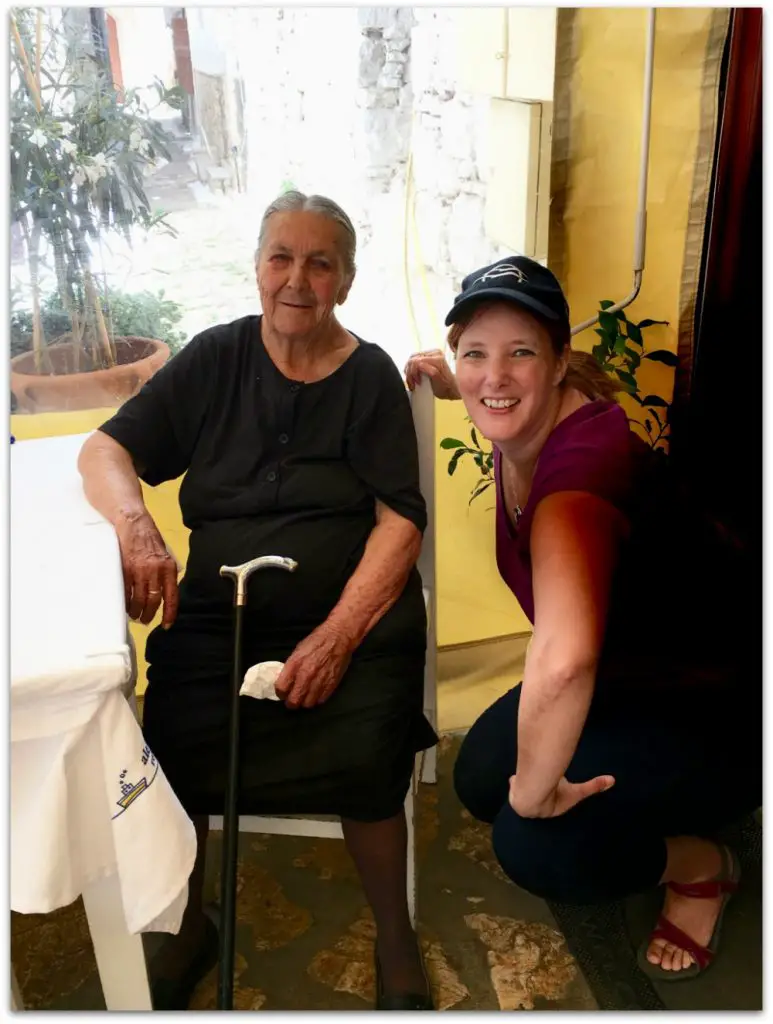 I ask the owner if Alekos is still around.
Ah yes, of course!  Are you going to visit him?  If so, can you take him this food please?
I grinned as I took the proffered food packaged up.  I remembered; Alekos lives in pretty much isolation out by the harbour edge in an old chapel and tent.  He doesn't have any running water, electricity or the such…he prefers to be at one with the elements in order to express himself on the environment around him; the limestone rocks he works with using only a hammer and chisel.
It's nice to see the local eateries looking after him and, effectively, sending food parcels. Not that I needed a reason to take a visit, but I could take him some food too.
Amongst the Kastellorizo Sculptures
I amble past the vast Hotel Megisti at the end of the harbour and pick my way through the vegetation and rocks to the little chapel at the end…where a cat greets me (of course). Stooping to stroke her, Alekos must have heard my approach and stops his work, coming to greet me.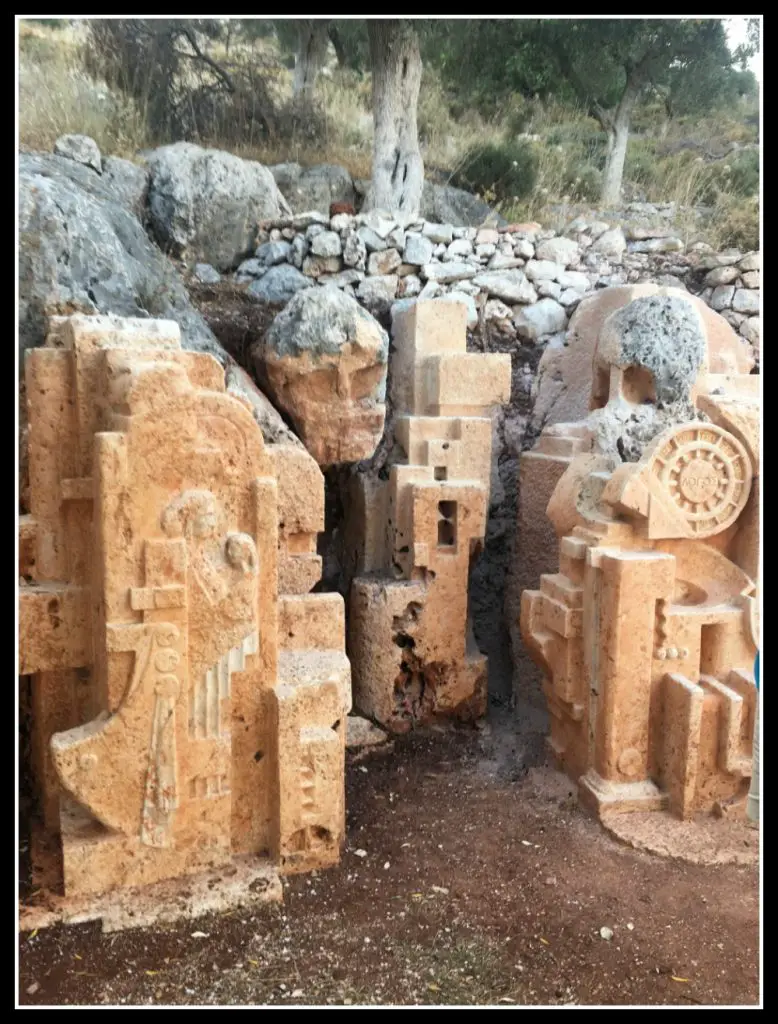 Rebecca, yes?
I was really touched he remembered me from several years ago.  We wander around his work and I admire at how much it has come on in the three years since I last saw it. Handing over my food parcel, he makes me a cup of herb tea from his gas stove and we sit and watch the sun set over the sea and the boats chugging along to/from the harbour.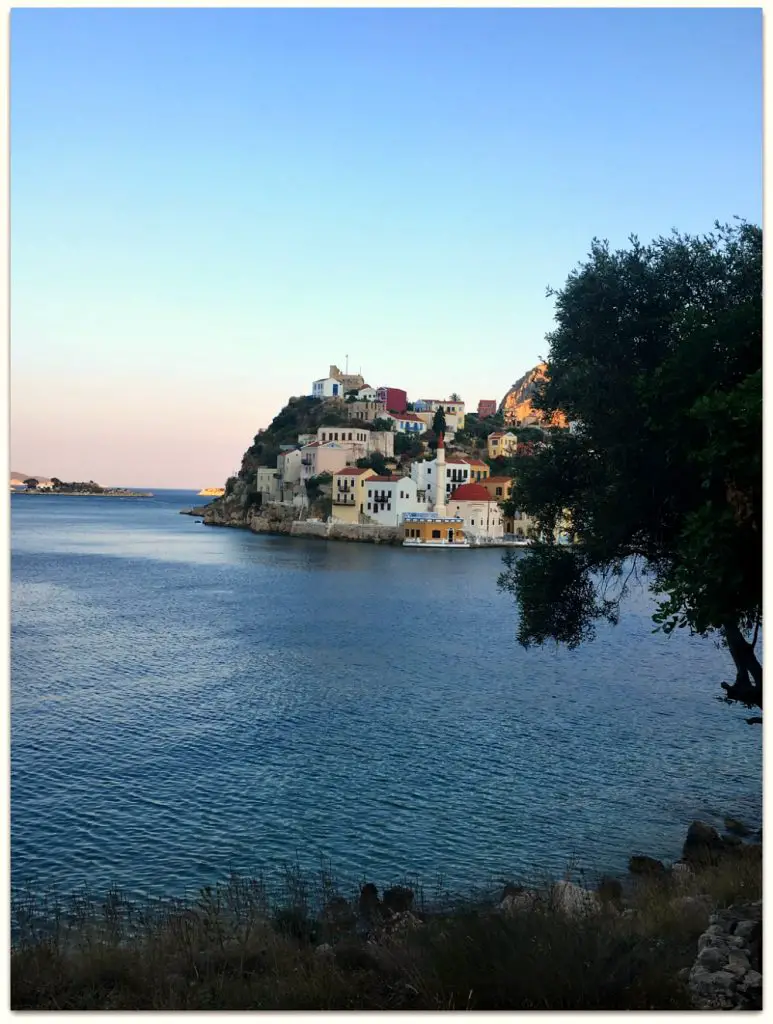 Well, see for yourself Alekos's work…I think you, too, will be amazed.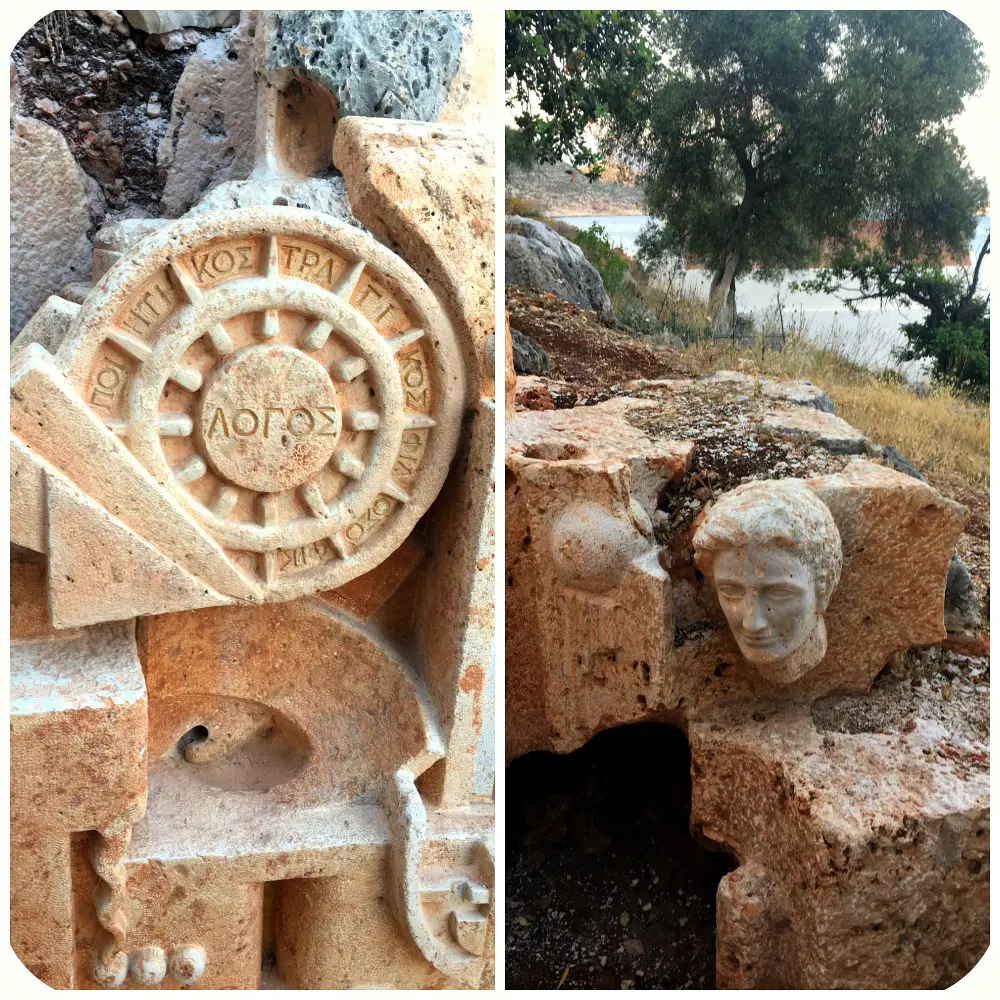 For your pick of hotels to stay in in Kastellorizo, check here and here.  I do hope you'll come and visit this island – very near to Fry in Turkey.  Be sure to watch out for these amazing sculptures…they're pretty hard to miss.  This is the work over 14 years…and he intends to keep working at the rocks…it's where he is happiest.
How to find the sculptures of Kastellorizo island, Greece
Be sure to go past the Megisti Hotel at the harbour's end and visit Alekos in his chapel.  He welcomes visitors, or you may be lucky and see him actually at work. But don't stay too long; as a man who loves nature and lives so much alone, naturally he likes his own company, so be respectful of this.
Tips
Fly to Rhodes then take a ferry.
No need to spend any more than 2 or 3 days on the island – it's tiny (and quite expensive).
Why not then head off to the delightful island of Symi after.
Greek ferry times can be found here.
PIN for later