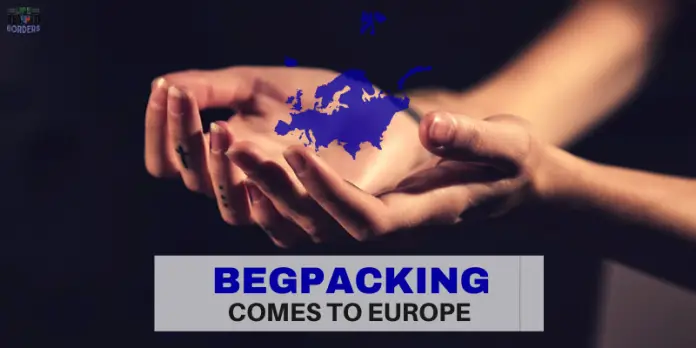 Picture this scenario: A sunny day in Athens at the start of spring 2017…I come across a controversial and, to me, distressing sight: two lads 'begging' for money to fund their onward travels.  They were 'beg packers' who were 'begpacking', in essence.
Originally published in AUG 2017. Revised MAR 2020
I've read about Begpacking – is it a recent phenomenon? – happening in Asia, and couldn't really believe it: how would anyone have the gaul to ask total strangers to fund their travels?  It smacked of 'privilege' to me, and the begpacking phrase came to light (a phrase I'd never really understood to be honest; but in this instance I understand it as a phrase to distinguish otherwise 'affluent' young people who run out of money on their travels and just want others to give them some so they can continue).
Forgive me if I am grossly oversimplifying it – and that's why I admit I need to reserve judgement…until I experienced begpacking in Athens, Greece.
Begpacking had come to Europe.
Begpacking in Europe: What happened?
So, I was walking along the street in a busy tourist area and had experienced the 'usual' people begging; on the Metro offering me biro's or tissues to buy (hey, at least they were offering me something to buy), young kids playing those annoying accordion things, the Greek equivalent of The Big Issue being sold (Sheida) – people doing something.
I round the corner of my destination, near the Acropolis, and there are two guys sitting on the floor on cardboard – relatively well dressed…at least, not in a way you would expect homeless people to dress.  (Feel free to cuss me out if you think I am using inappropriate language, but I am merely stating, in my own words, what happened).
They have a sign in front of them (my paparazzi skills weren't so great, so I couldn't get it in focus too much – sorry!) saying they have not enough money to buy tickets to go to Crete.

I try to reserve my judgement when my mind is saying "beg packers!" so, as is my way sometimes, I go to a place and buy some biscuits and two bottles of water to take to them (I never give money to anyone begging – I prefer to give food).
I open up an (albeit short) dialogue.
"Here you go, have some water" (it's taken with no thanks).
"You might want to thank me"
Them: "Thank you, but we're looking for money to go Crete."
(Slightly taken aback at the brazenness of them not at least appreciating what I'd given them – is that me expecting too much?): "OK, so if you haven't the money, have you been to your Embassy for help?"
Them: "We don't want to go home, we want to continue our travels.  The Embassy will just arrange for us to go home.  We want to go to Crete to travel."
Did you try to look for casual work?
Them: "No no no"
By this point I was feeling too angry to continue speaking, so I walked away.
To be fair:
I didn't stay to get the full story.
Maybe they'd been mugged and were not about to admit it to a stranger;
Maybe they were from a country where it's hard to get a visa to travel…and running out of money was embarrassing for them so this was their only option;
It's hard in Athens to find casual work;
Maybe once they got to Crete, they'd look for casual work.
But I never stayed to find out.  I was too incensed at the time.  It was only once I got home and simmered down that I tried to see both sides.
But with all the press about begpackers of late, I admit I can't help but feel maybe they are just taking advantage and being incredibly insensitive.  To borrow a phrase from a friend:
There is a certain sense of entitlement and lack of sensitivity to be begging in the streets of a city where many of the residents are really struggling, and which is being flooded with people fleeing horrors we can't begin to imagine, in order to fund the next leg of their holiday.
It also shows a considerable lack of insight or foresight. Surely anyone inclined to give to a beggar is more likely to give to someone in real need than a couple of healthy young lads wanting to continue their travels?
Am I being harsh? I am trying to sit on the fence, I really am – but this was my experience and I wish I'd stayed to talk longer to them.
What has your experience been of begpackers/begpacking? Are you a begpacker that wants to share your side of the story?
This Independent Newspaper article talks about why the journalist refuses to judge westerners busking to fund gap year travel, but these guys I experienced weren't even busking…just begging.
Meanwhile, if you're coming to a Greek island or Greece at all, here's my free downloadable packing list guide (if they'd have asked, this is one thing they could have got free from me).
Looking for ideas on what to do during your citybreak to Athens? Read my Things to do in Athens 
Thoughts? Share in the comments.
PIN for later