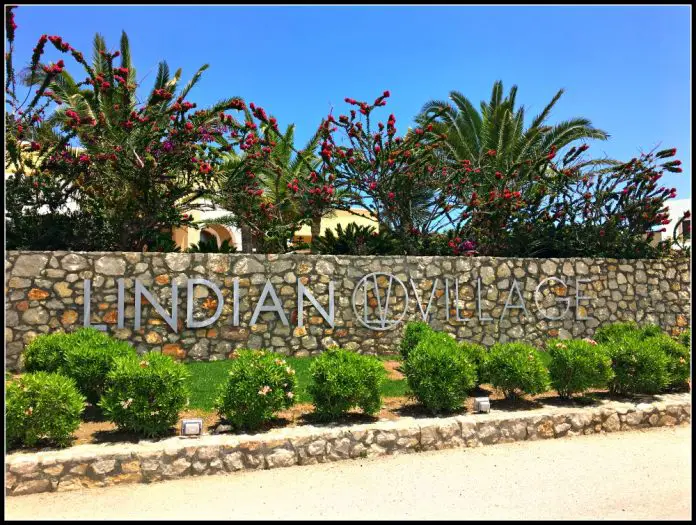 Followers of my site will know that I am a big fan of the Dodecanese islands in Greece, especially Rhodes. Most of my posts written about Rhodes have tended to concentrated on the Old Town. My visit to Rhodes in the summer of 2017 afforded me the chance to explore a different place to stay, and not one I would have thought to choose: The Lindian Vlllage Resort near south Rhodes.
**This post contains affiliate links. For more info, see here.**
**I was a guest of Lindian Village – note that all thoughts and opinions remain my own**

Lindian Village Resort
I'll be honest – I've never really been a 'resort hotel' type person, but boy was I in for a surprise when I set foot in Lindian Village.
So what is Lindian Village exactly?  As an independent traveller, I'd always been wary of what I perceive to be package holiday 'holidays', but Lindian Village was to change my perception of 'resort' for the better.
Note: I have to add that I think Lindian Village is in a class and concept of its own as, (so far), I have not come across anything else like it.
Lindian is, as it says, a 'village.'  It's a purpose built 'village' consisting of whitewashed rooms and suites built over 60 acres of beachfront land.  Yes, it has its own private beach too with not just sun beds, but chaise lounges and beach beds too.  It's glorious!
**For your very own free Greek island holiday packing list download, click here.**
Lindian Village facilities
You have a choice of dining in five restaurants ranging from Fine Dining, A la carte to Buffet.  You can have breakfast in your room (extra), or eat it beside the swimming pool. This is a sit down breakfast, but there's also a buffet breakfast option.
Swimming pool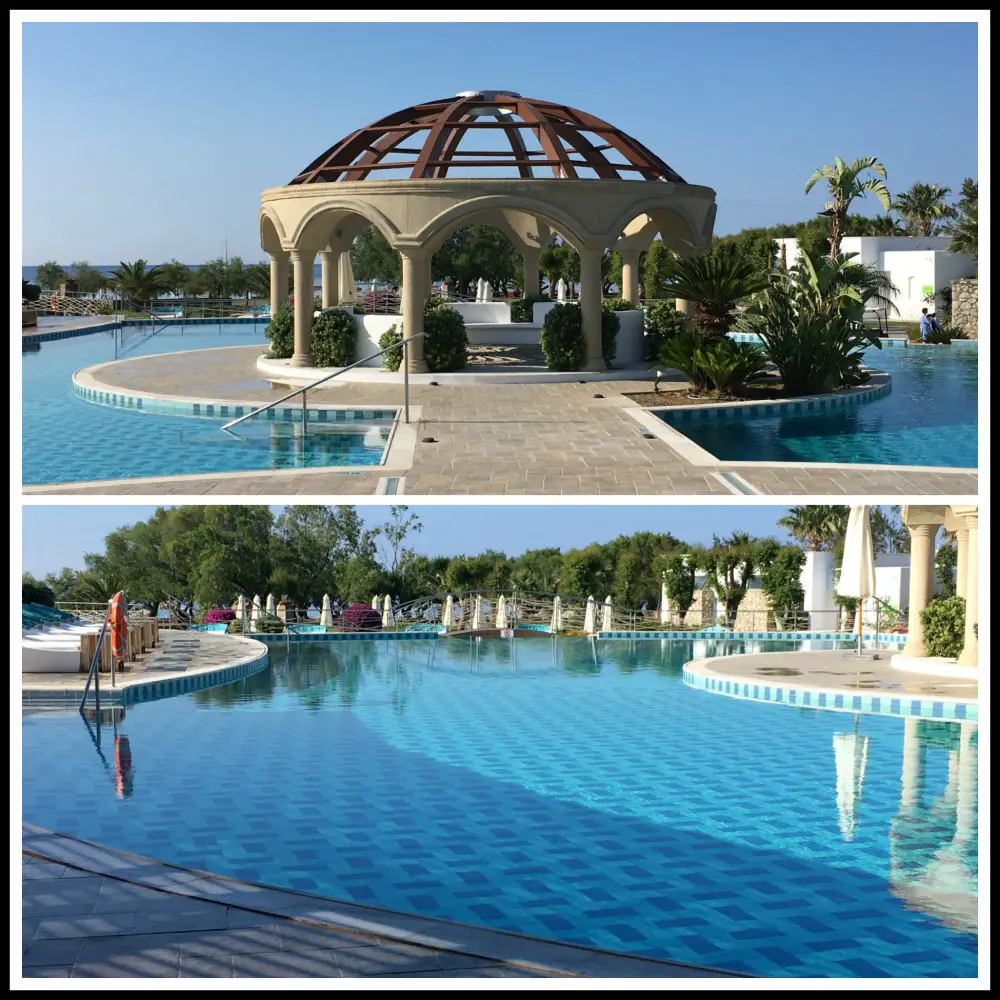 Talking of pools, Lindian Village offers a large freshwater pool, so if you don't have a suite with your own plunge pool (more on that later), then this is a wonderful place to chill if you don't fancy getting sandy.
This is also great for kids as there's a lifeguard on duty (or there was when I was there), plus there's a small kids pool.
Spa
Let's not forget the spa!  After a 'hard day' of sun stress on the skin, why not head to the on site spa for a massage, reflexology treatment or sauna…just some of the many treatments on offer.  How about a mani or pedicure? They also have professional chiropractors if you need it – jus remember to book your treatment in advance.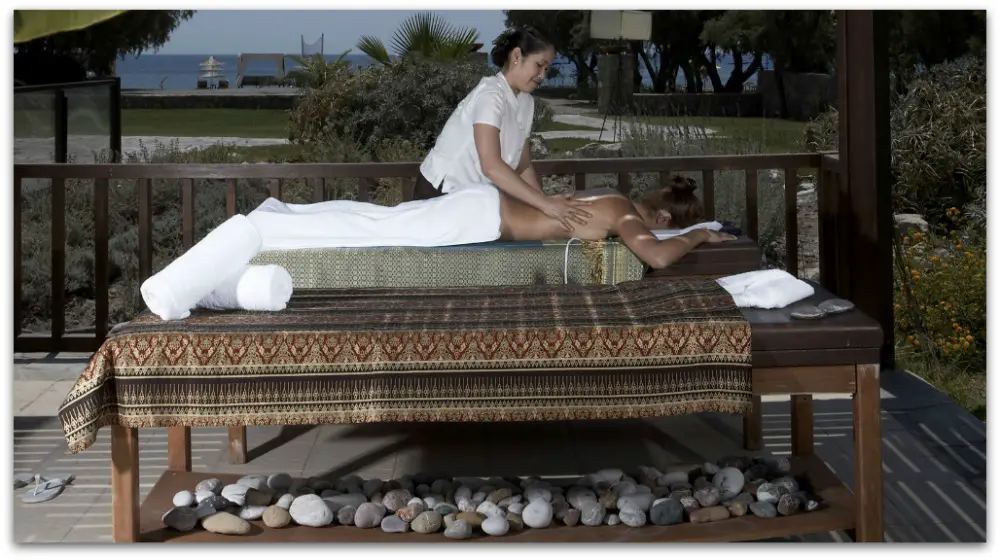 Now, about that suite; There are various suites on offer to suit all tastes…particularly nice for honeymooners (as I'm sure you'll see the photos show).  I was blessed to be placed in a River Passage Pool Suite which consisted of:
King size four-poster bed (sometimes with rose petals scattered on it!)
Living room
Work desk
Dining table
Bathroom with bath and separate enclosed monsoon shower
Private swimming / plunge pool with lounging area and chaise lounge
You can imagine where I spent most of my time!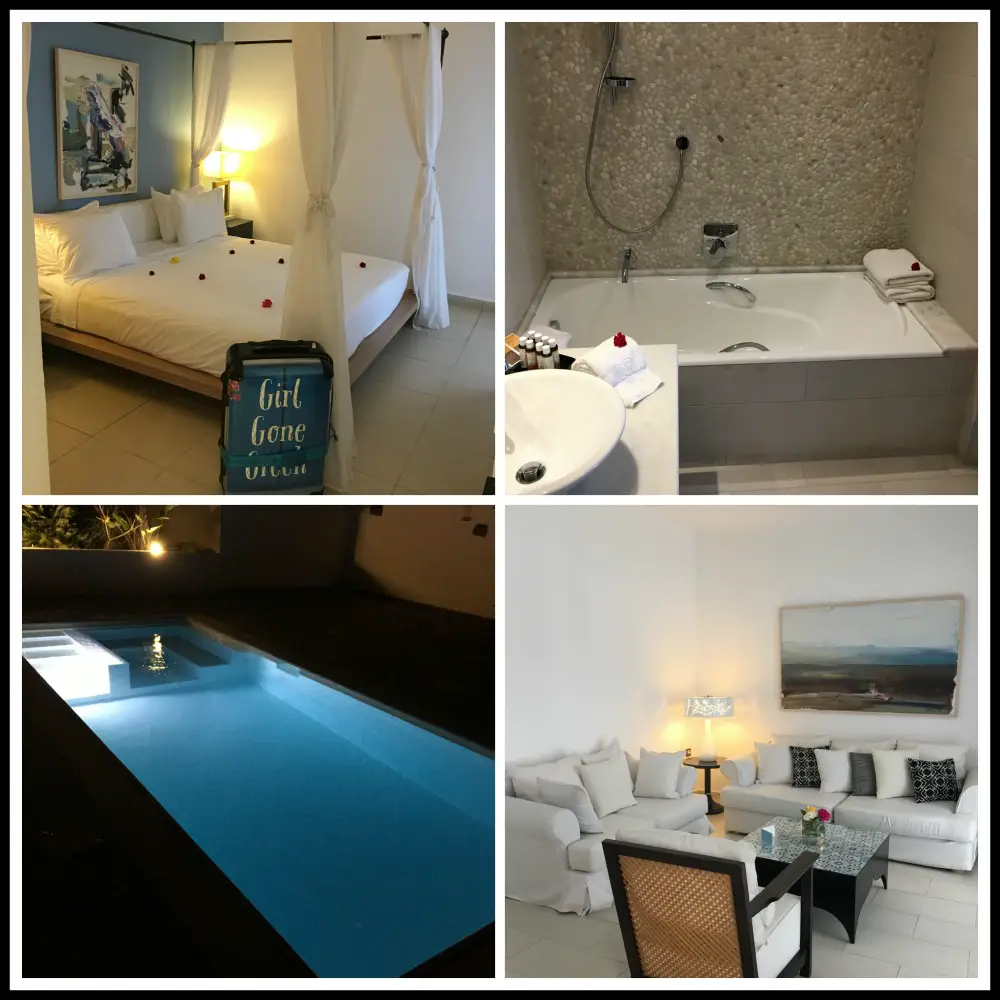 There's no doubt you pay for quality and luxury, but it's very much worth it.  If you're one who wants a very private holiday experience, this is for you.
The Greek Experience at Lindian Village
What I loved most about this place is their Greek Experience package.  This, to me, cemented in my mind how different Lindian Village is from other 'package' holiday experiences.  You're not just in an impersonal hotel that could be anywhere in the world that has sunshine, a beach and cocktails.  You're encouraged, through their Greek Experience programme, to – well, literally experience Greece!  This can range from:
Greek cookery classes
Greek wine tasting on the beach
An Open Air cinema night (which Greece is famous for in the summer) with a focus on Greek films
A Medieval Mystery Tour (where you're taken to the Medieval City of Rhodes that I keep on writing about), plus much more.
So, as you can see, 'package holiday' doesn't have to mean a package at all.  The 'Lindian Village Experience' has taught me this and corrected my vision.  I do hope, if you get the chance to visit Rhodes, you'll treat yourself to a stay at Lindian Village.  It's worth it and, looking at their independent Trip Advisor reviews, they get a lot of repeat clientele.  This speaks volumes.
PIN for later