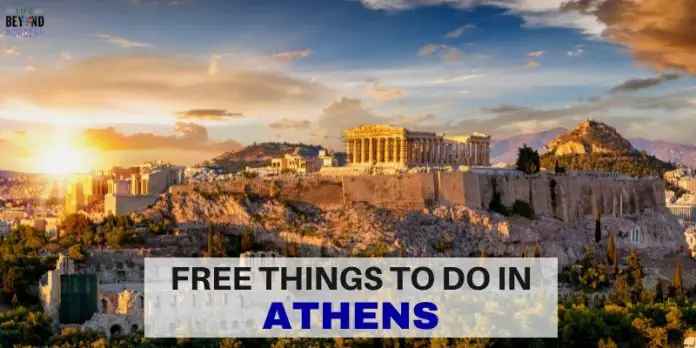 You don't have to spend a fortune in order to enjoy yourself in this Greek capital city. There are a number of activities you can do for free, including:
And I've written a post about Fun Things to Do in Athens, Greece but the recommendations there aren't necessarily free.
So here I share with you a list of more free things to do in Athens.
Free Things to Do in Athens – Stroll around Parliament Gardens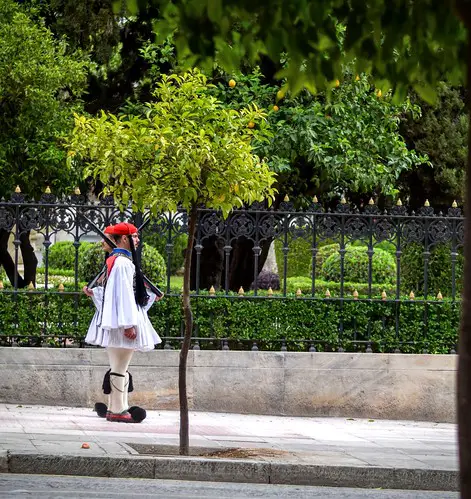 15.5 hectares of parkland and palm clad avenues in the centre of Athens. Located behind the Parliament building in Syntagma Square, the Parliament Gardens offers a peaceful, green respite from the concrete jungle. You can find a small zoo, a children's library, a duck pond and a café.   Sit and enjoy a book in the shade or watch Athenian life go by.
Free Things to Do in Athens –  The Rock of Areopagos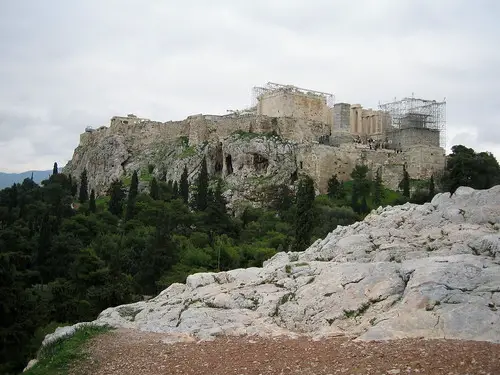 Situated below the Acropolis, it's a bit of a hike but once reached, well worth it. Be astounded at the surrounding view of Plaka, Monastiraki and most of Athens, as far as the coast at Piraeus and the island of Evia.   Best viewed with a partner at sunset – take a bottle of red wine.
Beware: wear non slip shoes…the steps up are made of marble, hence very slippery
Free Things to do in Athens –  Plaka Flea Market & The Plaka Stairs
 

View this post on Instagram

 
Take a wander down to Plaka, the city's oldest neighbourhood, on a Sunday and stroll around the flea market. You'll find a whole host of items to peruse – from old army paraphernalia to kitchen gadgets and ceramic wares. The various street life lends Plaka extra character and tantalises your senses with the various Greek traditional dishes on offer.
Tip: get there before 11am. The Market is very popular with locals too, so it gets busy.
The Plaka Stairs is another popular tourist attraction.  Nestled at the base of the Acropolis you're sure to enjoy a slow climb amongst the many cafes and people enjoying the outdoor lifestyle.
Free Things to Do in Athens – Hourly changing of the guard – Parliament
 

View this post on Instagram

 
Watch the Evzones change shift outside Parliament building with their ceremonial 'dance.' Wearing the uniform of the Klephts, mountain fighters who fought the Turks from 15th – 19th Century: white tights, white skirt, white blouse with very full sleeves, an embroidered vest, red cap and shoes with big pom-poms – they guard their Tomb of the Unknown Soldier with respect.
Tip: Go on a Sunday at 11am to witness the big event, replete with military brass band.
Free Things to Do in Athens – Take a stroll around Piraeus harbour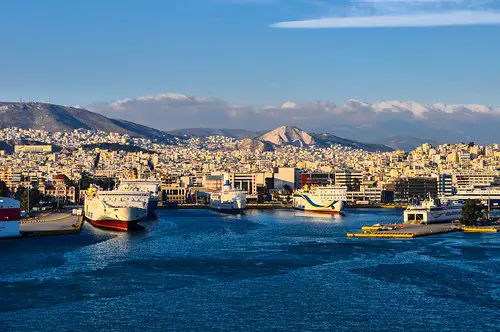 Greece's biggest port, Piraeus, is a fascinating place to wander around, particularly if you're into ships. Watch the bustling tourists and shouting ticket touts as they board the many ferries departing for the 100's of Greek island destinations, and the workers load and unload cargo from the numerous container ships. Luxurious yachts vi for space in the harbour while cruise ships ferry their passengers to land. A hive of activity, you won't be bored.
Free Things to Do in Athens – The beaches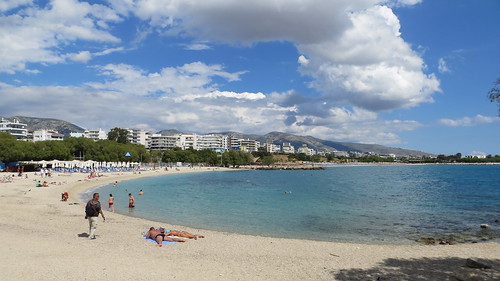 Not many capital cities can boast a location on the coast with clean beaches.
Votsalakia beach can be found in Piraeus and whilst the coast here is pebbly, it offers clear waters for swimming. Alimos is another popular beach, only 11km from the city centre. Take your towel, sunscreen, hat and book and spend a leisurely day, safe in the knowledge you haven't far to go to get back to your hotel.
Free Things to Do in Athens – The Agora of Athens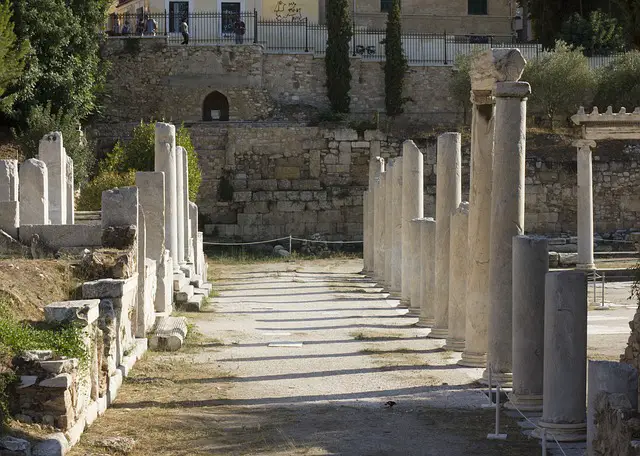 Situated in the gardens at the base of the Acropolis/Parthenon, this makes for another peaceful respite in the centre of the city. Soak up the atmosphere with the knowledge that modern democracy originated here: entitled to their 2 pence worth, people would gather here and be allowed to speak for 2 minutes. Socrates was tried here for corrupting the minds of young people, found guilty and ordered to death by drinking hemlock.
Free Things to Do in Athens –  Archaeological monuments on a full moon night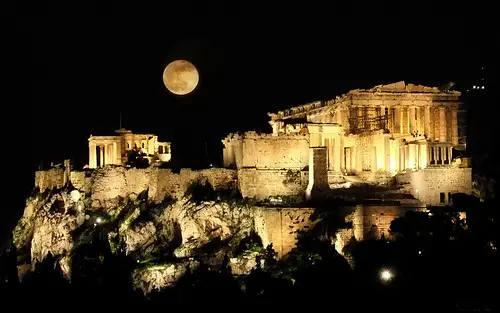 Heading to Athens in August? Augusts' full moon affords visitors the opportunity to visit monuments such as the Parthenon and the Acropolis Museum for free. Enjoy classical music as you wander down Dionyssiou Areopagitou Street at the base of the monument, witness the full moon rising and attend free talks in English about the role of the moon in Ancient Greece. All monuments open until the early hours of the following morning.
Free Things to Do in Athens – A stroll around the Exarchia neighbourhood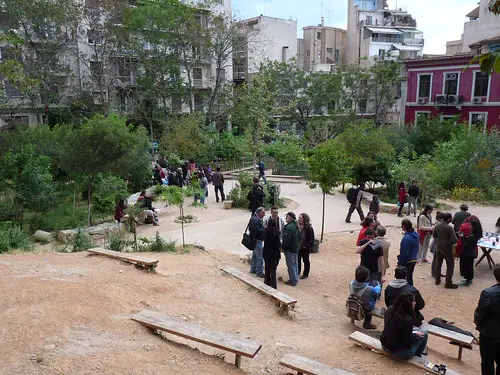 Coined the anarchist area of Athens, it's not as unsafe as the media makes out. Full of fashionable cafés and small food outlets and admittedly, whilst it does have a big police presence, it is a pleasure to wander around this area and view the amazing anti-establishment graffiti. Bansky fans will love it.
As you've seen, there are a number of free things to do in Athens.  You don't need to pay a fortune to enjoy Greece's capital city.
Have you done any of these activities?  What would you recommend?
Athens Travel App
For more ideas of what to do in Athens, download my Travel App for Android and Apple – Athens' Best – for the lowdown on where to eat, best neighbourhoods and more.  Click on the image below.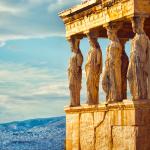 PIN for later