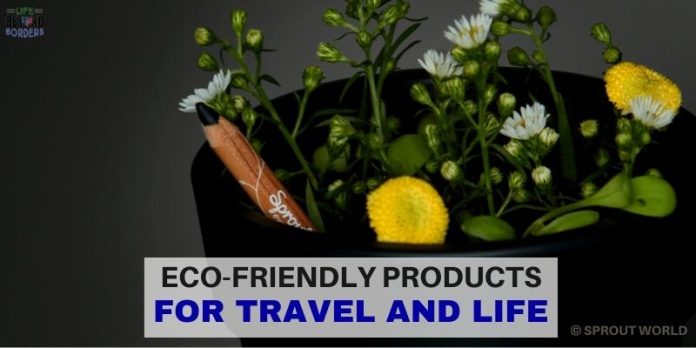 As a travel writer and author, I am increasingly aware of how important it is to practice sustainability and try to be an eco friendly traveller, however small. 
To this end, imagine my pleasure when I discovered another opportunity and step towards zero plastic through a fun eco friendly idea – the use of an eco friendly pencil; Sprout Pencils–a fun work idea to go green.
How can I be eco friendly in my writing?
How can Sprout Pencils help us be eco-friendly and to go green?  Well, in short the Sprout pencil is 100% natural and non-toxic. It's made of certified wood sourced from responsibly managed forests, graphite, clay and non-GMO seeds.
Seeds?  Yes, you read that correctly. This is where the eco friendly idea comes from.  At the end of each Sprout pencil there is a green capsule made of plant based cellulose.  Contained within are non-GMO seeds and the concept is, once your pencil becomes too short to continue writing, instead of throwing it out, you can plant it, either inside or out, making it a go green idea for your writing.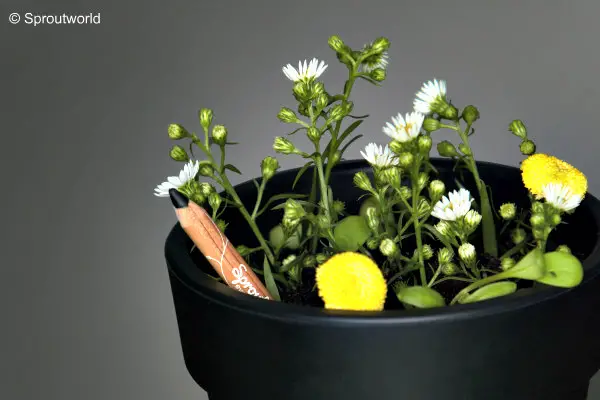 What seeds?
There's a range of choice; from plants and flowers such as carnation and chia to herbs such as coriander, sage or thyme.  You can even plant your own spruce tree seeds and watch it develop!
If you're too excited to wait to see the results of your eco friendly practice, then the Sprout website recommends ordering basil as it germinates within only 5-10 days.
There's a choice of sizes; a pack of 5, 8 and 32 pencils with a choice of seeds–and if you're a medium to larger business, you can order from 500 upwards.  They make great ideas to use within the workplace, plus larger orders can have the pencils personalised.  So why not make an alternative business card and print your website on it?
There's a minimum order of 10 for a personalised pencil, and you have only one seed choice, not a mixture.

Daily eco friendly routine
I've always used the old pen and paper to make notes – not relying on my mobile phone (what if it gets stolen?).  I also keep a pen and paper beside my bed at night so invariably, when I wake up with ideas in the middle of the night I can jot them down. 
Now I do so with my Sprout pencil, the current one I am hurrying to use is carnation.  I feel it's helping me to be eco-friendly and I can't wait to plant it at the end of its life cycle. 
Other Sprout products
Sprout have also designed eyebrow and eyeliner pencils, the world's first patented such product (only available in the EU).  The little seeds in the tip are wildflowers, so once again I can't wait to finish it off to plant.

Whether you're after a fun gift for the kids and want to encourage environmentally friendly practices in the home and school (Sprout also have coloured pencils), workplace or are a writer like me and like the feeling of giving back somehow, Sprout is a unique go green way to give back to our world, and the bees.
Order your Sprout products here (small commission to me at no charge to you).
PIN for later