As an island, Paxos is relatively small at only 30 sq miles.  There are several luxury villas in Paxos to rent on this Ionian island, inviting the visitor to merely go and relax for a whole week or longer.  As it has no airport and the best way to reach it is to fly to nearby Corfu and then get a small ferry journey (up to about an hour), it means it doesn't attract the package tourism crowd…perfect!
Here you'll find a great search engine to help you book your journey:
**Note: My trip to Paxos was hosted as part of research for Villa Glaros – a luxury villa on Paxos**
Things to do on Paxos – Luxury Villa Glaros to rent
As mentioned, many people come to Paxos to rent a villa.  I had the pleasure of experiencing Villa Glaros during my hosted stay and would highly recommend this as the place to base yourself when coming to the island.
Exclusive Villa Glaros offers a whole host of amenities and would really suite an extended family or corporate break, with the following;
Direct transfer from Corfu to Paxos arranged for you
6 ensuite bedrooms sleeping 10-12 guests.  7 bedrooms if you choose not to utilise the services of the chef and concierge (yes – Villa Glaros even comes with its own chef and concierge, should you need it.  See more further down).
Daily maid service
Grounds on 3-4 levels surrounded by pine trees with various secluded sun and seating areas
Views from the villa all out to sea/the mainland opposite
Option of having a resident chef and concierge who have experience of working in places such as Verbier, The Hamptons and Lake Como
Floodlit tennis court
Heated outdoor pool
Open air gym with high quality equipment
Tree house in the woods – great for children (and adults young at heart!)
Direct staircase to a private cove where you can swim/sea kayak – all equipment included
Small sailing boat available to take you around the island / to AntiPaxos. Skipper for this can be arranged
Appointments with experienced personal trainer, masseur, yoga teacher can be arranged
Check it out: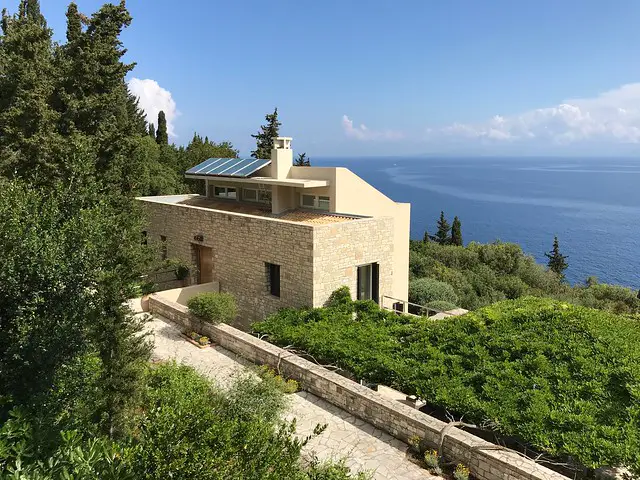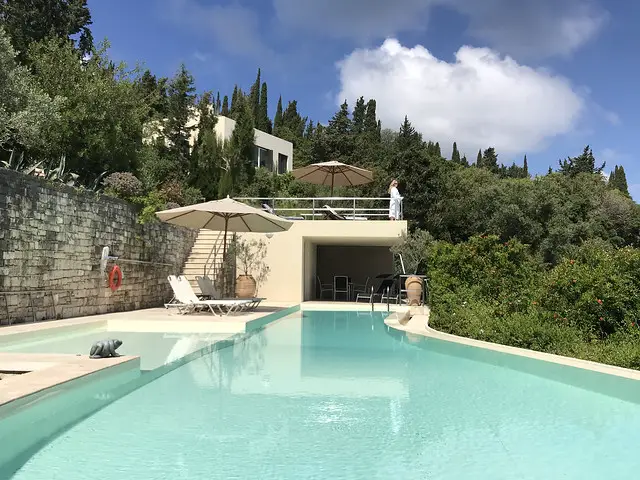 Be sure to check out more photos of Villa Glaros and Paxos Villa Greece's interior and exterior on the Flickr Account of Heather Cowper.  Be tempted to book!
Exploring things to do on Paxos
Whilst it is tempting not to leave your villa, there are several things to do on Paxos that make it worth taking the time to explore.  During my time there I experienced a variety – from the ubiquitous beaches and boat trips to ancient wells and a traditional village I'd recommend.
And I would also recommend preparing yourself for your holiday to Paxos with my Greek island all round packing list – it's really handy and comes with a free downloadable/printable checklist.
You'll not necessarily need these on a Greek island, but my Recommended anti-theft travel items is a handy post that gives you tips from clothing with hidden pockets to secure baggage – perfect for your Mediterranean and European vacation.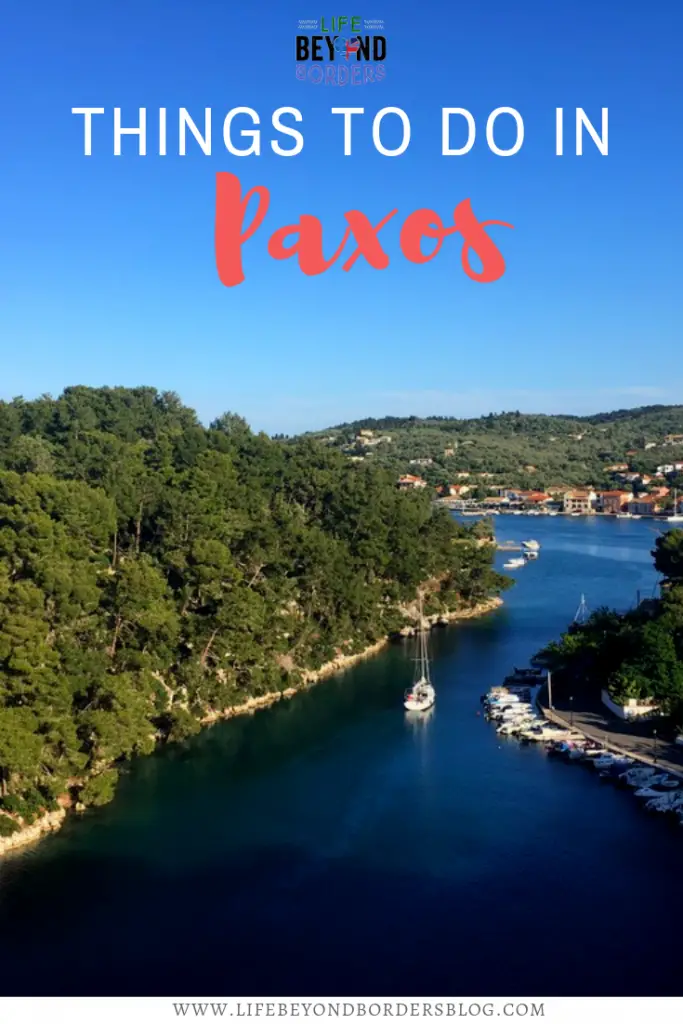 I've provided a handy map for you to see the location with a small description and images, so come and see what there is to do on Paxos:
Things to do on Paxos – Beaches and Harbours
Mongonissi Beach
Located in the south of the Paxos, Mongonissi is actually a small island linked by a causeway just 2 miles from the capital – Gaios – with rocky vegetation and a small sandy beach with a restaurant and cafe.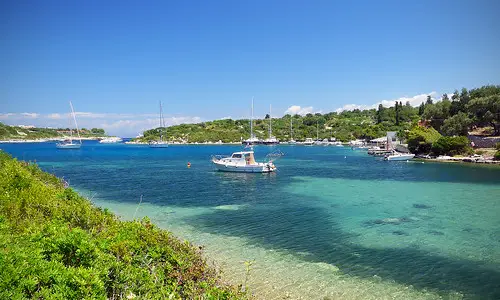 Plani Beach
At the northern tip of the island by the lighthouse, Plani is a windswept, wild beach with big rocks that can be seen from the lighthouse.  Park up here and then walk down, or accessible by boat.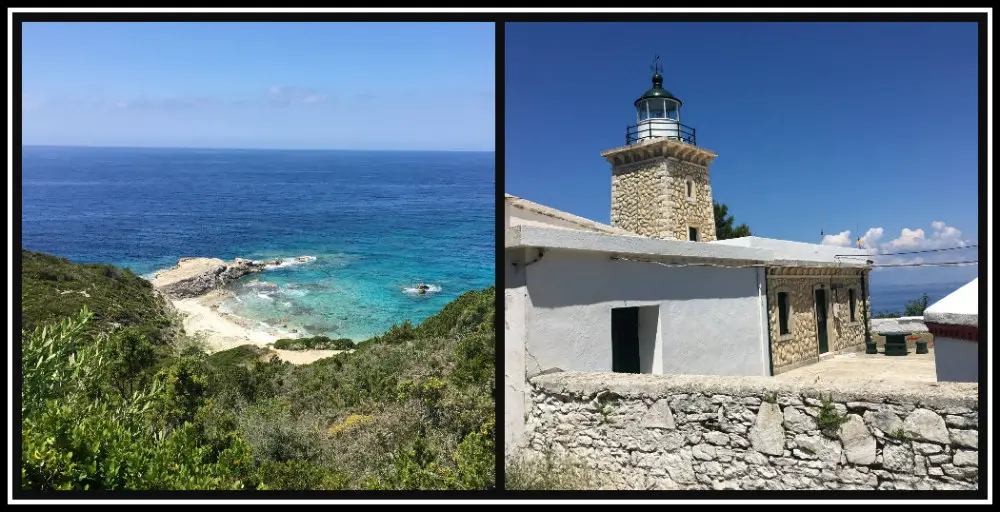 Lakka
A few minutes drive away from Faros – the lighthouse, you'll come to the picturesque traditional Greek harbour of Lakka with good tavernas and eateries as well as the blue water that makes Paxos a dream island – and which the Ionian chain of islands is so famous for.
Longos
More of a small harbour, Longos – also known as Loggos – is notable for its old olive oil processing factory – now an exhibition space.  It's a great place to take a boat trip to and anchor up and take a coffee or lunch in one of its many recommended eateries.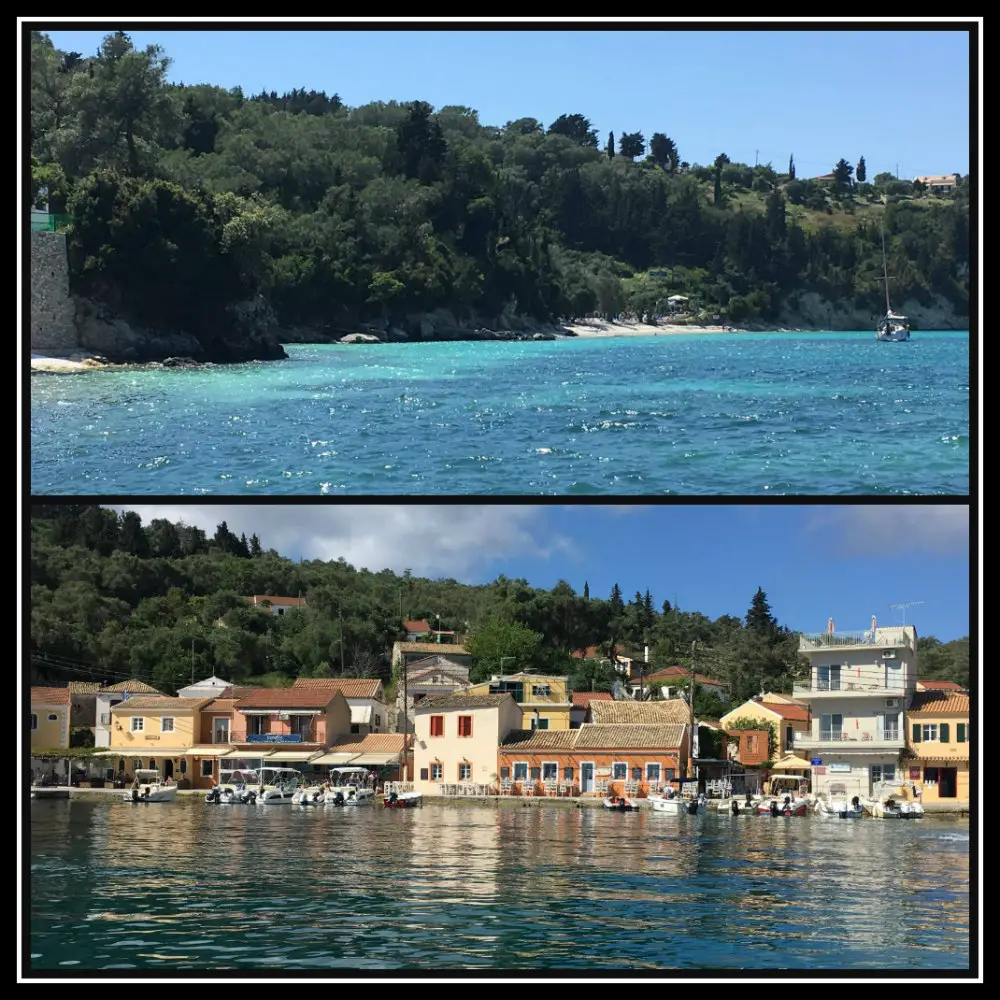 Gaios
This is where many of the ferries will come into when arriving into Paxos.  There's no airport, so Gaios is a bustling new harbour town that offers many boutique shops, tavernas, gorgeous blue/green hues in the water and a vibe of Greek laid back cool.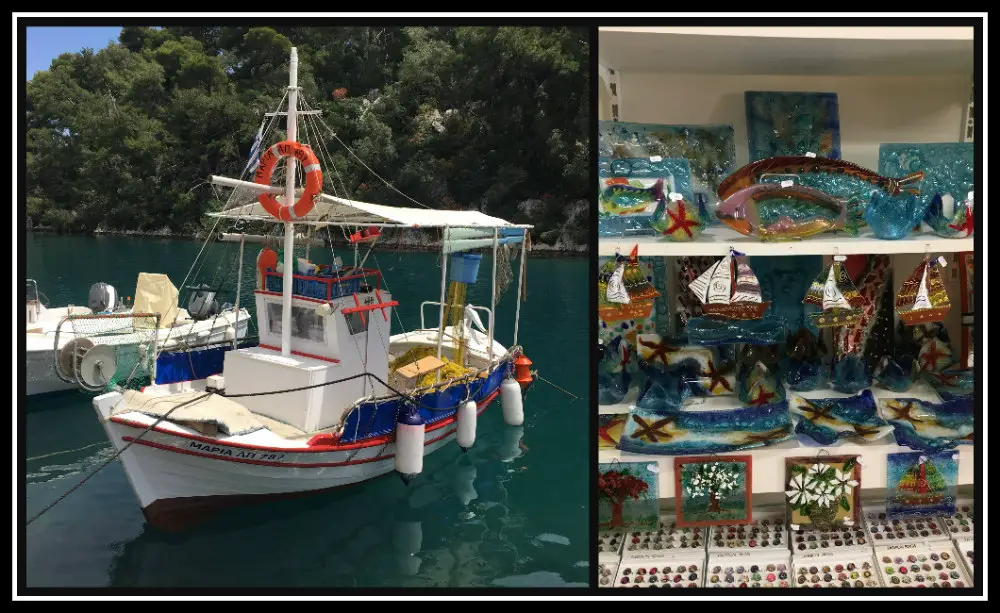 Things to do on Paxos – monuments
It took a long time to find these Cisterns of Sarakinos.   It's always nice to stumble upon a rare gem when exploring though, and I do mean stumble!
Buried deep within the olive groves near the village of Boikatika, these small stone structures are found down an overgrown track. In olden times they covered water wells to keep them safe from animals. They're deep and quite 'spooky' in a way, but very interesting and make for an alternative place to visit.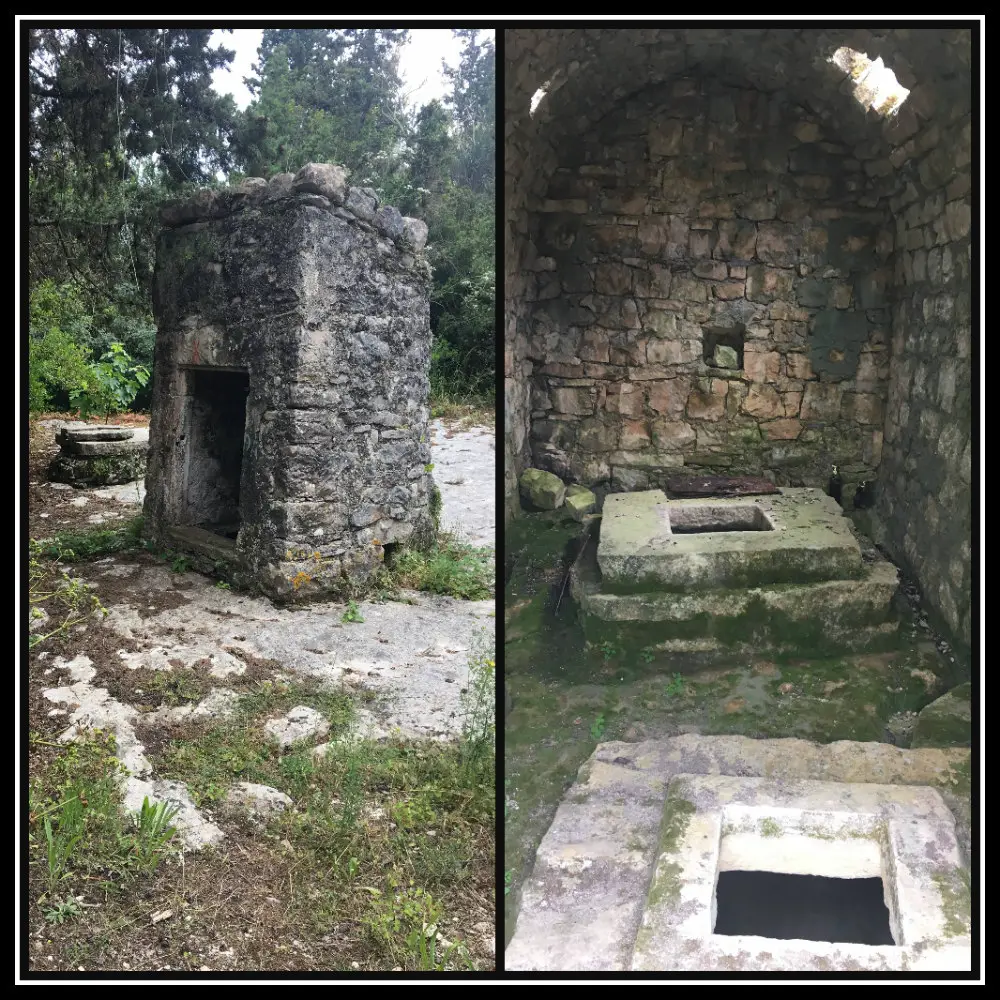 Things to do on Paxos at sea
You'll be hard pushed to visit any Greek island and not want to take a boat tour around it.  Paxos is no different.
A boat tour around Paxos revealed many wonders such as the beautiful naturally formed arch, formed as part of a collapsed sea cave. Also called "Kamara", Tripitos Arch can be found on the south coast.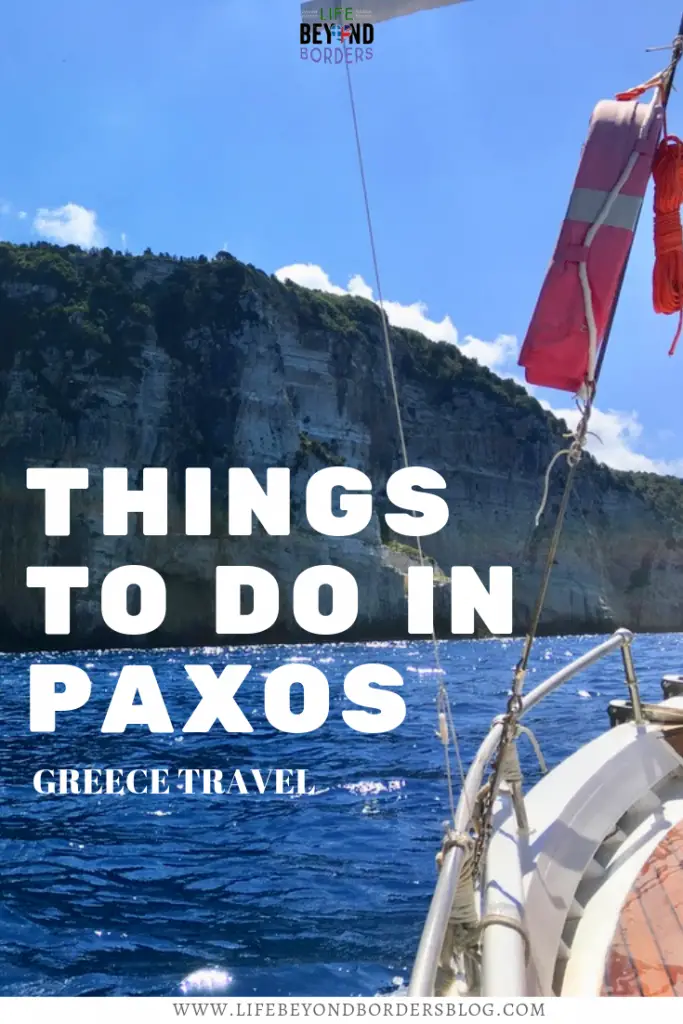 A lot of Ionian Islands offer blue caves – indeed, Zakynthos is famous for its blue caves and shipwreck beach.  The blue caves of Paxos on the west coast are stunning – and all the better because there not as spoilt by over tourism.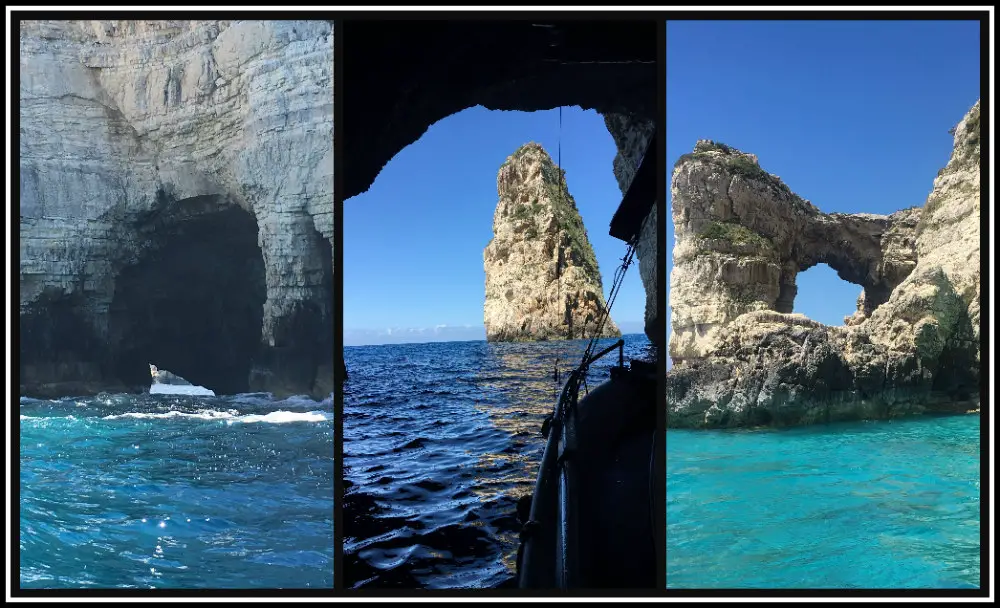 Last but not least, a boat trip to Antipaxos is a must. It's literally only 1.9 sq miles in size and only has a resident population of about 20!  It comes alive in the summer though, with beach bars and tavernas opening up.  A swim in the blue waters of Voutoumi beach is definitely recommended.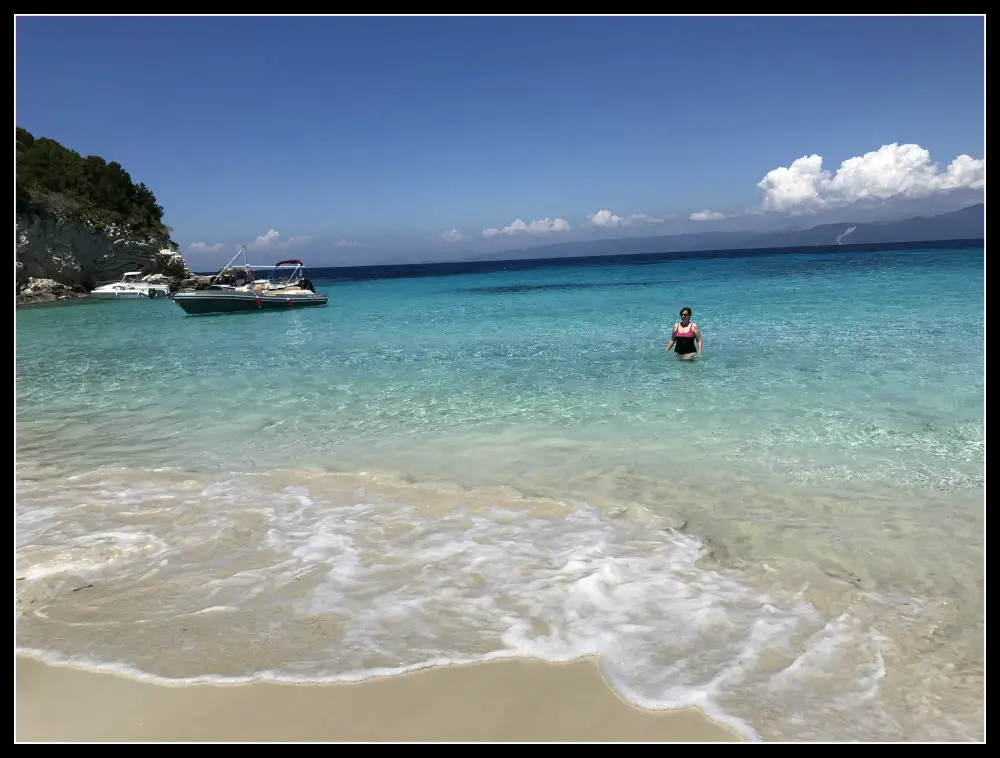 Things to do on Paxos – Traditional village
Most of the towns are focused around the coast.  There are a handful of inland villages, more hamlets than anything else.  My favourite was Magazia – a delightful small hamlet with two tavernas and church, plus small 'supermarket'.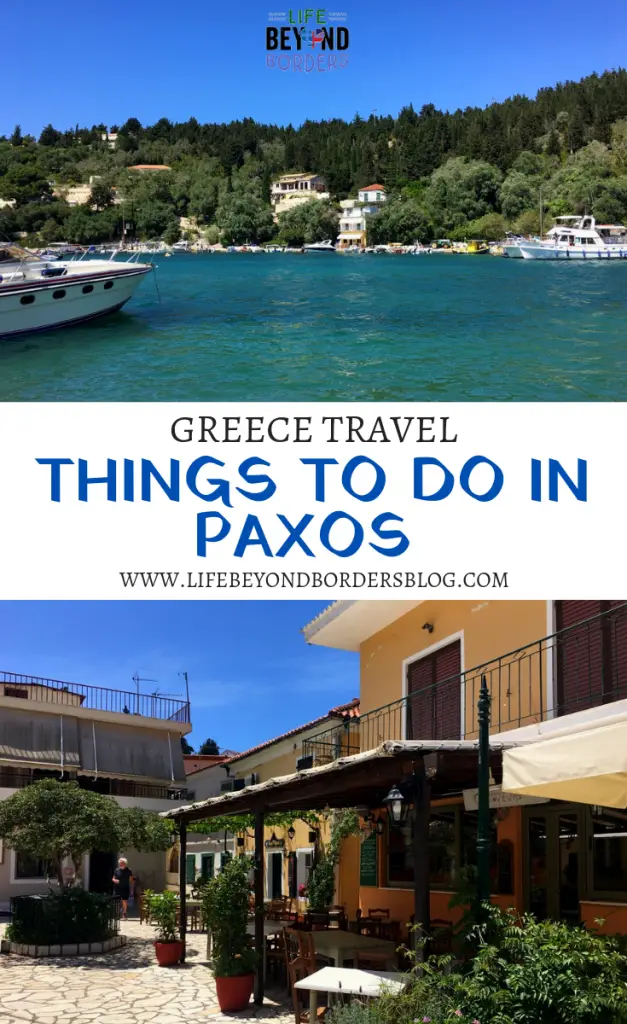 So as you can see, Paxos does offer some alternative activities beyond the relaxation in your luxury villa stay.  Make the most of it: hire a car, take a boat trip and explore.
Happy Holidays.
PIN for later