Throughout my time as a travel writer located in Greece, I am very lucky to have been able to experience various luxury hotel stays around both the capital, Athens, and various parts of the country.  When I was offered the chance to experience a luxury villa in Paxos island, Greece,  I jumped at the chance.  I didn't know Paxos as an island – and I hadn't experienced many luxury villas in Greece.  See here my Things to do on Paxos as I was pleasantly surprised.
Be sure to also check out my Greek island all round packing list to be prepared to pack all the right gear for your luxury villa stay on Paxos.
My experience of this luxury villa in Paxos, Greece was hosted.  All experiences and opinions remain my own.
Luxury villa on Paxos island – where is it?
Paxos – also known as Paxi –  is the smallest island in the Ionian chain of islands It has no airport so one would reach it by flying to nearby Corfu and then taking a short ferry ride.
Check and book your ferry journey here:
What makes it so special is that not many foreign tourists frequent this island, hence it's retained a lot of its tradition.  And it's small – at just under 30 sq miles.
According to Greek mythology, Paxos was created when the God of the Sea – Poseidon – struck neighbouring Corfu with his trident in order for him and his wife, Amphitrite, to have some peace and quiet.  I can safely say that Paxos will certainly give you that!
Take a look at my handy map of tips of where to visit on Paxos island when you come for your luxury villa holiday here.  Click on the point of interest for more info/some images:
People who come to this quiet island are normally looking for a Paxos villa rental for their holiday rental here. So there're looking for a Paxos luxury villa, normally to include a swimming pool if possible. In fact, 'Villas in Paxos' is a highly searched term on Google for the island.  And I have just the villa to recommend for you.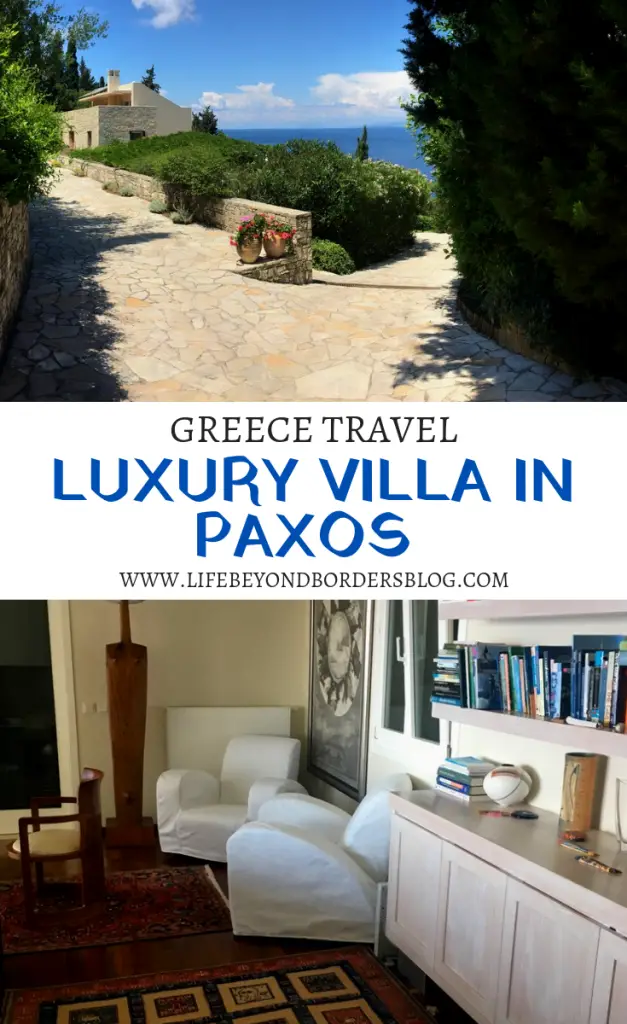 Villa Glaros – Luxury villa rental in Paxos
I knew I was staying in a villa, but I wasn't quite prepared for what type of villa I would be staying in.
Paxos luxury Villa Glaros – where it is
Away from the harbour of Gaios and heading towards Lakka (see map above), you'll come across a small hamlet called Magazia that consists of:
One quaint supermarket
Taverna
Bakery
Kafanion
Church and small square
In pirate times, it used to be the island's small capital as it's tucked away inland slightly, amongst olive groves and pine trees so therefore in those times, not easily accessible.  It's really very pretty and traditional.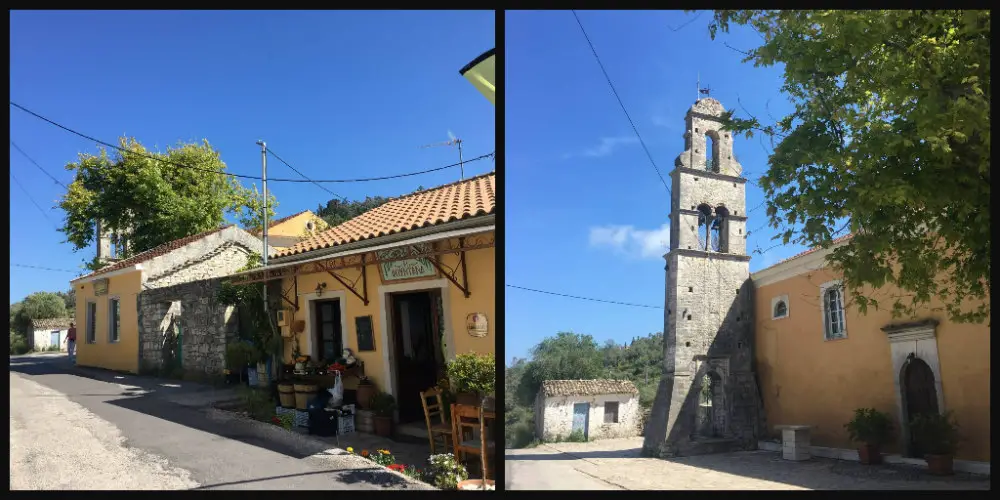 Before you reach Magazia from Gaios harbour, however, you have to turn off down a small track.  Don't be put off by it because it's VERY bumpy and a drive of what would normally take 5 mins on a smooth surface could take about 10-15 mins, depending on how confident you are driving.
And bear in mind: being a small island, there aren't many automatic cars around so you'd be hiring a stick shift.
There are 4-wheel drives for rent – and I would highly recommend one for your Paxos Villa Greece luxury stay.
But fear not!  Your drive will take you down this secluded track through pine forest and olive groves, so you're happy in the knowledge that if it's privacy and seclusion you're looking for in your luxury villa rental, you certainly have it.  And what a treat awaits you at the end.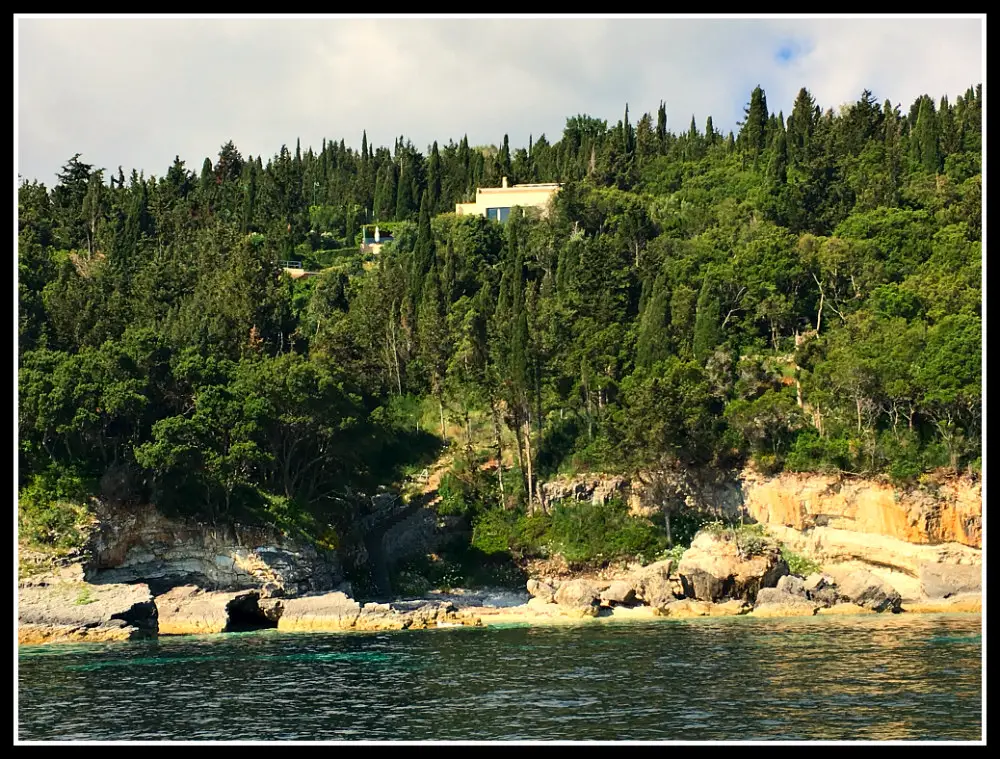 Villa Glaros – luxury villa on Paxos island Greece
Behind its green gate – remotely opened and closed – after this bumpy ride you are rewarded with your private villa.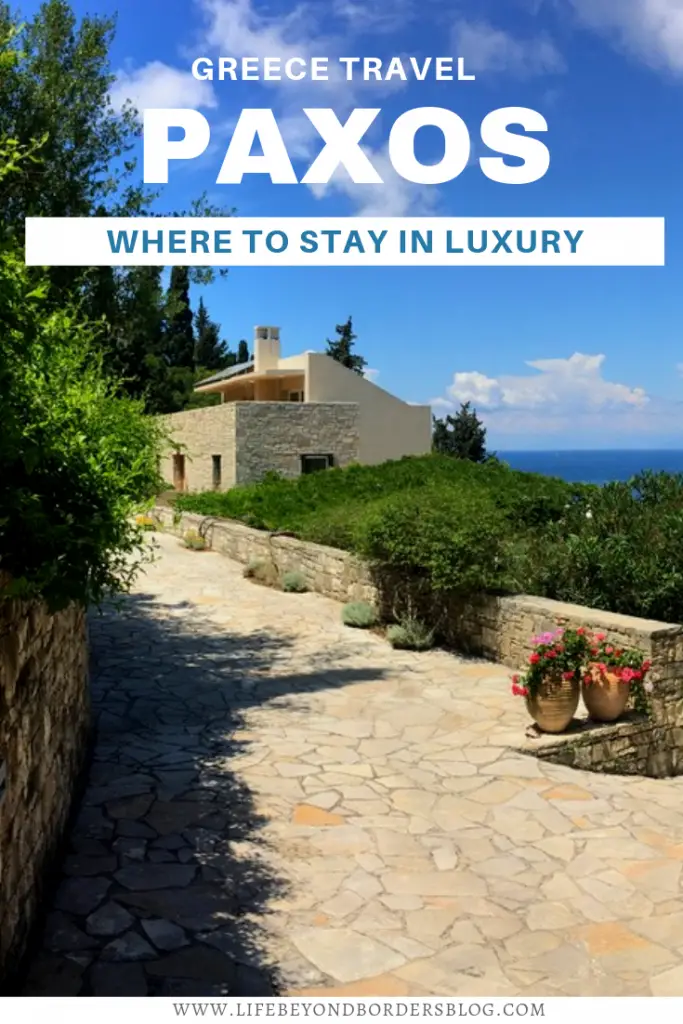 Pictures speak a 1000 words, but before rewarding you with a series of images to entice you to book Villa Glaros for your luxury villa stay on Paxos island, you can expect:
Direct transfer from Corfu to Paxos arranged for you
6 ensuite bedrooms sleeping 10-12 guests.  7 bedrooms if you choose not to utilise the services of the chef and concierge
Daily maid service
Grounds on 3-4 levels surrounded by pine trees with various secluded sun and seating areas
Views from the villa all out to sea/the mainland opposite
Option of having a resident chef and concierge who have experience of working in places such as Verbier, The Hamptons and Lake Como
Floodlit tennis court
Heated outdoor pool
Open air gym with high quality equipment
Tree house in the woods – great for children (and adults young at heart!)
Direct staircase to a private cove where you can swim/sea kayak – all equipment included
Small sailing boat available to take you around the island / to AntiPaxos. Skipper for this can be arranged
Appointments with experienced personal trainer, masseur, yoga teacher can be arranged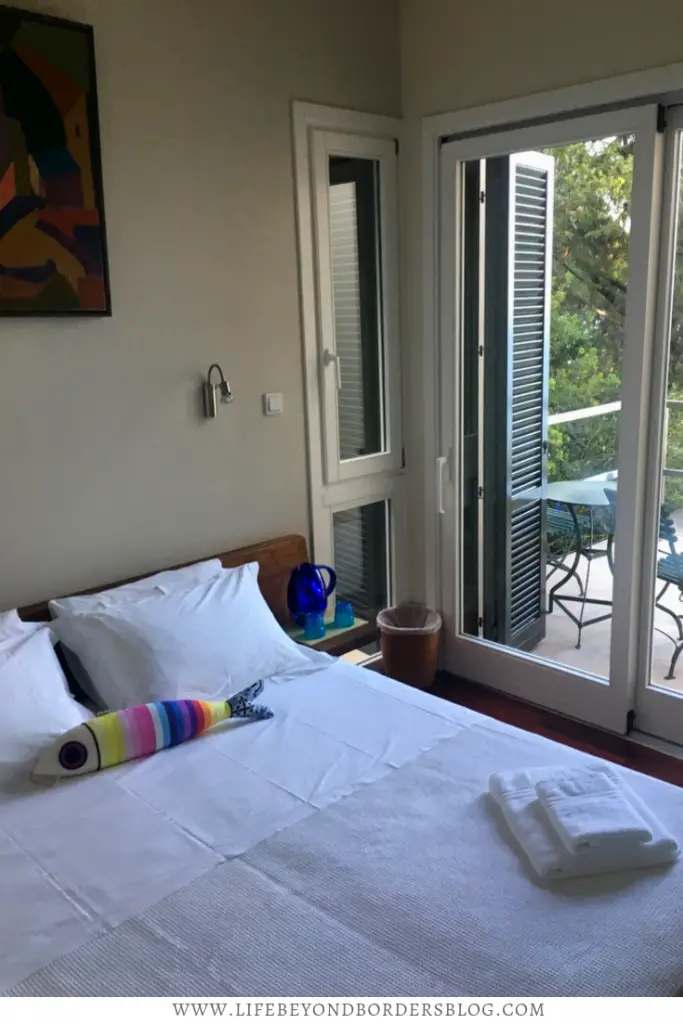 For me, the best part of this luxury villa Glaros in Paxos was the fact I had a choice of pool AND to swim in the small private cove.  And as a writer, it was the perfect place to reflect and think about my next assignment in complete peace and quiet.
Come and take a look around with me: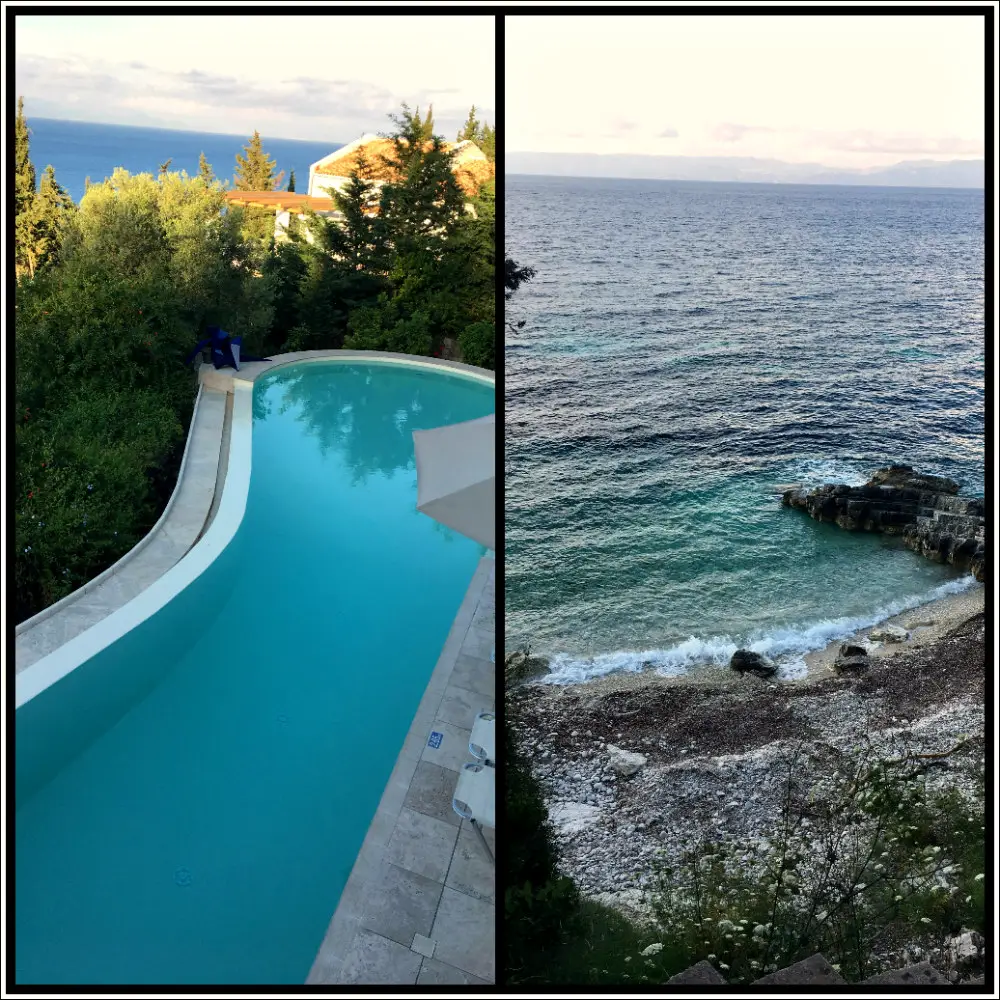 Even with a big extended family group, there are plenty of spots to hide away in and escape.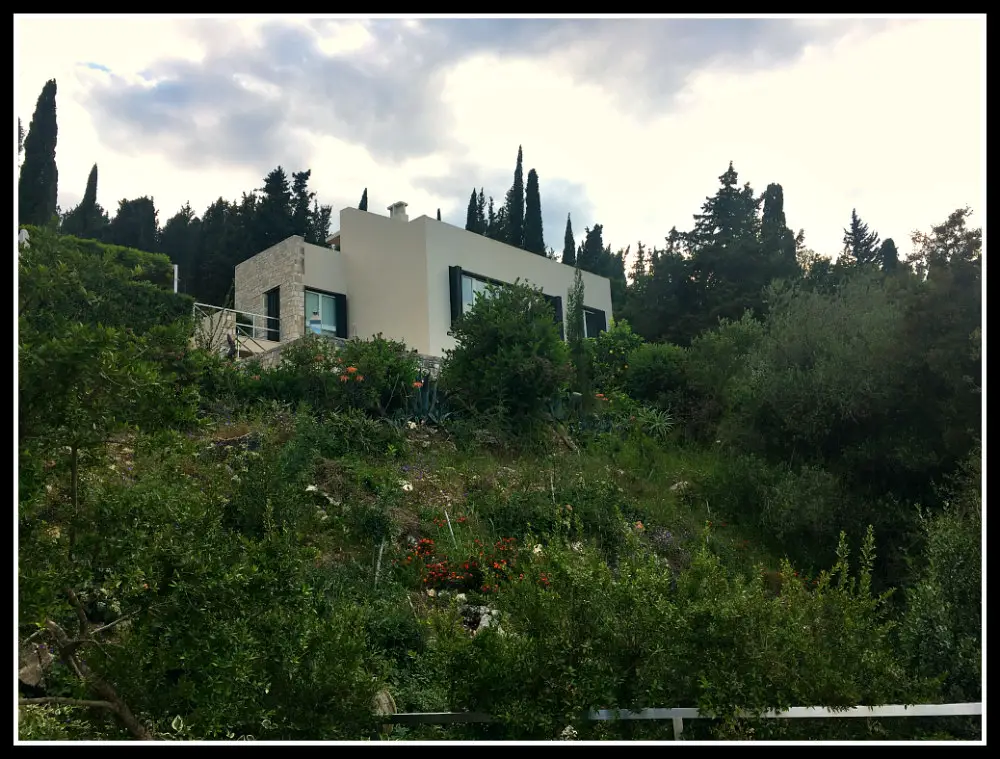 As much as Paxos is a beautiful, untouched island – this is just the sort of holiday I would like to book as a hideaway.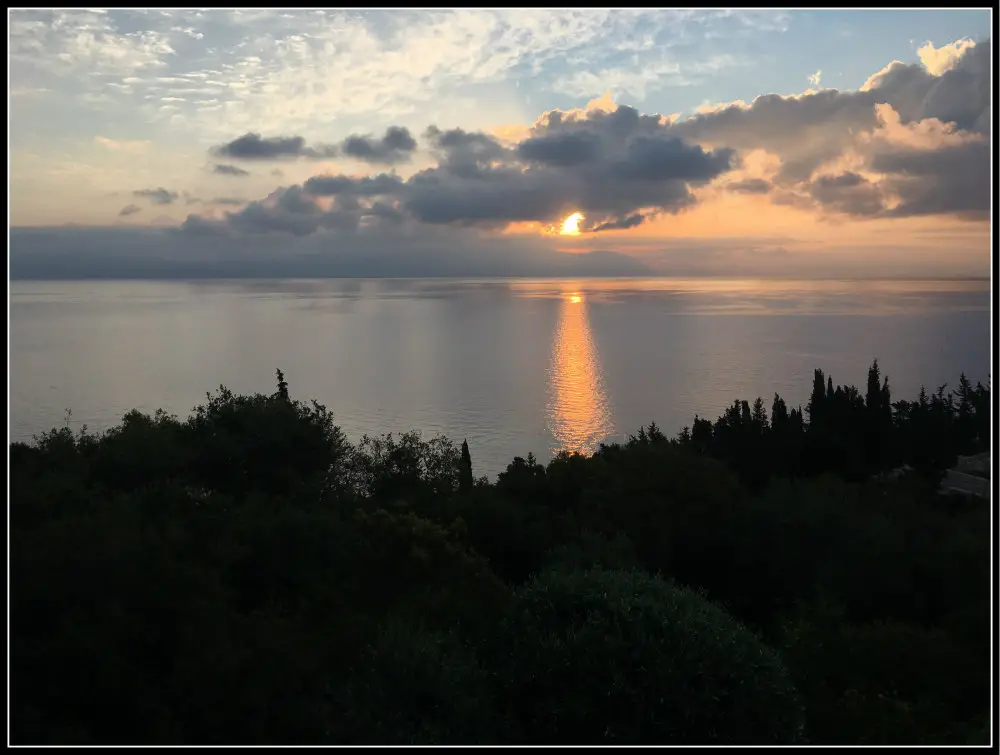 Do you know anyone who would be interested in a luxury villa holiday on Paxos? Check out Paxos Villa Greece for more information and for prices.  And be sure to quote 'Life Beyond Borders' when contacting them.
PIN for later