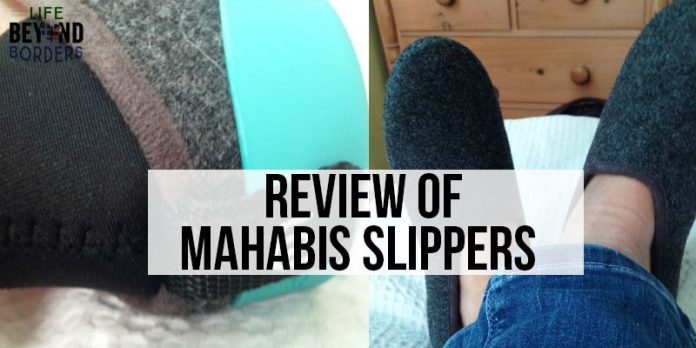 ** Thank you to Mahabis for providing the Classic slippers for review. Despite any complimentary services received, all thoughts and opinions remain my own.**
---
Scrolling through my Instagram feed I kept coming across advertisements for Mahabis slippers. I was intrigued by this concept; a slipper with a range of different coloured detachable rubber soles that can be quickly and easily attached for when you want to pop out. They'd be perfect as a pair of travel slippers; when you're inside your hotel room and want to pop down to Reception, for example, and don't want to fuss around finding a pair of shoes.
Mahabis slipper style
I received my slippers in beautiful packaging and excitedly tried them on.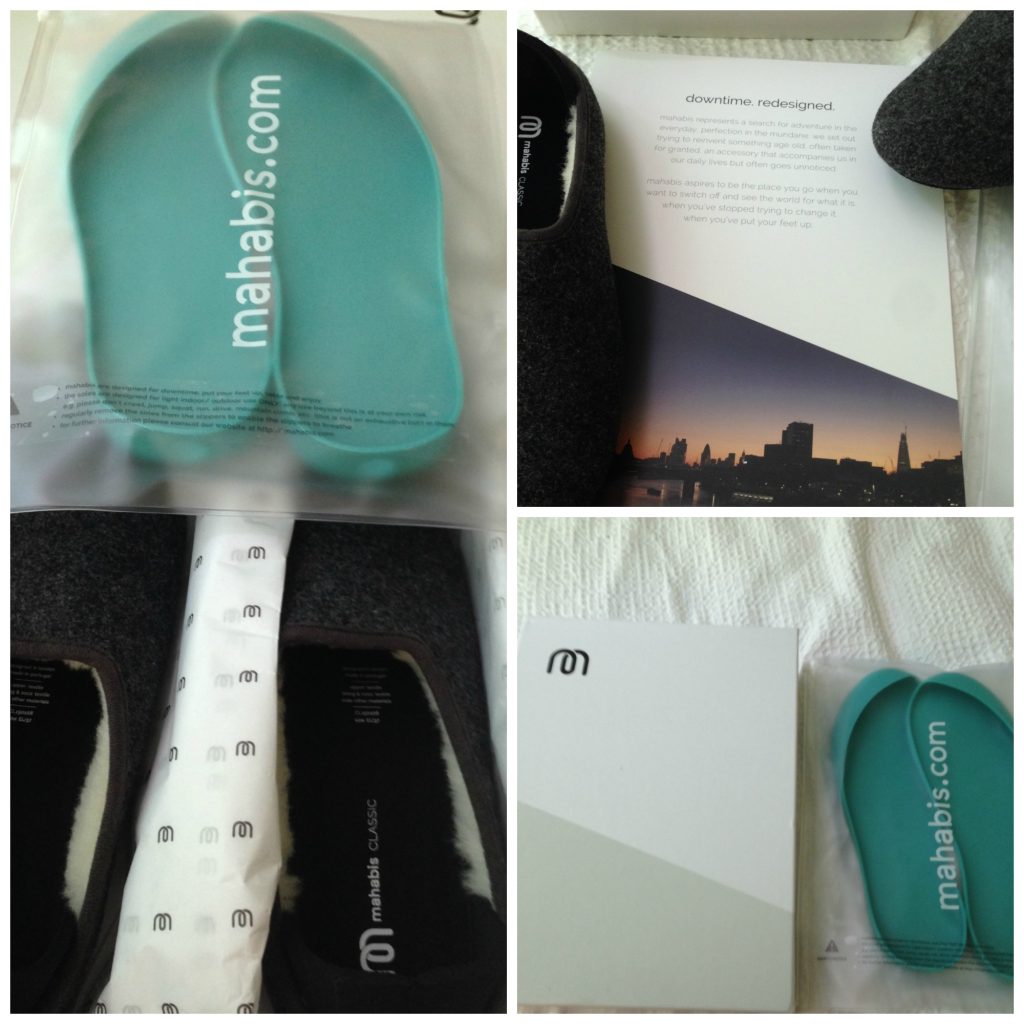 The inside is pure wool and they fit snuggly over the foot. As a slipper, the bottom sole is quite sturdy too, making walking around inside a comfort.   Now for trying on the detachable sole.
Mahabis slippers detachable sole
The rubber soles of the Mahabis slipper design come in a variety of colours;
Ilen ivory
Larvik Grey
Skien Black
Skane Yellow
Gold Edition
Gotland Green
Borgen Blue
Bjukan Red
I chose Gotland Green as I felt this was pretty all encompassing for both summer and winter. Note, however, that all colours are quite pale so, for example – the Gotland Green is more of a turquoise colour, the Red more of a coral.
It's pretty easy to add onto the slipper:
Push your slipper clad foot into the sole (rather like Cinderella)
Clip the back of the sole to the slipper with the attached popper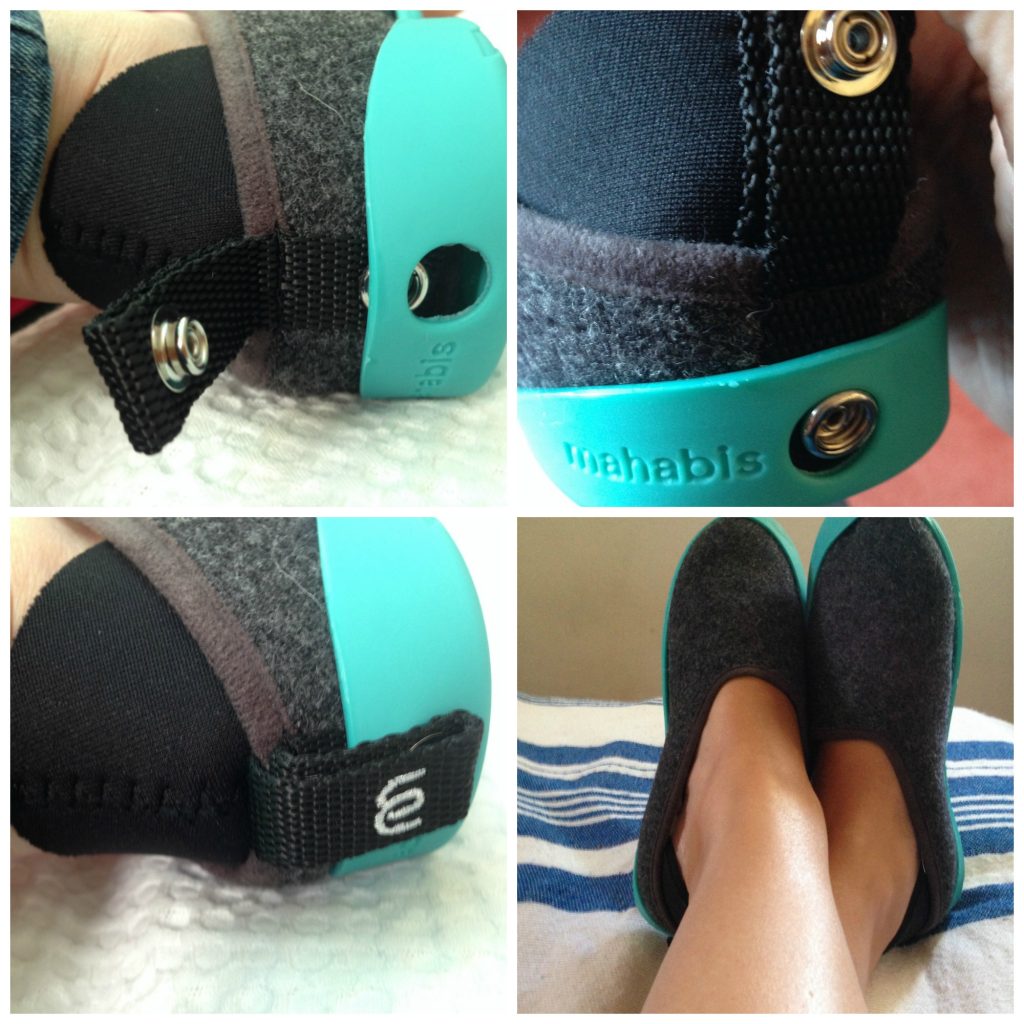 Mahabis slippers in use
So there you have it! I recently used my slippers when I visited the Greek island of Sifnos. It was excellent as I mooched around my friend's house and when needing to pop out into the yard, just pop on the sole.
Take a look at my Greek island all round packing guide to help you choose what to pack when visiting Greece
I also had the opportunity to use them when I was invited on board Celestyal Cruises as part of my promotion of my debut novel Girl Gone Greek. They particularly came in handy on board as breakfast was quite early in the morning, so getting dressed for breakfast (and having to be relatively smart) meant I could wear something comfortable on my feet, without it being obvious they were slippers.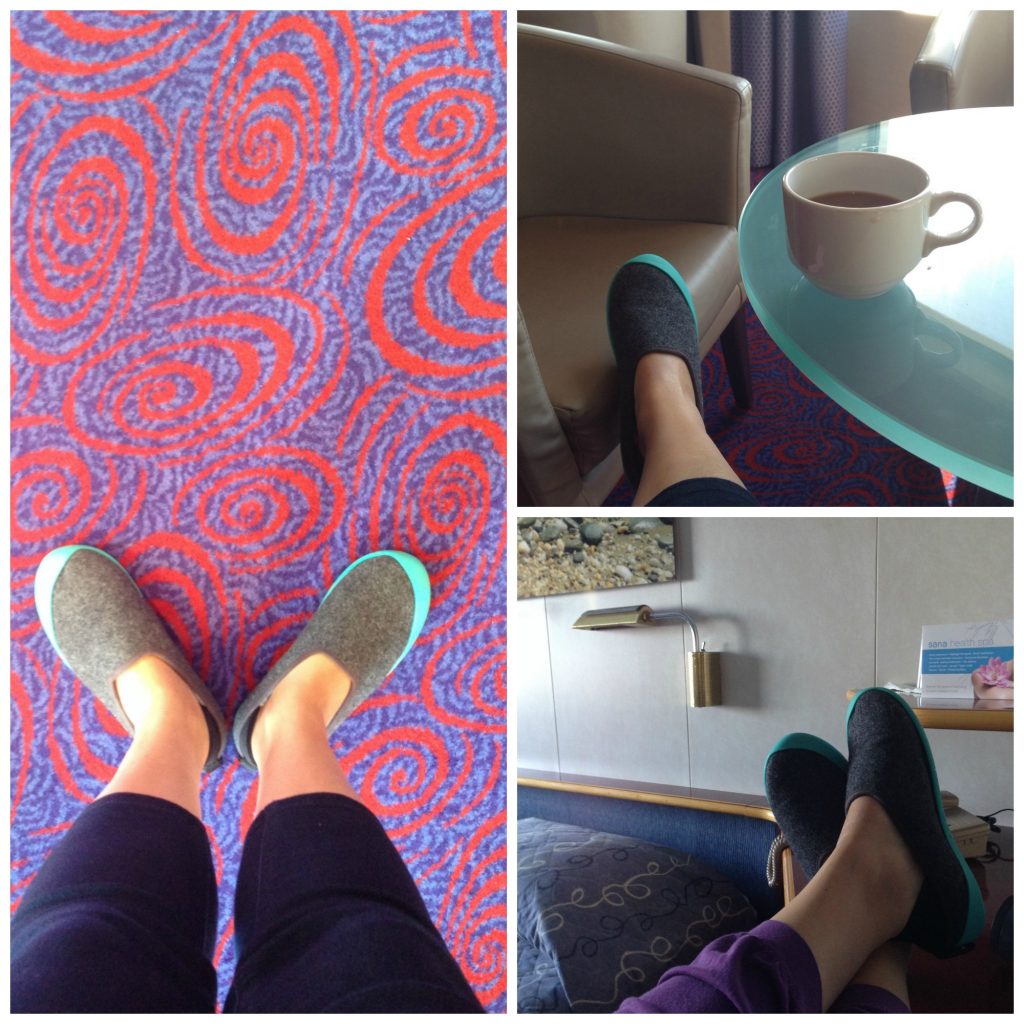 Mahabis slippers: conclusion and facts
My experience of Mahabis slippers has been a good one so far. They're comfortable, seemingly durable and practical. They have a great range of coloured soles to choose from, and it's also possible to buy and extra pair of soles (or as many as you want really), so why not mix and match?
The Mahabis Classic slipper retails at £69, €82 and US$90 and their special Summer Collection retails at the same price. The only difference in the Summer collection is that they're made from different material to allow your feet to breathe. I've only had my Mahabis for over a year now and I have to say, they're still in great condition and I haven't had to order any new soles (only because I've wanted to have different colours, not because I've needed them).   They offer male and female sizes.
They fit snugly, so be prepared to push your feet in a little. If you want to wear socks with your Mahabis Classic slippers (not really necessary as the pure wool interior keeps your feet toasty warm), then I'd suggest getting the next size up for you.
Treat yourself or a loved one for their birthday or celebration.
PIN for later