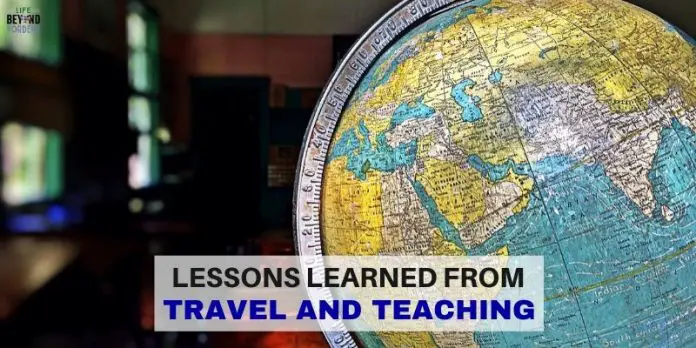 What life lessons have I learned through travelling?
That expression "Jack of all trades, Master of none" used to really irritate me, probably because it summed me up quite well yet seemed to have negative connotations.  In my 20s I was really quite sensitive to the fact that I seemed to have dromomania (an insatiable desire to travel – so much so, there's a word for it!).  I felt there was something wrong with me.  Then I entered my 30s and thought "Sod it!  I am who I am…I'm not going to change.  Why worry what others think of you?"
This post was part of the #travellessons Travel Blog competition by Go Euro (open to UK Residents only).
My life settled down somewhat (much to my patient parents relief) in my 30s while I went back to college and then onto a three year Undergrad Degree programme in International Relations…but then all that talk of foreign countries, different cultures and different ways of thinking only brought back my dromonania.  And so – with pride – I continued to be a 'jack of all trades.'
Here I reflect on some of the life lessons that travelling has taught me…on how being exposed to different cultures, and even weather, can shape people.  And life lessons from teaching in foreign countries…how languages affect culture.
We must understand expressions and language in different cultures
It's important, I feel – particularly in the times we are living in now – to understand cultures and how language and weather shapes a culture.  We can all learn from the countries we visit, whether it's a short city break or longer time away.
By applying these life lessons learnt on my travels, I hope to become a better person.  Most have been humorous experiences…I feel blessed to be a "Jack of all trades."
1. Being spat on in Greece is not necessarily a bad thing
I wrote a post about some of the customs in my adopted country.  One of them, particularly by some elderly people, is to make a spitting sound and motion towards you. It's seemingly quite random, and even weirder, seems to follow a kind act undertaken by yourself.
Why the Greeks might spit at you.
Example: In my first few weeks in Greece, I was helping an old woman pack her shopping into bags at the check-out.  When we'd finished, she made this phlegmy noise and flicked her hands towards me, as if she wanted to flick spit at me.  What on earth?!
Hear me out: Apparently, if you do a kind act, some elderly Greeks believe you might get jealously given to you, so they try to get ride of the evil jealousy by throwing something negative at it/you (are you following)?  Because after all, why would jealousy want to hang out with someone with spit on them?!
OK, admittedly it's not actual spittle, but you get the gist, I think.
Life Lesson: Not all negative and seemingly aggressive acts in a foreign country are as they seem.
2. Telling someone to 'give me' something, and not using the phrase 'Please pass me (the salt)', for example, is not necessarily a sign of rudeness.
Ahh us Brits, we're so excessively polite aren't we?  We insert 'please' and 'thank you' so many times into just one sentence, it's a wonder we actually get out what we really want to say.
When I started teaching English in Greece a few years back, I was amazed that the younger kids would come up to me and say
"Miss, give me a pen" or "Miss, give me a piece of paper."  You can read more here.
At first I would admonish them for not being polite, until I became more aware of the Greek language and in Greek, they don't use 'please' and 'thank you' anywhere near as much as the English language does.  In fact, as a culture they find it odd to say 'please' and 'thank you' to someone they know…and my example above?  Why would you, therefore, say 'please' or 'thank you' to a member of your own family?!  It's reserved completely for strangers.
Life Lesson: Take time to actually understand the structure of another culture's language before judging them when they speak English.  At least they are making an effort to speak English.
Or if you don't have the time or the  luxury to understand their language, when someone speaks to you in English in a foreign country, whether on a short break or holiday, don't necessarily jump to a negative conclusion as to their tone of voice/use of words.
Which leads me nicely onto example #:
3. More about language usage.
This time I will use the example of a short break I was on.  I had visited Iceland with a friend (way before I ever started blogging) and we wanted to know where to find a certain restaurant.
We popped down to the Reception of our hotel and I asked the receptionist.  The conversation went as follows:
Me: "Do you know where ….. restaurant is please?"
Receptionist: "Yes."
Silence, in which my friend and I glance at each other.
Me: "Could you tell me where it is then please?"
Receptionist: "Of course, let me get you a map.  Now then……"
Life Lesson (and note to self): Icelandic receptionist was not being rude or ironic, she was merely answering my question.  I should have asked her: "Could you please tell me where the ….. restaurant is?" and she would have done that from the outset.
4. More humility is needed (this is my favourite life lesson from travelling and teaching abroad)
I was teaching English in Sri Lanka and at the end of my first week, on the Friday, the bell had rung and instead of rushing out of the door, the children all lined up and, one by one, proceeded to bow at my feet.
At first I was horrified, merely because my initial reaction was that I felt I didn't deserve it.
The headmaster came in and explained to me that it is normal, in Sri Lankan culture, to show respect to their elders and especially teachers who are educating them to better themselves.   As an addition; I had the right to refuse it, but it would severely insult them.
Life Lesson: Sometimes, even if we feel we're not worthy, we need to accept that others feel we are and accept they will show it to us.  And we must accept it with grace and respect.  It's humbling, it really is.
5. Just because a culture takes a siesta does not mean they are lazy
Oh this is a pet peeve of mine!  Ever since southern European countries have been taken to task by the north – especially Greece – I see so much printed in the press about this put upon country.
So I would like to clear something up – and this involves weather and climate…a factor I mention in my Introduction to this piece;
Weather dictates so much of how we live our lives.  The southern European countries lead an outdoor lifestyle: cafes, coffee culture, 'three hour' lunches because their weather is gorgeous enough to warrant it.  In fact, in the summer when temperatures can reach 40 degrees in the cities, smaller shops will open early, close in the afternoon for a few hours then re-open when it's cooler.
And the same applies to businesses too.  In fact, I have managed to get a dental and Dr's appointment at 8pm at night!  I know for a fact you can't do that in Britain.
Life Lessons: The weather and climate dictates how a culture goes about their daily life. Don't judge them for it or draw harsh conclusions because it differs from your own.
What have your life lessons been as you travel?  How has travel opened your eyes to the world?
Share here in the Comments and join in the #travellessons Twitter chat.
---
Pin for later