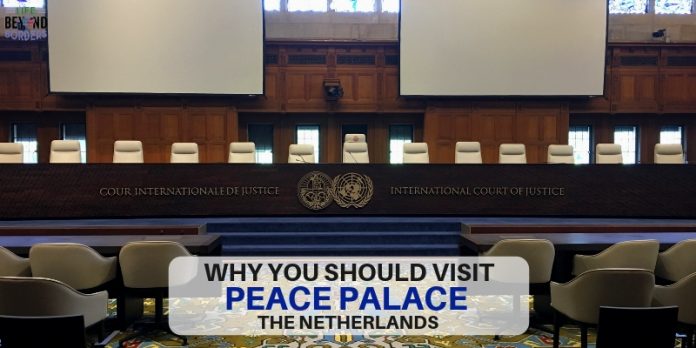 I've already shown you that there is more to The Hague, Netherlands than just politics in my Things to do in The Hague article. We've also seen Best Places to Eat in The Hague.
Is there anything worth seeing in The Hague?
Let's not forget that politics is, indeed, what The Hague is famous for.  One of the main highlights of a trip to The Hague is a visit to the Peace Palace and indeed, even if Politics isn't your thing, The Peace Palace is a must visit for its landscaped gardens and architecture.
Let's take a look at what it's like, visiting the Peace Palace in The Hague.
The Peace Palace in the Hague: what is it?
History
It's known as a temple of peace and justice.   Czar Nicolas II was keen, due to seeing the continent of Europe ravaged by wars and how this effected economies and society, to organise an international peace conference.
The first Hague Peace Conference happened in 1899 where 26 countries came together to talk about disarmament and the possibility of international jurisdiction; where a court or other organisation listens to and determines matters between different countries, persons of different countries or foreign states.
A second peace conference was held in 1907 where 44 countries took part.
More about the fascinating history of why the Peace Palace and conferences came about can be read here.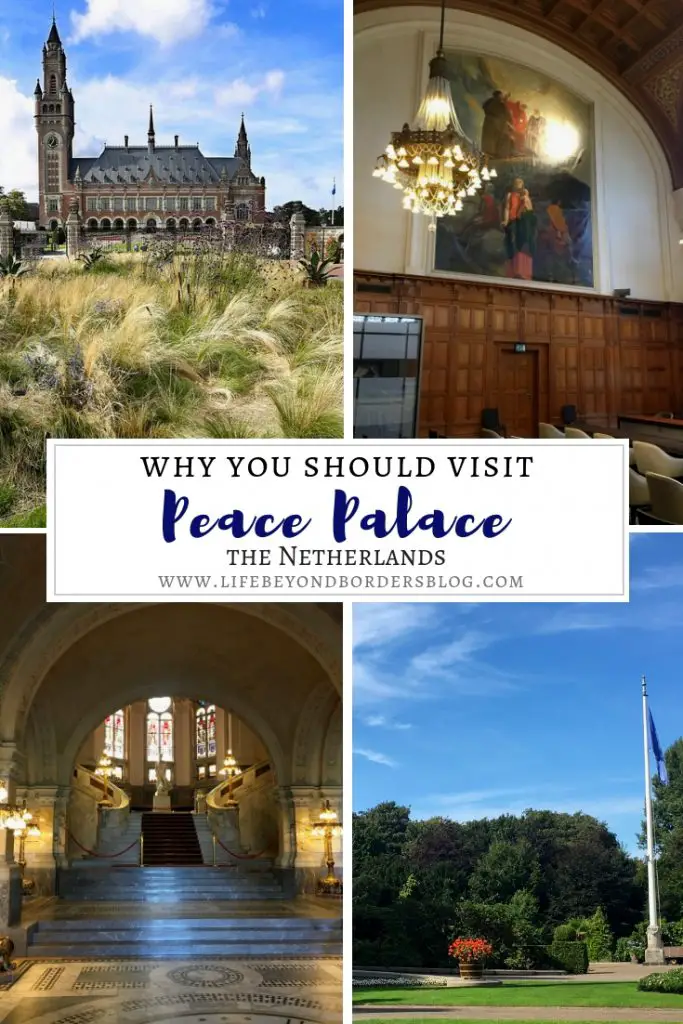 Today, the Peace Palace houses the International Court of Justice – an organisation that helps to settle legal disputes between member states and is the principle law court of the United Nations, the Permanent Court of Arbitration – an intergovernmental organisation that helps to arbitrate in tribunal disputes between member nations and the Peace Palace Library with tombs relating to international law for students to use.
You may have heard of war criminals being tried at the International Court of Justice.  Some of the International Court of Justice cases can be seen here – including Australia and New Zealand taking Japan to court over whaling in the Antarctic.  It's a fascinating list of cases; some closed, some unsolved and some ongoing and helps when a neutral stance is needed.
Peace Palace in the Hague: The building
In the eight years between the two conferences, an impressive building had to be constructed in order to house the main organisations.
In order to encourage interest in the project, an international competition was put forward and approx. 216 architects took part.  French Architect Louis Cordonnier won with an architectural design reminiscent of the late Middle Ages.
In the second 1907 Peace Conference, all 44 attending countries were called upon to donate building materials and artwork to represent their country's commitment to peace.  This can be seen today throughout the magnificent building and presents continue to be donated.  For example, wall tapestries from Japan (in 1913), a Bust of Ghandi from India (in 1952) and the Throne of Minos from Greece (in 1913).
As you wander through the building, it's possible to see these gifts located in the various rooms throughout.
Be sure to scan through the Instagram images of the Peace Palace above.
A visit to the Peace Palace – breathtaking
I was very fortunate to have a private tour organised during my visit.  Because it is a working organisation, entry into the building is dependent on whether there is a sitting session in the International Court of Justice or the Court of Arbitration.
There's a strict security procedure – similar to that of going through airport security – for obvious reasons.
I was given a Visitors Pass and met my guide who escorted me for my Justice tour through the Peace Palace Gardens (trees and small shrubs abound in order to let in natural light and pond – all adding to the elements of creating peaceful surroundings) to the entrance.  She paused for a second before entering, and when we did, it literally took my breath away.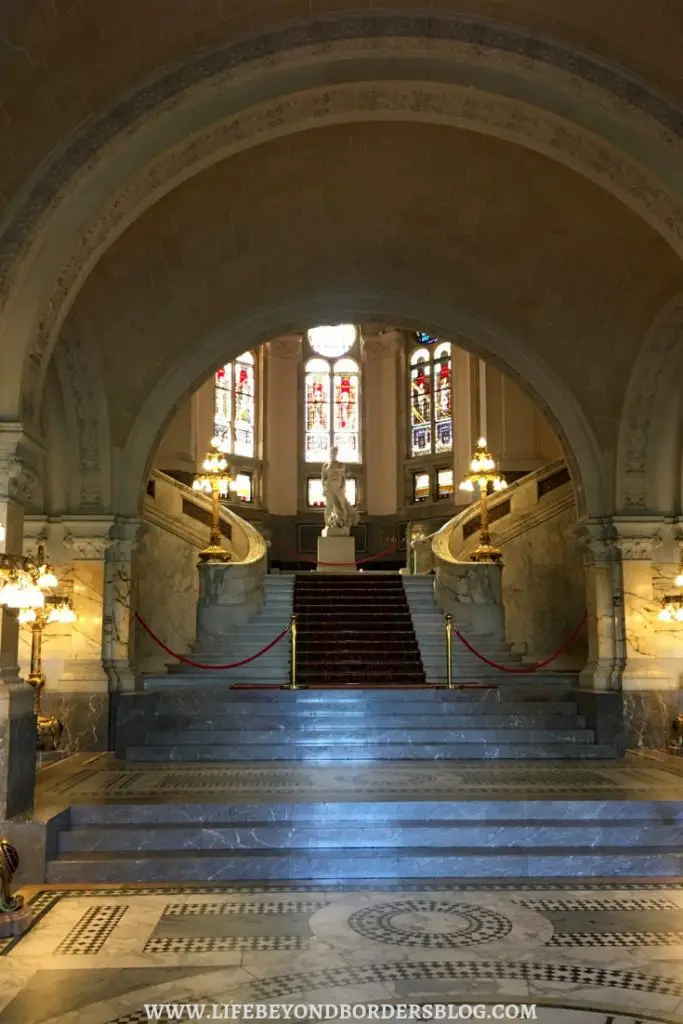 My guide smiled knowingly and we didn't speak for a couple of minutes.  I literally had to close my mouth (I'm not kidding).  Nothing can prepare you for what you'll see when you enter (maybe the photos here can do it some justice).
As we wandered through the hallways, it felt only polite and respectful to whisper. I didn't want to speak loudly in it – the building somehow feels as if it's alive, and almost radiates 'peace'.   After all, wasn't that what it was designed for?
Entering the International Court of Justice room felt honourable…the place where so many scenes of trials had and continue to take place.  Some rooms were out of bounds as they were preparing for a trial…lending to the feeling privilege of being able to enter the Palace.
Visiting the Peace Palace in the Hague – facts
Group sizes of no more than 20 for tours
Weekends/Christmas is a better time to visit as less likely for a court sitting
A tour of approx. 45 minutes will take you into as many rooms as possible – including the Library – tickets cost €11
You need ID such as passport or EU ID card to go through security and enter
Garden tours in the summer last 60 minutes and cost €7.50, children up to 10 free
There's so much more to the Peace Palace, such as its link to the Carnegie Foundation and origins with Andrew Carnegie, the philanthropist born into a very working class background in Scotland (1835) but made his millions in the U.S. and who viewed science, education and peace as vital to societal progress and who donated money to this cause.
Come and be inspired by this building, or just feel 'at peace', literally.
PIN for later