One sunny Saturday in November 2015, I was afforded the opportunity to experience three Saronic Greek islands in one day; Hydra, Poros and Aegina, hosted by Olympic Cruises (now Evermore Cruises) on an Athens one day cruise.
Three Greek Islands – One day. Early departure
I met my friends at Flisvos Marina in Southern Athens, about half an hour from the centre of the city at 07:30 for an 08:00 departure.
NOTE: Evermore Cruises operates from the marina at Kallithea, about a 15 min drive from Piraeus and 30 mins from the centre.  There is a pick up service from any central hotel.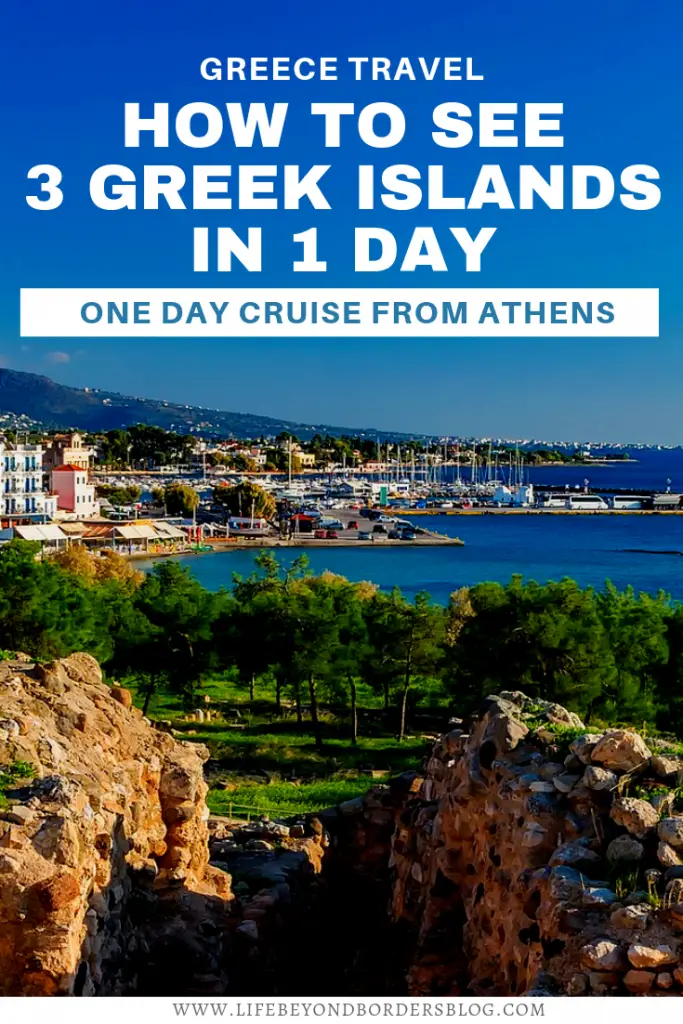 Settling into the top deck of our ship, basking in the sunshine we relaxed and drank our tea and coffee whilst listening to live Greek music, watching the sea slip by as we cruised to our first destination, Hydra.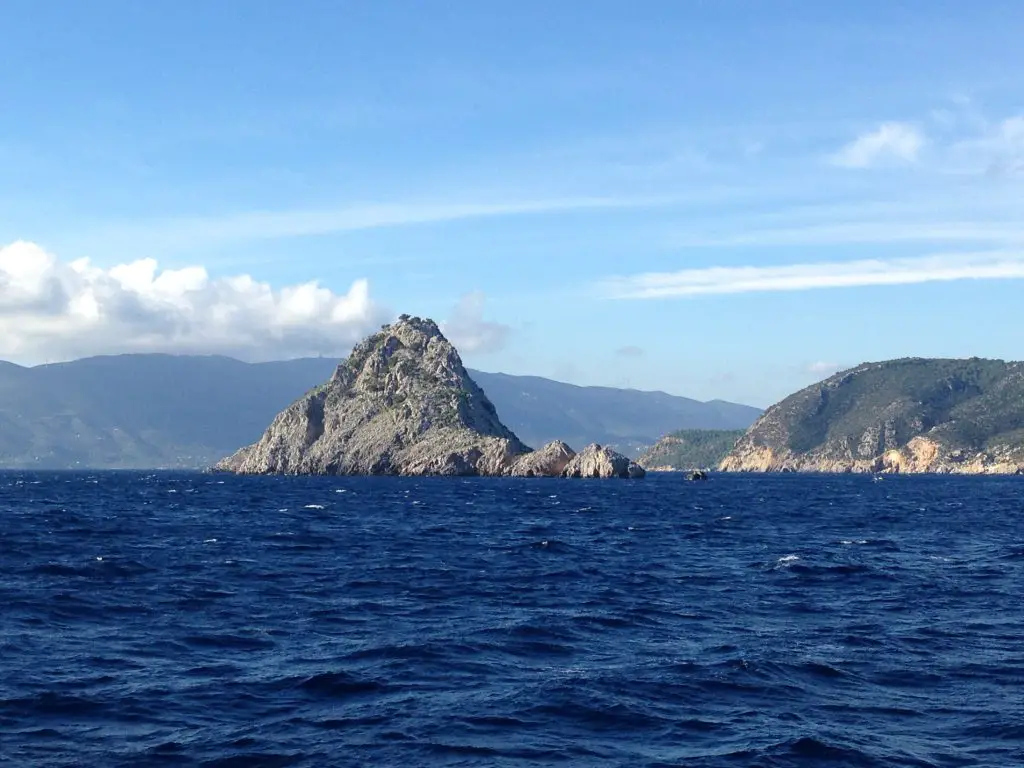 Three Greek islands, one day – Hydra
An hour and a half later, we docked in Hydra. We had about an hour on the island and your company offers a brief tour – not of the whole island, but the highlights.
A one hour tour took us around the narrow streets of the harbour, the opportunity to view daily life on Hydra – the island where no cars are allowed.  Actually, there are only three vehicles on the island: the refuse truck, ambulance and fire truck.  The rest of the population move around either on foot, or with their donkey.  This has helped preserve Hydra's authenticity.  Although we had a taster of Hydra, I would recommend this island:
For its beauty
For a traditional Greek experience.
Some of the highlights of The Hydra Walking Tour are the 18th Century Naval School, the Monastery of the "Assumption of Mary" and the square where a scene from Roger Moore's "For Your Eyes Only" was filmed.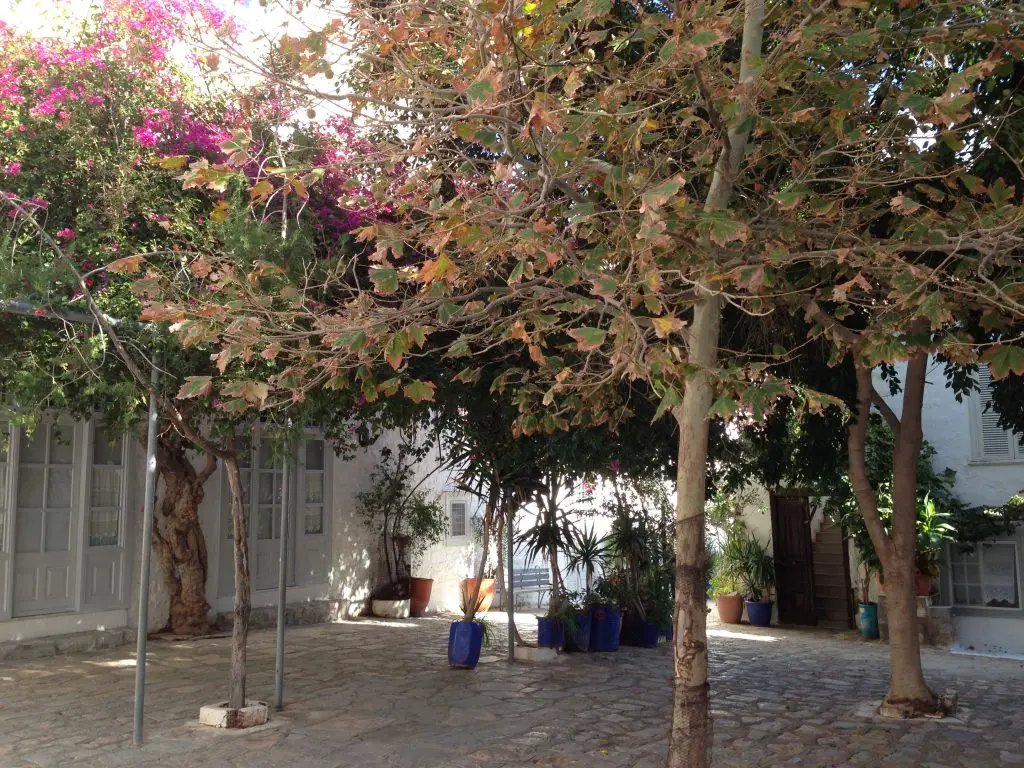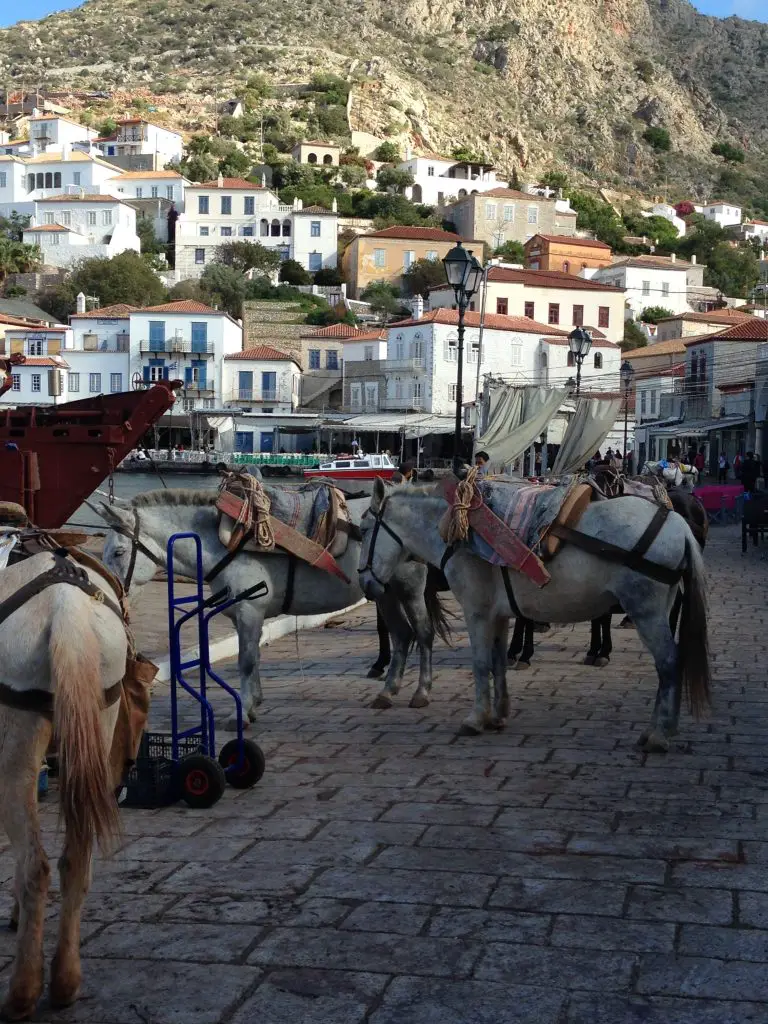 Three Greek Islands – One day. Lunch on board.
On the way to Poros island, we ate a filling lunch;
Tuna and Greek salad
Marinated Perch or Roast Chicken
Pasta Napolitana
Traditional Lemon Potatoes
Basmati Rice
Pecan Pie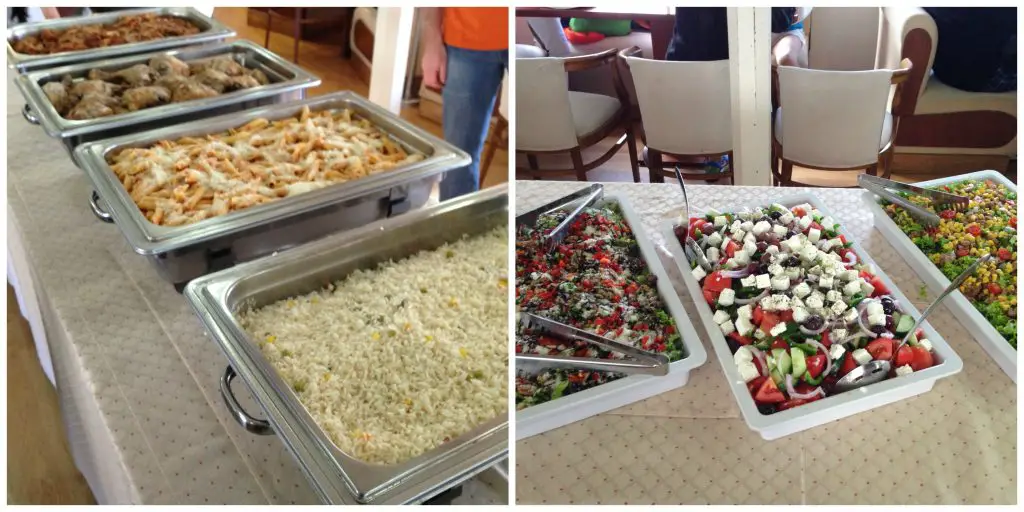 Three Greek islands, one day – Poros
There's really not a lot to say about Poros to be honest.  It's a wonderful island and I have written my own posts about a Greek island break – Poros so you can see more.
The problem with the cruise stop in Poros is that it's so short – only 45 minutes; just enough time to run up to the Clock Tower and take some pictures of the gorgeous views, then run back down to the ship before departing for Aegina.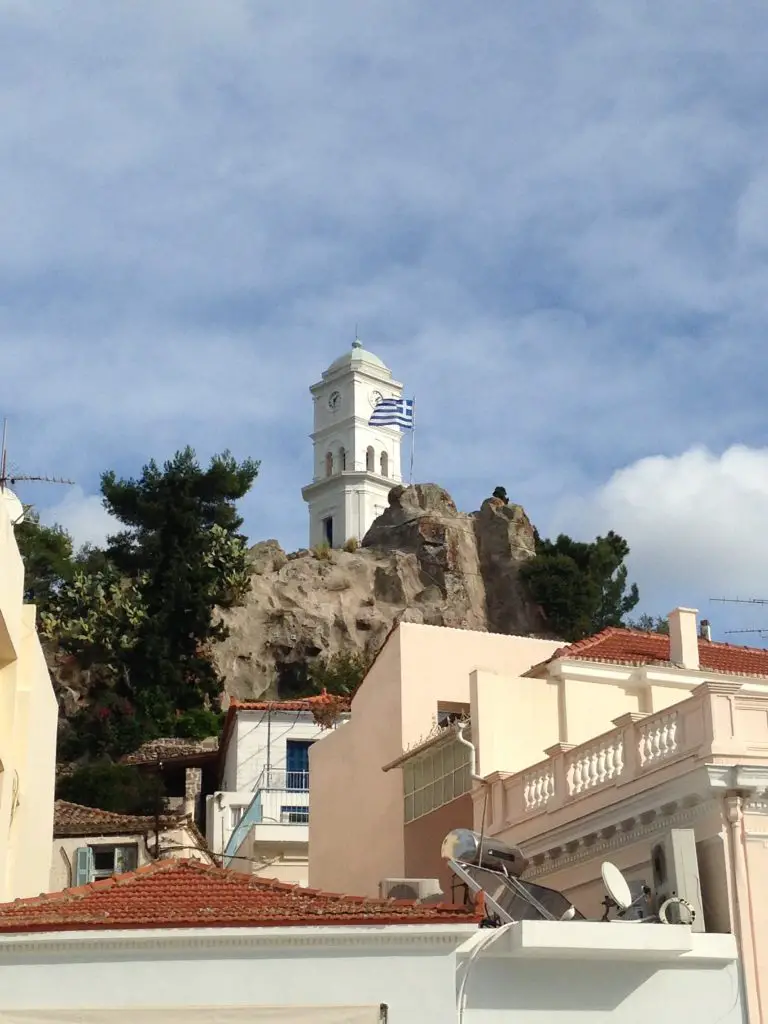 Three Greek islands, one day – Aegina
And then onwards to Aegina.  Of all the islands, this is the place we spent the longest and had a wonderful tour to the Temple of Aphaia (part of the Holy Triangle: Acropolis in Athens, Temple of Poseidon at Sounio and the Temple of Aphaia on Aegina).     Our coach awaited to whisk us away from the quayside to the Temple.  And what a delight it was: peaceful, stunning and atmospheric.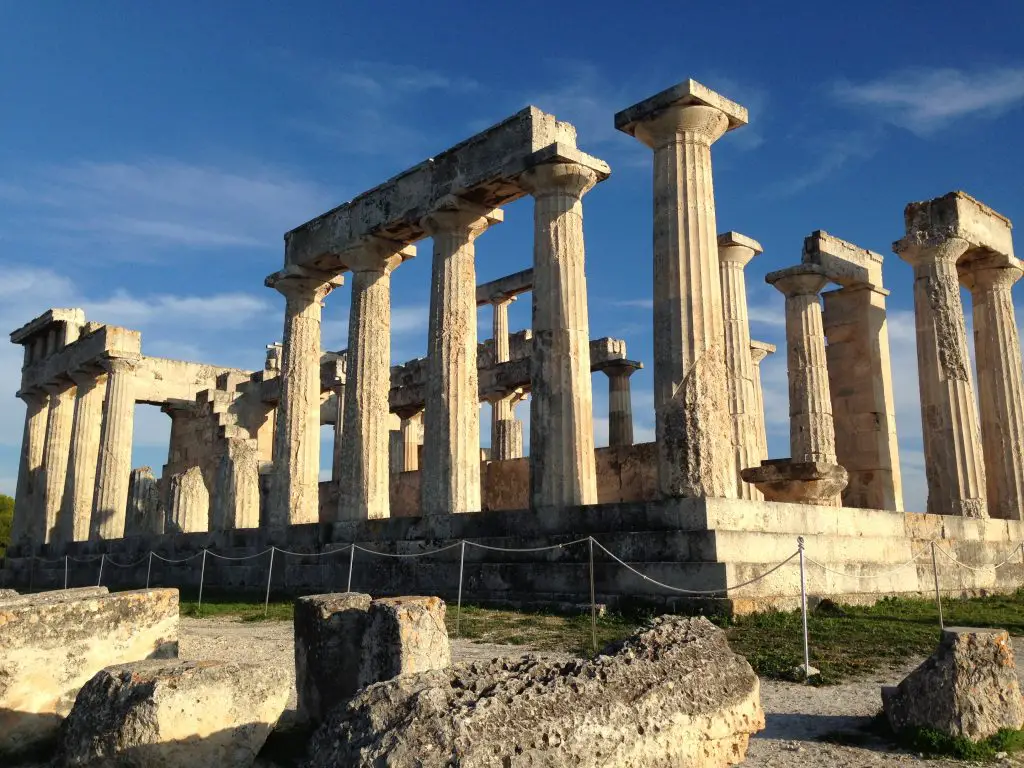 The next stop was the Monastery of St. Nektarios – one of the largest monasteries in Greece.
Built in approximately in 1904-1910 by the Bishop of Pentapolis, Nektarios. Nektarios lived in the Monastery and died in 1920. In 1961 he was declared a Saint. The church has two tall bell towers and four rows of windows, which all have red bows for a capstone. The Monastery is a convent for women in which 14 nuns live in. The memory of the Saint is celebrated on November 9th.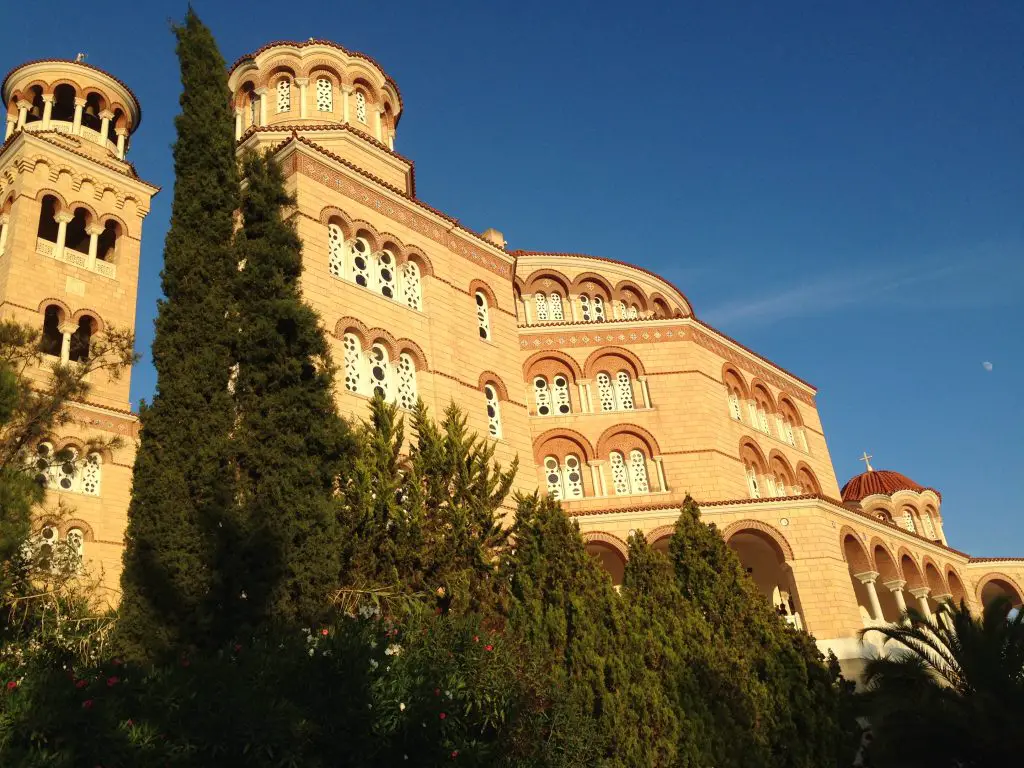 After a 50 min stop here – back to the ship for our journey home.
Thoughts about Olympic Cruises (now Evergreen Cruises) One Day, Three Islands cruise
It is a great tour for those that have only a very short time in Athens, or even Greece and want to say they've been to three islands. I imagine it is tailored to those type of travellers – there were many Asian tourists on our trip who are maybe spending a great deal of time in Europe, but not necessarily in one place. So to be able to say you've been to three islands and see its highlights is great.
The cruise itself is pleasant, good food and delightful if the weather is good.  The music can be a little loud, preventing conversation.
And be warned: due to the nature of trying to fit in three islands in one day, the tours are very very rushed.  You feel a little as if you are herded from A to B before rushing back to the boat.
I question why there is a need to include Poros at all in the trip.  To my mind, it would make much more sense to spend more quality time on Hydra and Aegina (but the time spent on Aegina was nice, so maybe longer on Hydra).  Maybe the reason for including Poros is literally because their market dictates it: people want to say they've 'seen' three islands.  For me, I would choose quality and cut Poros out completely…after all, there's only about half an hour to 45 minutes spent there.

Three Greek islands one day: Information
Myself and my friends were guests of Olympic Cruises – now Evermore Cruises.
A one day trip: 08:00 to approx. 20:00 (8am to 8pm) costs €100 for one adult.  Check their website for any family discounts. The price includes transfer to/from your hotel and lunch.
It is a great tour to take to gain a taster of the Greek Islands near Athens, especially if you have limited time in the country
**A special thanks to Olympic / Evermore Cruises for hosting us during our tour. As always, all thoughts and opinions remain my own, despite any complimentary services received.**
PIN for later