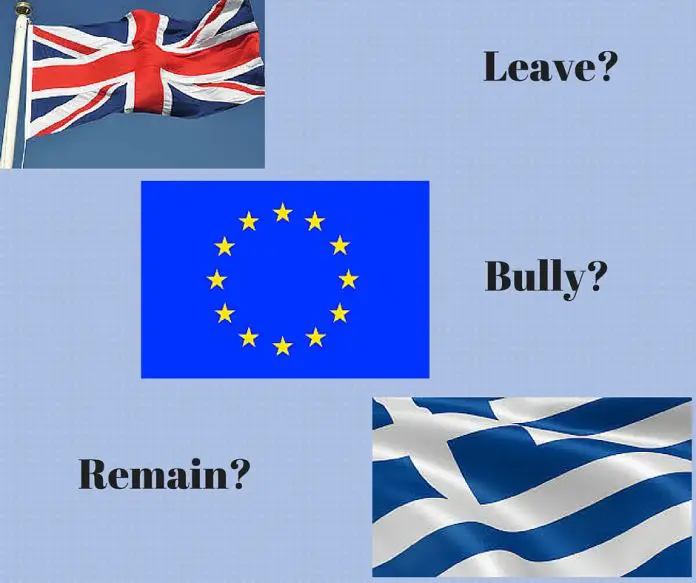 **Warning: Swearing in this post – plus some honest opinions you may not like**
Thank you.
She stepped up to me and embraced me.  I looked and felt a little perplexed.
Your chocolate tonight is free, on me.  You want something else?  Crisps?  Here, these free too.
He placed said items into a bag for me, insisting I take them.
Scenario: I was in my Athenian neighbourhood, had just popped out to buy some chocolate from my local periptero (a place in Greece which is like newsagent, except it's a tiny huts on streets.  And they even sell paracetamol, beer and wine, not suggested you buy them together). They're veritable treasure troves and to me, as much a symbol of the Greek nation as the Acropolis and the Greek flag.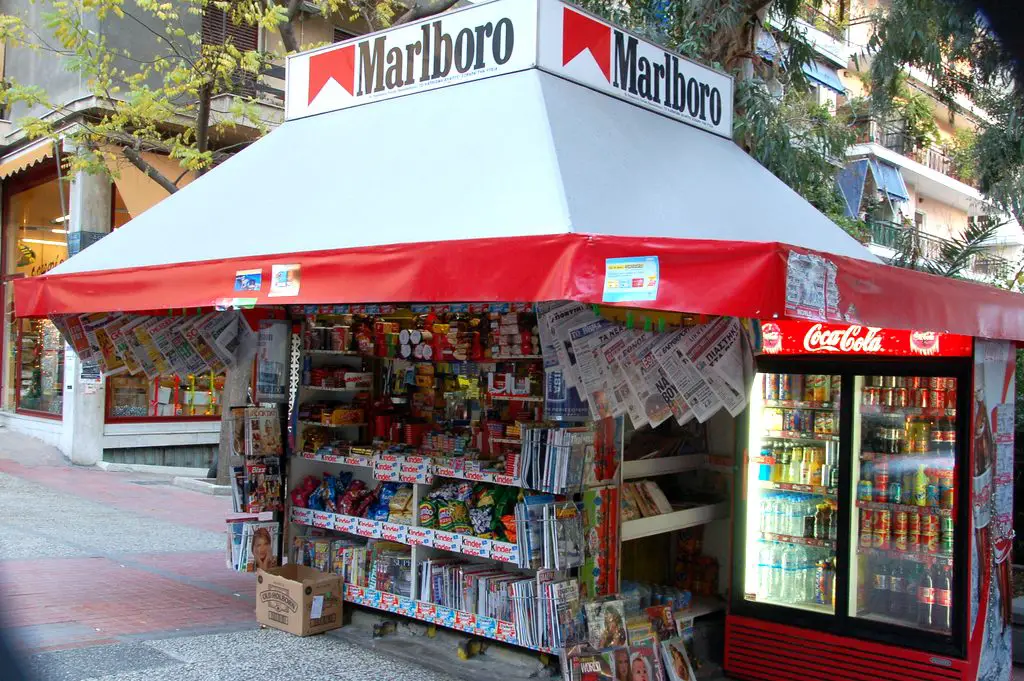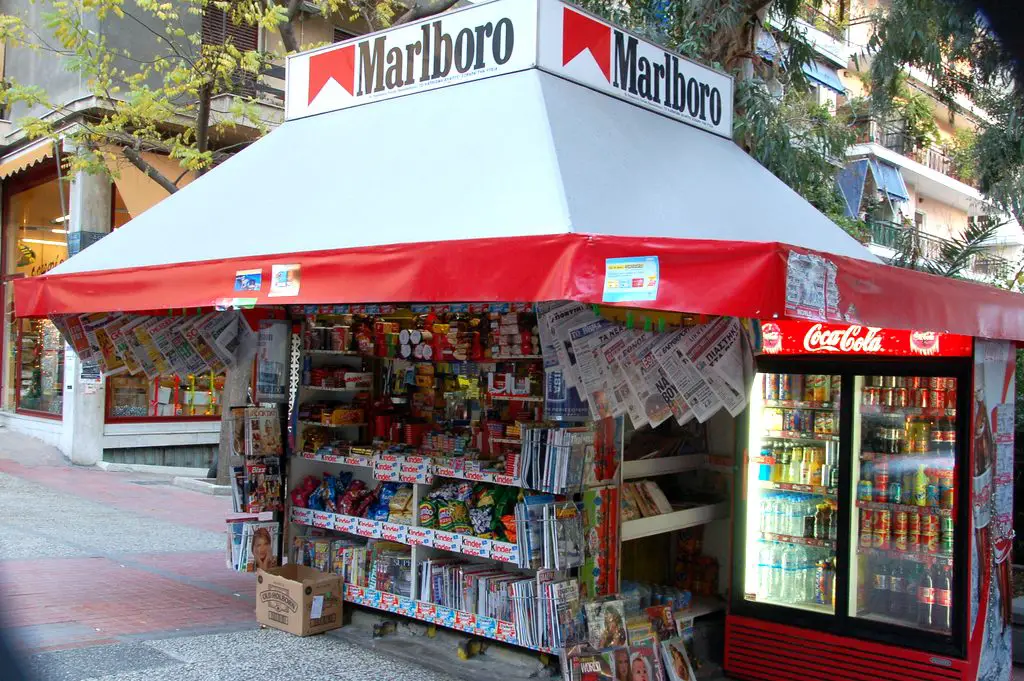 Why were these kindly Greek periptero owners offering me free perishables?  It turned out they were thanking me for 'being British.' For:
…having a Referendum and the guts to start the ball rolling.
Greek opinion on the British Referendum
As I was being hugged, handed junk food and slapped on the back, it became clear to me.  For well over 6 years now, Greeks (rightly or wrongly) feel they have been bullied by the conditions of the E.U. and actually, having spent a good portion of my time in Greece and seeing the effects first hand of the Troika's conditions, I can't blame them.
Many Greeks that I have met admit that they, too, as a nation need to change their outlook and way of operating…to remove the 'chaos' that surrounds their policy making (is that even possible though?  Is that not a quintessential part of being Greek?),
But do so offering us help…a constructive way of helping us understand how to change, not bullying and threatening us
says the lady who'd hugged me.
They were thanking me for being British and the Referendum results.
After 23rd June, I have mixed feelings.  On the one hand I was being thanked merely for 'being English' – yet I have strange mixed feelings too.
Don't hug me too hard – and maybe take some of this food back.  I was a Remain voter
I sheepishly admitted.  The woman took a step back.  The man stopped mid way from packaging my perishables.  Is she going to now do a very Greek about turn and slap me?
Look at me, look me in the eye.
I did.  I don't mind eye contact at the best of times.  But this woman was appraising me, looking through me in that uncanny way the Greeks have, of shining a spotlight right into your soul.
Pah! I see your eyes and heart tell you differently.  You were scared, you voted out of fear.
She took a drag of her cigarette and carried on embracing me.
My eyes widened.  Because in retrospect, she is correct.  I did vote out of fear.
Voting out of fear
This has been a disgusting campaign from both the Remain and Leave camps.  The trump card of the Leave camp was xenophobia, the trump card of the Remain camp was economics (I am grossly simplifying, I know, before you all go huffy puffy on me).
Actually, I would have preferred to not vote at all.  I voted selfishly and out of fear. I love Greece, I love being able to divide my time between my birth country (U.K.) that I increasingly grew to appreciate more and more the more I travelled abroad (note past tense 'grew' – I'm not so proud of Britain at the moment). I didn't want that luxury to change.  I wanted to be able to divide my time between all these beautiful E.U. countries and explore and appreciate their different culture, yet come 'home' to green rolling fields, a system that works and isn't chaotic (chaos over time can cause long term stress).  But I am increasingly becoming unappreciative of my home country lately.
So my head told me to vote 'Remain' – and I did.  My heart, well, that Greek lady busy hugging me was spot on.  My heart told me otherwise.  I looked around me…at how a supposed 'Union' operated:
At their treatment of the Greeks over this prolonged period
At the gradual rise and domination of one particular country in Europe (I thought the formation of an E.U. was supposed to stop that?)
And the straw that broke the camel's back for me: the refugee crisis and the E.U's response (ha!  Lack of) and attitude, once again, towards Greece.
I had my feet firmly in two places.  What do I do?  I was undecided for so long.  I would have preferred this kind of voting card: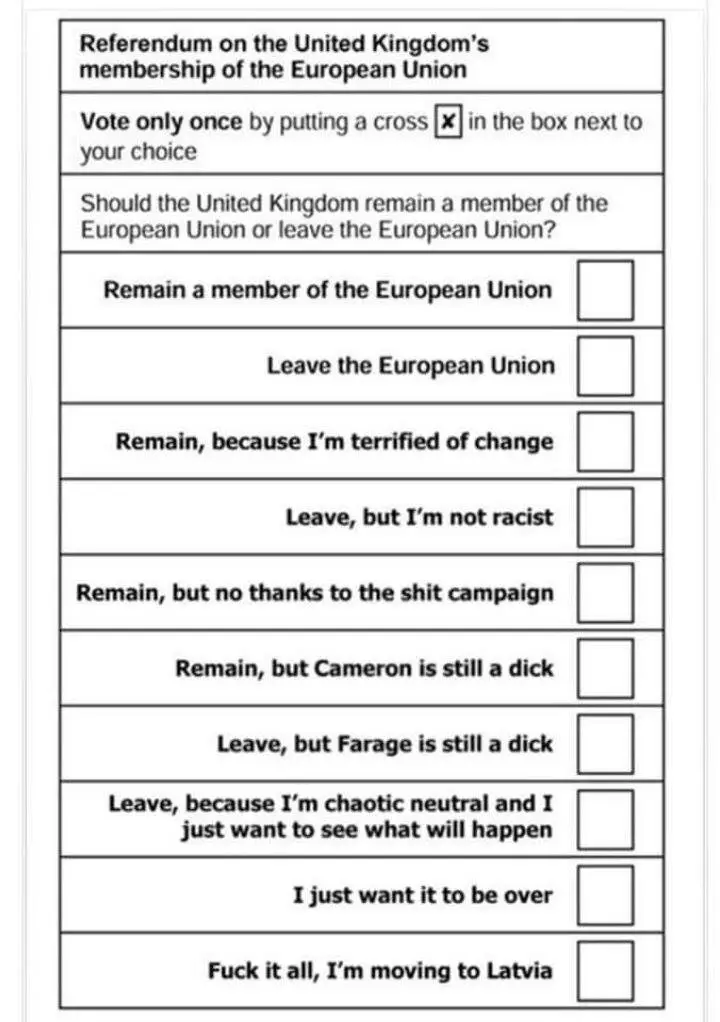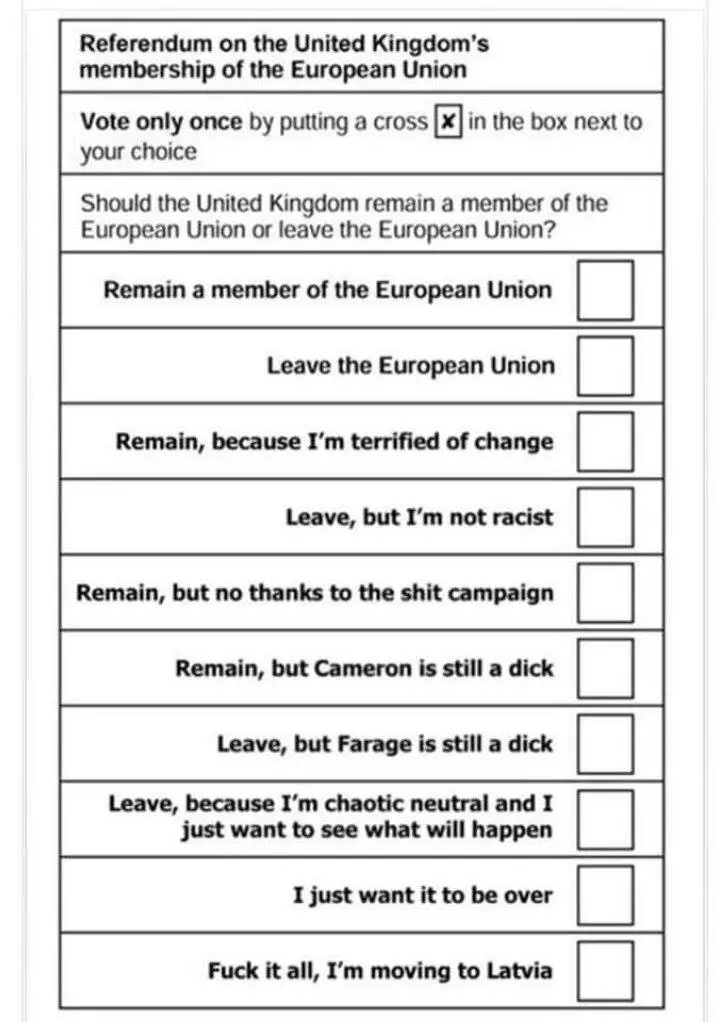 So I'm angry.
Angry at being placed in this situation to have to decide
Angry at the vitriol being played out by the Remain voters (I hear over 1 million want another Referendum.  Can you imagine if Remain won, and the Leave voters demanded this?)
Angry that anyone who may have voted Leave is branded a xenophobe (whilst that may be true i.e.: some people voting to leave did so for xenophobic reasons, it's like saying all muslims are terrorists – oh, wait: someone DID say that, and he's in the running for President of the U.S.)
Angry at BOTH sides of the campaign for, quite frankly, gutter politics.
Are the Greeks xenophobic for thanking me for being British and having the balls to stand up to the E.U.?  No, the Greeks are tired:
Tired of years of austerity
Tired of more and more measures being imposed on them
Tired of the, quite frankly, impossible expectations imposed that are actually not to bail out the people, but the banks.
What's the answer
I don't know.  But I do know that I don't like what the E.U has become:  one country rising as the hegemonic one, as the bully of the bloc.  The EU turned out not to be about unity, but about a 'do as you're told' bulshy school ground bully, although much more dangerous. It's behaved appallingly in areas such as the refugee crisis and at the end of the day, did you see much of a 'union' at work?
Maybe this vote is what's needed to stop the domination of one country. The notion that we were all a 'union' working together was mid-guided and naive. It was one country getting stronger on the decline of others. 
This could be Britain's 1939 moment all over again.
I may well get anger and vitriol at this blog post I've written. But something needed to change.
Maybe this is the start of the shake up that's needed.  The Greeks I've met certainly think so.