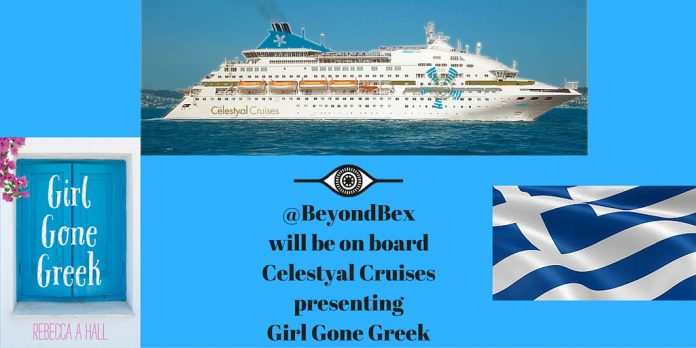 I bid you farewell for a while, I will be offline.  You see, from 7th to 15th July 2016, I have been invited on board a Celestyal Themed Cruise around the Eastern Aegean sea in the Mediterranean.
Greek Summer Festival Themed Cruise – Women Today.
The cruise is a three or four day itinerary, but I am fortunate enough to join it for the full 7 days.  The 'Women Today' themed cruise has a theatrical performance of 'Shirley Valentine' – the one character performance of a 1986 Liverpudlian housewife and the before and after transformation after she takes a holiday abroad in Greece (turned into a film in 1989).
It also has a jewellery making workshop, fashion show and…(wait for it…) a book presentation of Girl Gone Greek by yours truly!
Yes!  I have been asked on board to present my novel – I'm so excited!
Itinerary
Here is the 7 day itinerary:
Athens
Mykonos
Kusadasi (Turkey)
Samos
Milos
Athens
(whilst at sea – my presentation will take place!)
Syros
Cesme (Turkey)
Kos
Ios
Santorini
Athens
Off the map – offline
Now then, although I'll be visiting ports, it basically means I'll be offline for a good while.  Internet by satellite is expensive on board and besides, it'll be a good opportunity to have some down time and concentrate on enjoying all these different islands and ports.
And so, if you don't see anything written by me for a few days, it's because I'm off, promoting Girl Gone Greek and gathering new material to blog about for you all.
Aye aye Captain!