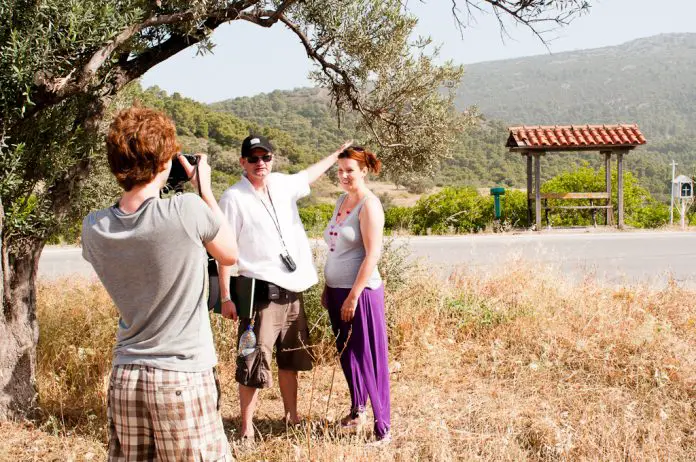 As soon as I saw the tagline for "The Journey" (originally "Greece– The Movie"), I knew I wanted to meet the director and team of this project.
One man's journey to find answers, in a country struggling to find its own
That was it… 'This is a man who knows Greece, who has been affected by her and her people, who holds Elada close to his heart. I want to meet him, find out more' I thought. I followed their Facebook page and managed to interview the writer/director Lance Nielsen.
Come to the set in May
he offered. And so I did.
The set
I met up with them on location in Aegina at the Kavos Bay Hotel where the hosts, Irene & Nikos, kindly allow the cast and crew to have run of the place before opening for the summer season in mid-June 2013.
Finally I was getting to meet Lance and his crew, the man whose personal experiences of this country & its people made him fall in love with it enough to want to positively depict Greece, in its time of crisis.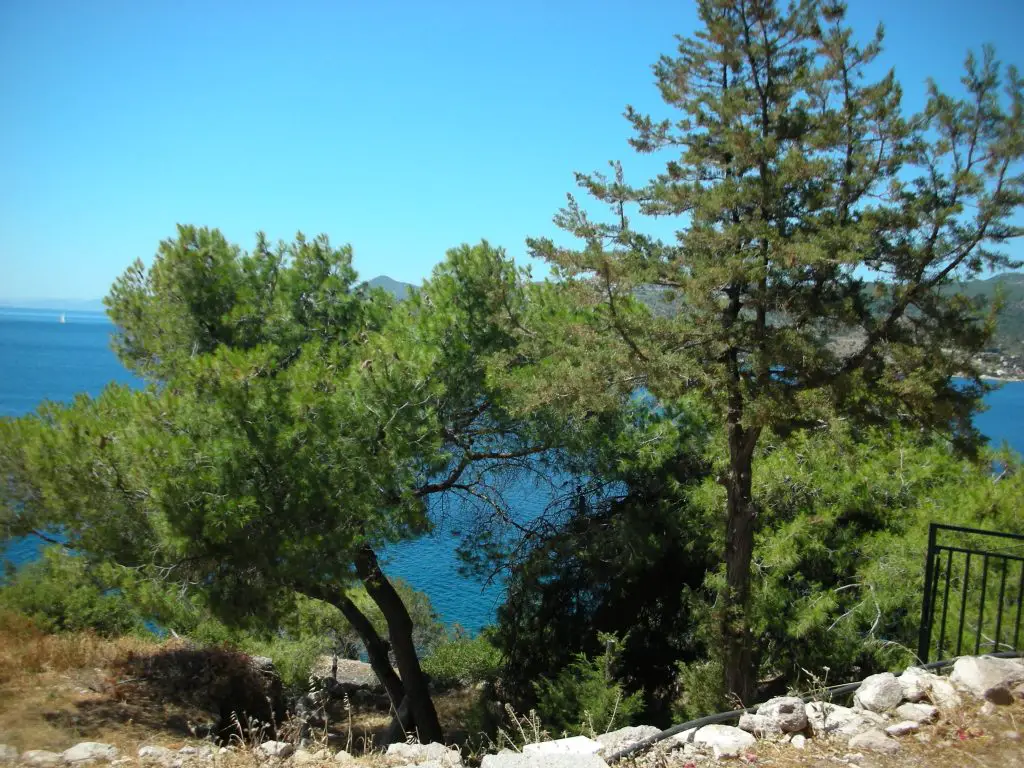 The background
Lance met the majority of his crew in February 2013 at the Guerilla Film Makers workshop in London. Specifically, he met five Greek ladies with various film industry background. The original focus was the screenplay Gaddafi, written by Lance, intended to be filmed either in Cyprus or Crete. This project went as far as the trailer being filmed in August 2012. However, Lance wasn't content: he wanted a film with Greece as its main focus, not just as a location.
And so "The Journey" was born. Its base is Lance's personal experiences with the people he meets in this beautiful country, after experiencing two traumatic events in his life within a very short space of time. Later, the title was changed to "The Journey" to more accurately depict one man's spiritual journey to discover himself, in the face of adversity, in a special country with exceptional people.
The cast & crew
Having settled upon a theme that Lance was happier with, he then set about the script process. And what about the cast?
Lance wrote the script with an actress in mind for one of the main characters; Lindsey Coulson (of BBC One – EastEnders). She takes a lead role, as does Jason Flemyng, with Duncan Pow playing Lance's fictional character. "The Journey" also features Greek actors Tasos Nousias, Stelios Kalaitzis & Shirin Youssefian, of Persian descent.
On set
Aggeliki introduced me around. Everyone was eating lunch.
"Life Beyond Borders – you write that site!" Shirin enthused. "Yes, I live in Athens and follow you. I've left some comments on some of your posts – welcome!"
Blushing I was a little lost for words, and a little overwhelmed that someone from a film set actually knew about me!
Come out with us for the day. We're not filming a lot today, but you'll get an idea
So after the introductions and a bite to eat, I squeezed myself into the front of one of the vans with the Stills Photographer, and off we rode in convoy, walkie talkies crackling every now and then to ensure we were all in procession.
Here – this is a good place
Lance crackled into life as we pulled up by a piece of land by a church, gorgeous mountainous views and a small bus stop with shrine next to it.
The next hour was spent filming 'shorts' (apparently): small segments of films that, when edited, will look like one long one. Plonking myself under an olive tree, I tried to just watch from the background and not get in the way. But have I already mentioned how friendly the cast and crew were/are?
Come closer – get a better idea
Lance propelled me forward. And so I watched as DuncanPow ("Jason") was filmed walking up to the bus stop, several times.
And then off to the beach for a different shot. It was later in the day by now, good light for filming a different part of the film.
Make-up artist Christine Nicklin-Rivett chatted with me and was more than happy to explain what was going on – called upon herself often to touch up foundation…don't forget we were in the searing heat on Aegina island!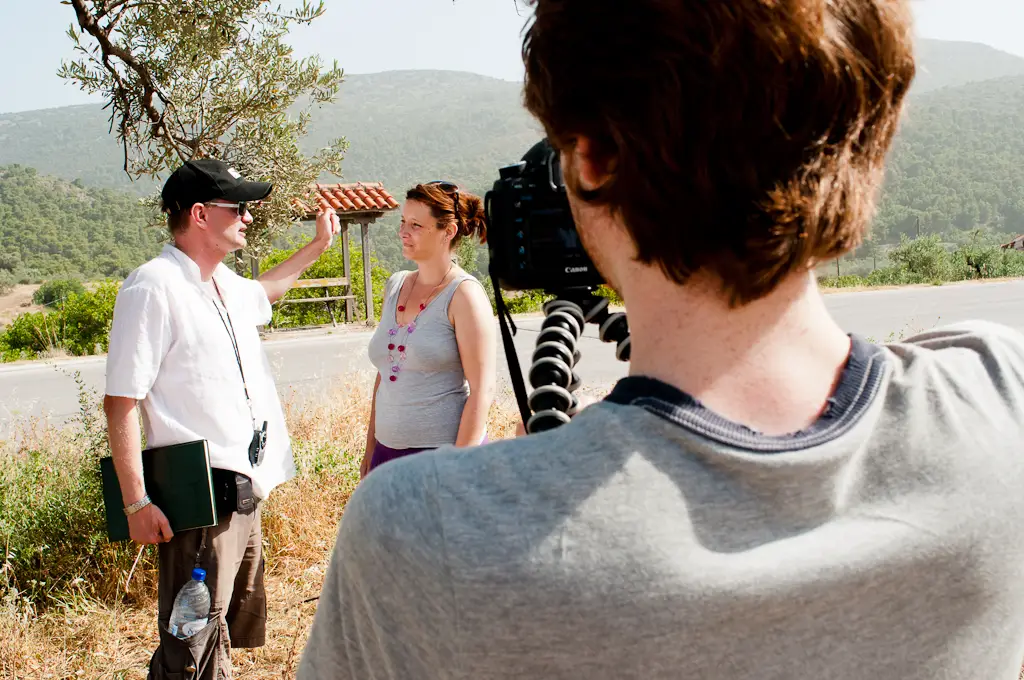 Locations
Where is "The Journey" set? In September 2012 the crew came to Greece to scout for locations. For those of you familiar with Greece, when the film's released you'll recognise the lesser known islands of Kea & Aegina.
Funding campaign
"The Journey" is self-funded by Lance…he believes in this project so much that he's prepared to fund it himself, but his pockets aren't bottomless, and this is where you, my dear readers, come in!
Between 20th June and 20thJuly, a Crowdfunding campaign is being launched on Indiegogo, the aim of which is to raise £30,000. The more you donate and support this project, the more you get back too – as well as the knowledge you're helping to support a special project. And if you love Greeceas much as I do, hopefully you'll be moved enough to donate even a little if you can.
There are other ways you can help. Lance and his team will be back in the Spring of 2014 to film again and they're looking for Drivers, a minibus and fishing boat, amongst other things. Also Assistant Make-Up artists & hairdressers. If you think you can help them in any area, contact Kiki Fotiadou, one of the producers.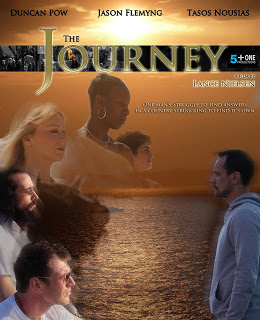 I experienced first hand how hard it must be to be an actor on a film…
how hundreds of different scenes are shot, never in order of the film, and how the editor must work hard to put it coherently together – not forgetting excellent backing music to create atmosphere. An actor might be required just to walk into frame briefly, but it may need to be shot lots of times before the director is happy – and then the next scene may require the actor to be incredibly emotional.
Unlike theatrical performances – where the sequence runs in order – film acting looks like hard work to me!Meeting the cast and crew of "The Journey" meant a lot to me. As mentioned previously, I could see through my research and Lance's depictions and previous interview with him that Greece holds a special place in his heart, mainly due to his experiences with the people encountered. And with all the crap that this country's experiencing of late, the fact that one man pulled together a fantastic team of people in order to make a movie based here, also utilising Greek cast and crew, should mean a lot to the country too.
Thank you for inviting me to be a part of your team for one day…I truly felt accepted into your fold and it was a pleasure to see you all so hard at work. And a special thanks extends to Irini & family of the Kavos Bay Hotel, Ag. Marina, Aegina.They allowed me to stay free of charge and the warmth and hospitality they extend to the crew goes above and beyond. I look forward to hopefully having the opportunity to go back on set in 2014 to meet the team again.
---
"The Journey" poster courtesy of www.facebook.com/GreeceTheMovie.  Artwork in progress.