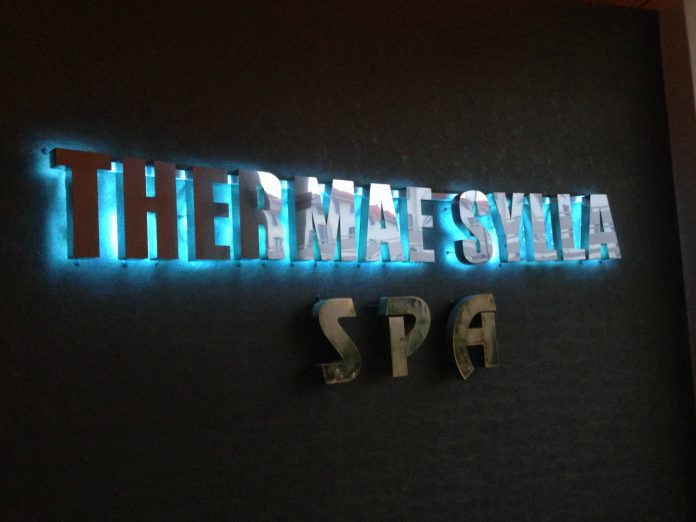 Followers of my site will know that we recently celebrated one year of the creation of Travel Bloggers Greece – and we did so during a relaxing weekend at Thermae Sylla Spa hotel in Evia, Greece, listed as one of the top 10 spas in the world.  I wrote about it here. The treatments on offer at the Spa are either for Wellness and Relaxation, or Therapeutic. The treatment I decided to have whilst there was a Total Mud Therapy.
Total Mud Therapy
It's a slightly strange treatment and is unique only to Greece – meaning you'll not find another treatment like it. The mud is imported from Italy and is stored for 6 months where the thermal waters wash over it and infuse the mud with their therapeutic qualities.  As the quality of the thermal waters is within the top 3 in the world, you can imagine how soft the mud feels.  The treatment itself is good for the back, neck and skin – and trust me, by the time I'd finished, my skin did look different – it was glowing.
As the hotel states:
…this treatment is ideal to reduce rheumatic and arthritic pain. It alleviates aches, improves mobility and improves circulation in joints and muscles. The mineral-rich mud also boosts beauty and detoxifies. Source.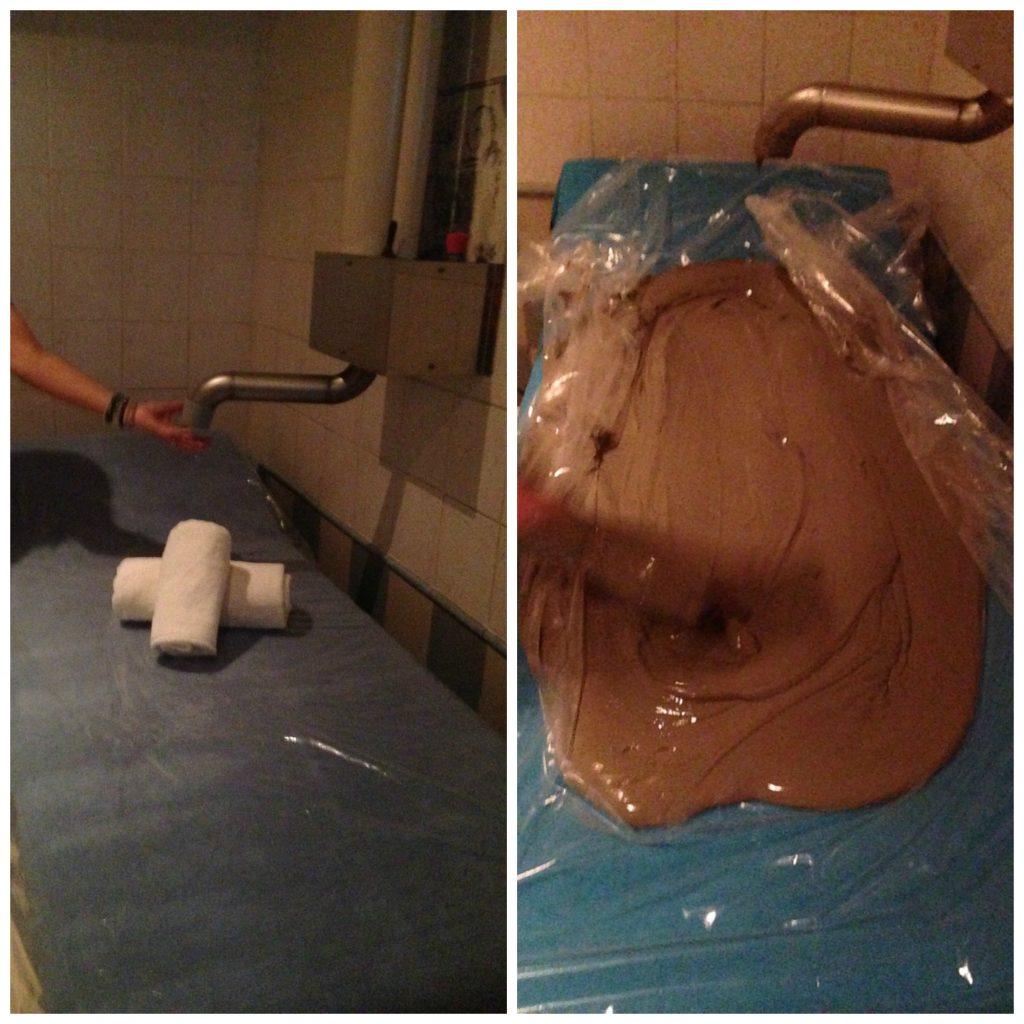 The mud is pumped from the pipe onto the plastic sheet that covers the bed, and you lie in it, literally.  You are naked except for some disposable pants, and your hair is in a cap.
The therapist encases you – mummy like – in the mud and plastic sheet, turns down the lights and music and leave you for about twenty minutes to wallow in the warmth.
At first I felt a little like a pig, you know – wallowing in the warm mud. I tried to stifle my giggles at the slight ridiculousness of my situation,  But then I felt a little claustrophobic as I was literally encased in it and couldn't really move.  But once I relaxed, it was quite warming and comforting.  Quite womb like, in fact.
After about 20 mins the therapist came back, helped me stand up and I was lead to a shower cubicle in the same room and showered the mud completely off (THAT wasn't easy – but the shower had jets from all directions to help.  And then a thermal bath was run for me.  I stepped into the warm waters and allowed the massage jets to pummel me for a good 10 minutes.
Once this was completed, I dried off and allowed myself to be led to the massage room, where I had a good half and hour to 45 minute therapeutic massage.  And boy did I sleep well that night!  Check their site for prices.
Hammam
As well as offering two spa pools and various treatments, Thermae Sylla Spa also offers Hammam's of various temperatures – one with a eucalyptus tree inside, so you can imagine how wonderful that smells.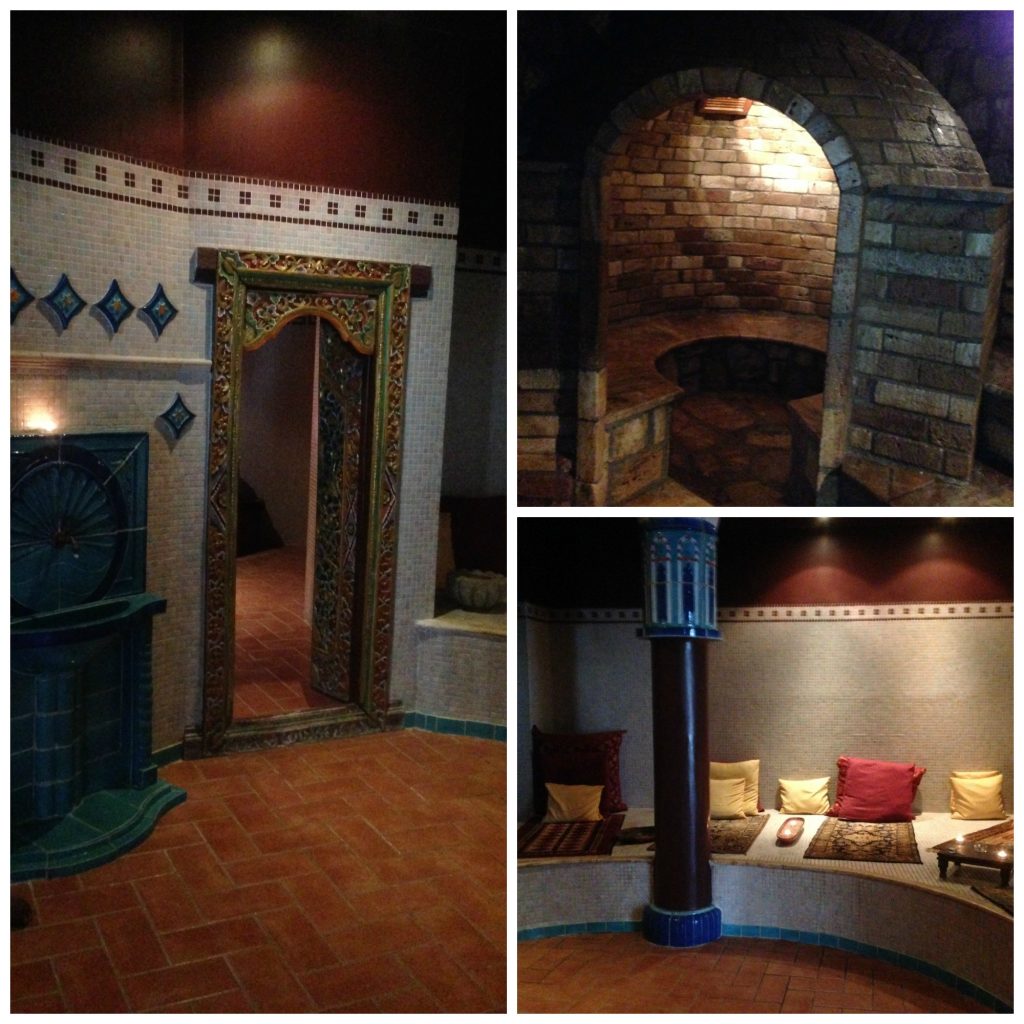 I'd highly recommend Evia and the spa town of Edipsos for a winter break.  The treatments on offer were varied and many – and being able to swim in the outdoor pool in the warm thermal waters and sea water felt amazing, as the wind howled around you.
Don't just think of Greece as beach destination – give it a go.  Suitable for couples, romantic break, even solo travellers who want to get away from it all and rejuvenate.
Pin for later