Tiverton is a small market town based in mid-Devon, in the South West of the UK.  I've written about it before here as it's the place I grew up in as a teenager before spreading my wings further afield.  Take a look at that post to see what's on offer in this quaint town.  This time, coming home I found myself asked to take part in the Tiverton Literary Festival.  In its second year, the Festival is the brainchild of a wonderful locally based author Jenny Kane (one of her many pseudonyms).  I was really honoured (and nervous!) to be asked to take part – but it was an event that turned out to be informative and fun.
Tiverton Literary Festival Workshops
The event kicked off on Wednesday 8th June 2016 at 2pm with an Historical Fiction Masterclass.  This was swiftly followed by 'tea and chat' with authors Jenny Kane and Devon based historical fiction author Michael Jenks, aptly located in a small room in the grounds of Tiverton Castle.  It was wonderful to glean writer's tips from local talent, especially as writing can be lonely work.  For me, it was good to realise I'm not alone and not punish myself if I can't write hundreds of thousands of words daily!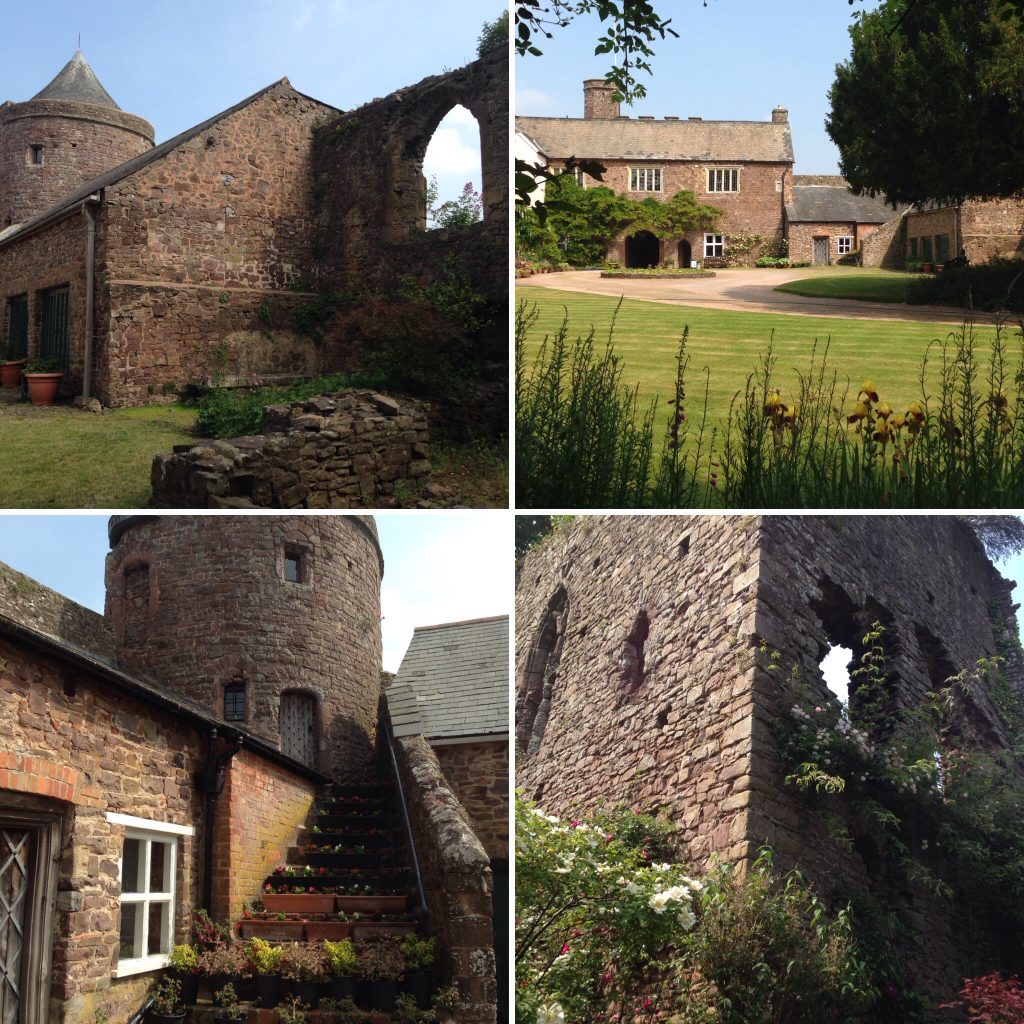 Throughout the week there were a variety of workshops and talks, all in different locations around the town ranging from the Town Hall, The Oak Room (a small art gallery/cafe/old church hall) and the Tiverton Museum.  I must admit, for a small town I didn't even know so many different spots existed to explore!
The most interesting talk for me was a discussion with Faisal Islam, Political Editor for SKY News who came down to discuss the E.U. Referendum and talk about the consequences.  Interesting for me because his 2013 book; The Default Line gave some insights into the economic situation in Greece, where I spend a lot of my time and worked.
Invite to present to the High School
On Thursday 9th June 2016 I was invited to come and talk to two different classes at the local secondary school.  How did I feel about this?  Nervous!  From my experience of teaching English in Greece, I know kids can actually be your harshest audience, and therefore this'd give me good practice before my talk in the Town Hall on Saturday 11th.
What could I talk about to two large groups of Year 9 students (aged 14 years)?  I settled on talking about my work as a Travel Writer for Rough Guides and the transition into penning my debut novel Girl Gone Greek.
It seemed to go down well – I was chuffed that the students were quiet and seemed to listen, and asked questions!  A few were interested in the difference between Greek and English schools (that's a whole blogpost in itself, but it was nice to be able to answer questions).  It was an honour and privilege to be invited to the school to present – and to meet the great teachers who continue to inspire these kids.
Author market – Tiverton Literary Festival
Saturday 11th June dawned bright and early.  Fellow locally based author Chrissie Parker, who has also penned a novel, Among The Olive Groves – historical fiction based on the Greek island of Zakynthos, joined me in our goal to promote Greece in the Author's Market in the hall of St. George's Church.
Flying the flag of Greece, we were determined to promote the country in our way; selling our novels, Greek candies on offer for those who purchased one and persuade people to go on holiday there!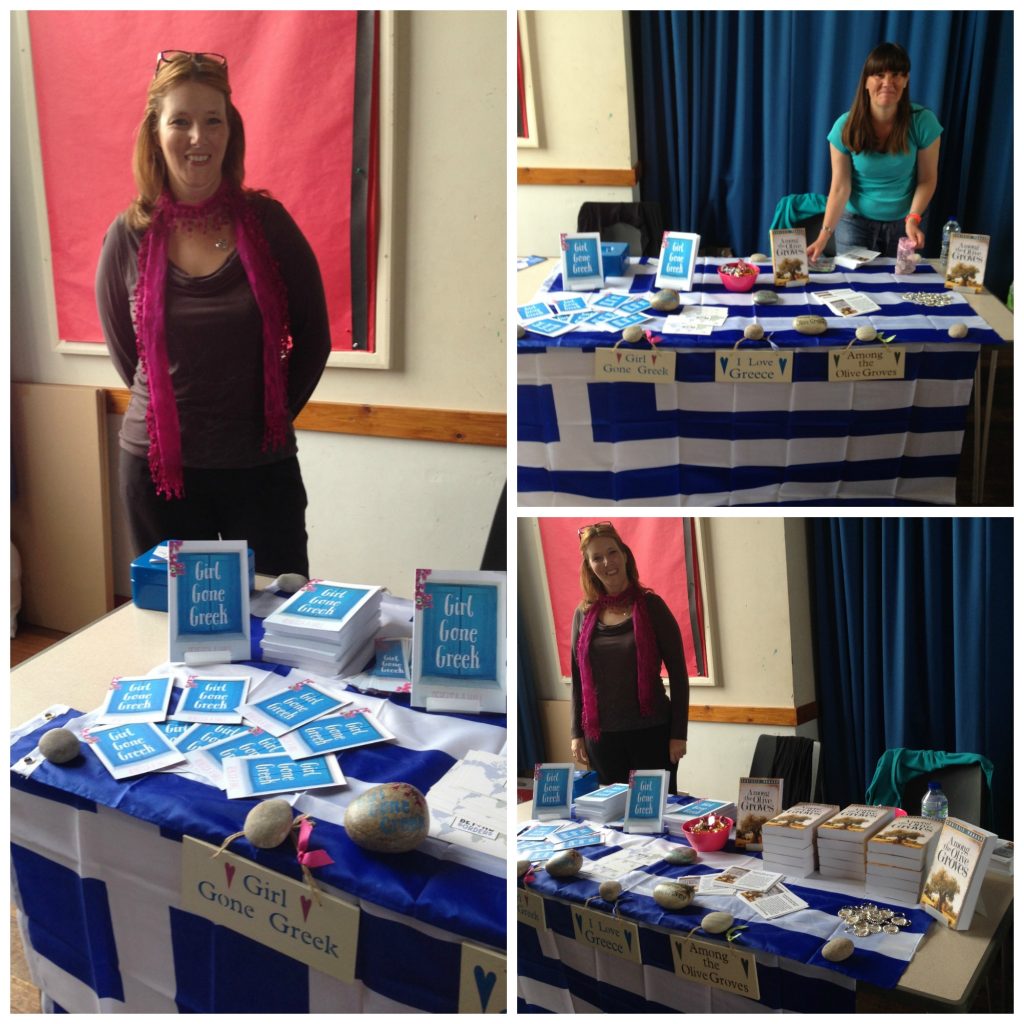 Town Hall talk – Tiverton Literary Festival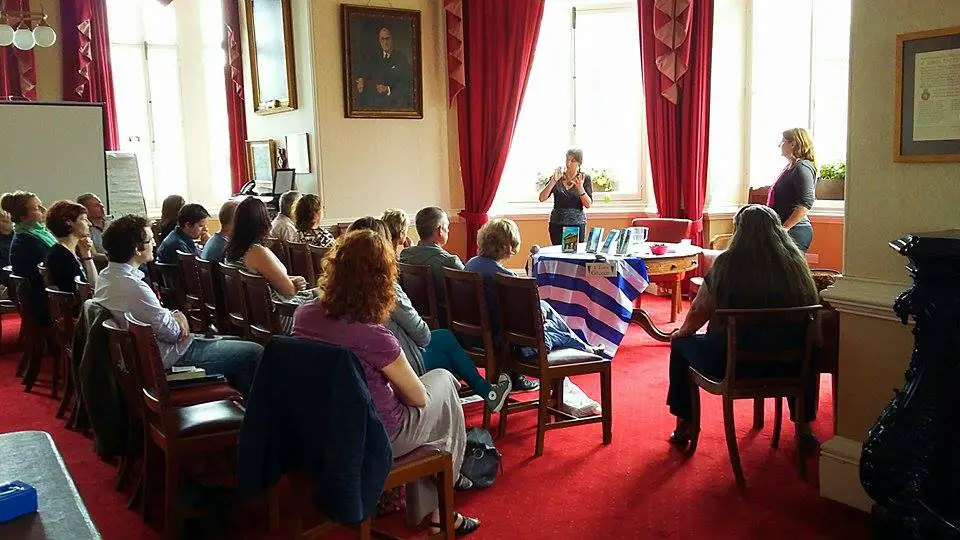 2pm came around very quickly, and it was my turn to present in the Mayor's Room of Tiverton Town Hall.  Feeling nervous as hell, it turned out I didn't need to be as Jenny Kane bigged me up somewhat in her introduction…and off I launched into tales of the transition from local girl to travelling and writing for Rough Guide to Greece and then penning Girl Gone Greek.  It seemed to be well received and again, at the end people asked questions and took free tea and cake – a good enough reason to come!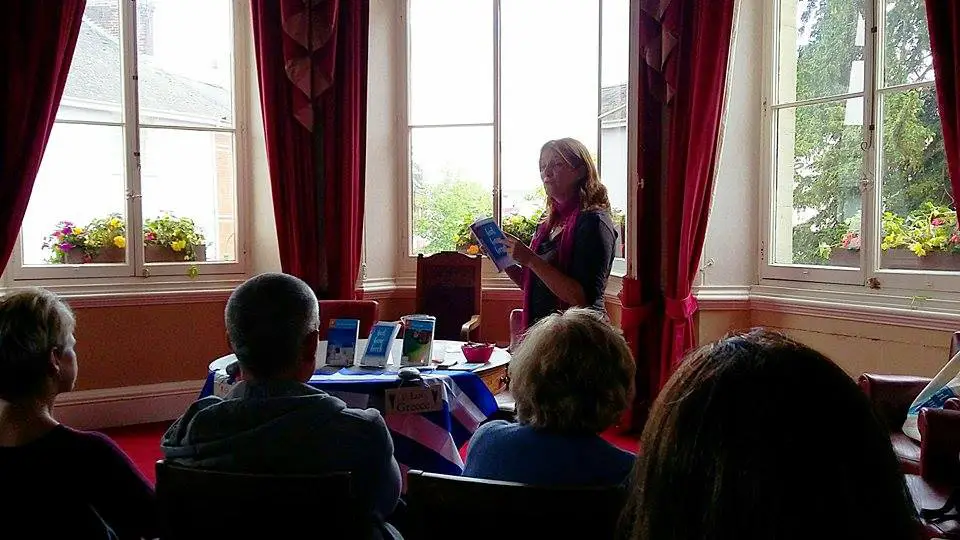 For a small town in mid-Devon, the Tiverton Literary Festival attracted a wide audience and interesting crowd.  I loved speaking to the High School students and hope they're motivated to explore a career in travel writing, and realise that it's OK not to necessarily follow the route of school, A-Levels, Uni, job, marriage, kids, retire, die. I certainly tried to steer them away from that thought process, and I think the teachers appreciated it too!
I look forward to the third year of the Tiverton Literary Festival in 2017.  A HUGE thank you to Tiverton Community Radio for interviewing me and promoting Girl Gone Greek – you can listen to my interview here, as well as interviews with other participants of the Festival.