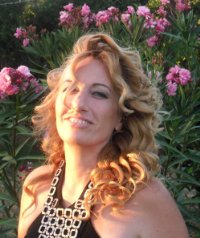 Back in November, I lucked upon an English indie (self-published) author who writes fiction novels about Greece, Sara Alexi.  I warmed immediately to Sara's style of writing and description of the fictional Greek village as I can relate…her prose was spot on.
She contributed her own post to my League of Expat Writers here and after reading her first book, "The Illegal Gardener," I conducted my first interview with her.  Now, having finished all three books in the series so far, I've interviewed Sara again.  What follows is a very insightful journey into what inspired Sara to write these three novels, along with the recognition of the struggles of the Greek people.
Review copy of book provided free of charge by author.
---
Hello again Sara,
You very kindly allowed me to interview you about the inspiration for your first book in The Greek Village series, The Illegal Gardener. Since reading this, I have had the pleasure of reading the second and third books in the series: Black Butterflies and The Explosive Nature of Friendship.
All three books centre around the lives of three individual characters in the village: Juliet, Maria and Mitsos and focuses on their interactions with family and other members of the village.
Did any inspiration for this come from the Greek village where you divide your time between when not in London? Ie: characters and place descriptions (kafanio, kiosk, souvlaiki café).
I love 'my' village, the layout and the people.
The kafenio, kiosk, church and chemist all stand exactly as I described them in the books. The souvlaki cafe unfortunately closed just over two years ago. It was the centre of the village until then. A sandwich shop opened in its place.
There are many characters I see wandering around the village whom I have never spoken to, these are the people who inspire me. I try to guess what their lives are like by the way they walk, the clothes they wear, the people they talk to.

The second and third books cleverly intertwine and refer back to characters introduced in the first. The most fascinating character for me in the Illegal Gardener was the gardener himself.
Do you have plans to write a book and develop this character further?  Tell his story more?
Aaman is in Pakistan at the moment but he has been offered a job in Bradford, England. He naturally wants to take this job but it will probably mean leaving his wife and daughter behind again. If he goes he will arrange to meet up with Juliet as Bradford is her home town.
The next in the series is about Stella who runs the souvlaki/ouzeri take away. This book revisits known characters: Mitsos, Marina, Juliet, Vasso in the kiosk, Theo the kafenio owner as well as introduces new ones.
Book five travels from Greece, across to the Middle East and back to England.
Book six may well be when we meet Aaman again.
My biggest question of all – what inspired you to write a series about characters in a Greek village? You clearly have a love of Greece and adjust well when here, are there plans afoot to write a series of books, for example, about different characters from a different culture altogether? In short, what's next?
As a psychotherapist my interest has always been with how life affects people and how they rise through the trials set in their paths and come through the other side, often not only improved but sometimes positively flying! People are amazing. Mothers lift trucks to free their children, baby's abandoned at birth rise to be leaders in our society. We are remarkable.
This is no where more clearly visible than in my small village in Greece where the people have weathered wars and famines along side the daily trials of life. Girls have been married at fourteen, lived through a time of civil unrest and limited food and have become the most loving mothers and happy wives I have ever met. Disasters have struck others and they rise from the ashes without ceremony. You can stand next to a hero and be none the wiser who he is. Yet I would shy from what he has endured.
I guess, for all the warmth of the village life, Greece has been a tough environment to live in and now goes into a new phase of hardships with the austerity measures. But as I overheard someone say in the village, it is not themselves they are fearful for, they have handled worse, it is if the Westerner has to tighten their belts, it is they, who have no idea of how to sacrifice, that their hearts go out to.
The Greek people are my inspiration.
However…
I think that there are different hardships in different places and England, for example, has an increasing culture of separateness. People find them selves alone and isolated for many reasons and once in these empty places it can be hard for them to fight their way out.
I have started a book that is separate from The Greek Village series. At the moment it is a 'stand alone' book. But who knows, in the writing more characters my call out for their stories to be told.
The story follows a woman who thinks she has it all. She is happily a single mother, has a job, her own flat, but something niggles. Why is she not content. She starts herself on a series of psychological experiments..
I am also going to Nepal in March. I have a feeling I may meet someone very similar to Aaman.
I thank you, Bex, for the interview. You always ask great questions.
I'm looking forward to reading the next books in "The Greek Village" series, and Sara's other planned novel also sounds intriguing. You can follow Sara on her Author Page on Facebook