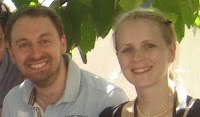 This week's League of Expat Writers moves to exotic SE Asia. Tammy and Chris are a couple hailing from Germany and England, meaning between them they are efficient and polite, but unable to talk about football or 20th century history. In October 2011, they decided to stop pushing pens around the British civil service to work on human rights issues in Cambodia, and travel around Asia as much as they can. Today, as an expat in Cambodia, Tammy kindly agreed to share with the League of Expat Writers her experience of Cambodian food.
---
Before I came to live in Cambodia, I had never tried Cambodian food. To my shame I have to admit that my very first meal when we arrived in Phnom Penh was Spaghetti Bolognese. I know, I know. I was scared of the unknown, I was scared I might end up eating a disguised Tarantula by mistake and I was scared of what my future life in Cambodia would bring. So I needed some home comforts that would calm me down. Tomorrow I would be more adventurous…As time went by I became less scared and discovered the unknown, weird and delicious foods Cambodia had to offer. I have mastered the art of eating rice with chopsticks (because it's easy, but I still drop everything else), tried meats I have never considered eating before (water buffalo) and unknowingly also eaten meats I would never eat again (pigs intestines). Here is a look at my highs and lows of dining in Cambodia:
The safe food
Fish Amok (Amok Srey) is considered to be Cambodia's national dish and it was the first Cambodian dish I tried. It is fish cooked in a banana leaf with a delicious red curry sauce and served with rice. It was so nice in fact that I attended a cooking class where I would learn how to cook this dish. I thought that if every meal in Cambodia is like that then Bob's my uncle…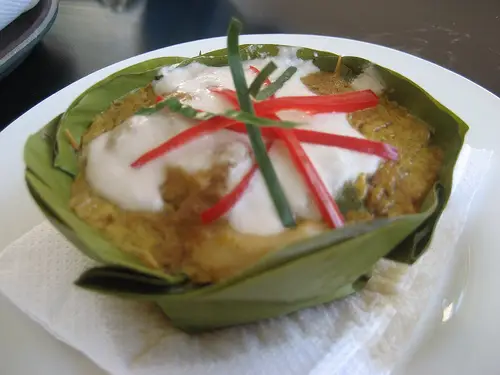 The food I tried but didn't like
…and then I tried something called sour soup. It was only my second week in Cambodia and already had I been invited to a wedding. The thought of humiliating me in front of my new boss who had invited me was terrifying. The waitress put one dish after another on the table until it was so full that I had no choice but try every single dish. I tried some and really liked them and told my boss I like almost every food. BIG MISTAKE! She proudly put more and more food on my plate and eventually she put a bowl of some kind of soup in front of me. It had all kinds of vegetables I had never seen before, fish and pineapple in it. It looked all right, but I have never tried fish soup and wasn't sure if I liked it or not. I didn't, so I politely had a few sips before claiming I was full because of all that food I had before. Chris was less diplomatic and spit out the soup in disgust. There went my good relationship with my new boss…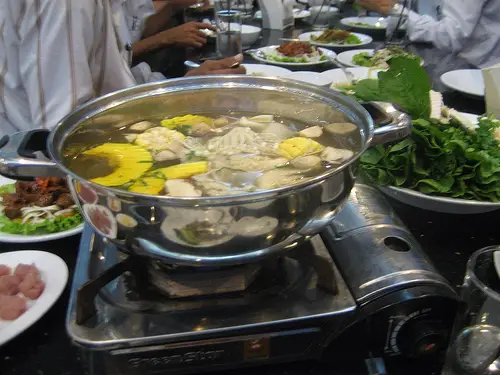 The most confusing food
So now I offended my boss I was ever so slightly nervous about this upcoming business dinner I had to attend. There I was, sitting right next to the board director (who I'd never met before), dreading the food that was about to come. A waitress put this massive pot of broth right in front of me. It was cold. Weird! Then she bought lots of little dishes containing raw vegetables, exotic fresh herbs and rice. Everybody stared at me. Hmmm! What am I supposed to do with all of this? Is the broth in fact some kind of sauce and I need to dip the raw vegetables in it? But then what do I do with the rice? Why is everybody still staring at me? I think the board director sensed my panic. He turned a little switch on the pot with broth which then lit the fire and started boiling the broth. Ahhhhh! He then patiently threw some of the ingredients into the boiling broth. I seeeeeee! At last he threw in the herbs. Riiiight! He even patiently served me a bowl of soup once it was all cooked. Feeling ever so slightly stupid, I actually thoroughly enjoyed the soup.
The food I can't get enough off
There is one dish I was introduced to through my travels in Kratie that I just cannot get enough off – num banh xeo (Khmer meat pancake). The pancake is made out of rice flour and then gets stuffed with meat, fish or tofu. My favourite is the one with pork mince filling. So a stuffed pancake doesn't really sound that exciting I know, but oh it is, because that's not all! You break off a piece of the pancake, put it on top of a salad leave, place some fresh herbs and cucumbers on top, wrap it up like a parcel, dip it in some sweet fish sauce with peanuts, and try not to choke when you put the parcel in your mouth. Et voila-THE best dish in Cambodia!
The food I won't eat again
Since I try most food that is placed in front of me I gained a little bit of a reputation amongst my Khmer colleagues. They considered me die hard and far too polite to ever say anything negative about the food (I blame my 7 years in England for that…damn those polite Brits! We went out for a staff-socialize one night, where as usual I didn't really get a chance to order anything as the menu was all in Khmer. So my colleagues happily ordered a few dishes that we could share. There were lots of meat dishes that all looked pretty appetizing, so I happily tucked into each of them. One was a bit tough, but I thought that maybe it was just badly cooked. When after 5 minutes of chewing I still hadn't managed to swallow it I asked my colleagues what this meat is. Silence! Oh my god, what have I said? Have I offended anybody? I nervously smiled and asked again, emphasizing that I like it, but just want to know what it is. Silence! I turned to my boss who quickly said that she won't be able to tell me until tomorrow. I started to slightly panic. Why would she need to wait until tomorrow? I encouraged her that whatever I have eaten, I can take it and she can tell me now. She said that she didn't know the translation (and neither did any of my colleagues), so she would have to tell me tomorrow. Yeah right! The next morning I asked her and she hesitated again, but then told me that what I have eaten was in fact a Cambodian delicacy. It was pigs intestines!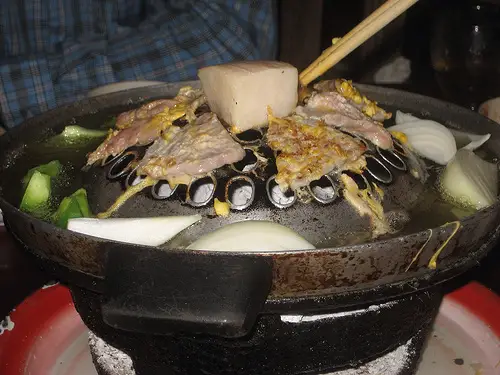 The food with the most creative name
Cambodians love barbequed meat. When my colleague asked me if I fancied eating a dish called 'cow that climbed a volcano' I hesitantly but politely accepted. When the waitress bought a dish of finely cut raw beef with another dish containing a cracked raw egg, I just thought – here we go again. I will die of salmonella! But then she bought a little stove that was shaped like a cone (hence the reference to a volcano). You are supposed to dip the beef into the egg and then put it on the stove. What comes out is a barbequed beef slice with a cooked egg coating.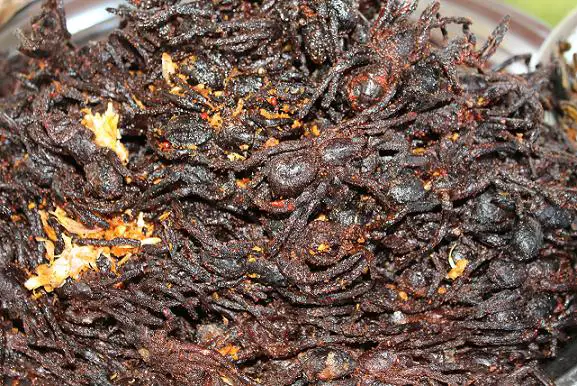 The food I refuse to eat
The reason I had pasta my very first night in Cambodia was the dreaded thought of ending up accidentally eating one of Cambodians most loved snacks. I am not talking crisps or peanuts here. I am talking spiders. Big spiders. The kind of spiders they were making films about in the 70s with really bad special effects. I am talking about fried tarantulas. I am a terrible arachnophobiac. True, I am much better since I have been living in Cambodia, but if a spider has a certain size, I won't go anywhere near it, shriek like a little girl and ask Chris to remove it somehow. So the thought of touching a fried spider and eating it is my worst nightmare.
---
There you have it-the good, the bad and the ugly of Cambodian food. Have you tried Cambodian food before? Don't forget to connect with Tammy & Chris on their blog, Facebook and Twitter
---
Picture source: http://tammyandchrisonthemove.blogspot.gr/