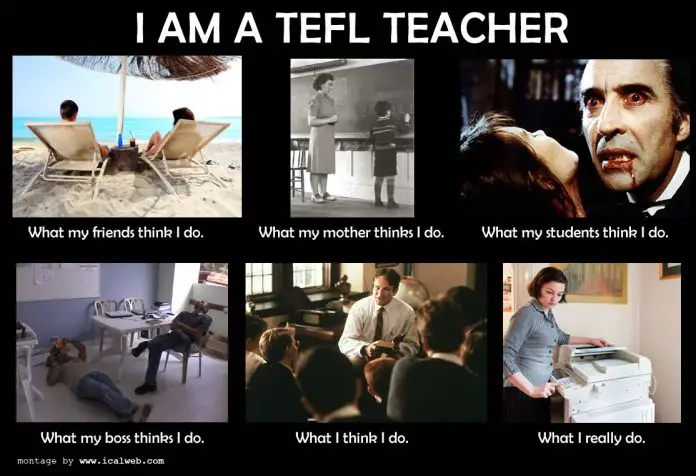 Whilst writing my blog, I have found many people asking about how to get involved in TEFL work, so this post will hopefully enlighten you all a little more.
You'll have seen from my profile that, after a varied career in my native country, I decided to take off and do some travelling.  Hence my first foray into teaching English: 4 months in Sri Lanka pre-tsunami.
After a decade of flitting here, there and everywhere, it seemed that I had finally found my 'calling' – teaching suited me…I loved the kids and loved nurturing their enthusiasm and passion.  However, I didn't want to teach back in my own country, I wanted to combine teaching with learning about and living in different cultures, hence I knew I would be better suited to EFL (English as a Foreign Language) teaching.
Upon my return to the UK, I earnestly researched to find the right course.  Here's some invaluable advise to all who're thinking of undertaking EFL work abroad as a career:
There are many organisations that offer TEFL courses (Teaching English as a Foreign Language), but in order to be accepted anywhere and have no restrictions, you need to undertake either the Cambridge CELTA or Trinity TEFL.  Look at the British Council's site for more information on both these qualifications.
Once you're armed with one of these, you're ready to throw your dart at a world map and take yourself off (within reason, obviously!).  The CELTA and Trinity course usually require you to have a university degree as well.
The next thing to be aware of is the visa restrictions of countries.  For example, many North Americans will find it easy to get work in South America, but harder to find work in European countries.  This is not due to qualifications, but the visa requirements of that particular country.  So do your research.
As mentioned previously, there are numerous organisations that offer their own TEFL qualifications…off the top of my head, Cactus TEFL and i-to-i TEFL offer such courses.  They are usually on line courses and don't offer face to face instruction whereas a one month CELTA or Trinity TEFL includes a certain amount of face-to-face observed teaching contact time, with 'real' students.
These other qualifications are not without their merit, but just be aware you will be restricted to where you can work and probably only apply for jobs through these organisations.  They will offer a job finder service, placing you in 'their' schools.
www.tefl.com is another website offering invaluable information to any perspective teacher.
Now based in Athens, Greece I have to say, I love the work I do.  Greece is a country that is very much exam focused and driven, but my training has allowed me to include flexibility within my teaching timetable and allow creative thinking, to develop young minds.
To those of you thinking about this as a 'serious' career, do please make sure you choose to take either a CELTA or Trinity TEFL qualification…and whether you end up in Europe, the Far East or South America, good luck to you!
Header image: http://lifeinthetropics.org/tefl-bad-career-choice/