My post about Hydra Island, Greece introduced this Greek island with a difference to you and, I hope, convinced you to stay longer than a day trip.  Here I show you where to stay on Hydra which, as I'm sure you can imagine, also has its element of something a little more out of the ordinary.
**There are some affiliate links through this post which, if you choose to use them, will earn me a small amount of commission, at no extra charge to you.  Although I was hosted at the accommodation I experienced, all thoughts and opinions remain my own**
Where to stay on Hydra island Greece – Private Houses
We all know about AirBnB and how you can get the opportunity to rent a private property or a room in someone's house through them, with the aim of a 'real experience.' Hydra offers a similar concept; the opportunity for private rentals – some with a minimum stay – ensuring you can really immerse yourself and soak up the island's atmosphere by being located in either Hydra Town, or even up the side of a mountain with sweeping sea views, as was the case in my first 'Hydra Rental'.  All properties arranged for me by Hydra Direct.

Piece of advice: When booking your accommodation, do ask how far away from the port (your arrival point) it is and don't be afraid to ask for assistance to take your luggage. Even if it's a small backpack that's a little heavy, as was my case, if the weather's hot and even though the walk might be lovely, you won't be able to appreciate it due to being exhausted.  Hydra is hilly.
Where to stay on Hydra island Greece; Nicaela's House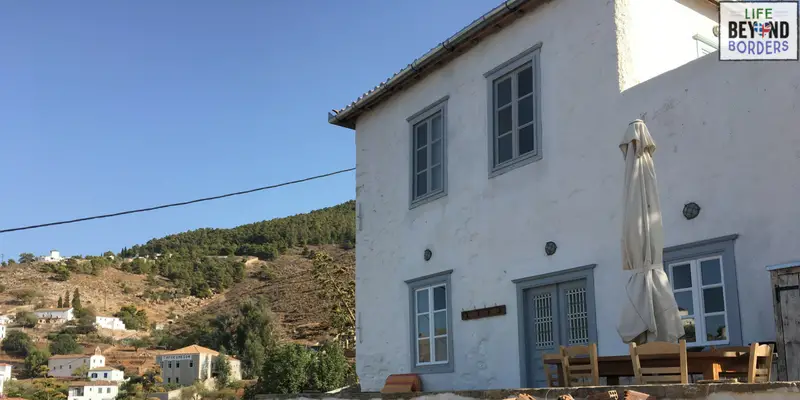 My first two nights on the island saw me staying in a beautiful house just up from the small harbour of Kamini perched on the mountain, surrounded by fields of goats, sheep and horses with sweeping views out to sea.
Nicaela's House is owned by an American couple who had been visiting Hydra since 1976. They purchased and lovingly renovated Nicaela's House in 2006 – named after the former owner.
It can sleep up to 4 people in two bedrooms and has two bathrooms.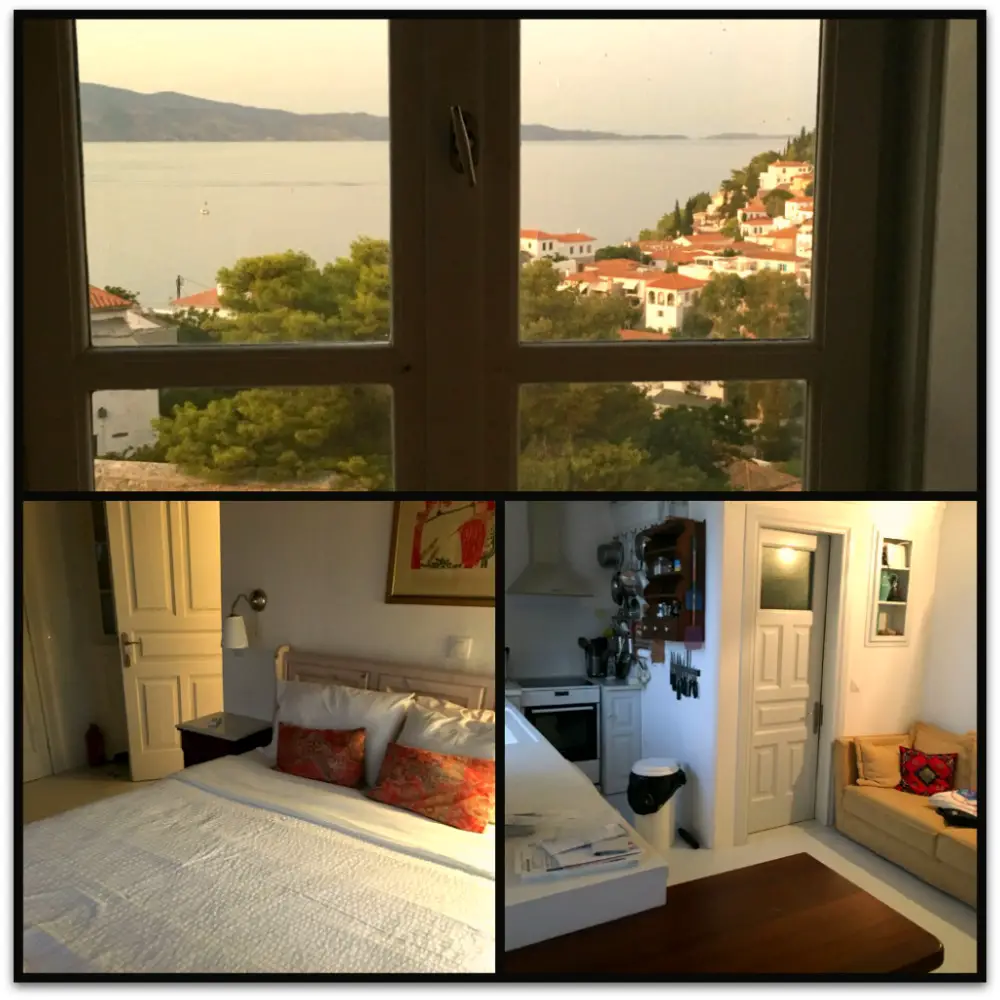 For me, the best thing(s) about Nicaela's House were:
The location:  Walking distance (uphill on the way back) to pebbly Kamini Beach which has a small, renovated 18th Century fort-like building offering restaurant and lounge bar.  It's a wonderful walk from the main town of Hydra along the coast path to the smaller harbour of Kamini, up and across the storm drains (dry in the summer, gushing in the winter) and through what can only be described as farmland and rough to be greeted by this beautiful house.
Or take a water taxi to Kamini Harbour.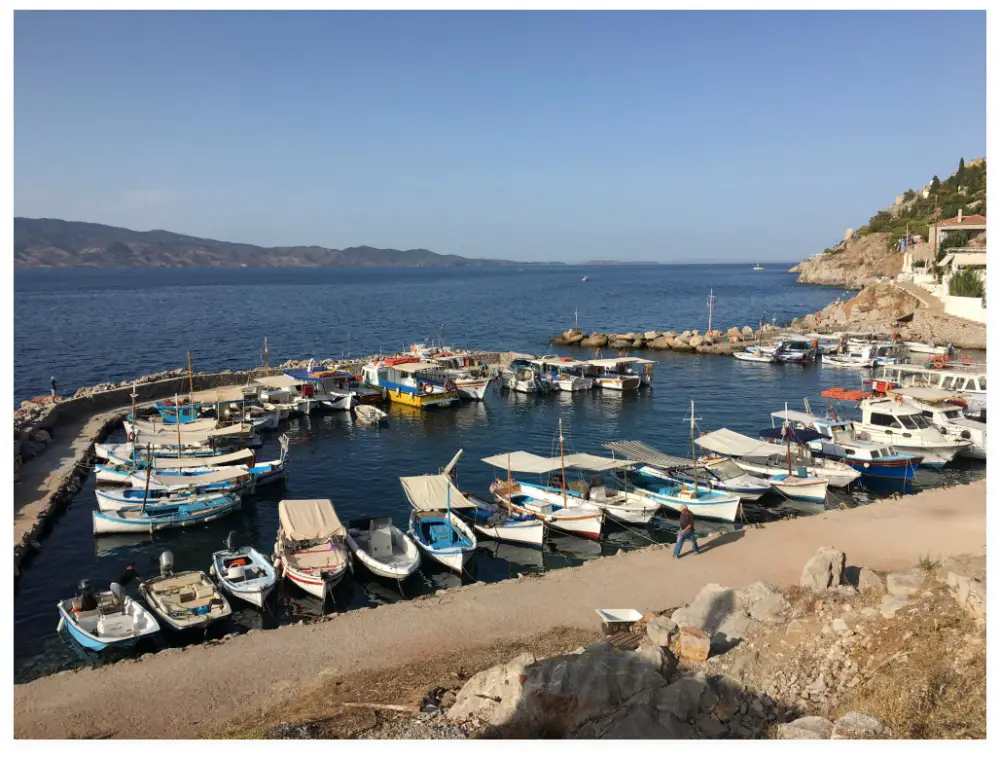 **As recommended above, this is one place you will want to ask for a mule or donkey to take your backpack or luggage.**
The views: Nicaela's House has beautiful sea views (as does most of Hydra) due to its location, perched on the side of the mountain.  It makes waking up in the mornings a delight: having sunlight streaming through the muslin curtains.  As it's north/south facing, one gets the best of the sun all day long.  Sip a glass of wine on your veranda as you look out over the town in one direction or straight in front, the Peloponnese peninsula (hard to work with that view!)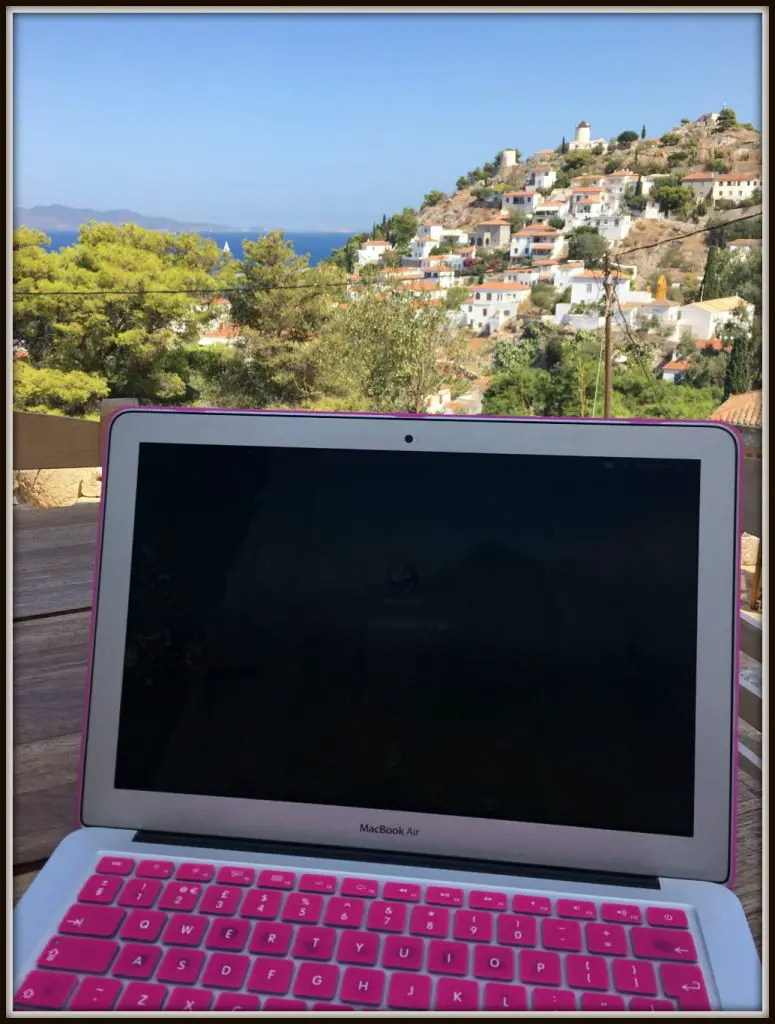 Belly Pop the cat: Yes!  There was a little cat. She had be properly looked after by being sterilised and never came in the actual house, but would be outside the property and the owners had a good supply of dry cat food in the house so if you didn't mind, you could top up a saucer of food and water for her (outside on the terrace).
She respected your privacy, clearly knew who were cat people and who aren't and I felt honoured to have this little added extra for occasional company.  I'd leave a small amount of food out for her during the morning and evening…and top up her water regularly in the heat.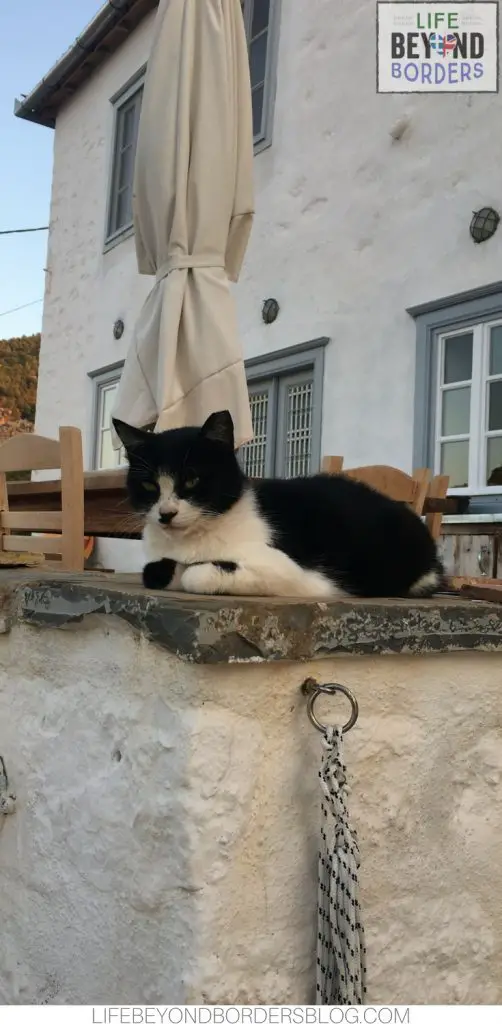 Nicaela's House has thought of everything; a well-equipped kitchen with goods to start you off, the wi-fi is fantastic (if you'll need it – try to detox! Alas, I was on a 'working vacation'). There are two double bedrooms, one upstairs – accessible by a very steep staircase, one down, both with lovely traditional touches such as exposed stone walls, ensuring the property is cool in the summer yet warm in the winter.
See more about Nicaela's House and reserve. The owners; Dino and Trina – who live a little way away downhill – are always on hand to answer any questions and recommend great places to visit, eat, etc.
Where to stay on Hydra island Greece: Avlaki Haven Studio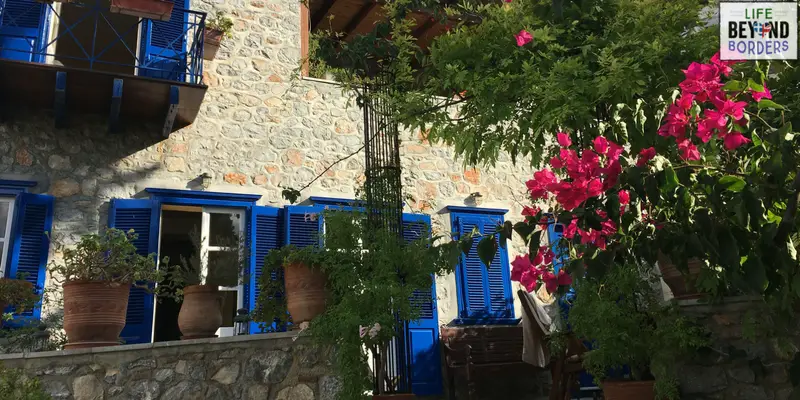 My next port of call for my remaining three nights on Hydra were near the small bay of Avlaki.  Avlaki is a platformed, rocky little cove, almost, with no facilities…so be prepared to bring everything.  It's accessible from the main coastal road from town, walking down a steep staircase.
Avlaki Haven Studio is a really, really cute space situated up from the beach with your own gated access.  It's 100 sqm and although is one huge open plan, has been cleverly designed in a gallery style and curtained off bedroom so as to give the impression of different rooms.  The bathroom was the piece de resistance for me, literally carved out of the rock and giving one the feeling of being under a waterfall!  Really a place that incorporates the elements.
Follow me on Instagram for more pictures of Hydra and Greece
The owner has her house above and either lets this out too in her absence, or you'll meet her.  Avlaki Haven Studio has a split level sunken courtyard garden for relaxing in to drink your morning coffee or eat your evening meal, with beautiful trees and flowers giving way to the sea view.
Although only one double bed, there is the possibility to convert the couch into another bed, hence sleeping up to 4 people is possible.  There are numerous books to read, board games and cards to relax with – and a small office area with Wi-Fi to make your own if you do, alas, have work to do.
See a little video about Avlaki Haven, by Sounnepousse on YouTube.
My favourite things about Avlaki Haven Studio:
How well decorated and designed it was: Lily, the owner, is incredibly well travelled and has many nick knacks from her various sojourns around the globe in place in the studio.  I felt like I was sleeping in a real home.
Furthermore, as mentioned above, the bathroom was literally carved into the lower rock, making the property 'at one' with the natural elements.  Not only this: the stone flooring throughout kept the place cool in the summer, and no doubt cozy in the cooler months.  I loved the galleried design and at night, so as not to feel as if I was sleeping on one huge room, would draw the curtains of the bedroom to close myself off, making it even more cozy.
The location to Avlaki Bay: Rising in the morning I would go for a quick dip in the bay – literally a 10 minute walk – then back up from the bay (be warned: steep stairs) to eat some breakfast on my choice of one of the two sunken terraces, before a little bit of work at the desk before heading out to lunch.  What a way to start the day!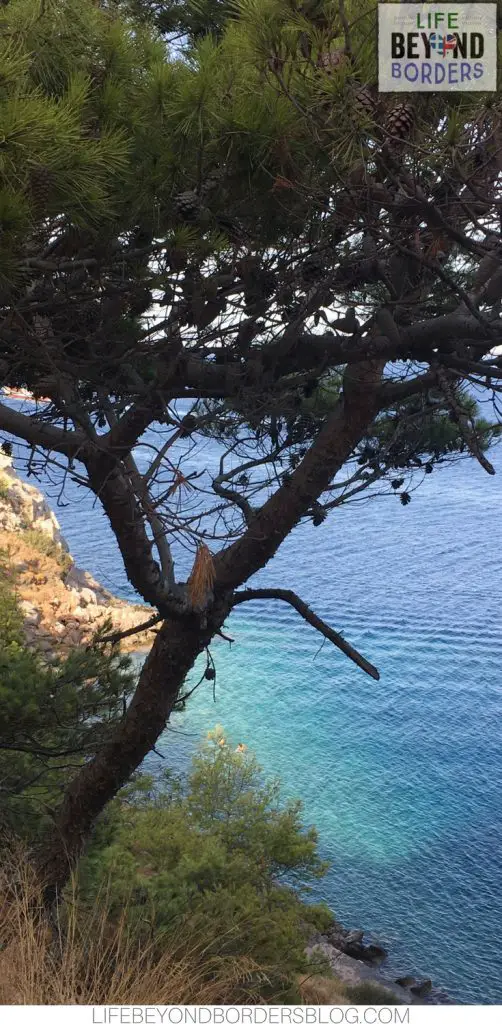 Not really necessary to take a donkey: Avlaki Studio is amongst a little cluster of properties near the bay.  It is possible to walk with (light or semi-heavy) baggage to the property from the port.  It's just up from the coast road and makes a lovely walk.
Things to note: Due to the design of the studio i.e.: low beams, children under the age of 12 are not accepted here.  Take a look for more information and prices about the studio, and to contact the owner – Lily – direct to enquire about availability and booking.
My time spent on Hydra and staying at both Nicaela's House and Avlaki Studio – both very different properties yet both with different qualities – gave me an insight into the different types of house to rent across the island.  Both were situated away from Hydra Town, and this needs to be taken into consideration.  There are properties that can be found nearer the town, Hydra Direct (who assisted me here) can help you with your property search suitable for your Hydra island holiday.
Where to stay on Hydra island – hotel suggestion
If it's a hotel you're still keen on, my recommendation would be the Hotel Orloff.  It's a boutique establishment with six lovingly restored rooms and two suites in an old mansion house dating back to 1796. It has an interesting history and was first turned into a hotel in 1986.  Today it offers a gorgeous place to unwind with beautiful courtyard to take your breakfast and patios and verandas to while away your time in private.
I do hope I've tempted you to spend time exploring this unique island by showing you where to stay on Hydra.  The island deserves so much more than just a mere glance a day trip offers.  Come and be part of the island, part of its uniqueness, and I guarantee you you'll want to return again and again.
PIN for later