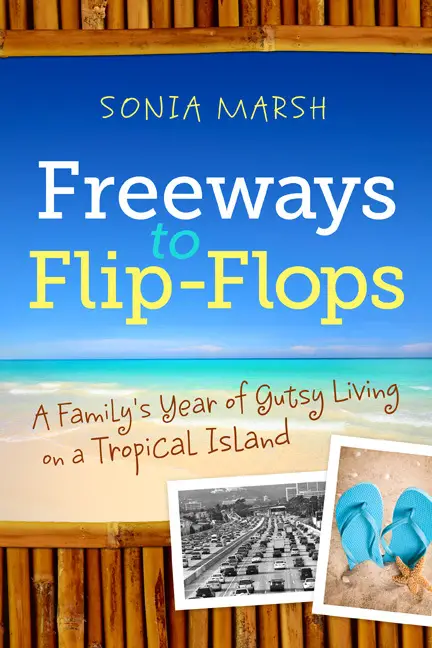 This week's League of Expat Writer's features Sonia Marsh.  Some of you may have read my previous interview with Sonia where I discussed her Freeways to Flipflops book.  This week, Sonia discusses how her family coped with food shopping as their year as an expat in Belize – and her account of a trip to the local orthodontist.
In 2004, my family left our comfortable life in Orange County, California, to experience life as an expat in Belize, Central America. After two months of living in a hut, we decided to buy a house on the island of Ambergris Caye. There, we relied on our boat for transportation, including shopping for food.
Click on the video to hear about two unexpected aspects of life as an expat in Belize.
The transcripts from those two excerpts are here: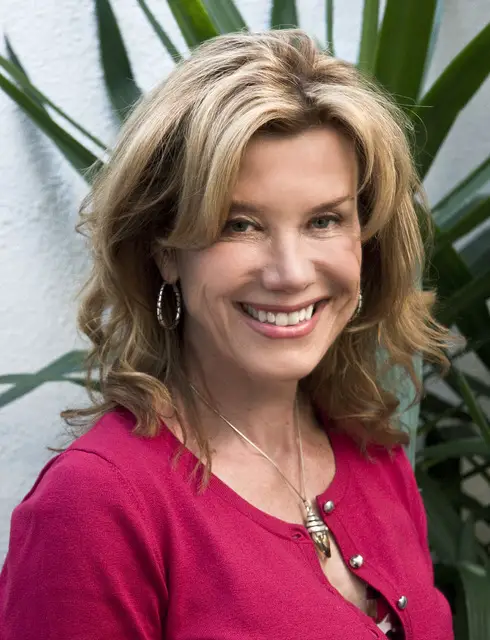 "Shopping Gringo Style" Chapter 32
After running out of food every other day, I finally learned how to stock up gringo style.
It had never occurred to me that hunting down food and getting enough of it to feed my hungry sons would become a full-time job.
This was something I'd taken for granted in the U.S., and now I worried that my boys weren't getting enough nutrition to stay healthy – especially Alec, who seemed to be growing skinnier by the day.
Jennie advised me to call Raul, her taxi driver. "For $12.50 per hour, he'll drive you to each store in town," she said. "He'll even help load groceries into your boat."
I pulled out my Belizean cell phone. Never sure whether a call would go through, I was always happy to hear a voice at the other end.
 "Raul? I'm a friend of Jennie's. Are you free to take me around town grocery shopping?"

"Sure, where are you?" he asked.

"Outside Moncho's by the airport."

"Give me eight minutes," he replied.
Raul showed up in a burnt sienna van – the same model all taxi drivers in San Pedro drove. I never understood how every burnt sienna Toyota van ended up in San Pedro.
In the U.S., most would have been crushed and used for scrap metal.
I soon learned to tell Raul's taxi from the other taxis by his happy face bobbing in and out of the car whenever he drove past a relative or friend. He rarely showed up alone; most of the time another passenger, or a family member, sat in the front passenger seat, forcing me to take the back bench. He'd drop that person off somewhere while I tagged along.
Raul made shopping in bulk so much easier. He even gave me a few tips, such as where to buy chicken for less money, although that meant stocking up on 25 pounds of chicken breasts at a time. Duke rarely came with me. He preferred to wait for my call, then drive the boat over to Dahlia's dock. All three of us carried cardboard boxes filled with canned goods, pasta, peanut butter, laundry detergent, meat, vegetables and fruits, and loaded them onto our boat.
Our freezer and cabinets were finally stocked with ground beef and chicken, and canned goods lined the shelves.
The kids complained less about starving to death, even though we rarely purchased American snacks such as cookies or chips; these were too expensive, so the boys filled up on mangoes, bananas, homemade peanut butter cookies and carrot cake.
 A Belizean Orthodontist, Chapter 29
Dr. Milo's waiting room looked normal and smelled sweet, like most Belizean floor-cleaning products. The décor was minimalist: no coffee table, no magazines, no water dispenser; just plain, white tile and white walls, with one tired poster depicting a smiling Belizean kid with metal braces.
A receptionist greeted us warmly, and I felt like the office had been opened just for us.
She led us to an examination room, where she asked Alec to lie on an antique, foot-pedaled dental chair. I clutched my large envelope from California, with state-of-the-art X-rays, including panoramic X-rays; detailed mathematical calculations of Alec's jaw line in relation to his nose; and, of course, his cosmetic profile. All of these were taken a few days before we left the U.S., and I couldn't wait to see Dr. Milo's reaction to such advanced technology.
We waited ten minutes, with a radio blaring from two speakers attached to opposite corners of the room.
Apparently, the prime minister of Taiwan was on an official visit to Belize. The radio crackled irritatingly, making it difficult to hear anything but cheering crowds and the monotone voice of the announcer.
Dr. Milo, dressed in khaki pants and a polo shirt, strolled in as though he'd been paged straight from home. After a brief handshake with each one of us, he proceeded to say something, but all I could hear was the president of Belize's speech on the radio.
 "Sorry, Dr. Milo," I said. "Could we turn the radio off, please?"

"Of course," he said, smiling. "But today is a very important day for Belize. We have an official visit from the prime minister of Taiwan."
He left the room and I felt guilty about my request, but when Dr. Milo returned, he continued listening to the radio, just a tad lower in volume.
"Here, Dr. Milo, I brought Alec's recent X-rays so we don't have to retake them."
He took one out and held it above his head toward the dangling light bulb in the middle of the ceiling. Where was the light panel that you clip X-rays onto?
"I shall need to make molds of Alec's teeth before I can come up with a diagnosis," he said, not even bothering to check the envelope.
"Our California orthodontist said these X-rays are so advanced, there's no need for molds. Can you give us an idea of how you propose to fix Alec's lack-of-incisor problem?" I continued.
Duke gave me his how dare you look?

"We can pull out a couple of teeth,"
Alec flinched in his seat.
Author Bio:

Sonia Marsh is a "Gutsy" woman who can pack her carry-on and move to another country in one day. She's a motivational speaker who inspires her audiences to get out of their comfort zone and take a risk. She says everyone has a "My Gutsy Story"; some just need a little help to uncover theirs. Her story, told in her travel memoir Freeways to Flip-Flops: A Family's Year of Gutsy Living on a Tropical Island, is about chucking it all and uprooting her family to reconnect on an island in Belize.
She's lived in many countries – Denmark, Nigeria, France, England, the U.S. and Belize – Sonia Marsh considers herself a citizen of the world. She holds a degree in environmental science from the University of East Anglia, U.K., and now lives in Southern California with her husband, Duke.
She welcomes new friends, bloggers, writers and readers on her site. Contact her at: [email protected], Facebook or Twitter.
**Update** Sonia has released a Gutsy Anthology at the end of 2012 (and yes, Bex is featured!)  Bursting full of stories by gusty people.  Order here:

Thanks for being a guest this week on The LEW (League of Expat Writers) Sonia!  It's been a pleasure to feature you once again.   Maybe you'll next write a book about how you found it adjusting to life moving back to the States?