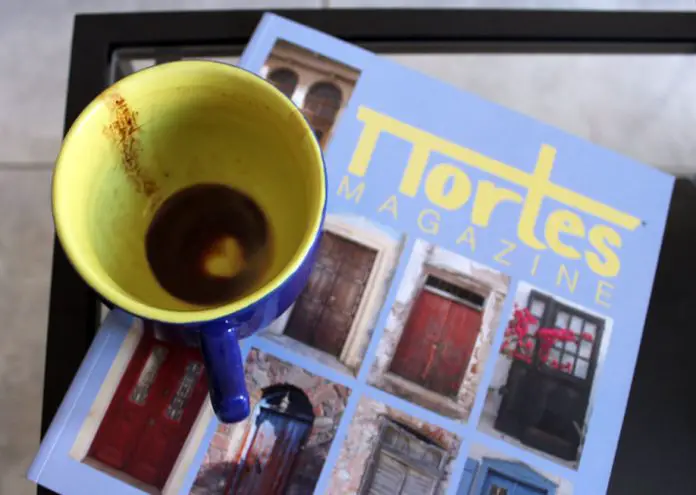 I heard about Portes Magazine through a friend of a friend, but wasn't entirely sure about its background or what to expect. So when I was offered the chance to interview one of its founding developers and executive editors—Anthe Mitrakos—I jumped at the chance.
The Magazine
Intelligent, chic, and visually compelling with a unique layout and elegant matte cover design, Portes Magazine is a high-quality publication addressing a creative and intellectual audience that appreciates a colourful yet sophisticated approach to storytelling.
The word Portes means "doors" in Modern Greek. Anthe helped me to understand that the magazine's title signifies an unlocking of the past, seeing into the future….an opening of a door into Greece, if you will. This is why you'll see, on every issue's front and back cover, pictures of Greek doors. The magazine is also deliberately set up with no contents on the front cover.
"I want people to 'open the door' to see what's inside…to open the door to a fresh, authentic, modern, and positive side of Greece."
Anthe informed me.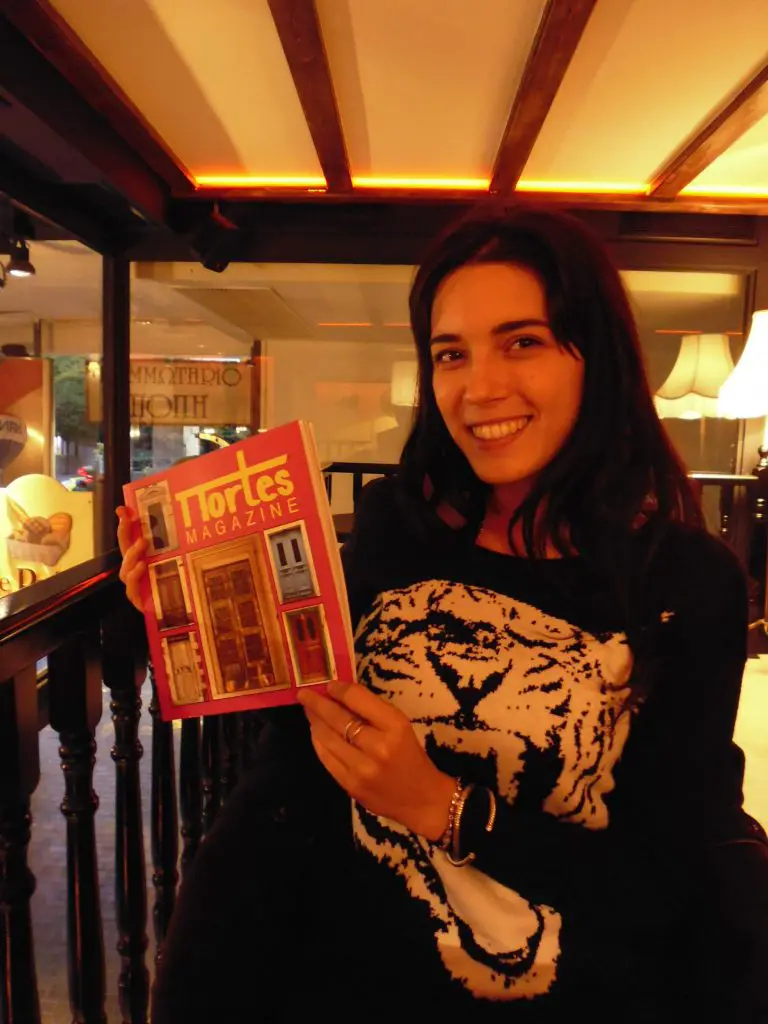 Which leads me nicely onto…
What was the idea behind Portes?
Anthe is a Greek American, born and raised in Chicago. She's young—very young (think 20s). When I queried why she started Portes and what brought her to Greece, she shifts in her seat, slightly embarrassed.
You may think I'm crazy. So many people wonder why I gave up my business journalism career to move to Greece, especially now.
(She was a full time Business Healthcare reporter, reporting on pharmaceutical company earnings, CEO compensation, health care politics, and medical lawsuits, among other things.)
But my creative side and love for Greece were just not satisfied enough at the time.
No—she's not crazy at all. I actually started to see some personal similarities in this girl.
Disconnect
During her time in the States, Anthe noticed a disconnect in the way the Greek diaspora there viewed Greece, and the Greek reality.
I wanted to close the gap between Greece and the Greek diaspora communities in the U.S., to bring a piece of Greece home to the U.S…. and I did it in a way that I knew best, by creating a magazine which allowed me to be both serious and creative.
With a motive to correct the wide misrepresentation of Greece as a country from 2008 onwards (I hear you Anthe!), she set out to start to bridge that gap. Hence in July 2012, Portes was launched as a bi-annual publication.
Featuring authentic content—interviews, articles, stories, photography all celebrating Greece, and no advertisements, Anthe and her co-editor sister Vasiliki made the start in showcasing Greece in its true light, to show the diaspora and, indeed, the world, the true country.
Sacrifices
Giving up her fulltime job to pursue freelance writing, editing, and magazine production, Anthe and her sister—who received a Fulbright grant—both came to Athens and Portes went from strength to strength. With a small staff of passionate volunteer contributors and photographers, Portes is now a print and digital quarterly publication – the only one of its type celebrating Greece. Collectable print copies can be bought online for $15 ( including shipping.)
Note: You can get your own copy of Portes by subscription at www.portesmagazine.com
It was a real honour, and refreshing to meet someone so entrepreneurial minded as Anthe; someone who wants to do something for her country, and she's not financially gaining from this—rather the reward seems to come in the knowledge that she can be a cog in the wheel of people who are trying to turn the image of Greece around.
Thanks for your time, Anthe. I know we will cross paths again.
---
Header image courtesy of and ©Portes Magazine.