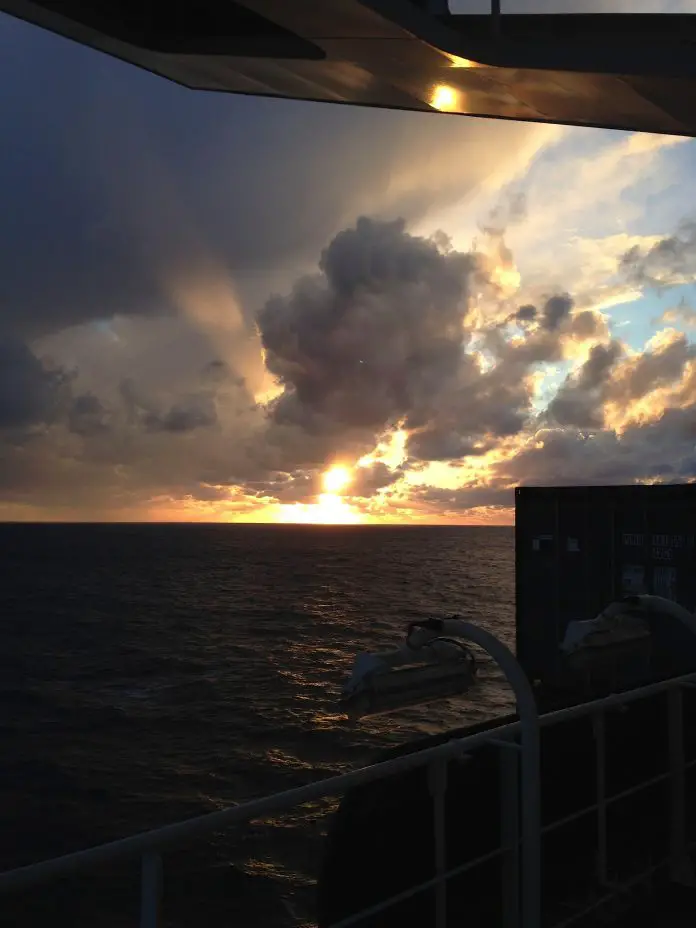 A lot of people have expressed interest, even amazement at the fact I took a container ship trip as a passenger this summer to Hong Kong.  Whilst not common, people (other then me) do travel by this mode, as my interview here will show.
David Riggs is a history professor at a small college near St. Paul, Minnesota.   He's recently returned from a Round the World trip, mostly by container ship!  I'm chuffed he's agreed to share his experiences with me.
As you will see, whilst his experiences are somewhat similar, they are also vastly different to mine too.  Read on…
---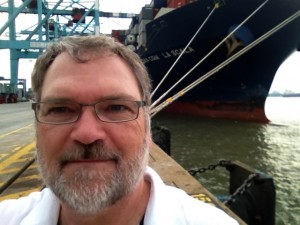 David, it's great to find a fellow seafarer.  Can you tell us a little about why you chose to travel by this mode of transport?
I had the good fortune to be granted a one-semester sabbatical for the fall 2013 term and this freed me up from any formal teaching responsibilities.  One of my research interests has been the 18th-century merchant marine of colonial America and I have spent hundreds of hours going through logbooks and other shipping records from that period.  That work piqued my interest and when I found myself with a large chunk of free time for the first time in my adult life I began exploring travel options that connected to those interests.  I had heard of the possibilities of traveling on container ships and began researching that option when I came upon your blog recounting your own experiences.  That got me hooked on the idea and when I discovered this particular "around the world" passage, I jumped on the opportunity
And what was your route?
I travelled on CMA CGM La Scala.  We departed Seattle early October and stopped at Vancouver, Yokohama, Shanghai (Yangshen Container Port), Ningbo, Hong Kong, Yantian, Tanjung Pelepas (Malaysia), and arrived in New York November 30. That's 20,850 statute (land) miles all in all.
Unlike me, I believe you weren't the only passenger on board.  Can you tell us a little about your fellow passengers?  Were they with you the whole journey?
I travelled with two other passengers to Malaysia where one disembarked.  The other passenger stayed on until New York.  Both gentlemen were from the Seattle area and one was retired from employment with the state of Washington and the other was a retired elementary school teacher.  None of us knew the other but we all had a shared interest in the sea and ships.
Any challenges you faced whilst undertaking the journey?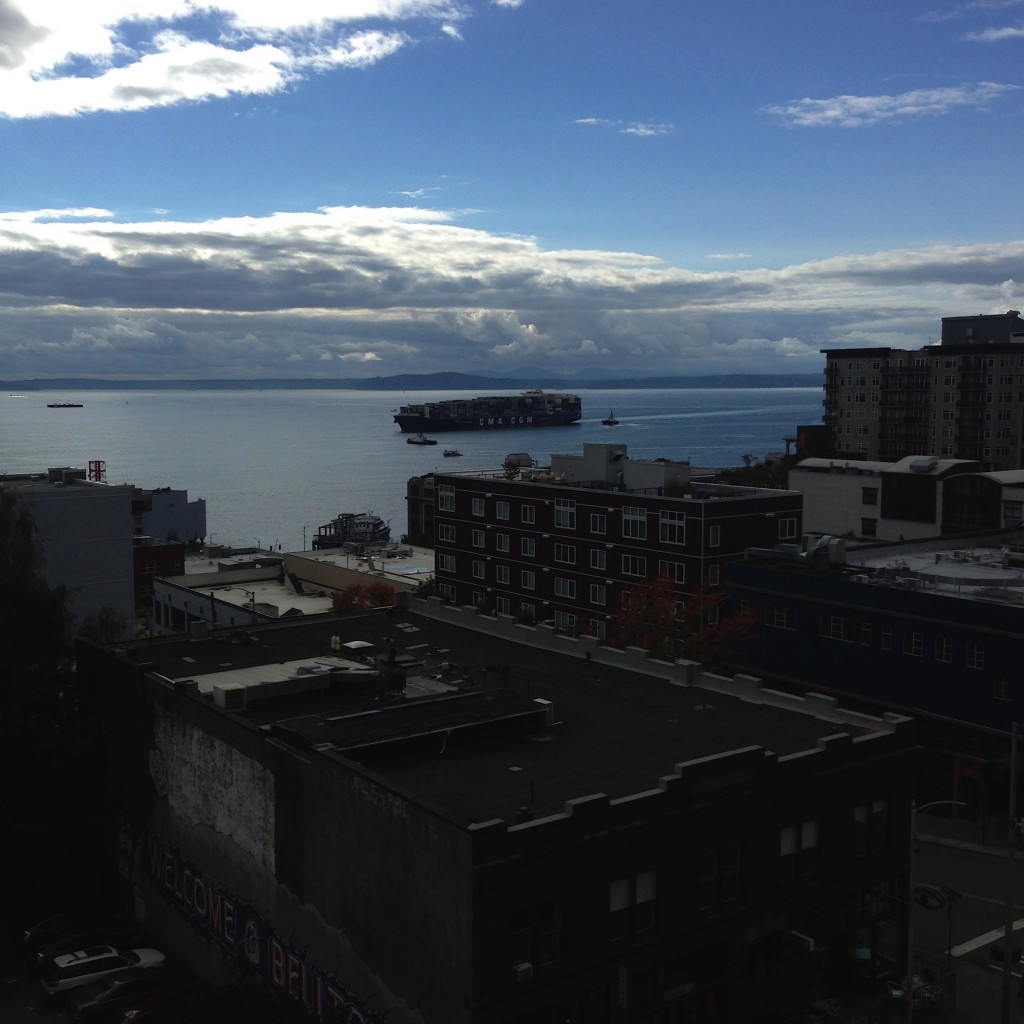 I think the greatest anxiety I felt was even before I got on board the ship in Seattle.  I had arrived a few days before La Scala and saw her pass by the waterfront on the way to the container port.  I had this irrational fear that the ship was going to sail without me due to some miscommunication with the shipping agent.  I could see the ship from where I was staying so I kept glancing over to make sure she was still there.  Silly me! Once I had successfully boarded the ship the biggest challenge was adapting to the newness of it all.  It took a few days to get into the ship routines.
Communication was also a bit of a challenge.
The officers were Romanian and the crew Filipino.  Although English was the official language of the ship it wasn't used too often.  The Romanians ate and socialized separate from the passengers and crew.  The captain was a surly fellow and not very liked by anyone on the ship and that created a unique dynamic to say the least.  The Filipino crew were all friendly but their English language skills varied considerably.  The two 3rd officers were more open to talking with the passengers and when we had questions we went to them.
We dodged several typhoons on this trip,
including Typhoon Haiyan and while we never encountered serious weather while we were at sea, weather was on my mind.  I have decades of sailing experience but still wondered what it would be like in a significant storm.  Also, we learned that a critical bulkhead in a cargo hold cracked while we were in the north Pacific.  There was talk about this crack leading to a systemic hull failure during a storm.  A team of Samsung welders repaired it while we were anchored in Tokyo Bay but it was a reminder that ships still sink.
Transiting the pirate zones also led to some tense moments. 
In the 4 weeks preceding our arrival in Malaysia 4 ships were hijacked right in the Singapore Straits.  We did not take on private security for the passage through the Gulf of Aden.  The crew rigged pirate barriers along the lower stern deck and we travelled at maximum speed through that area.  I was glad to be through that area safely and breathed a sigh of relief.  Funny thing though, we didn't do a safety drill regarding a pirate attack until we were 3 days from New York!  Then they told us what to do in the event of a pirate attack!  Why then?!  Were they afraid the girls of Jersey Shore were going to attack?  It was so odd, it was funny.
Your favourite destination and why?
This has been an amazing trip in so many ways.  I remain in awe of the beauty of this watery planet.  I never tired of staring out toward the horizon or just watching the waves pass by.  Traveling the world this way gave me insights into the business of the modern merchant marine that were invaluable.  The lives these men live carrying the world's goods from place to place are workmen like (I mean that in a positive sense).  In some ways their daily lives are pretty ordinary except when you remember the work they are doing is on a moving behemoth and the places they go.  They are a unique minority doing what for most of the world is a really unusual thing.  Seeing it first-hand was worth the trip in itself.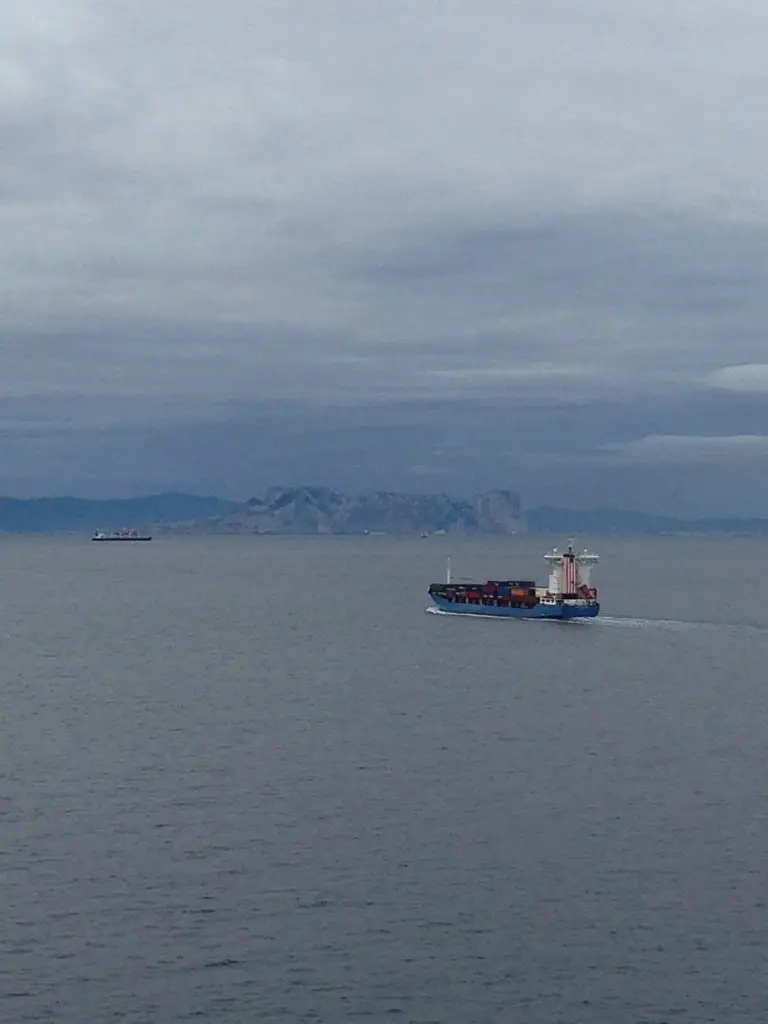 I particularly enjoyed sailing over the waters that have particular historical significance. 
I was where the Battle of Midway took place and spent 6 days anchored in Tokyo Bay.  I sailed in waters referenced by Joseph Conrad: the one-degree passage, the Straits of Malacca and Singapore, the Gulf of Aden.  From the Suez Canal to Gibraltar, history was all around.  It is sort of like standing in Westminster Abbey for the first time and getting goose bumps and it touched my core.  The same goes for passing over these featureless stretches of ocean where history was made. It is awe inspiring and humbling at the same time to imagine the past in these sacred places.
Going ashore in Hong Kong and Yantian gave me a glimpse into 2 different China's. 
Hong Kong was the Manhattan of the East and full of urban sophisticates.  Yantian was a manufacturing centre that retained the characteristics of what I assume to be a more real version of urban China today.  The port of Ningbo was one of the most polluted places I have ever seen.  Sailing by the Singapore skyline at night was beautiful.  All these impressions are just that, a brief look into other worlds.
And then there were the people…
I really enjoyed talking to the officers and crew about their experiences and their lives back home.  The world does become a smaller place when you have a chance to talk with people from other cultures.  You see the similarities much more than the differences.
And how did it feel sailing into New York?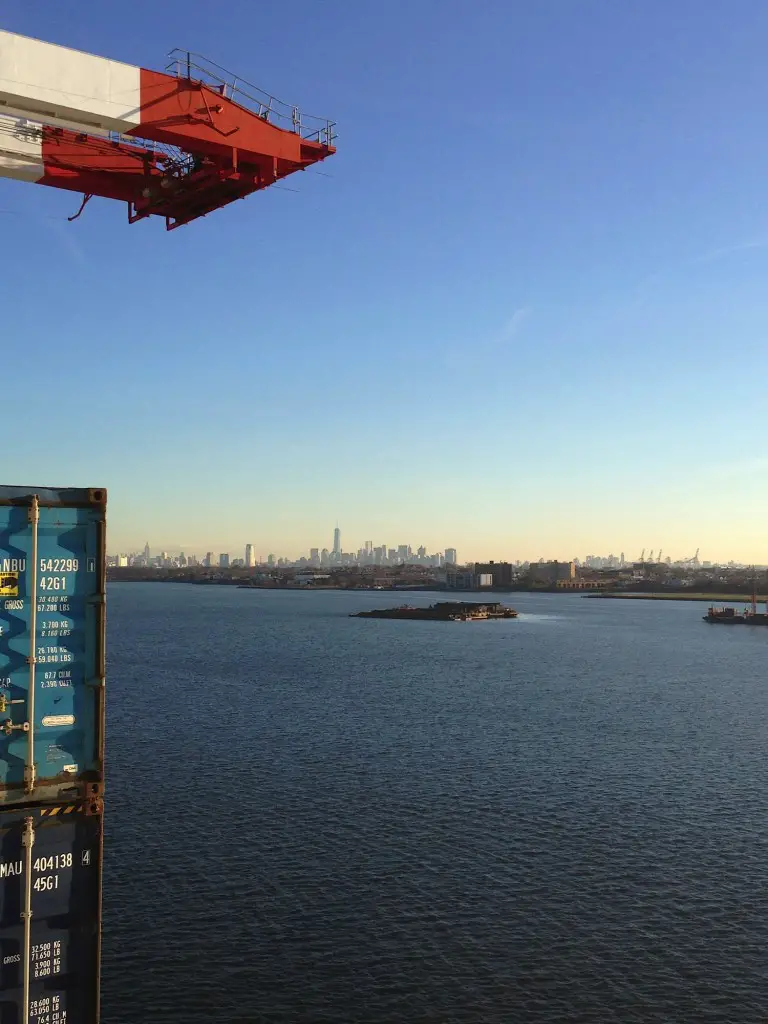 It was an amazing experience!  The trip was coming to a close and I was anxious to get home of course but I was also a little sad that the end was in sight.  I set my alarm for 3am so I would not miss us sailing in under the Verrazano-Narrows Bridge that connects Brooklyn to Staten Island.  We ended up passing under the bridge around 5am and in a short while I could see the Statue of Liberty and Manhattan a few miles upriver.  The container port is actually in New Jersey and shortly after we were moored the sun came up and I had a wonderful view of the Manhattan skyline off in the distance including the new Freedom Tower.
Would you do a similar trip again?  And any advice for someone thinking of doing this?
The trip was 56 days from start to finish and I don't think it is likely that I would have the time to repeat this experience. I would be interested in doing a shorter trip sometime, perhaps transiting through the Panama Canal.
My advice to anyone thinking of doing a long trip like this is to make sure you do your research and know what you are getting into.
Talk to someone who has done something like this before.  The ship is a workplace and passengers need to be pretty self sufficient in many ways.  This is a great way to spend time at sea and travel to some places many people don't normally go.
Thanks, David, for taking the time to answer my questions.  David used the same agent as I did to book his trip: www.cruisepeople.co.uk and we both found them exceedingly knowledgeable and helpful.
---
All images belong to and are loaned to Life Beyond Borders by David Riggs.