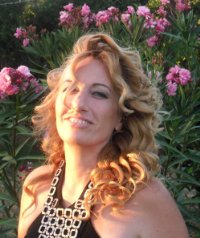 This week's League of Expat Writers features Sara Alexi, author of "The Greek Village" series of books.  Here, she shares with us her own personal story of how she came to love Greece.
---
Very few people who love Greece have not seen Shirley Valentine. I came out of the cinema in such admiration at how brave she was, seizing the day and living in the 'now'.
I also realised how impractical this was, what would happen to security, pensions, the lease on my flat?
Then some friends who were still at university said they were going for a two-week package holiday to Crete and did I want to come?  I took the flight only, arriving a day later and slept on their floor, in true student style…
I also only took one week instead of two and left them sitting smugly on the beach. In England the bus from the airport travelled at ten miles an hour, due to the lashing rain, before coming to a halt in my asphalt-grey hometown. The doors hissed open to a chilling wind and I climbed down onto the wet pavement.
I was neither brave nor seizing the very wet 'now'. I had no choice. Not only had I left the sunshine but I seemed to have left my heart back in Crete. I headed straight for the travel-agent's and took the first flight back. I reappeared, next to my sunbathing friends one day later, my tent in my rucksack, my bank balance in my back pocket, and a week later it was I who waved them off.
The one thing I have learnt about Greece is that there are as many faces to her as there are Greek people.
This could be because the people will not be homogenised. The girl behind the desk who can make your life easy or blight you with paperwork will work at a speed that mostly reflects the way you treat her. The Greek person does not change their persona for work, and why should they? There is no real distinction between work and play in Greece. It is all viewed as part of life. But if she is grumpy for her own reasons, and you feel you are getting the brunt of her mood, all it takes is the slightest concern for the position on her side of the counter, her life, and she is your ally forever.
Throwing your rattle out of the pram does not work here, in fact it will impede you every time.
The quickest way forward is by taking your time. Which is the very trait that some expats are first drawn too, but also the first trait they complain against when in official circumstances. From this point of view I find Greek culture is far more human than British culture and for the same reason, often, far less productive.
But, being human by nature there are always exceptions in Greece.
For example, in England, the last time I asked to have my blood checked for anaemia they said it would take six weeks. Two for an appointment with the nurse to take my blood and then four for processing. I tried to get the same test in Greece in the local hospital. For 3 Euros I stood in a queue thirty people long who all needed a great deal more than a quick blood sample. I struck up a conversation with the reception girl about her job which in turn led her to asking what I was doing there. As soon as I told her I just needed to give a blood sample she marched me to the paediatrician who, as she had no work, took my blood immediately, it was processed the same day and I had the results within 48 hours.

England is an amazing place but there are occasions when 'the rules are the rules' attitude seems to come before both common sense and people.

Another ace in the Greek hand is the way they treat their children.
My daughter attended a Greek school from the age of six to eight. True, she experienced bullying, which could have happened just as much in England, but she also experienced a teacher talking to her as a human being, allowing her her experiences and thoughts of her own. The teachers also approached school from this direction when she began to attended an English school in Athens.  She was given a voice, it was normal. On returning to school in England recently her biggest shock has been the 'them and us' situation maintained in the grammar school she attends. The teachers have the power, the students have only a token voice. Detention in Greece, if ever awarded, was productive, to increase confidence and a sense of belonging. In England it is writing lines. Seriously!
But just as it is easy to see how detrimental to the individual student the English way can be so is the parrot fashion learning and the need for after-school cramming to learn anything that presides in Greece.
I still am not sure what they teach in the school hours when so much is expected in out of lesson hours. But once my heart lodged in Greece it stayed. When I am away I miss my neighbours who come running up with kisses and hugs whenever I return. When my nearest neighbour heard that we had temporarily moved back to England for 'economic' reasons she asked if we had a house we owned in England, I said no. She asked did my husband have a job, I said no. She ran into her house and came back clutching as many eggs as her rheumatic hands could hold and thrust them at me saying 'You are in the village now, you will never starve.' The richness of life in Greece has provided such a soup to draw from for my books, I will feel forever indebted to her. Learning about the diversity of people lives, the illegal immigrants, the arranged marriages, the gypsies.
England in her way has also offered me a richness: the cultural, the theatres, the galleries, the courses, the workshops, the places for family outings, the cafe or tearoom attached to every attraction making days out to remember. But a slice of me resides permanently in Greece and I count the days until I can return, even if it is just for a two-week holiday, I promise not to take my tent until my daughter has left school.
---
BIO: Sara Alexia was born in Oxford, England. She has travelled widely and now spends much of her time in a tiny rural village in the Peloponnese, in Greece, where she is (very slowly!) renovating a ruined stone farmhouse, whilst observing the Greek way of life and absorbing the culture, to enrich her vision for both writing and painting.
Sara began writing later in life. In school English lessons were a time of confusion, books indecipherable hieroglyphics. Dyslexia was not well understood then and no support was available. The joy of reading and writing were cancelled by the teacher's red pen. Despite her dyslexia Sara qualified as a psychotherapist and ran her own practice for years. Her artistic nature was, at that time, confined to painting and she exhibited widely.
In a casual conversation with a client she discovered that Agatha Christie, Jules Verne and Hans Christian Andersen were all dyslexic, and Sara's perspective changed. The world of fiction opened to her with this shift in perception and she has been a prolific writer ever since. Her 'Greek Village Series' has been very well received and provides a keenly observed, compassionate insight into the Greek people and culture, and the human condition in general.
Follow Sara on Facebook.