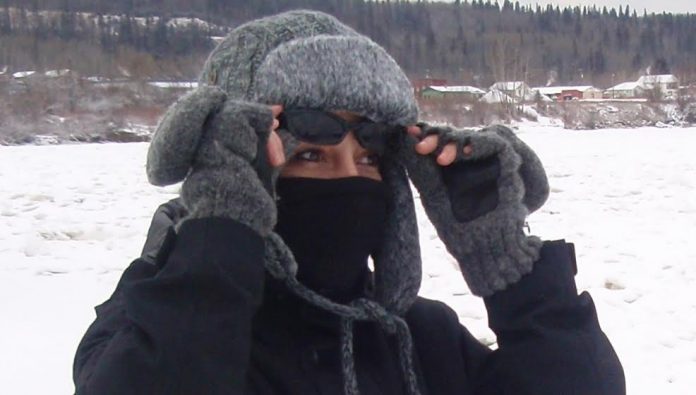 Bio:
Emmanuelle Stathopoulos  is an Environmental Psychologist and Accredited Life Coach with a love for Interior Architecture and Design. She was born in Athens but grew up between Athens and Brussels and studied in the UK. She spent most of her life in Greece and after the sudden loss of her beloved husband, nothing could prepare her for what life lay ahead for her.
Three years later and after a roller coaster of grief she decided to create a new life for herself. That process included anything from gingerly emerging into the world again, to race track driving and joining a dating site.
–          " And where do you live?"
–          " Fort McMurray"
–          "Ah!… Where is it in Canada?"
–          " Alberta, up North"
–          "Oh! OK…"
After 4 months of dating online with her new partner, she decided to jump on a plane and fly over the Atlantic to meet him. Not a small feat for an officially proclaimed plane phobic!
She left Athens on a beautiful sunny day in November 2011 and 23 hours and 4 planes later, she landed in a  -22 degrees Celsius, frozen Fort McMurray…this totally white and frozen landscape with a temperature lower than her freezer, didn't exactly seem very welcoming. In fact it felt more like what she imagined the Arctic to be like.
 How shall I breathe in this cold?
I remember thinking. Thank Goodness my partner had got me the first essentials which were a pair of mitts and a couple of cute warm hats.
After an exhilarating and exciting first few days, between jet lag and bliss, I began to notice my environment.
What struck me most was the structure of the town and how totally different it was to European towns let alone Greek ones. There were no squares with cafes and bakeries I was used to, no focal meeting points. The town is made up mainly of residential areas and the commercial are separate. These comprise of very large stores and huge parking spaces, the latter of which are virtually non-existent where I come from! Everything seemed so different and strange.
At first it struck me as disjointed, I could not orient myself, get a feel of the neighbourhood.
I needed to create my points of reference and that took a while, which meant that I was walking around Fort McMurray like a  rabbit blinded by a flash light for quite a few weeks.
Then I noticed the architecture, the lack of surrounding walls around the houses, the open gardens.
There was an homogenous  atmosphere that gave one a sense of peace, yet my instincts were crying: "I am exposed here"! Being used to high surrounding stone walls at home it felt so awkward at first that the point of entry to the house was the house's door  and not the garden gate. Anyone could see your front garden, walk on your lawn.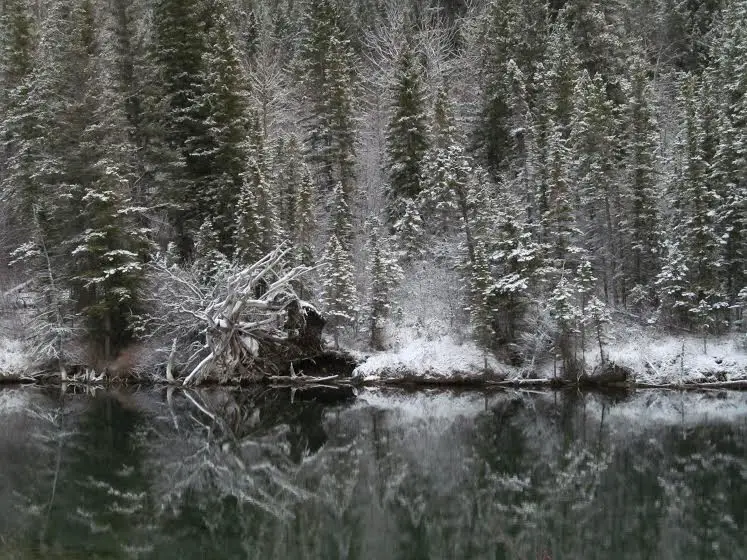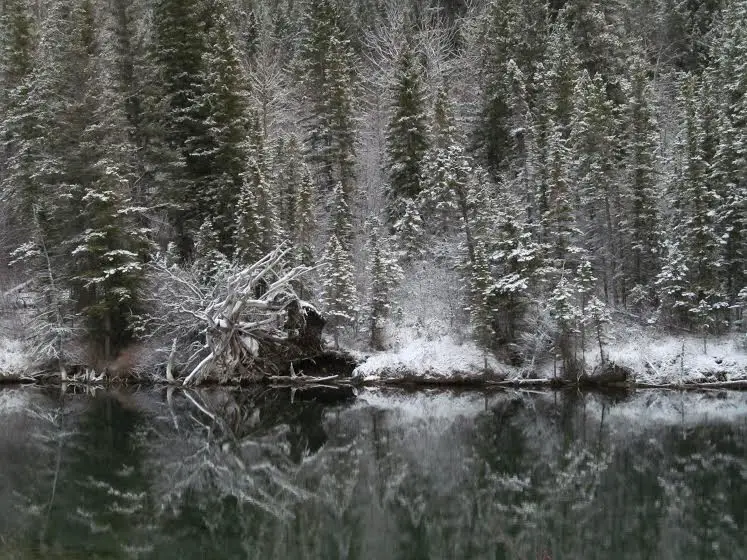 The next thing that struck me was the short days and long nights in the winter, which felt quite eerie at first.
It may sound funny or even ridiculous for a local to read my first impressions yet I am sure there are a zillion other things that they may notice and find strange if they came to Athens, of which –as my man  noticed when he visited- the complete and total lack of parking spaces!
Where am I? What am I doing here?
I sometimes asked myself… But there was a very good reason and strong incentive for me to have left sunny Athens, to go to frozen Fort McMurray and that was love! Having said that, love affairs after the age of 50 are rarely an easy task. Love affairs between people of different cultures even more so. It took us quite a while to get used to and  understand each other's differences. Then two months later a big nasty shock: the ugly c (cancer) came upon us, but 3 months and an operation later, the 'Alien' was sent to 'outer space' and thanks to my partner's resilience and faith along with mine we  overcame the traumatic effects of it and our bond grew even stronger.
Just a few days before his surgery end of March 2012, we decided to visit the Rockies, so we headed for Jasper where we spent 3 lovely days together. It was an amazingly beautiful experience surpassed perhaps only by an even more amazing one when we visited Banff and Moraine lake in July 2012.
I have no words to describe the majestic Rocky Mountains.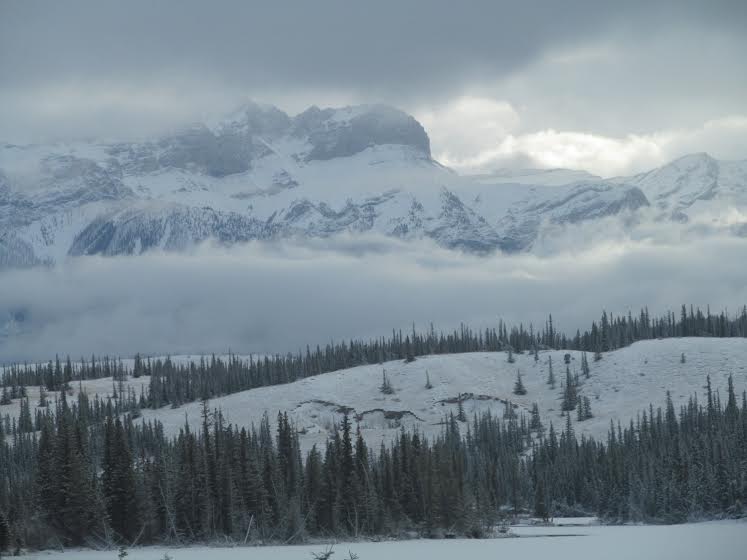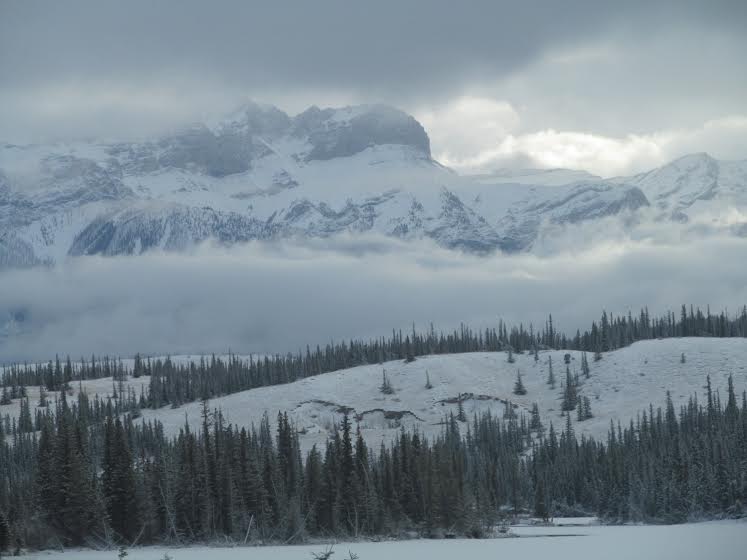 When approaching them on the highway, the sheer sight of this humongous mountain mass took my breath away! It is a very different experience in the summer and in the winter, yet each season has its own unique beauty which we both loved to capture on our cameras and compare notes.
I fell in love with Jasper which is a beautiful little tourist town in the middle of Jasper National Park. I couldn't get over the fact that one could see elk walk around the town as if they were pets, grazing quietly along the railway lines, oblivious to human presence!
We visited the Columbia ice fields in the middle of a snow storm and being virtually the only crazy ones to be there.
The sight of blue ice was mesmerizing and something I didn't even know existed! The weather conditions changed so dramatically within minutes which in itself filled me with awe and a reasonable amount of fear, which thankfully subsided thanks to the endless beauty of it all.
About three months later, we visited the Rockies yet again, this time we went to Banff. Another beautiful small town, larger and busier than Jasper but just as charming.
Nothing could prepare me for Moraine lake though. The colour… Ah!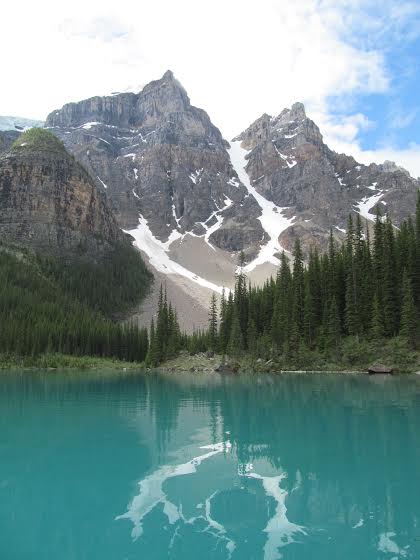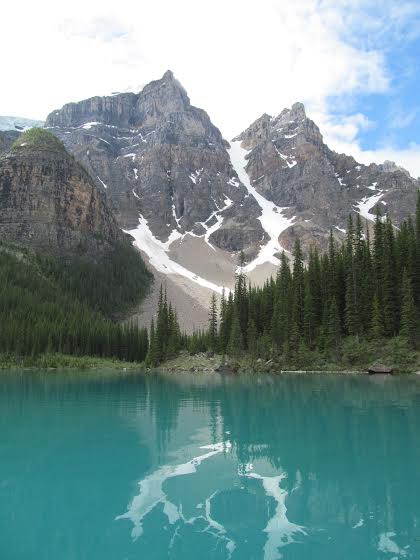 That unreal frosty turquoise blue color was something out of this world! We rented a canoe and enjoyed the lake for more than an hour, sliding silently through the ice cold water. The air was so clean and pure, the silence and gentle breeze was so soothing and the surrounding forests and mountains so sheltering it felt like heaven! A heaven I didn't want to leave. One I promised myself to visit again.
Compared to Greece and Europe in general, nature in Canada is still quite wild.
I had never seen so many wild animals before – grizzly bears, moose, wolves, lynxes, cougars, coyotes, foxes, bison and so on- and at such close proximity. Alberta's skies are legendary and have to admit unforgettable. The sense of vastness and endless horizons is something that we do not have in Greece and can verge on the uncomfortable before you fall in love with it. The people are nice and polite, you don't run the risk of getting run over when crossing the street, bureaucracy is at its minimum and in general life is very calm in comparison with the stressful, chaotic life in Athens which it unfortunately is.
On the other hand,
a European may miss the culture, the architecture, the old buildings, the sophisticated city environments, the variation of the landscape and flora, the social environment, the climate that allows for people to spend time socializing outside their homes, meet friends at the café, greet the baker and the kiosk owner, have this sense of belonging and recognisability  in one's neighbourhood. And of course, a Greek will miss the sea and the mountainous terrain –especially in Alberta's flat lands- the multitude of wild flowers, herbs and fruit trees.
No place on earth is perfect, there are always trade-offs and one has to decide what it is they mostly need to be happy and that is very different and very relative for each person.