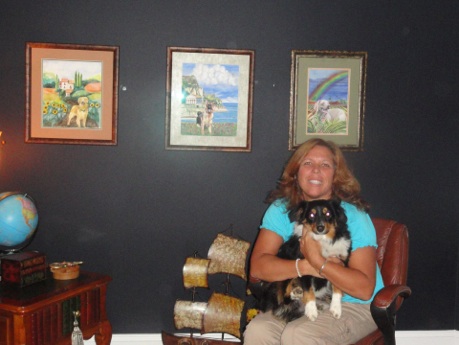 Ruth G. Zavitsanos has been featured in various publications, but I was interested in her children's book series The Villa Dog—set in Tuscany,  The Kona Dog—which takes place on the Hawaiian island of Maui—and more specifically for me, The Old Fortress Dog—set on the Greek island of Corfu.
I was intrigued to know more about Ruth's inspiration to write about "The Old Fortress Dog."  I'm glad she's agreed to my interview.

Review copy provided free of charge by the author.
---
Ruth—thank you very much for your time.  
The Old Fortress Dog is set on Corfu.  I also note your surname is Greek.
What, if any, family links to Corfu do you have and was this your primary motivation for the setting of your book?
Yes, I do have relatives in Corfu. Corfu is truly our home away from home. My first visit to Corfu was in 1984, I returned four years later for my honeymoon. We've been fortunate to go there nearly every other year in the past. However, because of some of the economical turmoil we returned this past summer after a four year absence. My Papou ( maternal Grandfather) was born in Corfu and came to Americain 1919. Like the boy's Papou in the book, he was a very wise and caring man. I love watching the faces of my children light up with both excitement and contentment when we arrive at the home of their Papou. He passed away in 2006, but will forever live in our hearts.  Also, my husband's father was born in Corfu (It's a Greek thing! J) . I wrote this book as a tribute to him and to "all those grandfathers everywhere who have contributed to lasting treasured memories."
During our recent stay we visited THE OLD FORTRESS, something we'd done several times before when our, now teenage daughters, were quite young. We also went to the Achilleon Museum for the first time with our daughters. They are at an age when they can appreciate the artwork, architecture and history of the 19th century Palace built by Empress Elizabeth of Bavaria. It's an enticing tour of both the palace and elegant gardens offering astounding views overlooking the City of Corfu. The Empresses' obsession with the Greek Gods is seen throughout with the main theme centering on the mightiest of the Greeks, Achilles. While wandering the gardens one is embraced by an air of serenity.
Eventually, I hope to finish a light-hearted Memoir tentatively titled "Come to Corfu."
The book tells the story beautifully from the dog's point of view as he helps his master in the task of emotionally healing his master's grandson, visiting from the U.S. for the summer.
A running theme I picked up upon is that it's the traditional, simple ways of life—as found on Corfu as opposed to the grandson's native U.S.A.—that helps the boy heal: playing football with Greek boys his own age, more exercise than he would get at home.
In my book Nikos is a young shy boy who has been teased by his teammates because he is a "weak" soccer player. Though he once enjoyed the sport their cruel remarks place a dark shadow over his joy for the sport. When one young Greek boy encourages him to kick the ball, Nikos is reluctant until the others join in. The language barrier does not exist, only the smiles and laughter. The Greek boys are excited to share their enthusiasm for the sport with the "American" boy. There are no parents, just a Papou with a knowing glee in his eye and a keenly intuitive dog, Leonidas, who led Nikos to the soccer ball.
How much of your own experience in this area influenced the writing of this book?  You yourself live in the U.S.—do you find there's more to be said for the 'simpler' way of life?
Absolutely! I enjoy the Mediterranean diet, Frappes overlooking amazing sea views, and the laid-back "You are on Greek time" lifestyle. Also, the people of Corfu are friendly and welcoming.  This is what is so special about a place like Corfu, time does not erode the memories. We love how little the island has changed in that respect.
We always arrive home from our time there feeling much more relaxed and making plans for our return trip. Coming home to the hectic and often over scheduled days really makes us appreciate the tranquillity of the island, where our cares are that of what beach to visit and the selection of delicious Greek Cuisine for dinner.
  You have dogs yourself.  Can you give us any examples of how your dogs have pulled together for you?
[Our dogs] are highly alert and very intuitive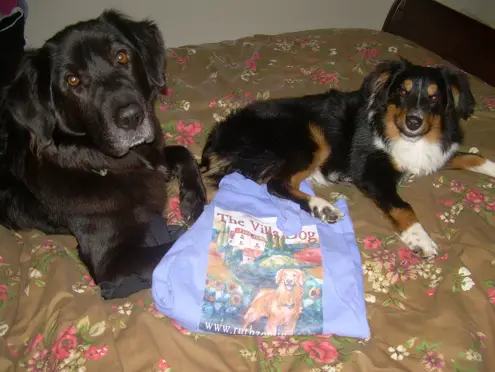 Yes, I have two very sweet and highly indulged "canine kids." They are our security blanket-offering a strong bark with a loving disposition. Pebbles is part Black Labrador Retriever and part Border Collie and Rocky is a miniature Australian Shepherd. Both are healers when it comes to soothing the soul of their human family. Of course, throwing the ball or Frisbee is what gets their tails wagging along with a few treats, too.
When my husband was diagnosed with Type 2 Diabetes he quit smoking and lost thirty pounds. Staying fit and healthy is his priority these days. His biggest motivator and number one hiking companion is our mini Australian Shepherd, Rocky. The little guy jumps in the car and takes a 3-5 mile walk with my husband everyday. His "little buddy" is always eager to walk alongside. And, my "big girl" Pebbles is highly alert and very intuitive. She stays with me in my office while I write and reminds me to get up and move by nudging me every half hour or so. We walk, get a treat and run errands together. Pebbles and Rocky not only add joy and love to our home, they complete out family.
And what's next in the series?
I'd like to write about a sweet dog I came across while visiting Dublin, Ireland. We stayed in a majestic 11thCentury castle hotel just outside of the city. THE CASTLE DOG is something I'd definitely like to work on.
---
I loved reading the story of Leonidas, the brave, sensitive soul who was expertly written in the first person.  If you've ever wondered if dogs can sense and feel emotion, this book is for you.  Regardless that it's a fiction book—all lovers of animals, Greece and anything traditional will adore it.
Thanks for having me. I hope your readers will visit my website for information about my books: www.ruthzonline.com.