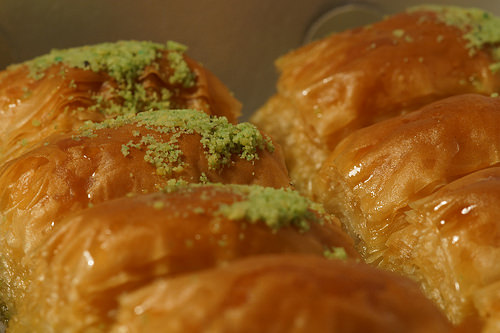 A dear, dear friend of mine who is a regular follower of my blog and my other writing ventures (ie: my book attempt) is delighted with this A-Z Challenge and was desperate to know what 'B' would be about, suggesting:
"B is for Bex—a Brilliant British Babe Blogging Basic Bits and Bytes aBout her Beautiful Balkan aBode to Beings Benighted By Bias and Benumbed By Bad Beliefs Blazed aBroad By Bum Broadcasters"
Ahhhh – thanks but alas no.  Read on for today's Byte:
So, as you all know by now, I'm located in Athens, Greece.  One of the lovely things about living in Greece is the 'fageto' (food) or, especially in my case, Greek desserts.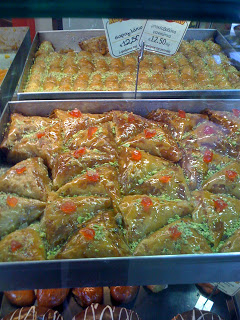 Baklava at my local bakery – yum!
One of my favourites is 'baklava' – a dessert of chopped nuts, filo pastry and sweetened with honey.  It is actually quite typical food of the former Ottoman Empire, therefore can also be found in South Western Asian countries such as Turkey and also popular around the Balkan region (Greece's geographical location lends it exposure to a rich cultural diversity: the edge of Europe, the 'bridge' to the Central and Middle East).
Some date baklava as far back as ancient Mesopotamia, claiming it was mentioned in ancient cookbooks.  Whatever its age or origin, Baklava can be enjoyed today throughout Greece – eaten whilst spending 3 or 4 enjoyable hours over a frappe, chatting with friends.