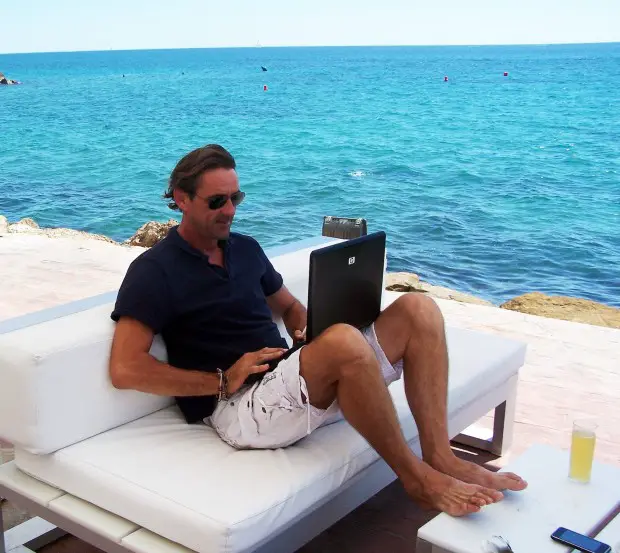 Today's LEW (League of Expat Writers) features British expat Dave Bull who has been living and working in Spain since 2000.  He's integrated into the Spanish life; learning the language and the culture.
Now a full-time writer, he lives with his son, Mitch and two dogs on the Costa Blanca penning his experiences and observations on living life as an expat in Spain and on his travels through Europe.
Always from his own 'different' perspective, he publishes one of the most successful magazines on the Costa Blanca and has been the Editor of two regional expat newspapers.
Dave has a unique way of writing.
Today,  Dave shares with us his version of Spanish life, in his own unique way.
---
Another cigarette exits my packet. Then my lighter disappears.
I am in Juande cafeteria in the Glorieta Square in Santa Pola. Juan, the owner and 'when I feel like it' waiter wanders off with a puff of smoke to chat with another customer at another table in this typically Spanish hostelry – and with my lighter.
I'm here because it's my escape. My bolthole. A place to sit and write with a large coffee amongst good people – and where else can you sit all day and have a couple of coffees to interrupt the chat without getting a piercing look from the owner. OK…it will cost me a few ciggies during the day too (and probably a lighter) but it's a small price to pay when you're enveloped by what is best in Spain– the traditional and the cultural. Outside of the front door, the recently extended Glorieta Square leads to the impressive five hundred year old castle – and Juan's twin brother stands idly chatting with another local – with my lighter…
The noise inside is incredible as mostly housewives joust for their particular piece of knowledge to be heard before and above all others. The rest of us raise our voices to be heard over the din, therefore increasing the overall volume that bit more. You'd think it'd be impossible to get any work done at all but for some reason I can get more done in a couple of hours (read six…) in there than I can all day at home.
Juan and his wife Loles have run the café for the past twenty-five years having converted it from a general store in 1983. Juan's parents had opened the General Store in 1930 and ran it for the next 53 years, supplying the town with everything from light bulbs to Goldfish, in fact the front of the building appeared in the major Spanish feature film 'The man with the white umbrella' in 1959.
Nowadays, Juan and Loles enjoy the Brits as customers too, and, says Loles;
the British always have two cups of coffee with their breakfast which is very rare with the Spanish and of course they drink a lot more beer than the locals but they are always polite and friendly and we always ask them to practise their Spanish with us.
Next time you are in Santa Pola – call in (offer Juan a ciggie and you will be a friend for life) and taste a bit of Spanish life and culture over a wonderfully, steaming, enormous Café con Leche
---
If you like Dave's style of writing, he has published the following:
"It just is…" by Dave Bull.  An expat finding his way around Spain & Spanish culture.
"A Load of Bull."  A collection of one-liners, comments and funnies – many about Spain and the expat life.
"Go Travel to: Paris is a Paris guide book" – written in Dave's unique style.